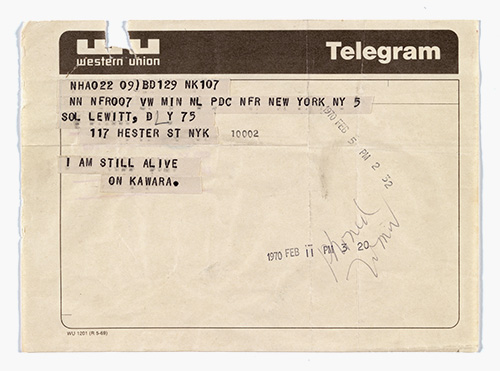 Curator Kataoka Mami has revealed the first artists for her 2022 Aichi Triennale, which takes its title, Still Alive, from On Kawara's 1960s I Am Still Alive series of works. As well as the late Kawara himself, the show will also feature Hoda Afshar, Liliana Angulo Cortés, Jacobus Capone, Kate Cooper, Mary Dhapalany, Endo Kaori, Han Ishu, Byron Kim, André Komatsu, Daisuke Kosugi, Misheck Masamvu, Miwa Mitsuko, Mohammed Sami, Momose Aya, Okumura Yuki, Kaz Oshiro, Prinz Gholam, Sanada Takehiko, Sasamoto Aki, Shiota Chiharu, and Yokono Asuka.
In 1969 Kawara sent three telegrams for a show in Paris that read, in succession: 'I AM NOT GOING TO COMMIT SUICIDE DON'T WORRY'; 'I AM NOT GOING TO COMMIT SUICIDE WORRY'; and 'I AM GOING TO SLEEP FORGET IT.' He replicated the missives over the ensuring three decades almost nine hundred times to dozens of other recipients.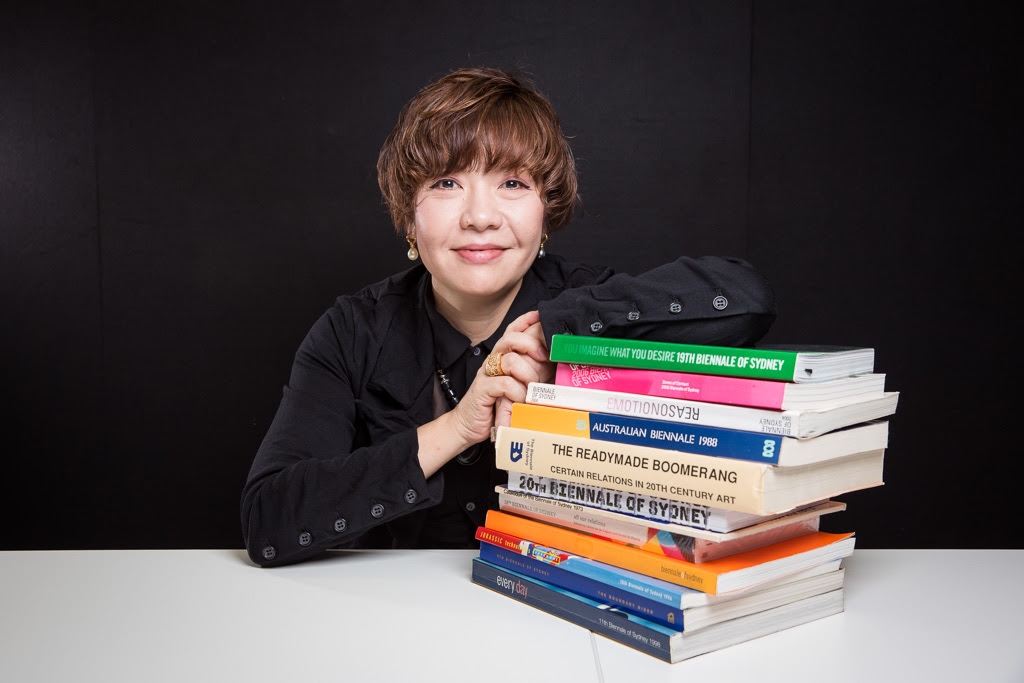 The last Aichi Triennale was mired in controversy after a controversial sculpture forced part of the exhibition to close. Statue of a Girl of Peace by Korean artists Kim Seo-kyung and Kim Eun-sung referenced the Korean women who were sexually enslaved by the Japanese Imperial Army during the Second World War – euphemistically called 'comfort women'. Tensions around the subject of comfort women have escalated amid strained diplomatic relations between Korea and Japan. The exhibition, After 'Freedom of Expression'?, which presented works which had previously been censored in Japan, was closed by the exhibition's organisers three days after its opening at the Aichi Prefecture Museum of Art in Nagoya. The exhibition then lost 78 million yen (approx. £587,000) from the government. Japan's Agency for Cultural Affairs, which administers the grants, said they should have been informed of the contentious nature of the exhibition beforehand.
Earlier this year Kataoka announced a host of big-name international 'advisers' to her show, including Ralph Rugoff, her former boss at the Hayward Gallery in London.
Joining him in helping the Mori Art Museum director develop her exhibition is Cosmin Costinas from Para Site in Hong Kong; Rhana Devenport, director of Art Gallery of South Australia in Adelaide; Eungie Joo, a curator at the San Francisco Museum of Modern Art; and Victoria Noorthoorn, director of the Museo de Arte Moderno de Buenos Aires. Cologne-based Martin Germann, Johannesburg-based Gabi Ngcobo, Mexico City-based Tobias Ostrander, all independent curators, and artist Shimabuku will also be on hand to help. Iida Shihoko will act as Kataoka's chief curator.