By the 1992 edition of Documenta, citizens of Kassel, Germany, would have already been exposed to a few decades of provocative public art. But we can still wonder what they thought when a pair of rustic public toilets were erected next to the Fridericianum, a landmark institution of Western historical thought, and the quinquennial exhibition's primary venue. The lavatory facades were inscribed with the Cyrillic initials for 'Male' and 'Female', and the provincial character of its grimy stucco walls and visible wooden beams made an unmistakable invitation for its most basic use. But to add to its surreal appearance in the midst of such stately surroundings, entry to the building actually disclosed a fully furnished apartment incorporated into the toilets. Visitors found a cabinet, a bed, a table and kitchen setup, books, clothes and clocks; a make-do homeliness was brought to the stalls by a collection of choice Soviet-era knickknacks – the men's side was the living room and the women's side was the bedroom. That there was clearly some tidying up to do was uncannily transporting, but it hardly hid the fact that the apartment was housed in a toilet. Even considered today, it reeks of an invariable human need: free rent is free rent.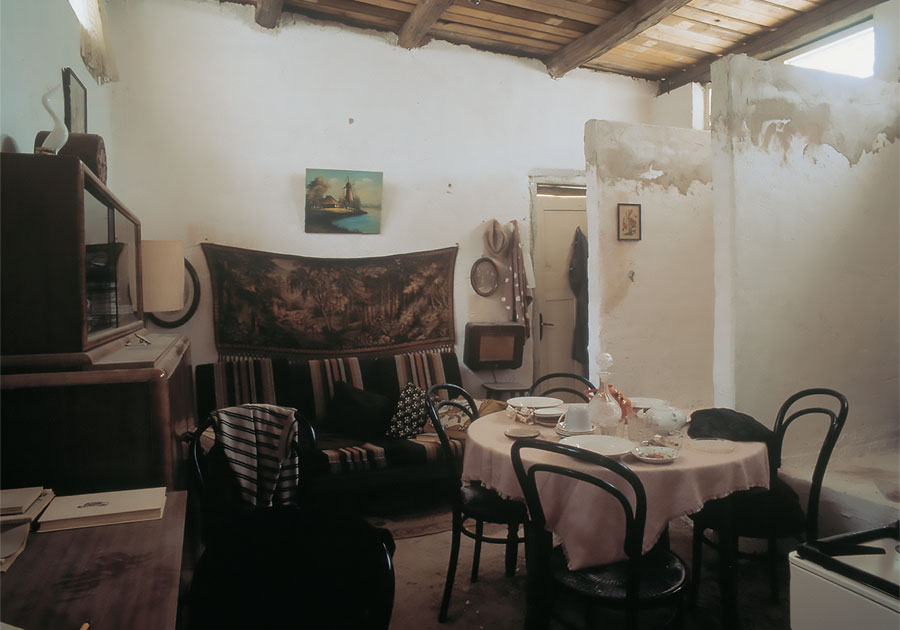 The installation is called The Toilet (1992), and it belongs to Ilya Kabakov, whose career, by then already 40 years underway, was only gaining speed in the West. It was around this time that Ilya began working with his soon-to-be-wife, Emilia, and the couple would go on to collaborate on all their work. They were both born in Ukraine to distantly related families, though Ilya was raised by his mother in Russia. He was educated in wartime exile in Samarkand, Uzbekistan (where the cosmopolitan art schools had also relocated), lived and worked in Moscow from the 1950s to the late 80s, and by 1992 had moved to New York. Emilia remembers when he would visit his father, whose house neighboured her family's in Samarkand. "Ilya would ask me to play piano," she says in Enter Here (2013), critic Amei Wallach's documentary about the pair, "And I'd always refuse. Because my policy was I don't play for common people." She emigrated in her mid-twenties, abandoning her citizenship, and thus the connection to her family. She lived in Israel before eventually settling in New York, where she became a curator and Fabergé egg expert. They would reconnect in the 1980s, start working together in the early 90s, marry shortly thereafter and, by 1997, sign their work together.
A macabre dread and preoccupation with eternity dovetailed with the punishing state intervention in Soviet-era Russia
Ilya had belonged to a group that would be dubbed the Moscow Conceptualists, and the relationship between image and text would motivate his early critiques of Soviet culture. His approach was literary, and indebted to nineteenth-century metaphysics and postwar existentialism. A macabre dread and preoccupation with eternity dovetailed with the punishing state intervention in Soviet-era Russia, and would contribute to a constant suspicion of life's illusory reality; an afterlife, for the Kabakovs, was to be found in material culture, and art was the highest provision of this task. 'I created my works, thinking about what a Western curator would say about them,' Ilya recounted of his time in Moscow during a 2012 interview with e-flux founder Anton Vidokle. By his own account, his eventual turn towards installation, and its narrative underpinnings, was in the model of the Renaissance polymath.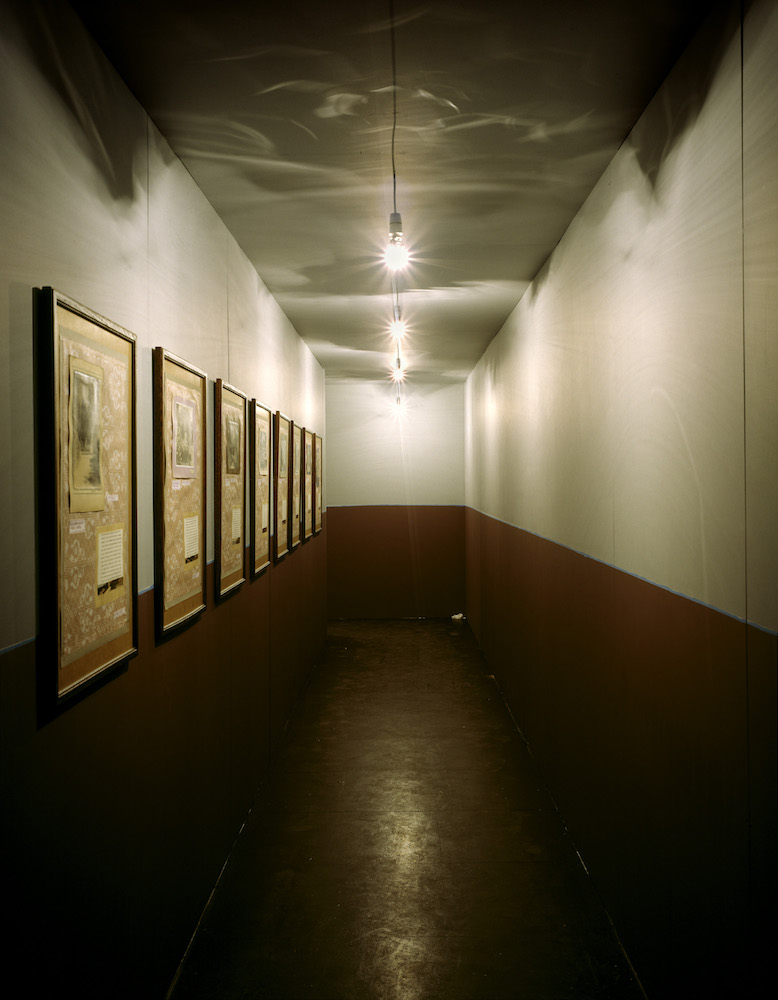 "You can't live without utopia," Emilia explained to me in a recent interview. The Kabakovs subscribe to the transhumanist philosophy of Russian Cosmism. Though considered esoteric when it originated at the end of the nineteenth century, its radical reimagination of time in terms of a material present would prove influential to the Russian literary and artistic avant-garde; it promised technological immortality, and seeing in space travel and colonisation the possibility of a noble afterlife, it would be a spur to the Soviet space programme. As an outcropping of Marxism, which foretold a utopia achieved by multigenerational struggle, Cosmism promised a just future that included everyone's sacrifice for the cause. During this time, Kabakov never enjoyed an art market, and technically there was no art outside of what the state officially sanctioned. He nonetheless earned his living illustrating children's books and one season's worth of work was lucrative enough to subsidise another year of obscurity in the studio.
Ilya recounts a dual life in 1960s and 70s Moscow, one in which public life was the state's diktat, and that '"human" life… transpired in the kitchen'. Madness would be a feature of his humour, and multiple, disparate, yet simultaneous realities would form the basis of early, proto-installation works, such as Ten Characters (1972–75), a suite of documents strung together into long, zigzagging accordions that give fractured, disparate accounts by ten different characters, all of whom describe the autobiography of one man. The figure of the schizophrenic artist would later appear in He Lost His Mind, Undressed, and Ran Away Naked (1990), a seemingly abandoned artist's studio.
Never do the stories of either Kabakov feel like ones of fear or desperation, though one can see a preference to reside in the imaginary
Kabakov only publicly exhibited his work a handful of times during the 30-plus years he lived in Moscow. It's rumoured that he deliberately made his paintings too large to fit through the door of his studio to prevent the KGB from ever confiscating them. This half-truth describes the era's pervasive paranoia: interiority would offer succour to the wretched entanglement between ideology and belief. It is also a fitting story about how his work was only ever seen by his immediate peers and in context with the longstanding conversation they had fostered. If anyone from the West ever saw them in person before the early 1980s, it was the occasional bored diplomat who would drop in looking for something more fun than state-sanctioned entertainments. Never do the stories of either Kabakov feel like ones of fear or desperation, though one can see a preference to reside in the imaginary, or whatever reality that translated to.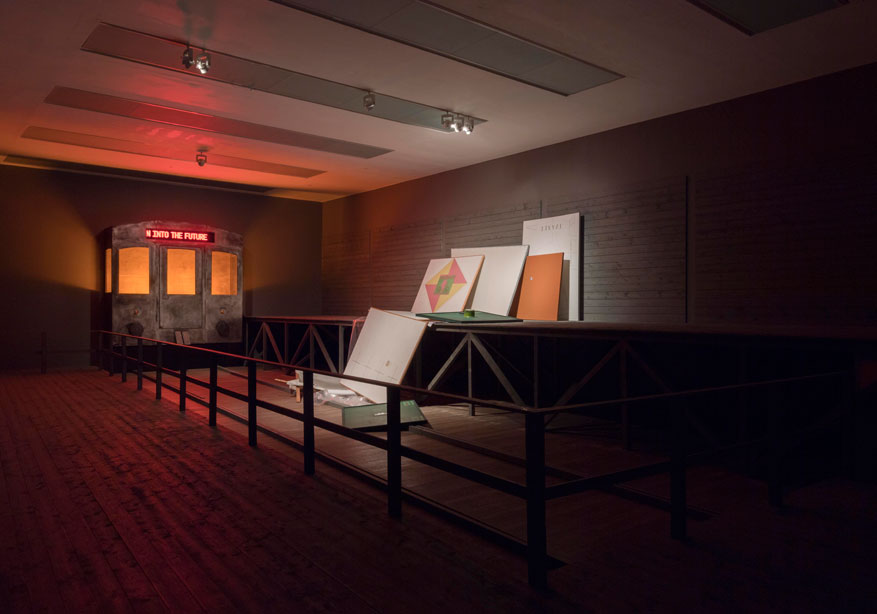 For Emilia, it is important to note the differences in how the two artists left the Soviet Union. Ilya was invited as an artist. In practical terms, people had been surviving the oppressive regime by microdosing corruption and recalibrating to a scandalous double-speak. It's true that the Soviet Union would soon fall, but being an artist granted him a voluntary passage to the West. Philosopher and critic Boris Groys makes poignant use of Ilya's flight in his study of the artist's The Man Who Flew into Space from His Apartment (1985). Viewers were only able to peak through the door of the facsimile Soviet housing-block apartment. Inside they would see walls lined with drawings, schematics and Soviet propaganda posters, a scale model of the apartment block positioned on a table; at the centre of the room a spring-loaded, human-size slingshot had been jerry-rigged, cascading with light from a skylight that, the scene would suggest, had been blasted open by the apartment's former occupant. Like many of the Kabakovs' installations, the scene is schmaltzy, bordering on a circus sideshow and preposterous in the extreme; it was also the first of Ilya's installations to be seen in the West. It bordered on magic, Groys asserts, that the work was installed in New York at Ronald Feldman Fine Arts in 1988. 
Inside a Kabakov installation, language will corrupt the familiar with a literary sleight of hand. And in numerous installations, text provides an archival apparatus: small labels incise every bit of detritus with a memory in The Man Who Never Threw Anything Away (The Garbage Man) (1998). It reproduces an apartment that has been converted into an archive with flat files and cabinets; as the story goes, it's a secret, second apartment, and fastidiously archives an entire life's worth of one man's trash. The fly would be a career-spanning preoccupation, too, and would symbolically amalgamate vanity, dissolution and even detached observation. It turns up in Concert for a Fly (1993), another toilet-based installation, where an original score appears to orchestrate a swarm of flies; and in the 1992 installation The Life of Flies in Cologne, where the insects are tagged to the entirety of Soviet culture by a system of comic superlatives.
Images have a dumbfounding presence in the Kabakovs' work. They are by and large reproductions of Soviet-era imagery, the kind of Social Realist agitprop full of buxom farmers or productive families that never quite square with reality. Any of Nikolai Gogol's streetwalkers would feel comfortable in a Kabakov installation. What their narratives do is coerce us into taking these social surfaces seriously, make them appear plausible. The penchant for irony and absurdism through the combination of pop culture images and punchy captions feels familiar today, similar to online meme culture. A byproduct of image overflow, memes are microdoses of satire, mundane though effectively political, that ensnare cultural detritus and reroute its meaning.
"Don't tell them I served you borscht. It was an accident that I made it today," Emilia joked after serving me a bowl
'They decipher the blind self-satisfaction of the Soviet Regime,' writes Jean-Hubert Martin, the curator who staged Ilya's first institutional solo exhibition in the West, at Kunsthalle Bern, in 1985. Their style is inalienable from Ilya's education in highly regulated Stalinist-era art academies, and pervades their work with the innocence of a childlike encounter. School No. 6 (1993) is well suited to the Chinati Foundation, the museum Donald Judd built as a 'strict measure for the art of this time and place'. The Kabakovs arrayed one of the institution's former military barracks with dusty classroom effects – sports equipment, musical instruments, textbooks and pictures of Lenin – that would be indistinguishable from a dilapidated Russian schoolhouse were it not located in the middle of the Chihuahuan Desert in far west Texas. One suspects a practical side to their grandiloquence, considering the sheer volume of projects they undertook throughout the 1990s especially. Projects would echo others. Not Everyone Will Be Taken into the Future, originally staged at the 2001 Venice Biennale, hints at their shrewdness. Behind what appears to be a recently departed train lay a grip of broken and discarded paintings that had been left behind. They resemble others from the oeuvre, and abandoned artwork is a persistent motif across projects. They self-identify with the loser.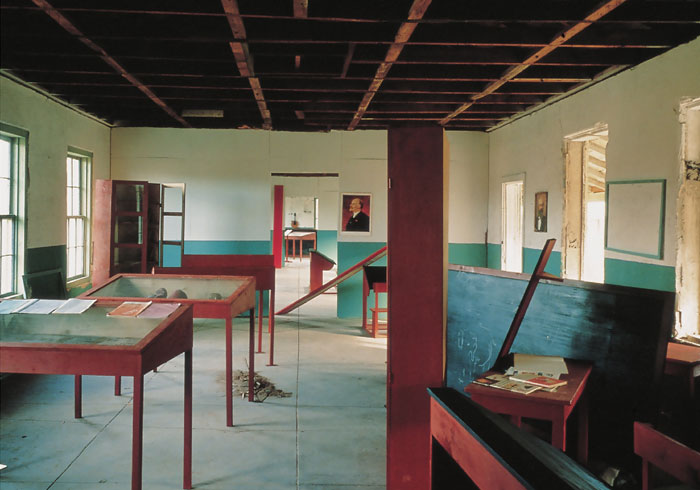 "Don't tell them I served you borscht. It was an accident that I made it today," Emilia joked after serving me a bowl. Later, she would bat me away when I tried to talk about perestroika, and Ilya mostly wanted to talk about his theory of museums – the Kabakovs seemed oddly preoccupied with an artworld that they perceive as unable to grasp painting's significance to their interdisciplinary world-building. This year boasts a retrospective exhibition at Tate Modern, London, and a thematic survey at the Hirshhorn Museum, Washington, DC, though we might find clues for how the couple has already positioned themselves for the past decade in their 2008 dual-retrospective in Moscow. It was Ilya's first return trip to his former home in 20 years, and he himself would act as the exhibition's keystone, able to stabilise the poles between the contemporary artworld of the Garage Museum and the fraught historical narratives at the preeminent Pushkin State Museum, two of the three venues for their work; The Alternative History of Art (2005), an installation component hosted at Garage, would build a fictional museum that connected the work of three fictional artists, including a Kabakov doppelganger, and walk spectators through a labyrinth of galleries that critiqued the history of Soviet art.
The Toilet was reinstalled for the retrospective, and is in part based on a story from the life of Ilya's mother, who spent a miserable stint residing in a former lavatory while they lived in Samarkand (he lived in the art school dormitory). His mother's life story would be incorporated into other works, including Labyrinth: My Mother's Album (1990). Wallach's documentary chronicles the Moscow retrospective; in one scene, a middle-aged man appears to walk into a gag, when he steps towards the outhouse and is stopped by a young guard dressed in military fatigues. The guard's response is polite to the point of obscurity, when he tells the man it is not an actual restroom. Wouldn't the man have noticed the gritty toilet's incongruity with the surrounding industrial architecture (or a row of neighbouring port-o-potties)? "What is it? Some kind of fantasy, huh?" the man concedes to the guard, distilling the gist. Yes, the Kabakovs build worlds for those who will step inside.
Ilya and Emilia Kabakov: Not Everyone Will Be Taken into the Future is on view at Tate Modern, London, through 28 January, and Ilya and Emilia Kabakov: The Utopian Projects can be seen at the Hirshhorn, Washington, DC, through 4 March
From the Winter 2017 issue of ArtReview Asia