Featuring Frida Orupabo, Isaac Julien, Sarah Pierce, Kahlil Robert Irving and Christina Quarles; columns on faltering art markets and questions of what art should do for a society; and much more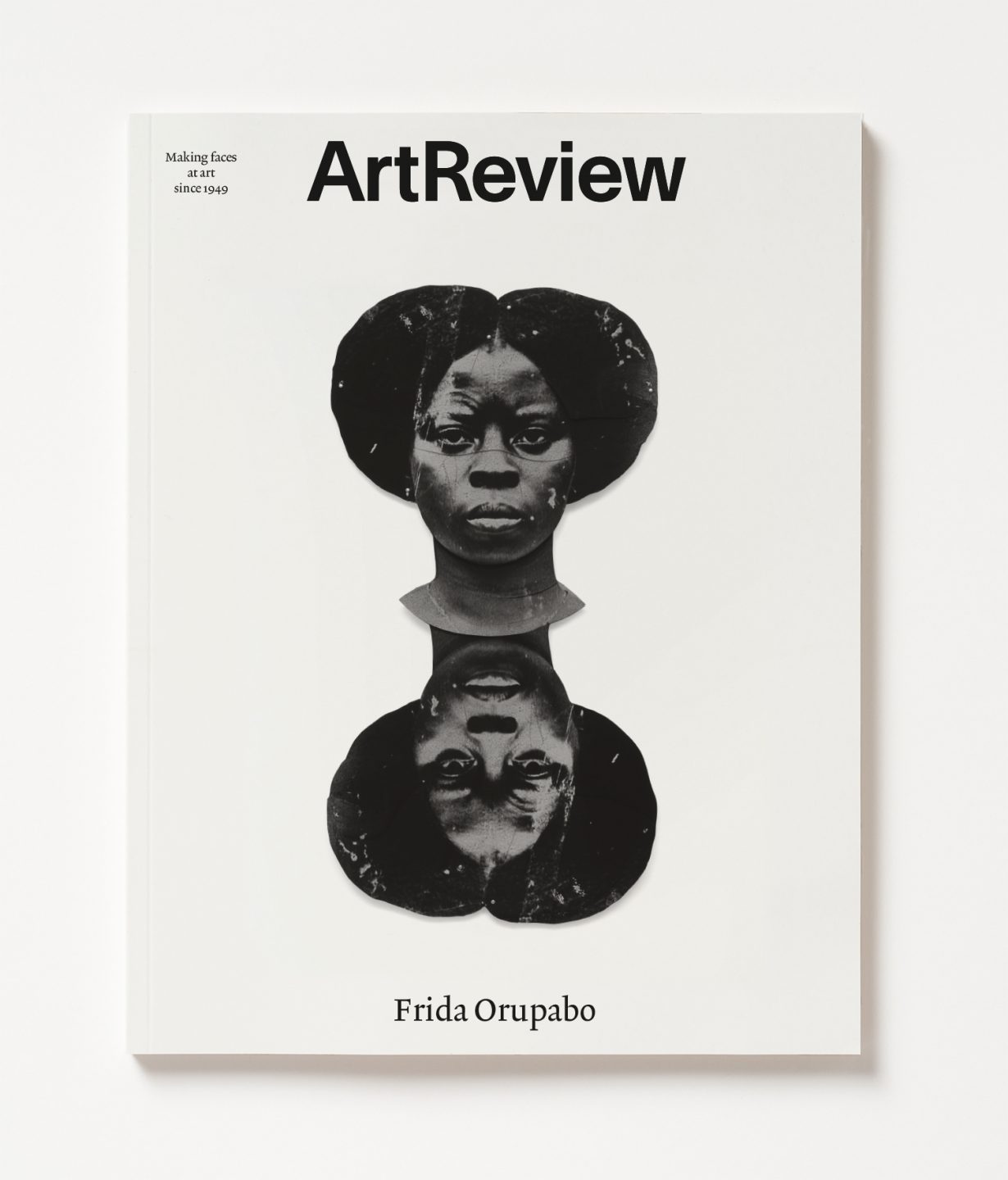 When you've been around for as long as ArtReview (now well into its eighth decade), you end up with substantial accumulated baggage to show for it. Mainly in the form of an archive of accounts, predictions, suppositions and interpretations that constitute its past. And while normally ArtReview tries to be as contemporary as the next person – 'in with the new; out with the old' is its motto – when you live in a present than can feel totally out of control, it's a natural preoccupation to wonder how we ended up where we are today. With this in mind, ArtReview has been looking at artists who intervene in the past (though they remain very much of the present) to try to make sense of it all.
Frida Orupabo, on the cover of ArtReview May 2023, mines images sourced from colonial archives, film, fashion and family albums to create collages that carve representation and empowerment from stereotype. Her visual references, ranging from clips of singers like Nina Simone and Billie Holiday, to the art of Carrie Mae Weems and Kara Walker, are incorporated into multilayered works, some pinned with metal tacks to look like the kind of vintage paper doll whose appendages are manipulable. The sense of 'reclaiming the power to choose how a woman's body, and more specifically Black female sexuality, is presented and received', writes Fi Churchman, 'is a central theme of Orupabo's work'. 
Following conversations with Isaac Julien, an artist who has inspired him in his own life and work, Prince Shakur writes about how Julien's transgressive reworkings of history break the boundaries of memory, genre and linear representations of Black experiences and queer desire. In this highly personal take on the artist, Shakur traces the ways in which Julien's work has empowered those 'who have come after him': 'Julien opens the door for them to cross the threshold and queer the archive, to free themselves from white supremacist frameworks and to create a dream space of rest and reckoning'.
Also in this issue
In her feature on Sarah Pierce, Judith Wilkinson writes about the multimedia artist's current retrospective at the Irish Museum of Modern Art, Dublin, in which the artist encourages viewers to question the learned behaviours of the artworld. Chris Fite-Wassilak interviews Kahlil Robert Irving ahead of his exhibition Archaeology of the Present, at the Walker Art Center in Minneapolis, in which Irving reflects on ambivalence, collage and loss. Jonathan T.D. Neil speaks with Christina Quarles on the limits of figurative painting, as her work goes on show in Collapsed Time, a solo exhibition at the Hamburger Bahnhof in Berlin. J.J. Charlesworth reflects on the findings of the latest Art Market Report, published annually by Art Basel and UBS. Then a Swiss businessman (and diplomat and collector) Uli Sigg brings the subject back to the art itself, in a piece asking what it is we want from art, and how different societies have fundamentally different answers to this question.
Plus
Signal-jamming in MoMA's video-art extravaganza; a tendentious London survey that touches on the racial politics of milk, a theme – whiteness – that is picked up as well in a Candice Breitz exhibition in Cape Town, including a videowork in which she lip-syncs volatile statements on race culled from mainstream and social media. David Hockney plays host to a new immersive presentation of his work in King's Cross, and ArtReview visits Bohemia – the state of mind, not the place – as well as Australia's biennial National exhibition.