Featuring Renzo Martens, Rosa Aiello, Lynda Benglis, Haneda Sumiko and Shirin Neshat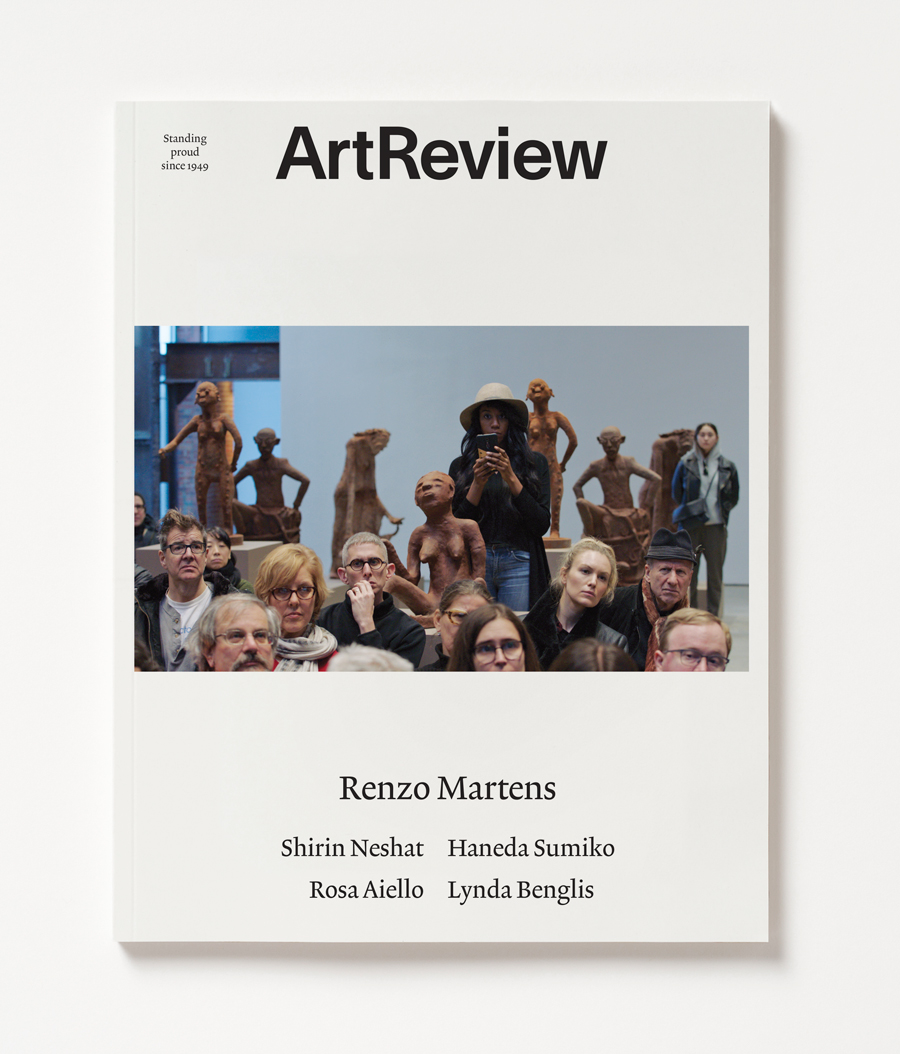 In its November issue – out now – ArtReview takes a look at the social economies of the artworld.
In the cover feature, J.J. Charlesworth examines the sometimes-controversial work of Renzo Martens and the Dutch artist's treatment of the exploitation of suffering in relation to Africa and Europe, and the relationship of extraction between Western media systems and their subjects. Martens's broader project is to place the economics of the artworld in the context of the economics of the 'real' world, or cultural consumption in the context of primary commodity consumption.
A different take on similar issues of economics in both the art and wider worlds occurs in Rosa Aiello's videos and installations, which trace the worlds of freelance and precarious work, so prevalent in the artworld, and the effects that they have on workers' ideas of self and wellbeing. 'Despite freelancing being an increasingly common way of working,' writes Chris Fite-Wassilak, 'its mechanisms – the constant performing of a professional self and submissions to chance – are often hidden away unshared.' If that is very much an issue of the present, then Ren Scateni introduces the ways in which the much-overlooked pioneering documentary filmmaker Haneda Sumiko tackled issues of gender stereotyping and the not so gradual erosion of rural life in postwar Japan, subtly inserting these wider issues into works ostensibly focused on recording more mundane and quotidian activities, in times gone by.
Elsewhere, Jo Applin catches up with Lynda Benglis, whose work, the artist asserts, is always about transformation and an attempt to give abstract ideas form. As is the case with Martens's work, some of Benglis's early productions (famously a 1974 spread for Artforum featuring the artist naked, oiled and clutching a dildo) split opinion, with critics unable, in this case, to tell if the work was feminist or attention-seeking in its purpose. The erotics of Benglis's output, Applin concludes, are just as present in her work today. If a little more subtle: a flirtation between thought and feeling, between abstract concepts and the handmade.
But what happens when your own identity becomes something of an abstract concept? It's a question Fi Churchman explores while talking to American-Iranian artist Shirin Neshat about her latest body of work, Land of Dreams, which focuses on her position as an 'American immigrant' and the possibilities and restrictions that identity offers in relation to her upbringing in Iran.
Also in this issue
Catherine Balson takes a look at an intertwining of art and psychiatry in a former asylum on the outskirts of Rio de Janeiro; artist Aaron Angell explores two examples of design and cosmology in a pair of London houses (and comes up with a new design movement while he's at it); Martin Herbert wonders why we encourage so many young artists to become tribute acts; and Justin Jaeckle looks at the musical Andy, Gus Van Sant's Tribute to the Pope of Pop. In review this month, we look at largescale exhibitions from cities around the world, including the festival Berlin Atonal, the 7th Athens Biennale, the sprawling UK painting survey Mixing it Up at London's Hayward Gallery, as well as Crip Time, a tentative exploration of what it means to live with, care for and value bodies with disability at MMK Frankfurt; and much, much more.
***Click here to subscribe***