Featuring Matthew Barney, Isabelle Frances McGuire, Casey Reas; essays on David Wojnarowicz, the 'Global South', middle-aged artists, and eating the rich; and much more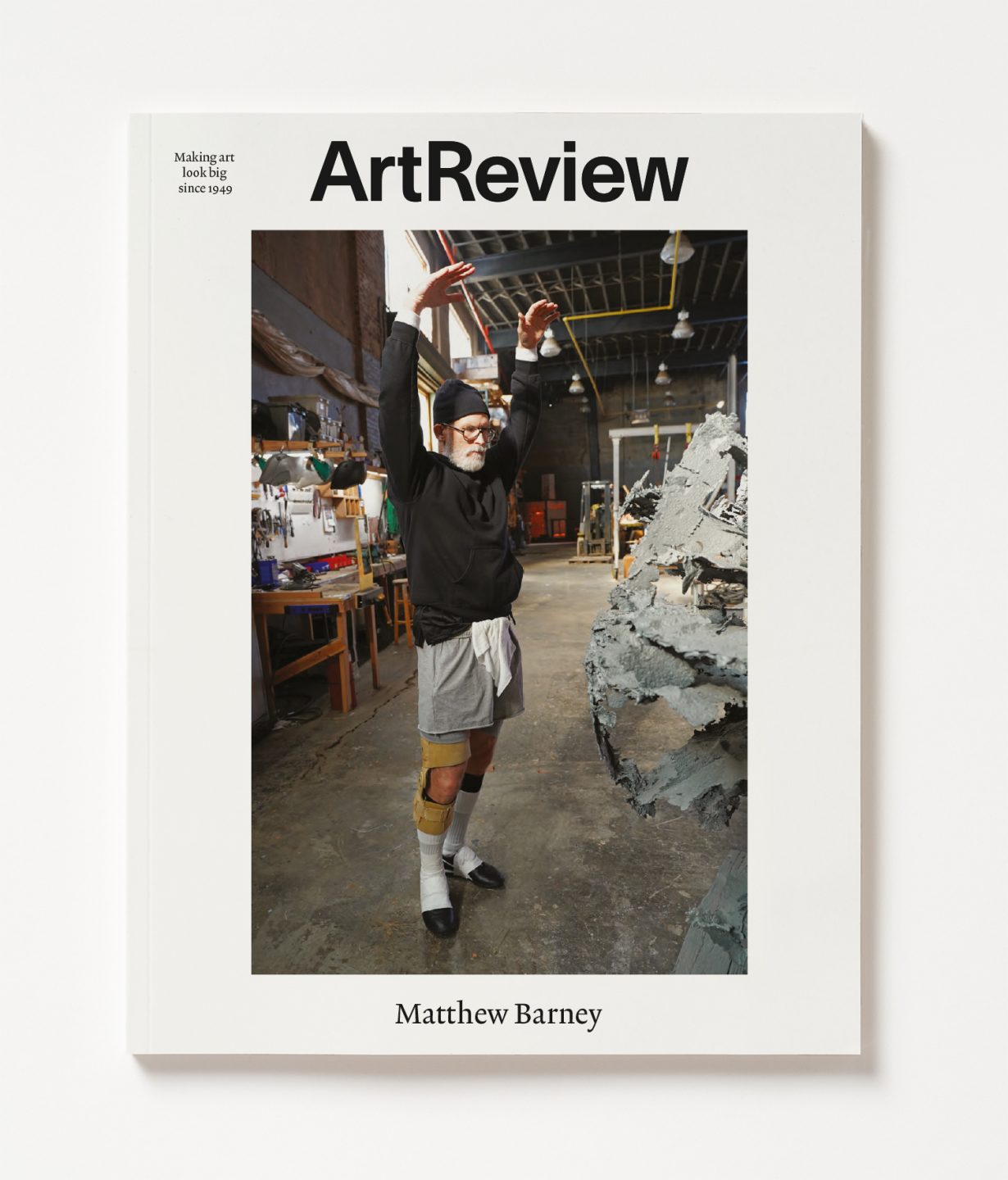 Matthew Barney – on the cover of ArtReview's September issue – is a 'goal-addicted' artist, writes Ross Simonini. So much so that he invents 'absurd obstacles' for himself, just so he can chase the high of achievement. These obstacles entail physical challenges, which Barney focuses his energies on overcoming: his earliest and ongoing series Drawing Restraint (1987–), for example, explores the boundaries of physical resistance (including weightlifting, a process of introducing small tears to muscles that encourage stronger tissue regrowth) and creativity, which sees him 'pulling, leaping, lifting or dragging while attempting to draw'. 'Just as a bodybuilder pushes their calves to the point of fatigue,' Ross writes, 'many of Barney's sculptures push materials – lead, bentonite, zinc, self-lubricating plastic – to the point of failure.' His latest five-channel videowork, Secondary (2023), explores the physical and psychological duress that American football players often find themselves forced under. The violence and spectacle of the sport is presented via two narratives: first, a retelling of an incident during a professional football game in 1978, which left New England Patriots player Darryl Stingley paralysed; second, a 'material-based choreography' performed by dancers. 'Secondary takes on failure at the thematic level. It is a cinematic tone-poem on the crisis of American football, told through dance, chamber music and true horror.'
Elsewhere in the issue, Alexandra Drexelius considers the sculptures made by the Chicago-based artist Isabelle Frances McGuire, who 'reworks readymade objects to examine the ways in which the body itself is worked on, influenced and displaced by technology.' McGuire's sculptures often make use of  mannequins and dolls (sometimes including motors, sensors and electronics) as a way of interrogating mass consumerism and the ways in which our bodies are mediated via increasing exposure to screen culture.
The programmer, artist and founder of online gallery Feral File, Casey Reas talks to J.J. Charlesworth about navigating the crypto crash and his hopes for the future of experimental generative art. For Reas, that's as much about the evolution of technology as it is about creating supportive networks of artists. Meanwhile Khashayar J. Khabushani, author of I Will Greet the Sun Again (2023), pays moving homage to the work of David Wojnarowicz, in which he finds comfort and support in coming to terms with childhood traumas of abuse and homophobic attacks. 'Up until encountering David's paintings and films and photography and writing, I never had the chance, as an adult, to live inside my own queerness,' he writes, 'But by showing me his, David invited me back inside, and I haven't left since, and I never will again.'
---
Also in this issue
In the run up to Bienal de São Paulo and Videobrasil, Oliver Basciano questions what the term 'Global South' really means when it comes to art and culture; Chris Fite-Wassilak talks to Diego Marcon about the artist's dark and twisted films, including The Parents' Room (2021) which was on view at last year's Venice Biennale; Martin Herbert considers the plight of the middle-aged artist; Jamie Sutcliffe looks at the role of biocybernetics in the creation of video game and animated fantasy worlds; and Amber Husain examines a recent spate of 'glitzy' films that encourage us to eat the rich.
---
Plus
Reviews from around the world including O Quilombismo at Haus der Kulturen der Welt, Berlin; Doris Salcedo at Fondation Beyeler, Basel; NXTHVN at Sean Kelly, New York; Art Encounters Biennial in Timisoara; and Chris Ofili at Victoria Miro, London.