Featuring Cemile Sahin, Sung Tieu, Jessie Homer French and WangShui; columns on what museum entrances get wrong and how artists have invented history over the centuries; and much more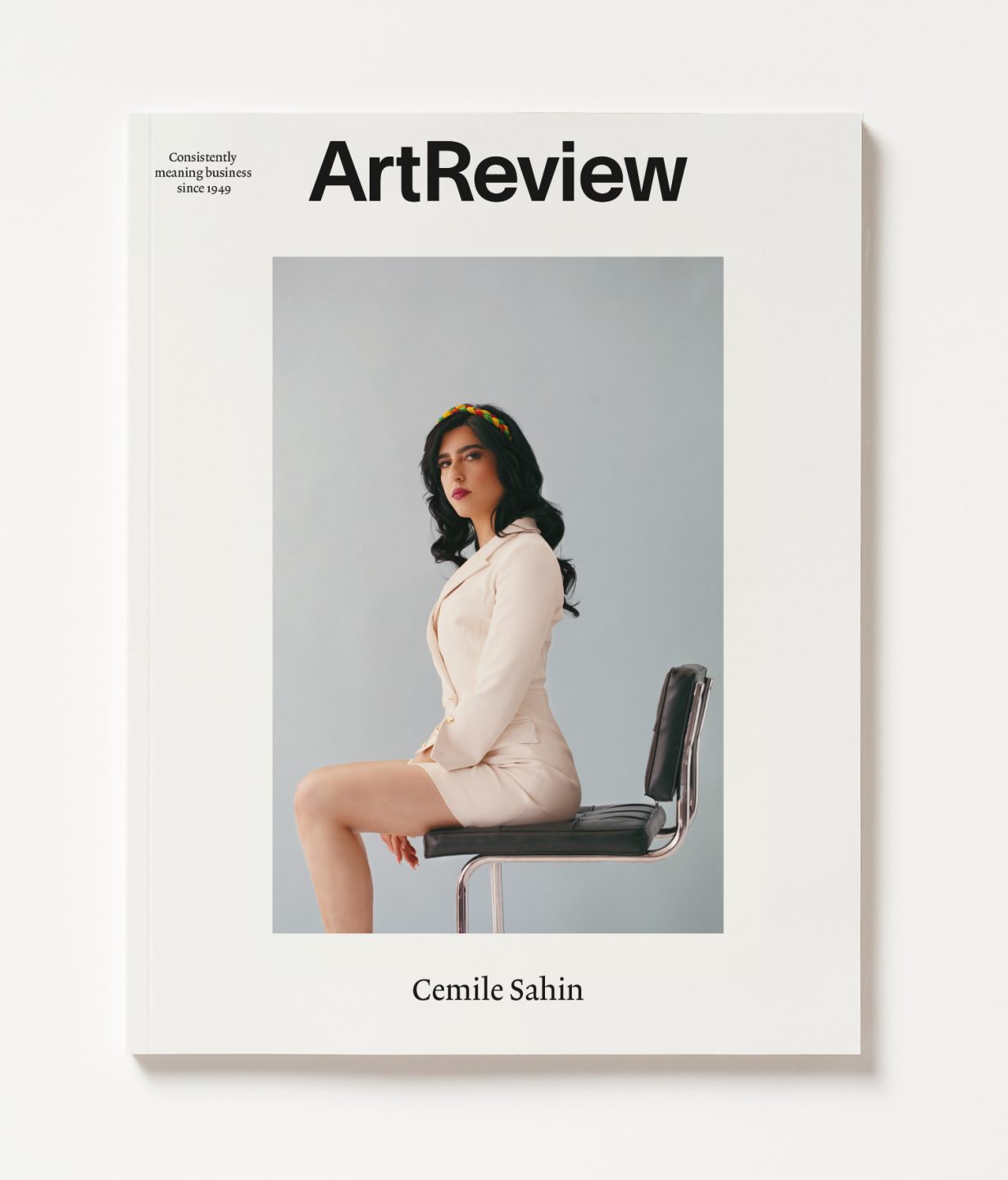 ArtReview doesn't like to think of itself as prone to conspiracy thinking, but it does consider itself the home of criticism – and sometimes, like so much art these days, that critical thinking strays beyond the safety of the gallery. So with this in mind it, it tasked its writers and editors to dig deeply into the power structures that govern society, be they corporate, media, military or government. Which they have done, as they always do, with help from the people making the art – artists whose creative processes often take a form similar to investigative journalism.
For the Summer issue's cover story, Alexander Leissle profiles Cemile Sahin, an artist (and prizewinning novelist) whose solo exhibition at Nassauischer Kunstverein Wiesbaden, on view through 23 July, presents research-rich work in full colour as it interrogates the military–industrial complex, technology and exile. With a focus on Lausanne, the global centre for civilian and military drone development, Sahin's large and immersive multimedia installations explore a zone where power, technology and the preservation of cultural memory abut and overlap.
Sung Tieu's postconceptual practice pursues similar terrain in new work exposing the operations of America's fracking industry both in isolation and where they intersect with race and economics. Writer Cassie Packard unpacks Tieu's work through Timothy Morton's concept of the 'hyperobject' – something that is so deeply ingrained in life that its degree of influence is incomprehensible. In Tieu's research-driven exhibition Infra-Specter at Amant in New York, Packard writes, the artist sifts through the labyrinthine operations of hyperobject oil. Says Tieu, "I reveal information, and let the audience decide how to take it from there."
Also in this issue
Martin Herbert writes on the work of Jessie Homer French, in which death is shown to be inextricable from life. Now in her early eighties, Homer French was given a big stage at last year's Venice Biennale, where she presented paintings that tackle politics 'sideways' and which are suffused with grief both obvious and ineffable. Emily McDermott speaks with WangShui about the uses of AI in painting, particularly as seen in the artist's current solo exhibition at Shanghai's Rockbund Art Museum.
Ahead of the opening of The Factory, Manchester's newest arts and music space, Greg Thomas queries whether this was money well spent. Louise Benson takes the opportunity of King Charles's recent coronation to reflect on the role art plays in the invention of history, while Daniel Elsea writes about the mistakes museums make when designing their entrances; and Skye Arundhati Thomas muses about what a new film set in London's British Pakistani community might be saying about the stereotypical South Asian family unit.
Plus
Josh Kline's apocalyptic solo exhibition at the Whitney; Indigenous art collective MAHKU at Museu de Arte de Sāo Paulo; Clearing's Maiden Voyage at new premises in New York; and Karms Thammatat's solo show at Unit, London, and more in Berlin, Mexico City, Paris and Tucson. Plus what's new in art, fiction, history and theory books, including works on radical NYC collective Black Mask, Brazilian tenant farmers, Weebs and more.