An exhibition of the Algerian modernist's early work challenges French perception of Algerian culture – and more
In a cool, dark chamber off the courtyard of Marseille's municipal museum, La Vielle Charité, a four-legged creature with bulging eyes and a feathered headdress atop a mane of long straight hair sits calmly on a pedestal. This beast seems to absorb the whole of existence through its enormous eyes. Made of lightly painted clay, Bête grise ('Grey beast', 1947) is one of a handful of sculptures by Algerian artist Baya (Fatma Haddad, 1931–1998). It joins roughly two dozen other works, almost all of which date to the late 1940s, on view in a landmark survey exhibition, Baya: Femmes en leur jardins (Women in their gardens).
Born in 1931 in a town then-called Fort-de-l'Eau (now Bordj El Kiffan), Baya lost her father at the age of five. Her mother remarried into a large Kabyle family, who introduced her to the rich world of traditional ceramics. In 1940, her mother also died, and Baya went to live and work with her grandmother on a colonial farm. By chance, the farm owner's sister, an amateur artist and arts educator named Marguerite Caminat, took an interest in Baya. In 1943, Caminat came to an agreement with the child's grandmother whereby Baya would come to live with the Frenchwoman in Algiers. Caminat remained her legal guardian until she turned 21. In the intervening nine years, she would introduce Baya to intellectuals and artists, both Algerian and European, and travel with the young artist on several occasions to work and exhibit her art in France. Baya left Caminat's home in 1952 and the following year she married renowned composer Mahfoud Mahieddine , who was actively involved in the struggle for Algerian liberation (1954 –1962). Her support for this political cause and the demands of family life combined to keep the artist from producing new work for almost a decade. She came back to painting in 1961 and remained active both in Algeria and internationally until her death in 1998, though she never returned to ceramics after her marriage.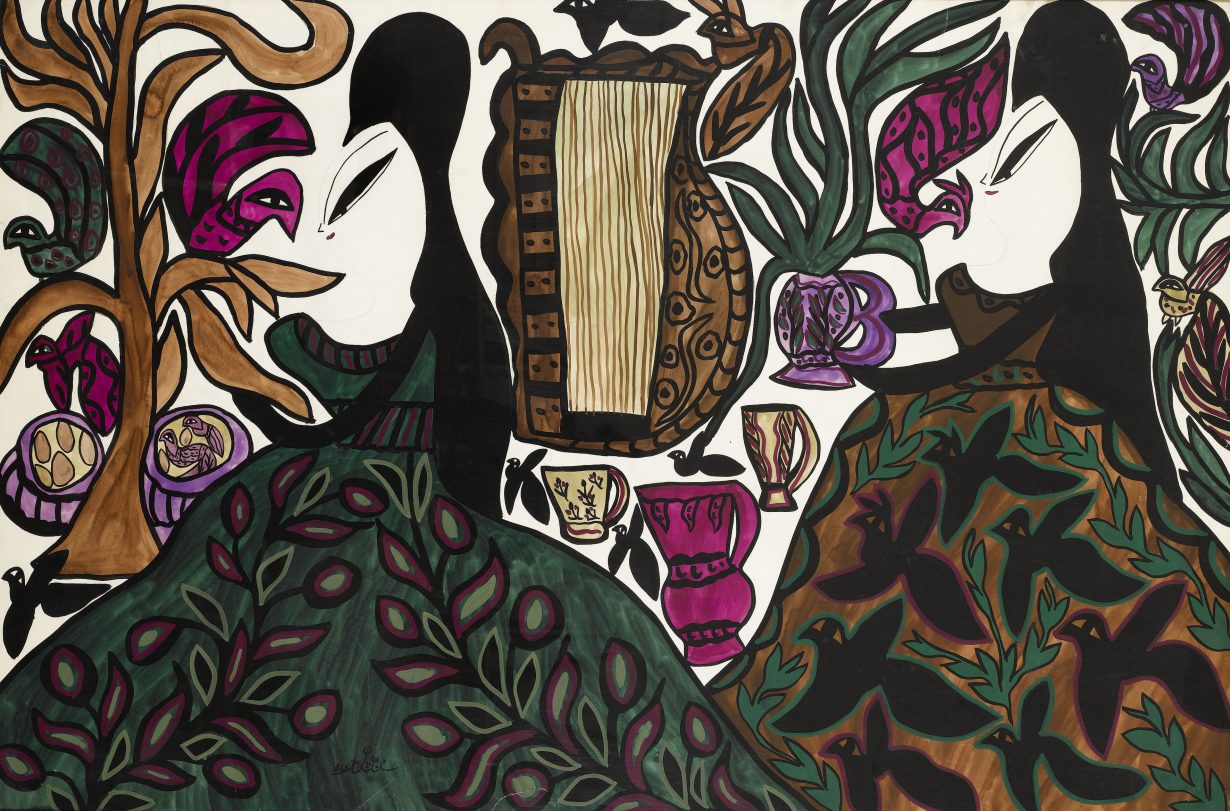 Femmes en leur jardins (Women in their gardens) attenuates an exhibition orthodoxy concerning Algeria – namely that its cultural development emerged from exposure to art under the French colonial regime which lasted over a century between 1830 and 1962, and that Algerian art's most significant actors evolved artistically through contact with France. For example, the exhibition Algérie Mon Amour (18 March–21 July 2022) at the Institut du Monde Arabe in Paris was organised to 'bear witness to the fraternity and solidarity that bound Algerian and French artists and intellectuals together during the most difficult years of their shared history, a fraternity and solidarity that continue to this day'. The long war for Algerian liberation rejected precisely this kind of implicit bind. Algerians fought for and won subjective autonomy, and with it an autonomous narrative for art and culture rather than one inexorably tethered to their coloniser.
Yes, the exhibition's framework, positioning Baya's strange, birdlike women as perpetual residents of their own gardens, reproduces some of the worst orientalist tropes about Algerian women. Yes, the catalogue contextualises decades of virtuosic painting and sculpture by reprinting essays from the 1970s, '80s and '90s with titles such as 'Baya, child painter' and 'Baya the magician, Baya the enchanting' – certainly, by now, it is politically unconscionable to continue to infantilize such an important figure in Algerian art history. This is still an exhibition made in France, after all, which few would argue has fully grappled in a meaningful way with its violently racist colonial legacy.
And yet, Femmes en leur jardins is groundbreaking. It shows the work which has rarely been shown before in France, and not in the context of relationship to France, but by focusing on what the work was nourished by, or what it nourished in turn. On view is a vase in white argyle made by Picasso, Femme à l'amphore ('Amphora woman', 1947). The distinctive pear-shape of a woman with ample hips and a small head is hollow, confirming a classic trope: woman-as-useful-void. Picasso was a resident at ceramist Suzanne Ramié's studio complex in the south of France, and that summer Ramié had also invited the young Baya. Picasso's woman-shaped vase is set here next to a sculpture by Baya made the same year, Femme portant une coupe ('Woman carrying a bowl'). Baya's woman is solid clay and she purposefully grasps the vessel. The womens' facial expressions are similar, as is the sense of movement conveyed by the irregularity in their respective contours. The wall label explains that the elder artist was curious about what Baya was making and, according to some visitors to the ceramic studio at the time, a bit jealous of the younger artist's abundant creativity – a remark that corrects the often-repeated narrative that Picasso was a major influence on the Algerian's artistic development.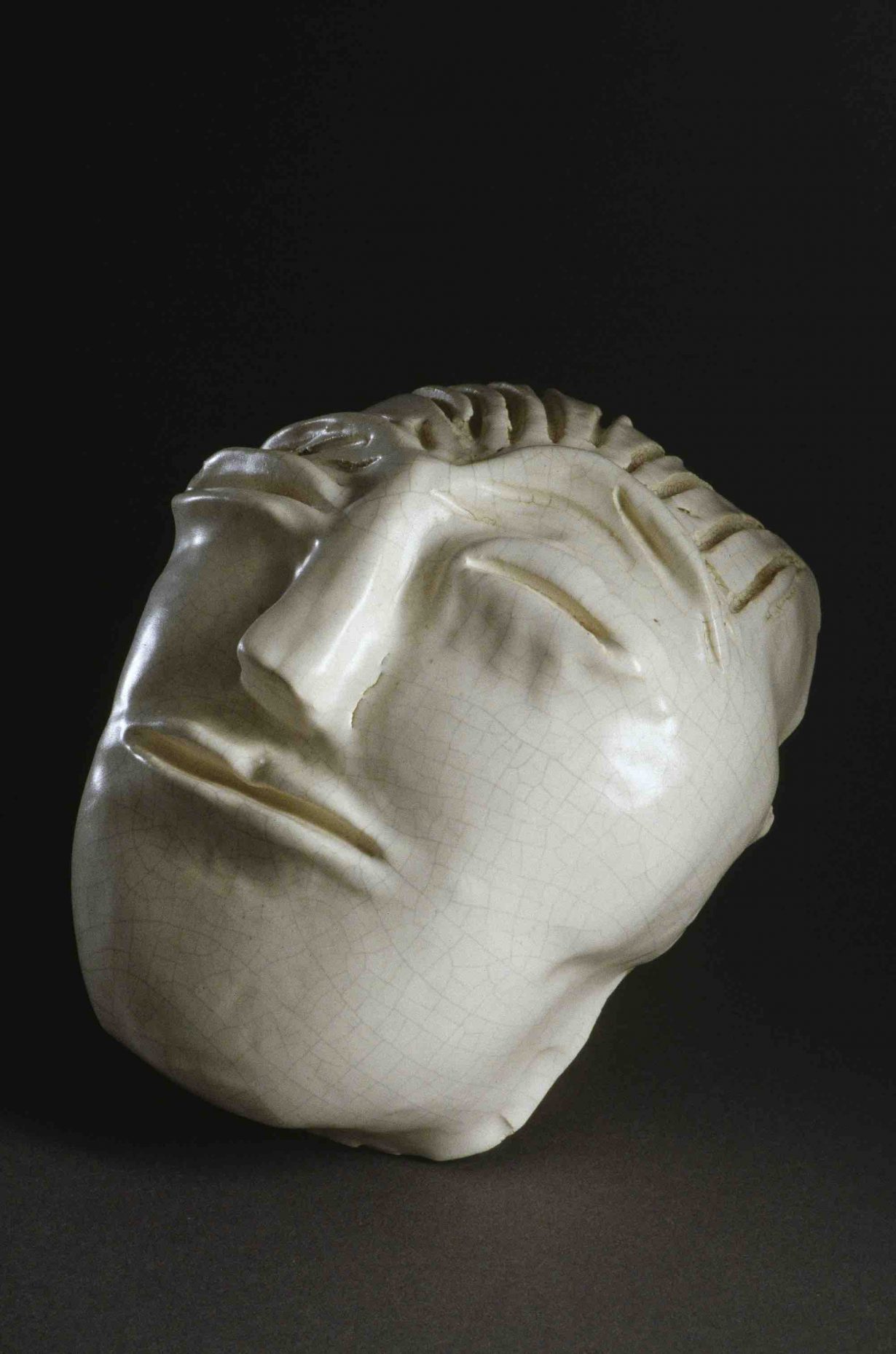 Beyond revising the way one artist's work is displayed, beyond showing an expanded and richly documented story of Baya's encounters in Europe and her influence in artistic circles in Algeria, this exhibition also draws a visual correlation between an undeniably modernist artistic practice and the material tradition indigenous to North Africa. The most spectacular example thereof is the juxtaposition of a vivid blue silk caftan almost entirely covered with intricate silver embroidery, and a series of gouaches featuring a woman in a flowing, embroidered blue dress. The objects come from the Institut du Monde Arabe's collection, which may seem old-fashioned, but felt fresh to me here. To be clear, the woman in the painting is not wearing a caftan, but the complex, abstract patterning in saturated colours (so characteristic of Baya's oeuvre) is effectively anchored elsewhere than in a comparison to Miró or Matisse. Her appreciation for flat, all-over blocks of colour loosely tethered to women and animal figures is returned to its proper ground: the ancient and highly sophisticated abstract ornamentation that is prevalent in North Africa.
This in return is exhilarating, especially in the context of a nation convulsed by the rise of the right wing and a wave of police violence against citizens of colour, of which the killing of 17-year-old Nahel Merzouk by police in Nanterre and the violent uprisings in response in July 2023 are only the most recent examples. An exhibition with cases full of letters, objects borrowed from an institution established in order to educate French citizens about Arab culture and formal juxtapositions might seem like traditional museum fare, but they demonstrate many decades of recognition by French artists, art critics and philosophers of the magnitude of Baya's aesthetic contribution to their own imaginative universes. This kind of multivalent recognition of Algeria's history and aesthetic agency is precisely what the polarization of public space in France obscures.
Natasha Marie Llorens is an independent curator and writer based in Stockholm, where she is professor of art and theory at the Royal Institute of Art.