Young artists are questioning Denmark's benevolent self-image, portraying the cosy-focused 'hygge' culture as a strategy to avoid critical reflection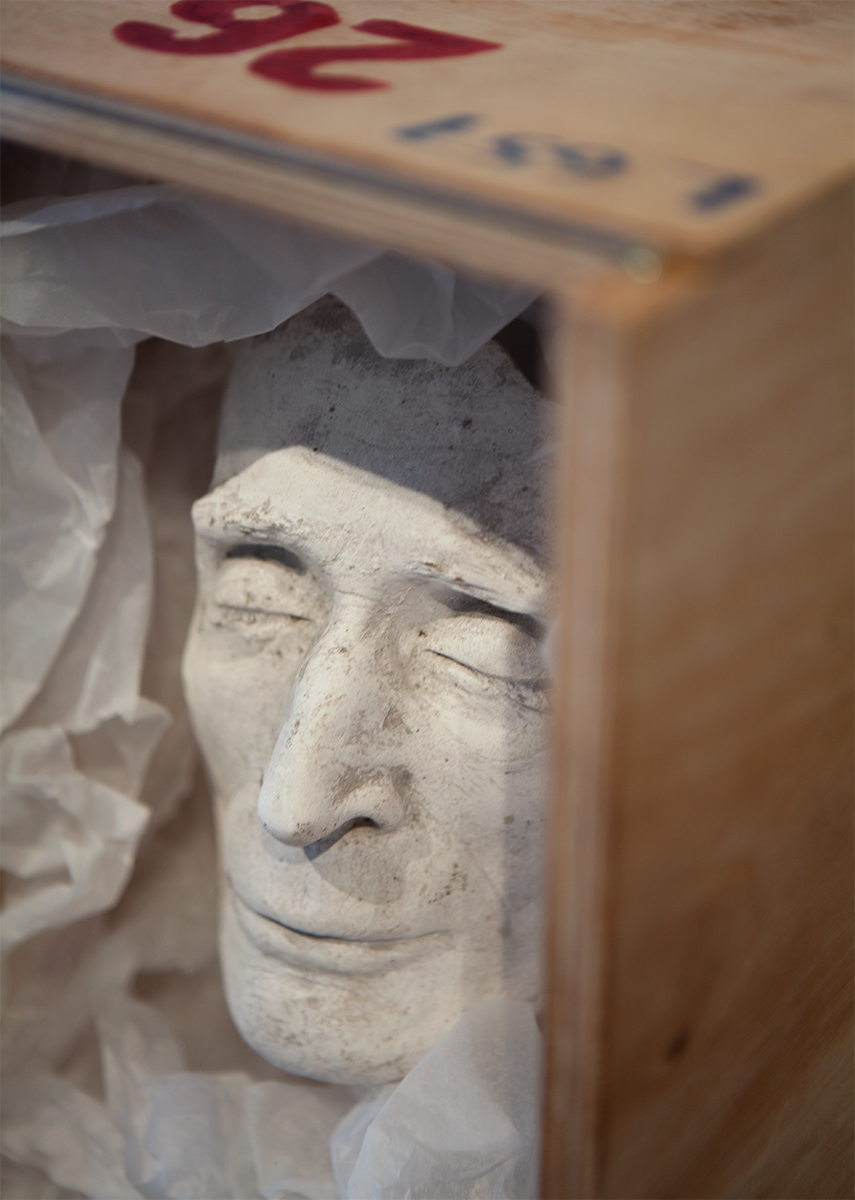 If a strong indicator of an art scene's vitality is the diversity of autonomous project spaces and quality of commercial venues, Copenhagen is having a moment. Due to the high cost of conventional gallery-type space there, noninstitutional platforms must get creative about location, conditions and programme, and there are some unique enterprises doing just that.
Consider Aye-Aye, whose shows explore the conditions of objecthood itself through a conceptual approach to display. A micro-project space, it's situated in a vacated office upstairs from the well-established, artist-run Overgaden. Each exhibition comprises two 'objects' plus a soundtrack, an experimental constraint both dogmatic and, it turns out, profound, each show seemingly an instalment of a larger, ongoing exhibition. Conceived by artists Nina Beier and Simon Dybbroe Møller as a recontextualising platform that levels both 'art' and 'nonart' objects, Aye-Aye questions the cultural status of things and creates rich, weird material associations, some suggested by an authoritative-sounding voiceover that hovers between irony and homage. In fact, the strategy is a playful extension of the 'sociocultural collage' style of the founding artists, who recently moved back to Denmark from Berlin. The current show, melding associations of motherhood, violence and the shadowy distinctions between representation and reality, combines the death mask of Napoleon's mother, Letizia Bonaparte – borrowed from Copenhagen's Thorvaldsens Museum, reportedly including original eyebrow hair – alongside a ten-year-old-boy's toy weapon collection, displayed as if it was presented for sale on eBay.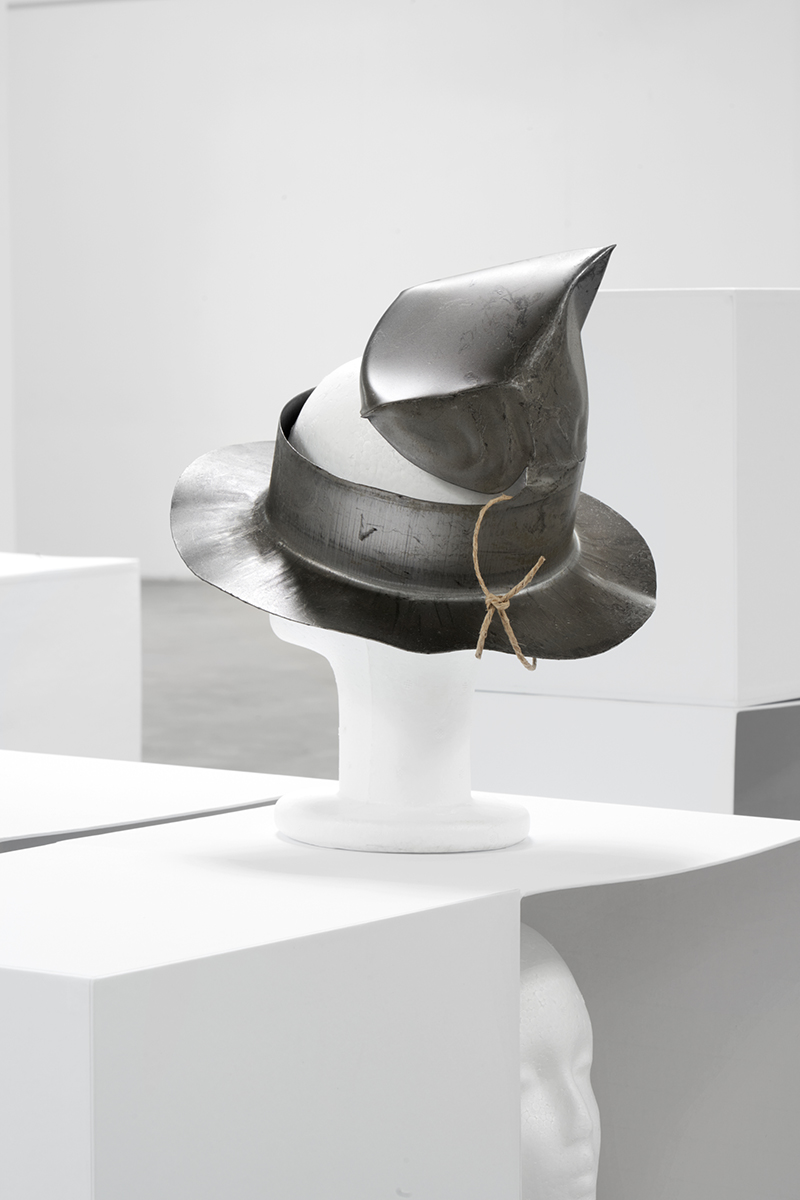 Simian is an independent space located in an unused, underground bike garage, adjacent to a large shopping mall, in a recently constructed neighbourhood of housing blocks whose 'artificial', sci-fi character is often a critical starting point for exhibiting artists. In the exhibition Rough Continuity, Lazar Lyutakov's sociocritical interrogation of commodity production takes the form of a minimalist shop-style display: what look like tin hats are in fact assembly-line rejects from an industrial plant, while bespoke lamps made from cheap, mass-produced items such as colanders and plastic bowls hang throughout Simian's large hall. Lyutakov's ersatz objects are juxtaposed with Jens Fröberg's modestly sized monochrome paintings, some of them reproductions of sections of other paintings and thus simultaneously abstract and representational. Abstraction is key to Marina Pinsky's exhibition Undertow in the next hall, which materialises industrial metrics across various media, referencing for example water impurity and salmon-dye colour charts, and includes a scale model of a duck-hunting decoy boat with a cell-phone jammer instead of a hunter floating in a constructed pond, referring to the large lily pond located on top of Simian's subterranean location.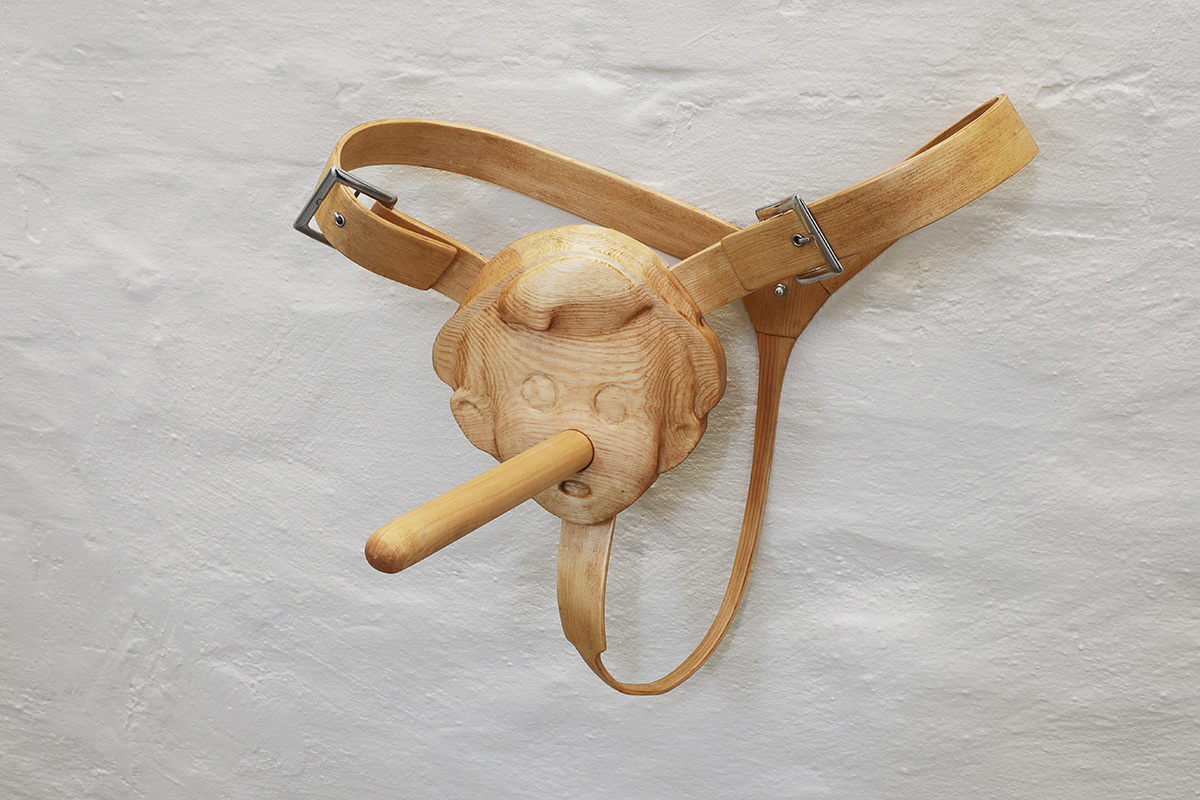 Meanwhile at Bizarro, an artist-run space in a tiny former storage room accessed through a courtyard at a pricey city-centre address, Tora Schultz considers the gendered politics of design in Stand Hard, a tongue-in-cheek play on 'standard'. By refashioning the formal elements of a well-known Danish modern chair – employing its bent wood to form a strap-on dildo with a Pinocchio face, standing rolls of its brightly coloured linoleum on end in hard phallic columns – Schultz reveals the not-so-egalitarian subtext of a supposedly 'democratic' furnishing ubiquitous to Danish schools and institutions, which is, however, based on the average male's measurements, forcing everyone else into an awkward position. Here the midcentury modern canon submits to a sobering yet playful critique of power dynamics.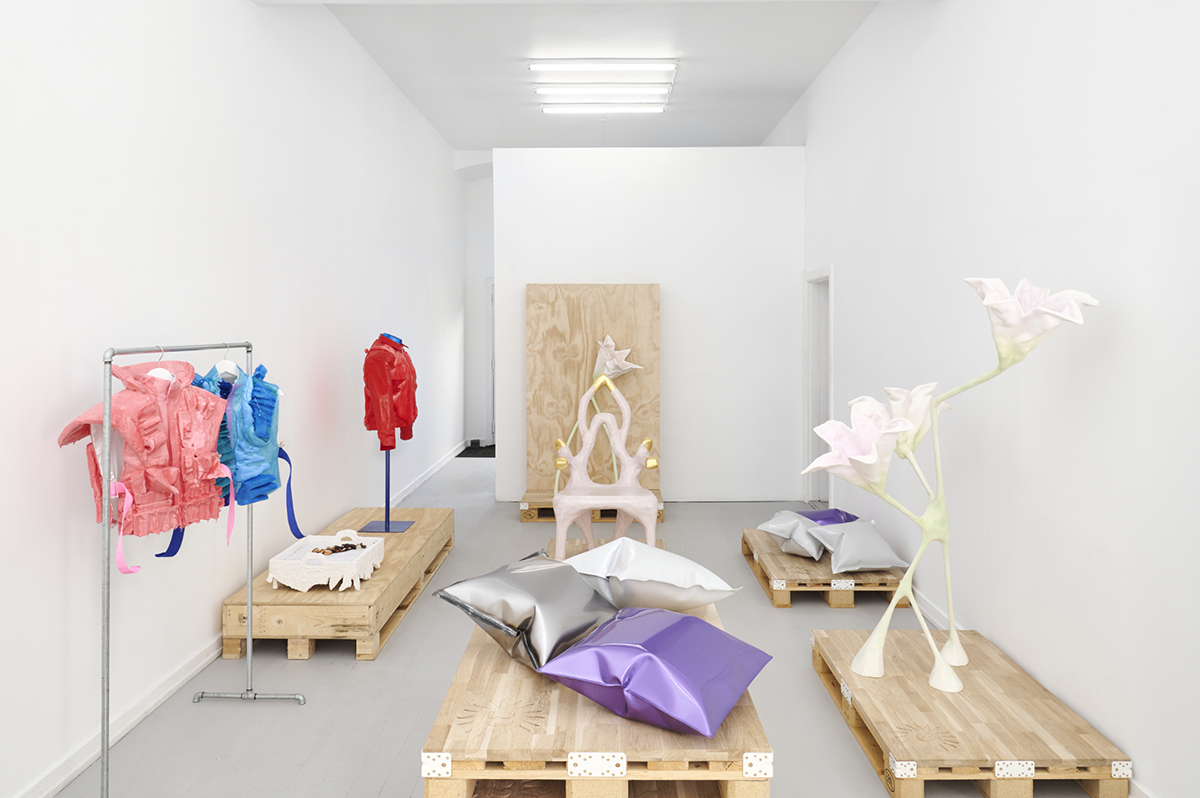 Young Danish creatives are elsewhere questioning Denmark's benevolent self-image, portraying the cosy-focused 'hygge' culture as a strategy to avoid critical self-assessments. Etage Projects, a gallery dealing with post-disciplinary work crossing art and design, is presenting work by the collective Dansk Export (all of whom studied abroad). Made from waste petrochemical products, Victor Miklos Andersen and Aske Hvitved's Hlér Jacket series (2021) refers to Denmark's little-discussed position as the EU's top producer of crude oil and its expansive, climate-crushing fashion industry. The colourful jackets also float, a nod to rising sea levels, especially concerning for the low-lying country. Esben Ingemann Larsen's pig head trophy, Målet Helliger Midlet (2021), points towards the country's notably brutal pork industry, while Mischief (2021), from Anna Aagaard Jensen's Lady chair series, slays misguided notions regarding gender equality (#MeToo was only recently acknowledged in Denmark) by encouraging women to sit with legs wide apart (men cannot use the chairs).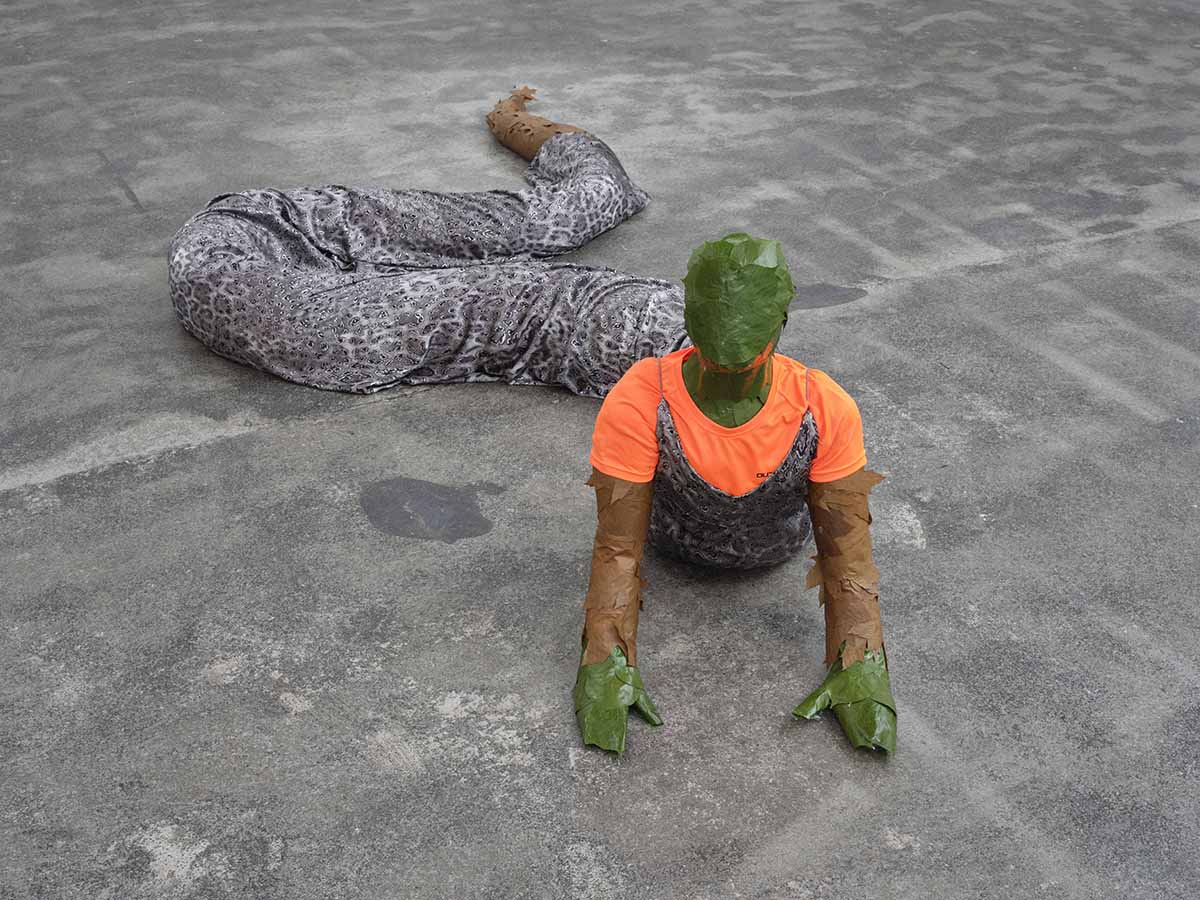 On the commercial side, at Galleri Nicolai Wallner, Nordic myths – albeit much older ones – are again busted and reinvented. Just as Rasmus Myrup's exhibition title Folx is an inclusive update of the earthy 'folk', his sculptural figures are drawn from a range of Scandinavian legends updated with self-empowering details and telling backstories. Often constructed from natural materials related to a particular myth's natural location, Myrup's hybrid bodies unite fauna, flora and people with the supernatural. Posed as if checking her painted nails, The Rye Bitch (Rugkællingen) (2021) has a face and hands made of rye wheat, while the huntress Skadi (Skade) (2021), namesake of Scandinavia, is fashioned using a pine tree from Odsherred, sports bras and spike-heeled ski boots. These, in turn, are shown alongside an exhibition of Kinga Bartis's expressively fluid paintings of figures merging with and emerging from water, allowing nonbinary harmonies to connect the two shows.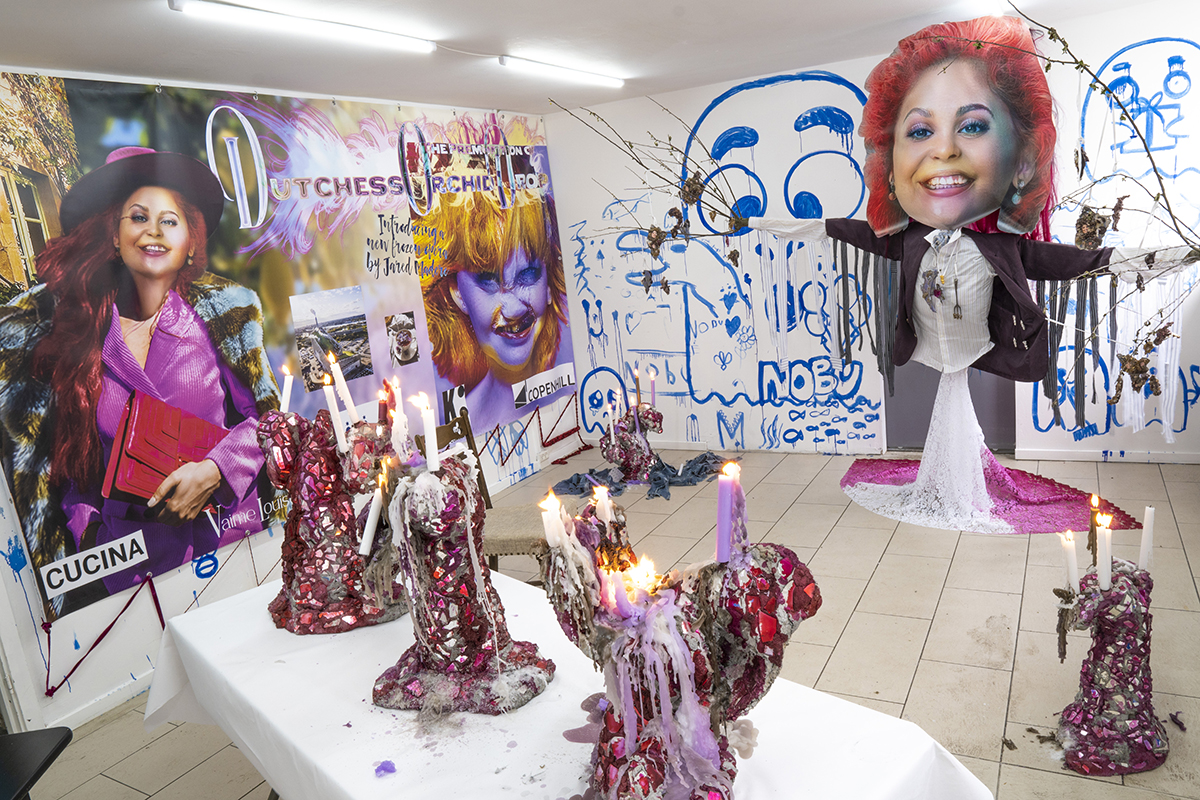 In Jared Madere's work shown at both the artist-run Cucina – which hosts social events and dinners as a base for artistic presentations – and a local restaurant, there is likewise a shapeshifting narrative sense to cultural origin stories and rituals in combination with the use of organic material, though approached through the mashup lens of the American postinternet media landscape. Madere has used complex text-to-image AI programs to produce photography based on narrow internet search algorithms, resulting in twisted, no-holds-barred hybrid images. He shows photos and sculptures at the eatery, occupies the gallery with an exhibition/ 'brand' hangout space and conducts children's graffiti workshops, while creating jewellery and a vegan dinner to raise funds in support of the main event: an elaborate 'frozen opera' characteristic of his practice. Taking place on Copenhill, a forested ski-hill on the sloping roof of BIG architects' massive waste-to-energy plant, The Unpopular Courage of Dutchess Orchid Drop (2021) plays out as a phantasmic origin story, as if half-remembered and retold by a culture now grown out of its myths but imaginatively, meaningfully, joyously carrying on.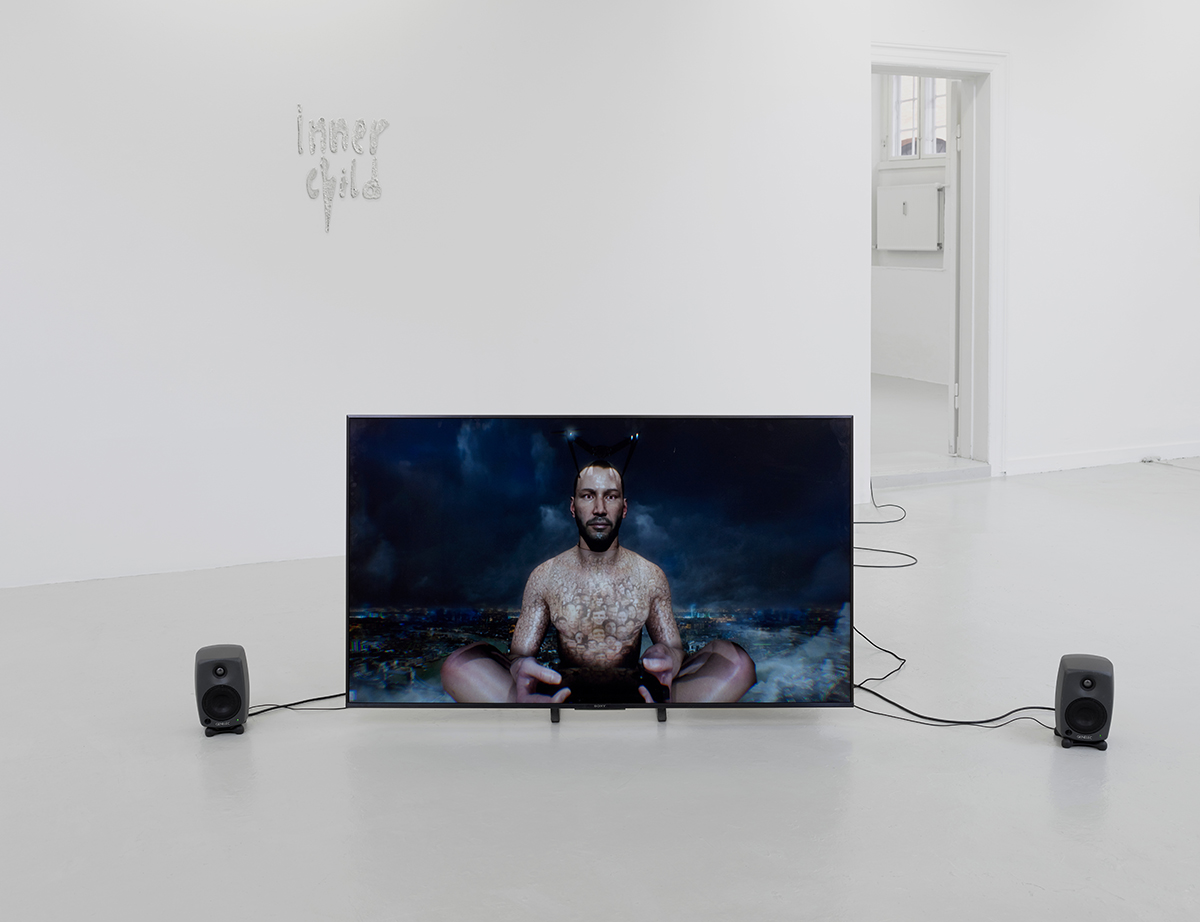 Finally at Christian Andersen, the dark side of (again) AI informs Danish artist Sidsel Meineche Hansen's multiplatform work, which deals with surveillance and the digital dispossession strategies of corporate control. The lengthy exhibition title is the address of Hansen's north London flat, complete with postcode, of which she presents rough sketches drawn using methylene blue, an early antipsychotic drug, thereby concentrating the thematic focus on the corporate control and monetisation of personal space and subjecthood. Videogame controllers activate – when you click on the modified lenses in the eyes of a Keanu Reeves avatar – three short lo-fi videos that explore the debilitating effects of (no longer CC) TV in London from a first-person perspective. Nearby, Hollow Eyed (2021), a series of silicon-metal sculptures hung with nails through their eyes, appear like crude goth-style emojis. Scanning these trigger-objects with a custom app generates an augmenting sequence: a portent of our digitally dominated global predicament, and one in which AI is termed a 'halfway house between Silicon Valley ideology and neo-fascist reality'.
From the October 2021 issue of ArtReview