The Indonesian art collective has released further details about the 2022 exhibition, including new 'lumbung-members'
Indonesian interdisciplinary collective ruangrupa, curators of the upcoming edition of documenta (the first Asians and the first collective to do so), have released further details about the quinquennial exhibition. The collective is organising the 15th edition, scheduled for 18 June – 25 September 2022 in Kassel, Germany, according to the agricultural concept of 'lumbung' (rice barn), a collective mode of sustainably managing resources.

'Under the current conditions, the concept of lumbung, and its values of solidarity and collectivity have never been more relevant,' the collective said in a statement. 'We are therefore not suspending lumbung but accelerating it.'
In accordance with this concept of sharing and common ground, the collective has invited 'collectives, organizations, and institutions from around the world to gather and develop lumbung together'. They are: Fondation Festival sur le Niger (Ségou, Mali), Gudskul (Jakarta, Indonesia), INLAND (Madrid, Spain), Jatiwangi art Factory (Jatiwangi, Indonesia), Khalil Sakakini Cultural Center (Ramallah, Palestine), Más Arte Más Acción (MAMA) (Nuqui, Choco, Colombia), OFF-Biennale (Budapest, Hungary), Trampoline House (Copenhagen, Denmark) and ZK/U – Zentrum für Kunst and Urbanistik (Berlin, Germany).
'Together, these lumbung-members will develop long-term conversations in which the sharing of knowledge, solidarity, and resources will increase the wellbeing of each of their local practices and ecosystems,' the collective said. 'Over the next two years, these initial lumbung-members will invite new members to join and share their tried-and-tested practices with each other, making the initiatives visible in various forms and modes of expression within the framework of documenta fifteen in Kassel and its relations to other locales.'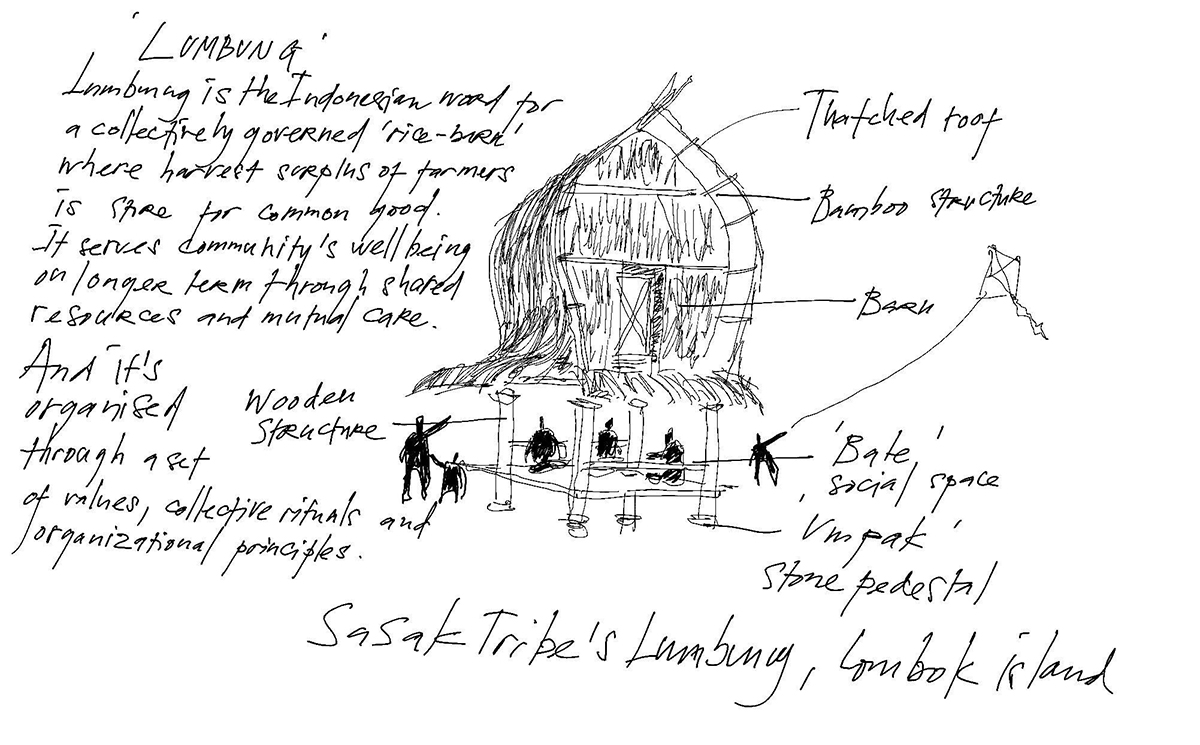 In the Winter 2019 issue of ArtReview Asia, Annie Jael Kwan profiled Gudskul – a public learning space created by ruangrupa in 2018 in collaboration with the Jakarta-based collectives Grafis Huru Hara and Serrum. 'The Gudskul pedagogy marries the artistic and production approaches espoused by ruangrupa,' Kwan writes, 'bridging its belief in collectivity that extends to building 'a collective of collectives,' and its focus on sustainability for legacy and long-term transformation in the Indonesian art scene.'
ruangrupa (whose name roughly translates as 'a space for art') was founded in 2000 in Jakarta. They have participated in the 2002 and 2018 editions of the Gwangju Biennale, the 2005 Istanbul Biennale, the 2011 Singapore Biennale, the 2012 Asia Pacific Triennial of Contemporary Art in Brisbane, the 2014 São Paulo Biennial and the Aichi Triennale in 2016 (in Nagoya). They curated the 2016 edition of Sonsbeek in Arnhem, the Netherlands.