Holding his first solo exhibition in 1966, Gérard Fromanger, whose death was announced Monday, worked against the prevailing orthodoxy for abstraction in painting, advocating for a new form of figurative composition that also departed from social realism.
With a nod to the transatlantic trend of Pop art, Fromanger and countrymen such as René Bertholo, Peter Klasen, Bernard Rancillac and Hervé Télémaque became interested in representing urban life, consumer society and the social revolutions of decade on canvas. They were joined internationally by the likes of Icelandic artist Erro and Spanish painter Eduardo Arroyo.
Friend of sculptor César, with whom he shared a studio, and of Alberto Giacometti, Fromanger first joined the 'figuration narrative' artists at the Salon de mai in 1964 and 1965 and soon became involved in the Salon de la Jeune Peinture. Subsequently, as a founding member of the Atelier Populaire at the Ecole des Beaux-Arts in Paris, he produced various collective and political serigraphy works during the protests of May 1968.
A series of paintings in which the red of the flags of countries including China, the USA, Germany, Belgium and most controversially for his home audience, France, spilled out into blood splatters made his fame. The same year he produced Souffles, a series of large balloon-like blood red translucent street sculptures and collaborated with Jean-Luc Godard to make the short Film-tract 1968 in which the red of the French tricolour bleeds out onto the the white and blue.
In 1974, he participated in a trip with several other French intellectuals and artists to China and used it as an inspiration to create the series Le désir est partout (Desire is Everywhere) showing streets scenes from his travels rendered, within a single canvas, in both photorealist monochrome and a Pop-like palette. There is a purposeful jarring of two realities within a single canvas: the gritty reality of mid-twentieth century China and the formalist, material, qualities of paint.
Likewise, Existe, a 1976 oil on canvas by Fromanger is indicative of Narrative Figuration, in its depiction of a mob of journalists, microphones held out, painted in a black-and-white photorealist fashion. Their attention is directly towards a purely abstract brightly multi-coloured blob of paint however.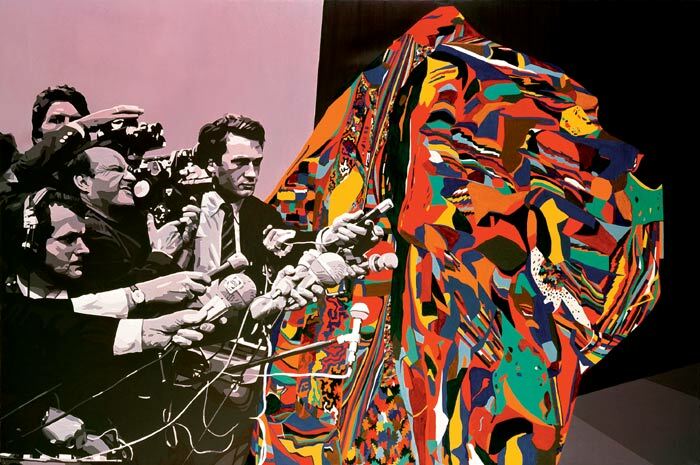 Speaking to Catalogue, Fromager said of the work: 'At the time, I had problems with the generalization of the media; it was an issue in itself and in relation to art and art history. Could painting resist? Was it able to deliver information as strongly? In Existe, I perverted an image from an interview: I erased the person towards whom all the microphones were directed and replaced her by pure painting, a jungle, an explosion of colours. The piece brings together these two different worlds, arguing that painting can't be properly communicated through media. It can be talked about, critiqued, filmed, but the nature of painting itself belongs somewhere else. It's another kind of spectacle, another kind of communication. Presenting these two media side by side was for me a way to expose the stupefaction provoked by this confrontation.'
In the late 1970s the artist went on to produce a series of portraits of his intellectual friends and collaborators: Michel Foucault (1976) shows the philosopher's realistically rendered face consumed with abstract painted squiggles; Jean-Paul Sartre (1976) seen side on, dissected into a trio of different painterly styles. Having moved to Siena, Fromanger began to paint landscapes, again subverted in his trademark fashion, of the Italian villages, towns and countryside.
In 2005, the artist was the subject of the retrospective Gérard Fromanger: retrospective 1962–2005, which traveled to museums in France, Belgium, Luxembourg and Switzerland.