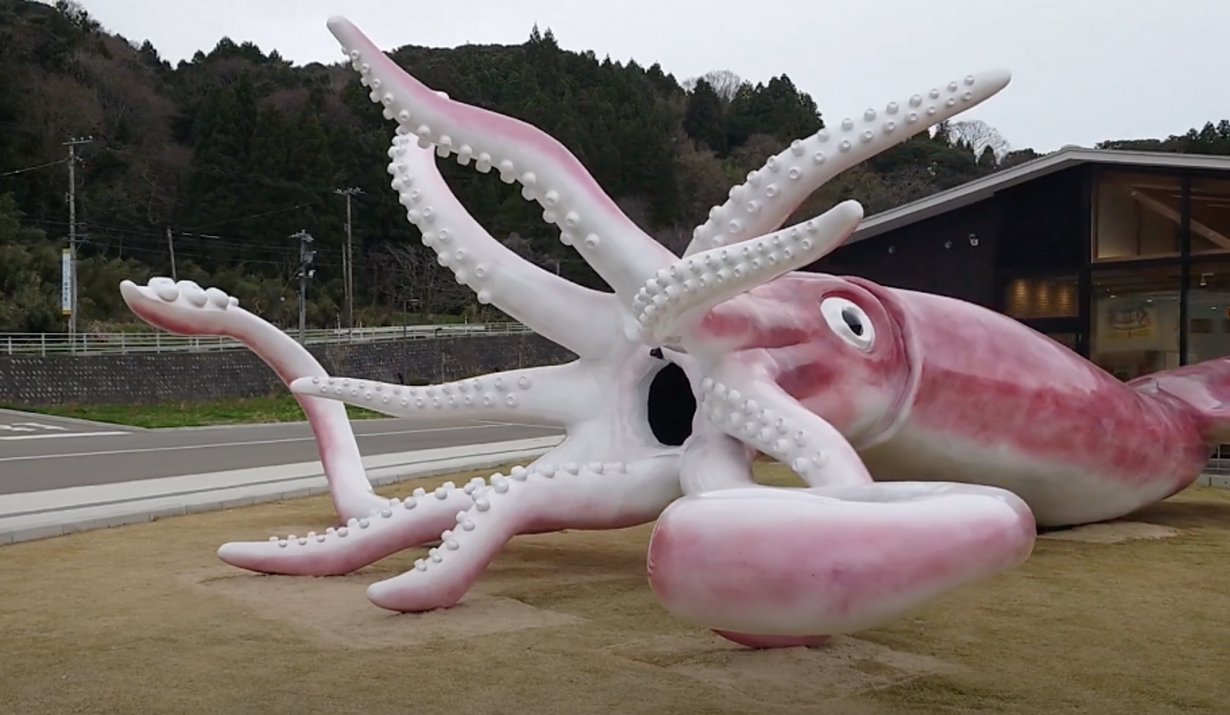 When the Japanese government handed out millions of yen to local authorities to help revitalise the country's post-pandemic economy it gave no stipulation as to how the money should be spent. A monumental sculpture of a goggle-eyed pink squid might not have been what was envisaged however.
The 25 million yen (£165,500) squid sculpture in Noto, in the Ishikawa Prefecture, pays homage to the fishing traditions of the coastal town. The thirteen-metre-long and four-metre-high sculpture was installed in March on a scrap of grass opposite a petrol station near the harbour.
Some locals have questioned whether the work was the best use of the funds however, asking whether the money might have been more urgently spent on support for medical workers or those whose health and income has been effected by the COVID-19 virus. The anti-cephalopod lobby amassed a petition of almost 2,000 signatures reports Chunichi Shimbun.
COVID-19 is on the rise again in Japan with a seven day average of 5,389 cases. Tokyo, Osaka, and Kyoto are currently under a state of emergency. Yesterday the country's nurses spoke out against a call for volunteer medical personnel to staff the Tokyo Olympics, postponed from last year but set to take place in July.
Town leaders in Noto hope their eight-tentacled attraction will be a hit with tourists and selfie-takers once the country is fully reopened.
The town hosted 68,500 visitors last year, who flocked to its squid-speciality restaurants, as well the beach and nearby fishing villages. Across the peninsular, which is on the west coast of Japan's main island, rival Wajima also attracts summer crowds, enticed by its famous lacquerware traditions and a morning market run by, according to Japan's tourist board, 'elderly women known for their character and grit.' The thoughts of these women pertaining to their neighbour's squid are not recorded.