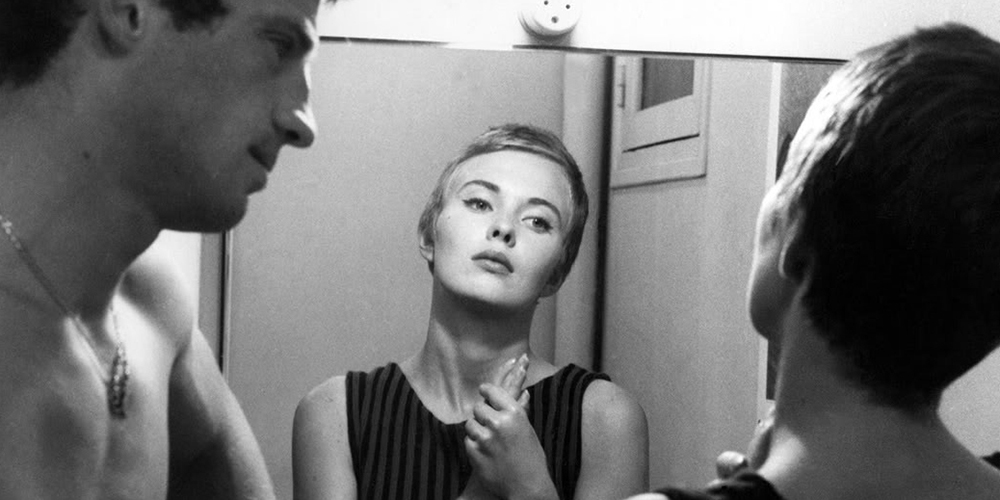 Jean-Luc Godard, commonly regarded as the greatest cinema maker of the twentieth century, has died. The pioneer of French New Wave, alongside the likes of François Truffaut, Claude Chabrol and Jacques Rivette, garnered immediate success when À bout de souffle (Breathless) was released in 1960. He had honed his seemingly rough style of filmmaking, with its abrasive edits and counterintuitive narrative structures, in a series of short films throughout the 1950s, as well as developing his thinking in film theory and interest in Marxist politics while writing for the journal Cahiers du Cinéma. À bout de souffle won best film at the Berlin Film Festival.
His leftwing radicalism was made clear in successive projects, including Le Petit Soldat (The Little Soldier, 1961), dealing with the Algerian War of Independence (which was censored until Algeria's independence the following year); Vivre sa vie (My Life to Live, 1962), a meditation on notions of freedom and capitalism through the life of a young sex worker; and Masculin Féminin (1966), which dealt with the cultural politics surrounding, as one intertitle spells out, the 'children of Marx and Coca-Cola'.
His politics and style faded from fashion in the 1980s and 90s, and Godard retreated into video art, with MoMA staging his 1992 retrospective, Jean-Luc Godard Son+Image, 1974 to 1991. By 2001 however the director was once again receiving plaudits for theatrical releases. In Praise of Love, released that year, was selected for the Cannes Film Festival, and Film Socialisme, released in 2010, coincided with him receiving a honorary Oscar celebrating him as 'one of the seminal modernists in the history of cinema'. His 2014 work Goodbye to Language, shot in 3D, and in which a couple ruminate on the nature of love via their dog, won the jury prize at Cannes.
Godard died at his home in Rolle, Switzerland, by assisted suicide.
'The cinema is not a craft,' the auteur wrote early on his career. 'It is an art. It does not mean teamwork. One is always alone on the set as before the blank page. And to be alone… means to ask questions. And to make films means to answer them.'