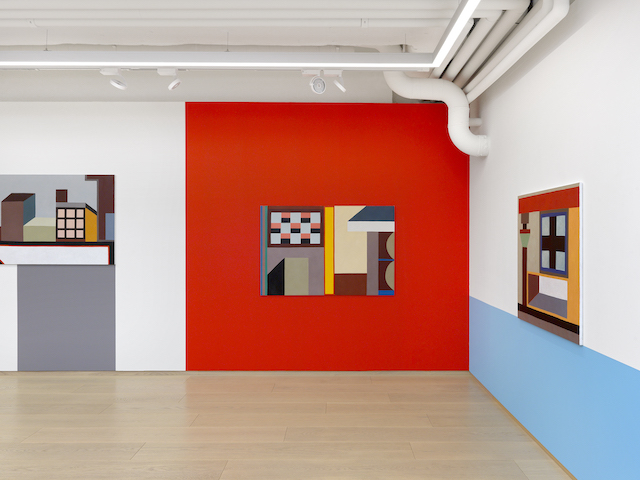 Du Pasquier is best known as a cofounder of the Memphis Group, the Italian architecture and design collective. She left in the late 1980s to dedicate herself to painting, but the principles of postmodern design continue to inform her sharp, geometric compositions and her staging of them. Paintings interact with each other across space, and it might be better to consider this exhibition as a single, multifaceted installation rather than a collection of discrete objects, in which paint moves from canvas to the walls and forms are repeated across the space. That seamless flow between works extends beyond the city: this is the second chapter of a show which opened at Pace's Seoul gallery last year.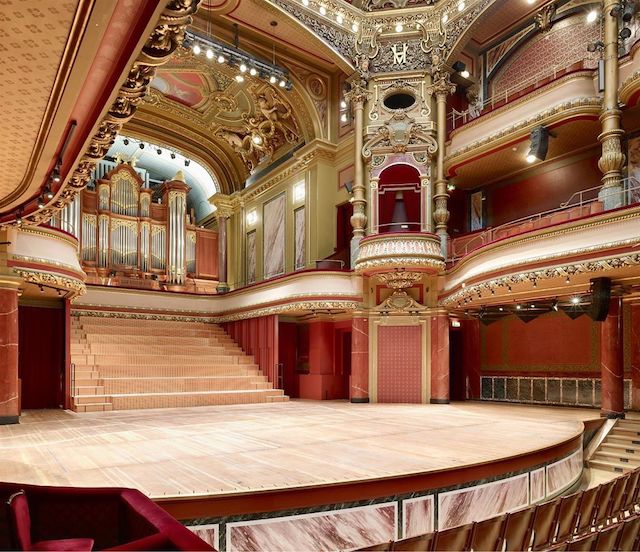 This is, as the title suggests, a recurrence of an art-and-music event staged at the Venice Biennale last year. Attesting to the longstanding crossover between avant-garde art and experimental music will be Saâdane Afif, Anri Sala and Pierre Huyghe, with musical interventions by Sam Durant and Kristin Oppenheim, and a collaboration between Raymond Pettibon and Oliver Augst. ArtReview has been promised an even longer list of 'special guests' and, hopefully without straying into either redundancy or surplus, some actual encores.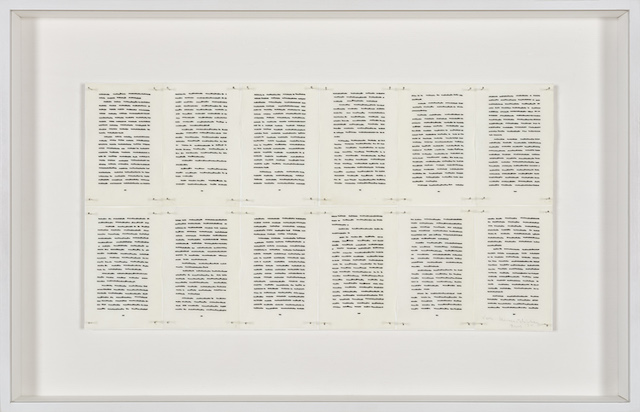 Irma Blank at MAMCO, through 2 February
The German-born, Milan-based artist was relatively little-known until a surge of interest a few years ago culminated with her inclusion in the 2017 Venice Biennale. Now it's MAMCO's turn to shine a light on the 88-year-old artist with a major survey of her tightly focused oeuvre: for six decades the artist has been experimenting with the formal properties of writing and the effects of repetition, stripping text of its semantic functions in search of 'the nude sign, the sign that is such and does not refer back to anything but itself'. In addition to her 1970s works, which adopt a time-and process-based approach reminiscent of a more meditative Hanne Darboven, this show includes two more recent series: Global Writings (2000–16), a crystallisation of her aspirations to a universal language-form, and Gehen (2016–), for which Blank, unable to use her right hand due to illness, learned how to write with her left.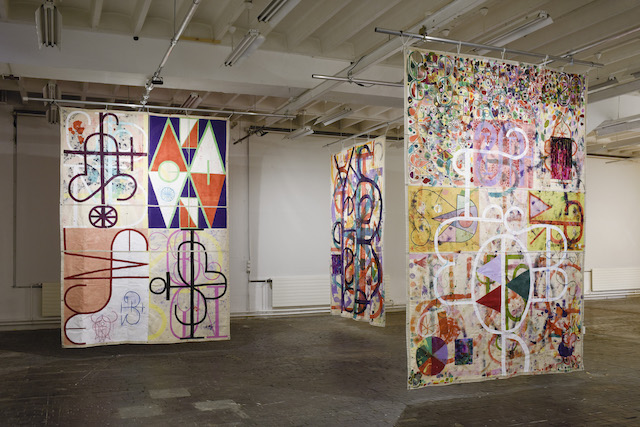 Blank's work would be write at home (geddit?) in this group show. In fact, Blank might even be included in it, but the list of artists is so long that ArtReview can't be sure. Under a title that translates as 'writing by drawing', this exhibition considers methods from the early twentieth century through to now that seek, like Blank, to move language beyond communication and 'toward the unfettered, absolute reclamation of the mark, with its wealth of imaginative possibilities'. What's more, the show is organised in collaboration with the Collection de l'art brut in Lausanne, which contributes works by Henri Michaux, Adolf Wölfli, Jean Dubuffet and Kunizo Matsumoto, presented alongside that of Greta Schödl, Giorgio Griffa, Susan Hiller, Guy de Cointet, Chiara Fumai… and, as ArtReview mentioned earlier, many, many more.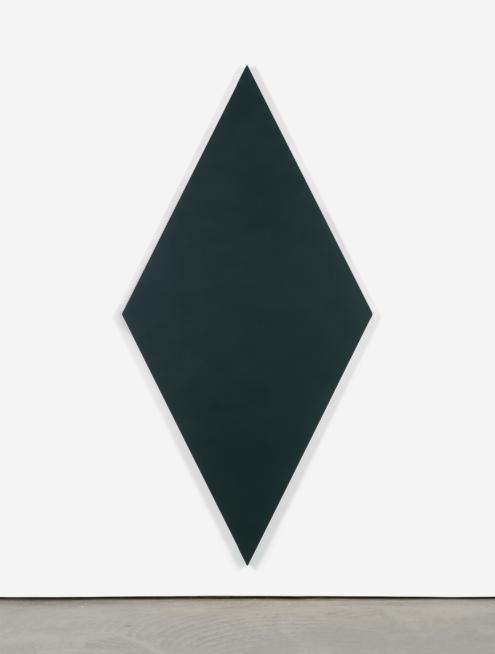 Olivier Mosset at Gagosian, through 3 April
'Minimalism is not dead', is the whispered message of this frugal proposition by Swiss veteran Olivier Mosset (a major retrospective opens at MAMCO in February). In the 1960s Mosset was a member (alongside Daniel Buren, Michel Parmentier and Niele Toroni) of the acronymic artist collective BMPT which, along with Supports/Surfaces, carried the flag for minimalism in France. Often intervening in each other's work, the movement questioned notions of authorship and originality, erasing the hand of the artist to focus attention on the object. This stripped-down aesthetic is apparent in the four identically sized diamond-shaped canvases that Mosset presents for his debut show at Gagosian. Colour is the obvious variable here, but, in a similar fashion to Blank's intricate compositions, each of these compositions invites close contemplation of it as a discrete work with its own DNA. Think of this as time out from the art-fair hustle, and an opportunity to reflect on what makes an object an art object, especially when it is repeated over and over and over…
Online exclusive published on 31 January 2020