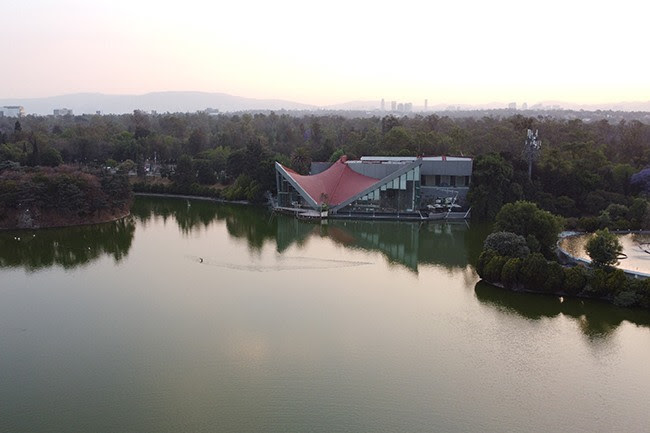 Jérôme Sans, who founded the Palais de Tokyo, will be the creative director of Lago/Algo, a new cultural centre in Mexico City's Chapultepec Park.
Announcing his appointment, the gallery OMR, which is spearheading the initiative, described the venue, a modernist pavilion designed in 1964, as a 'vibrant laboratory for new social and cultural models enlightened by the most radical contemporary practices'. The pavilion has long served as a restaurant, but will open amidst scrutiny over the use of public space in the city. This comes in the wake of a massive billion-pesos (£368 million) reimagining for the park, often described as Mexico City's 'lungs'. Last year Mexican president Andrés Manuel López Obrador (AMLO) appointed artist Gabriel Orozco to oversee the project. Lago/Alto will operate a hybrid model mixing commercial and non-commercial projects without public funds.
In addition to the new centre and its nine preexisting museums – which include Museo Tamayo, the Museo Nacional de Antropología and the Museo Nacional de Historia – the park is set to host a series of new pavilions built by Orozco. His plans have attracted controversy, however, with critics pointing out that, while AMLO has pushed through a 75 percent cut to the federal budget – including to the arts budget – nearly 20 percent of the latter is now spent at the sole discretion of the artist. The public, Gaby Cepeda wrote in ArtReview, has little power to 'hold Orozco accountable – as he holds no public office – for possible conflicts of interest when it comes to the pavilion and the warehouse'.
Cepeda continued, 'We worry about the power structures being reinforced in a wealthy central location that is already oversupplied with galleries, theatres and museums, especially now, when many institutions along the periphery of the city and in the provinces are falling apart.'
Sans has experience in both the state and private sector. He co-founded Palais de Tokyo in 2002 with Nicolas Bourriaud, with whom he co-directed the Paris institution for its first six years. Sans moved to head the Ullens Center for Contemporary Art (UCCA) in Beijing from 2008 to 2012. He has curated numerous international exhibitions including the Taipei Biennial (2000) and the Lyon Biennial (2005). Most recently, the curator organised an exhibition of Erwin Wurm at the Museum of Contemporary Art in Belgrade (2022).
This article was corrected 27 June 2022 to make clear that Lago/Alto is not part of Orozco's masterplan.