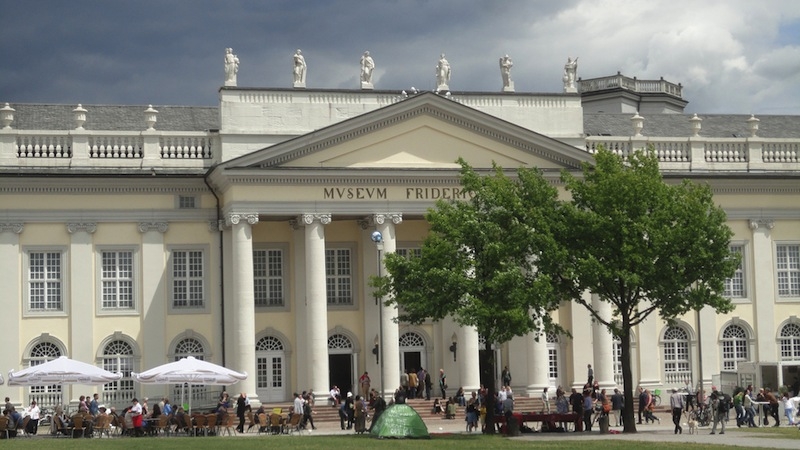 The curators of Documenta have pulled a forthcoming talks series over claims that they would be 'antisemitic'. Ironically, the talks were organised to discuss and debate allegations of the same nature that had been raised previously. Ruangrupa, the Jakarta-based art collective that is heading up this year's edition of the quinquennial exhibition, deny the accusations but state 'it has become clear that the accusations and insinuations made against the discussion forum and documenta currently make productive discussion impossible'.
In January, Documenta was accused by the Alliance Against Anti-Semitism Kassel of featuring 'anti-Israeli activists' in their wider programming. In their statement regarding the cancellation of the talks programme, Documenta says the group 'despite its name, essentially consists of the individual Jonas Dörge… the "alliance" has nothing to do with the Jewish Community Kassel.'
The basis for Dörge's claims, which the curators point out appear on his blog under the motto 'There Is No Anti-Zionism Without Anti-Semitism' and a photo of an Israeli fighter jet, were that members of the Documenta selection committee had signed a letter condemning Israeli government policy towards Palestine.
In response to the criticism, the festival organised a series of three talks, originally slated to occur in May, under the title We need to talk! Art – Freedom – Solidarity, each billed as a discussion on 'the role of art and artistic freedom in the face of rising antisemitism, racism, and Islamophobia'. While two of the three online events were primarily concerned with antisemitism, with speakers including Forensic Architecture's Eyal Weizman and artist Hito Steyerl, the programme was condemned by the president of the Central Council of Jews in Germany, Josef Schuster, who said that the third event in the series, the subject of which is billed as 'anti-Muslim and anti-Palestinian racism' also demonstrated 'a clear tendency towards anti-Semitism'.
Ruangrupa has responded that 'No anti-Semitic statements were made at any time during documenta fifteen. We strongly oppose these accusations and criticize the attempt to delegitimize artists with reference to a controversial definition of anti-Semitism and to preventively censor them on the basis of their origin and their presumed political attitudes. There were also no plans to hold events by the Palestinian BDS (Boycott Divestment Sanctions) movement.'
Weizman, who is one of several Israelis to speak at the events, and Steyerl, have both been vocal in their criticism of Israel.
'The forum was to confront the accusations and insinuations against documenta in their full breadth and problematic nature; the accusations were to be made the subject, but not the basis of the discussion. We felt it would be irresponsible to our guests to begin the series of discussions under these conditions. For this reason, documenta decided to wait for the official opening of the exhibition, in order to meet the need for discussion afterwards, if necessary and on the basis of the works actually shown and statements made.'