An online discussion featuring Rahel Aima, Speak Cryptic, Tina Rivers Ryan – moderated by J.J. Charlesworth
While 2020 will forever be remembered as the year of COVID-19, it was also witness to the rise of cryptocurrency and a popularised, mass-cultural form of the scarcity-based art market. This international panel-discussion will focus on the recent hype surrounding nonfungible tokens (NFTs), or cryptocurrency's answer to the unique art object, and assess what it means for the practice of art around the world. Tracking the impact of NFTs on economic, technological, societal and practical levels, the panel will look at the rise of the NFT from the point of view of artists, collectors and critics. Are NFTs just a passing fad for a global artworld that's currently grounded? A means by which to consume energy now that global travel is (largely) off the cards? How might they change the practice, collection and distribution of art around the globe? To what extent are NFTs a sign of the revenge of popular culture against the elite cultures, gatekeepers and tastemakers of traditional fine arts? Might paintings be phased out in favour of JPEGS? And, more basically, how do NFTs function as artworks and are they any good?
The online discussion, 'NFT: A New Revolution or the Emperor's New Clothes?', in partnership with Art Fair Philippines 2021, took place on Sunday 9 May, 11am GMT / 6pm PHT.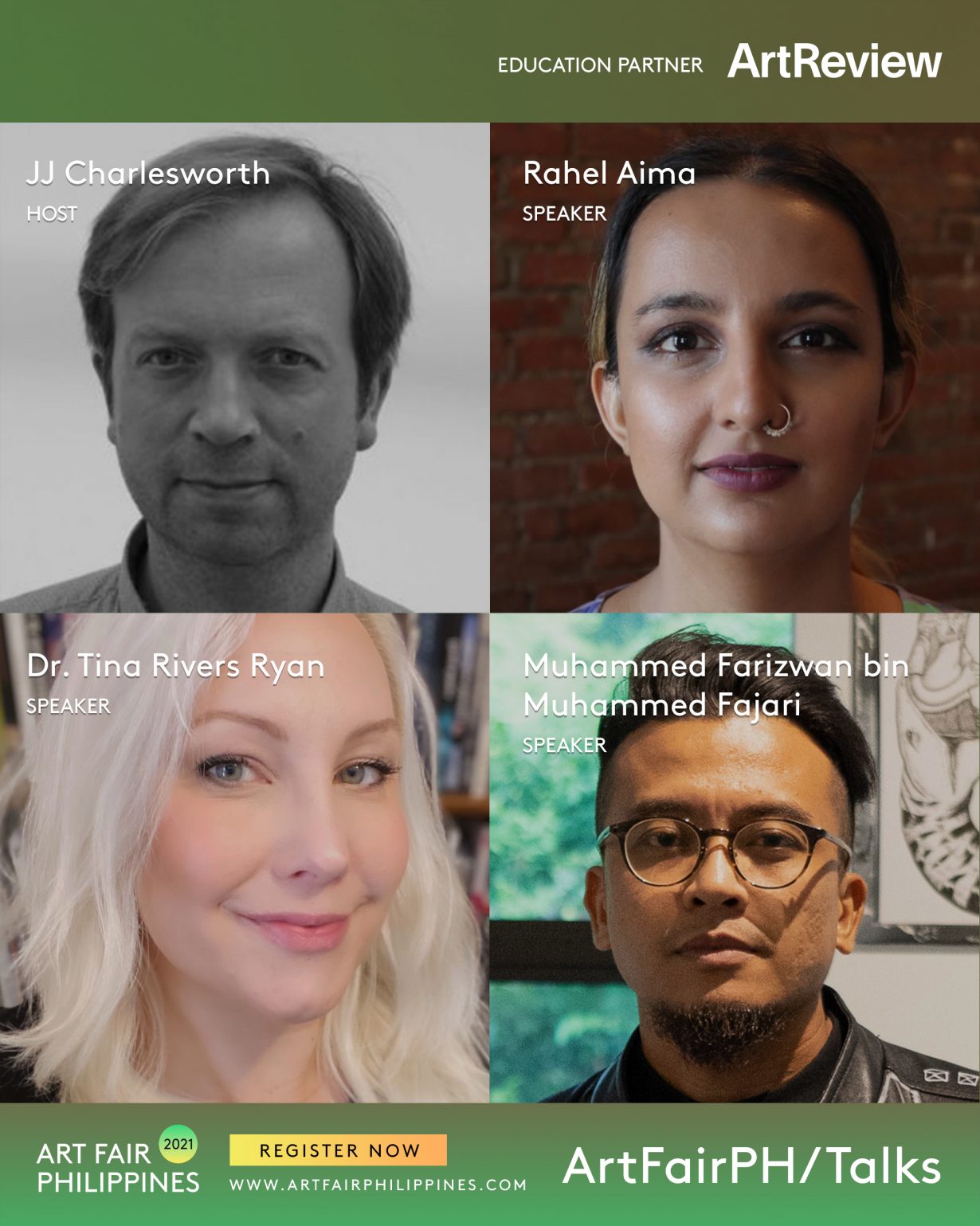 Rahel Aima is a writer, editor and critic based in Dubai. Her writing has appeared in ArtReview Asia, The Atlantic, Bidoun, Bookforum, Garage, New Republic, Vogue Arabia and World Policy Journal, and covers among other subjects, emergent technologies, technology as a politically non-neutral space, and postwesternism in the Arabian Gulf.
Farizwan Fajari, professionally known as Speak Cryptic, is a visual artist based in Singapore. Inspired by the visual language prevalent within the cultures of comics and underground music, his works primarily deal with the issues pertaining to the human condition. Utilising personal iconographies and a cast of characters that he has developed over the years, he applies them to various narratives inspired by his observations on current affairs and his immediate environment. He was among the first Singaporean artists to produce and sell NFT artworks.
Tina Rivers Ryan is a curator of modern and contemporary art at the Albright-Knox Art Gallery in Buffalo and an expert on the history of art and technology, including the early decades of video and digital art. Her exhibitions include the first solo museum show of Aria Dean (2018) and, with Paul Vanouse, the upcoming survey Difference Machines: Technology and Identity in Contemporary Art (2021). Her essays have appeared in numerous catalogues and academic journals and magazines including Art Journal and Framework: The Journal of Cinema and Media and Artforum, which features her take on NFTs in its current issue. 
JJ Charlesworth is a writer, art critic and editor at ArtReview. He studied art at Goldsmiths College in London in the mid-1990s, before turning to writing criticism. His reviews, articles and commentaries have also appeared in publications and websites including The Spectator, The Daily Telegraph and CNN Style. His take on NFTs and the artworld can be read here on artreview.com.