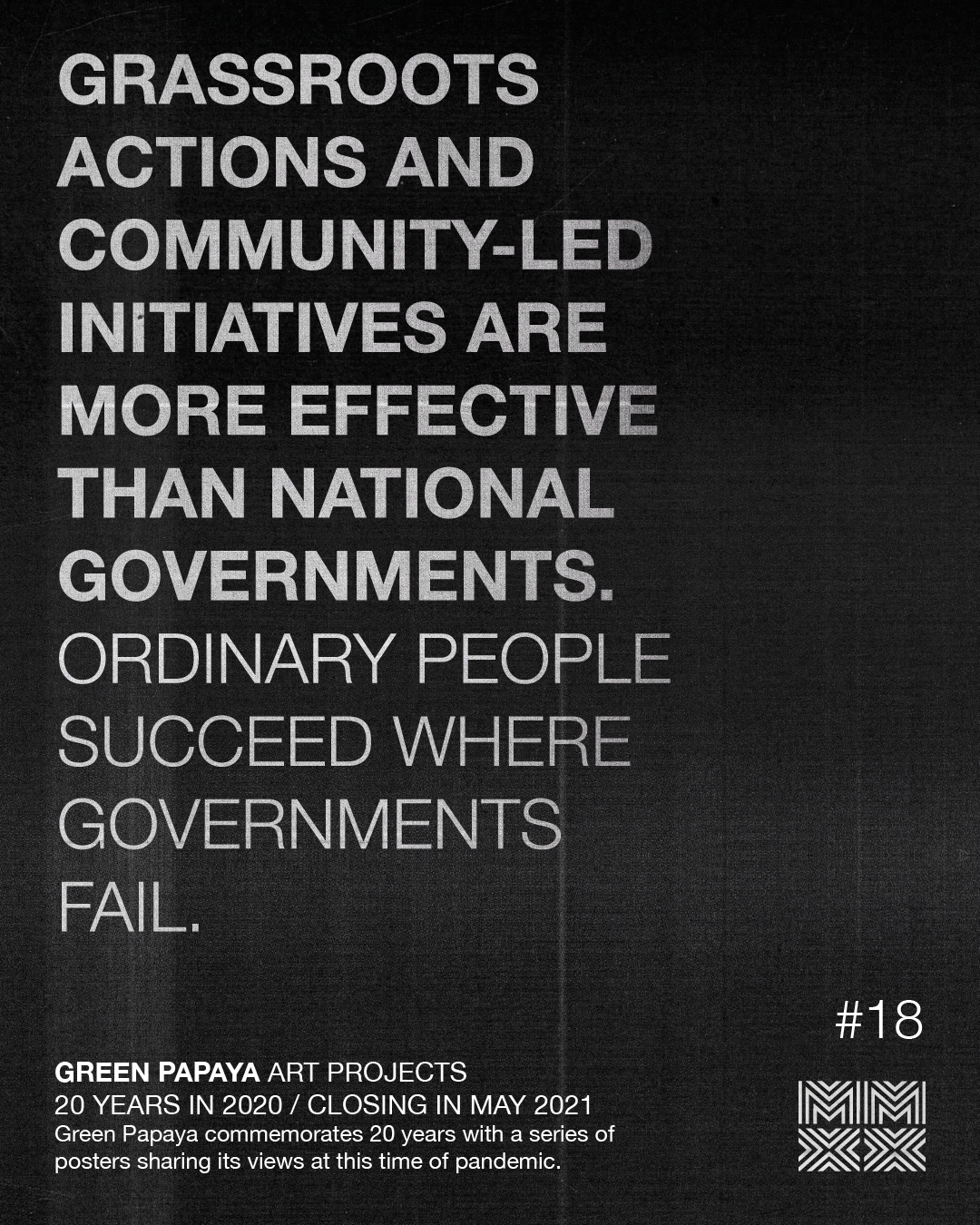 As part of the French organisation Thanks for Nothing's third annual symposium, Instructions for the woodcutters: Art, Sustainability and Commitment, ArtReview is convening a discussion on art, self-organisation and social and political practice.
From 19 to 23 October 2020, Thanks for Nothing, in partnership with the Serpentine's General Ecology project and ArtReview is convening its third annual symposium. This year, the gatherings will focus on environmental and ecological practice across art, architecture and philosophy. Click here for the full programme of the symposium and to book all sessions.
On Friday 24 October, ArtReview will convene 'What Can Art Do?', a discussion between artist and cofounder of the influential multidisciplinary art platform Green Papaya Art Projects in Quezon City, Manila, Norberto 'Peewee' Roldan, and Filipina critic Marv Recinto. The conversation will be moderated by Fi Churchman, Senior Editor of ArtReview Asia, and, using the Philippines as a case study, will examine the potential of art to interact with the social, political and cultural conditions of a given place, and the role and function of artist-run organisations. Register now.
Green Papaya Art Projects, founded in 2000 by Norberto Roldan and Donna Miranda, is an artist-run initiative that supports and organises actions and propositions that explore alternative approaches to the production, dissemination, research and representation of art in various disciplines. One of the most important core values that Green Papaya endeavours to provide its artistic community is the importance of intellectual exchange, sharing of information, critical dialogue, and creative and practical collaboration in the production of contemporary art. It consistently seeks to strengthen this position by providing a platform for multidisciplinary, collaborative, and cross-border action among Asia Pacific and Filipino contemporary artists.
Norberto 'Peewee' Roldan is a multi-media artist and curator, and currently the artistic director of Green Papaya Art Projects, a multi-disciplinary platform founded in 2000. He has worked at the forefront of cultural artistic practice in the Philippines, having founded the seminal artists group Black Artists in Asia in 1986 (a Philippines-based group focused on socially and politically progressive practice), and initiated the longest-running VIVA EXCON Biennale in the Visayas region. Norberto Roldan's work offers commentary on the social, political, and cultural conditions of the Philippines. The artist works with found objects, such as old photos and magazine clippings. His materials are drawn from everyday life, and deal with contemporary issues informed by history and collective memory.
Marv Recinto is a Filipina arts writer based in London, specialising in contemporary art of the Philippines and Southeast Asia. Born in Manila, she grew up in the Philippines, Singapore, and San Francisco. Recinto studied art history and anthropology, first earning her bachelor's at Fordham University in New York and then her master's at the Courtauld Institute of Art in London. In recent years, she has worked for the Post-War & Contemporary Art department at Christie's, focusing on intellectual property, research, and writing. Recinto is a contributing writer to ArtReview Asia; her most recent feature is the Autumn cover story, 'Artist Martha Atienza and the Fight for Environmental Justice in the Philippines'.