What would Jean-Michel Basquiat have thought of the line of easy-care rugs produced in his name?
Recently I was perusing the Ruggable website. They sell washable rugs that come in handy when you've got a naughty pup. Browsing happily through a series of browns and taupes, a sea of jute, the Persian section, the Scandinavian section, the Disney section and the Delphina Delft Blue rug (which looks like a piece of traditional pottery in carpet form), I suddenly recognised some familiar scrawls. My scrolling froze. 'Is that…?' I wondered as my cursor hovered over the company's newest and most gaudy offering.
'The colours… are reminiscent of a map', the Ruggable text explains, 'with a slate blue ocean framing a colourful landmass. Dynamic characters and birds in darker, grounding colours bring an additional element to this striking design. Made from our water-resistant, stain-resistant, and machine-washable low-pile Classic material.' It was blue with some patches of white and green, and with stick-figure birds that had the look of having been designed by a prison tattooist in something of a rush to render a patriotic collection of bald eagles. This was not, however, the work of an overworked inmate; rather, it was the work of Jean-Michel Basquiat. Or more precisely, the late artist's estate.
The aforementioned is Ruggable's 'Jean-Michel Basquiat City Of Angels Blue Multicolour Rug', a cropping of Untitled (L.A. Painting)'s upper-right corner (1982) that features some of Basquiat's hit imagery – angels, arrows and blobs of colour. It's one of 19 options that are either 'inspired' by Basquiat, as the website claims, or are direct rug-editions of Basquiat's paintings. Works like Untitled (Head) (1982), Pegasus (1987), Palm Springs Jump (1982) and Apologia (1981) are literally printed onto these rugs. But others operate in a manner unlike an artwork. You can select a colour scheme to suit your fancy. (Although perhaps you can do that at an art fair, where it's called a 'commission'.) You can also choose Basquiat rugs that have multiplied and arranged a square painting into a chequerboard pattern, or that have been picked apart so that choice emblems are enlarged and made into signature graphics for a washable doormat.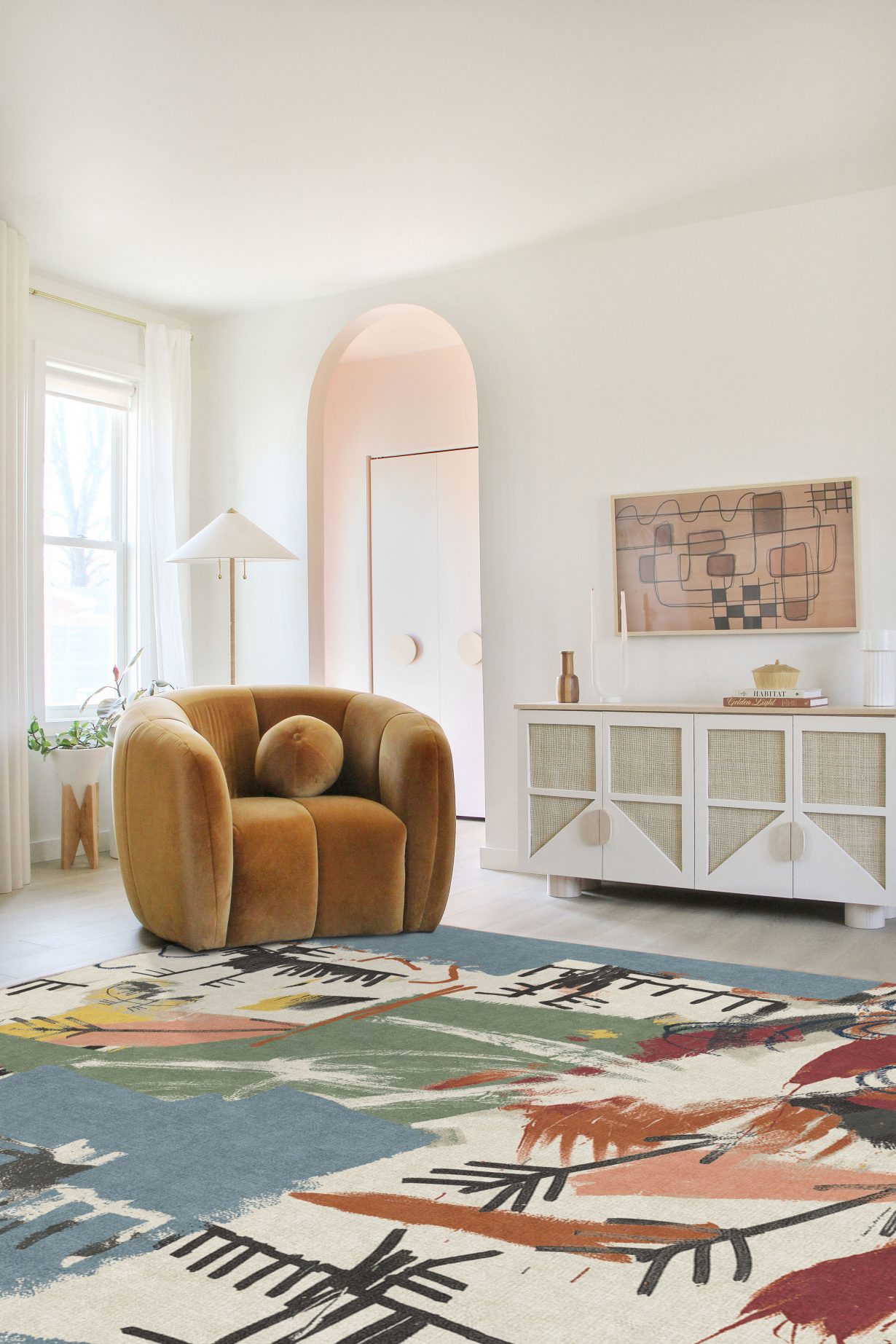 This ruggery is among the more recent of the seemingly infinite merchandising collaborations that Basquiat has entered into posthumously. The artist died in 1988 at the age of twenty seven; the estate is currently run by his sisters, Lisane Basquiat and Jeanine Heriveaux. They are not the architects of these pervasive commercial campaigns, however. No, they passed along all exclusive licensing responsibilities to the consultancy and licensing agency Artestar. While agencies like Artists Rights Society in the US or DACS in the UK will handle licensing agreements (for print, TV and occasional merchandising), Artestar seems to have taken this to an entirely new level. Everywhere you look, it's like Basquiat follows! A Tiffany & Co campaign with Beyoncé and Jay-Z; on the backs of Casetify phone cases people have set on the table while having a pint; maybe someone's even walking around wearing eyeshadow from the Urban Decay collaboration back in 2017 (hope not, that's expired by now).
In 2021 Artestar founder and president David Stark told Jing Culture & Crypto – a 'B2B platform covering how Web3 technologies are changing the art and culture landscape' according to its website – 'We're still far from being overexposed like a commercial brand'. While I might disagree – citing the over 25 official collaborations I can count, including Comme des Garçons, Off-White, Funko Pop, NBA, Fortnite and Bombay Sapphire Gin – it doesn't seem like Artestar is stopping anytime soon; in fact, it seems like the company is constantly on the hunt for potential collaborators who, Stark says in the same interview, can tell 'their story authentically'. The lack of cohesion among existing partnerships tells me, however, that the story is, 'Let's make lots of money!'
Which isn't necessarily a problem. Basquiat embraced celebrity, and the commercial artworld following his inclusion in the 1980 exhibition The Times Square Show, joining first Annina Nosei Gallery then Bruno Bischofberger. Let's also not forget that his close mentor, collaborator and friend was the fame and capitalism-obsessed Andy Warhol. As for licensing today, I look to Keith Haring – Basquiat's contemporary and fellow Artestar representee – who is perhaps even more ubiquitous than Basquiat in terms of merchandising and was actually Ruggabled before Basquiat. The Keith Haring Foundation deliberately seeks to make as much money as possible to fund its philanthropic efforts, which include supporting underprivileged youth and HIV/AIDS organisations 'in accordance with Keith Haring's wishes', as is stated on the website.
In the case of Basquiat, his intentions for his estate (which notably remains an estate and not a foundation) are not known publicly. Some have wondered whether these commercial campaigns are what he would have wanted: Thom Waite speculated that Basquiat might be disillusioned but also entranced by this omnipresence. He further points out that Olivia Laing wrote, in Funny Weather: Art in an Emergency (2020), 'You could scorn the commercialisation, but isn't it what he wanted, to colour every surface with his runes?' Personally, I can't pretend to know what Basquiat would have wanted, but I'm certain he never anticipated his works would end up on a washable rug. Had he been around to see the day, however, he might have done what Warhol did to his Jean-Michel Basquiat (1982) oxidation portrait and what my dog will inevitably do whenever my not-Basquiat Ruggable finally arrives: piss on it.