From floating '3D street art' to a talking Henri Rousseau painting, Meta's vision of the future is drained of all imagination
When I was a kid, I had a book about the future. It was full of promises of commuting on endlessly long escalator-like pavements, feeding on astronaut food (or the Huel equivalent) and jetpack rides to other cities where I would presumably walk along similarly long escalators and consume locally-flavoured efficient food. I'm making it sound depressing but I remember being enthralled: every titbit of futurist description ended with a date at which it could be expected (if memory serves me right, the pavements should have been in motion by now). The future seemed fantastic.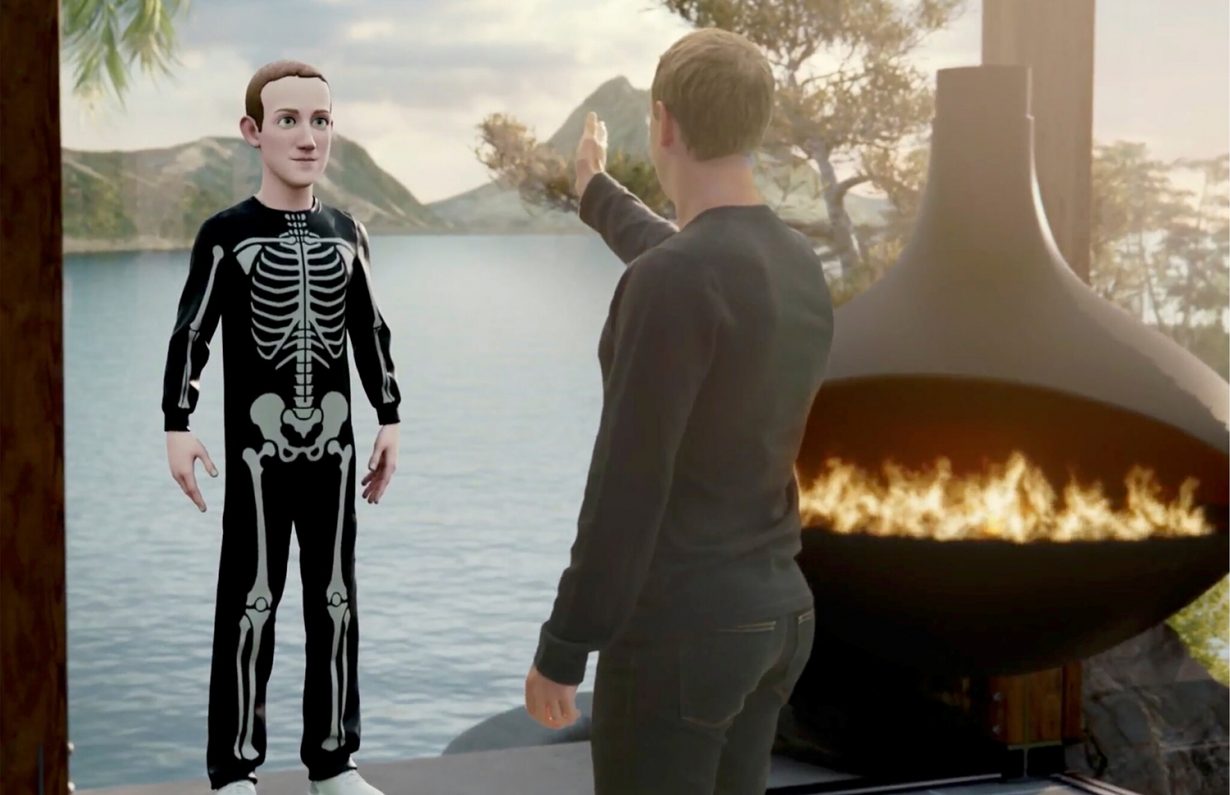 Watching Mark Zuckerberg describe the future drains it of that sweetness. The video introducing Facebook's new identity and future direction – announced during the company's AR/VR conference last month – opens with Zuckerberg sitting in an incredibly beige living room with bookcases loosely filled with leather-bound books (a very contemporary look) and photos that look like they came with the frames. A bottle of Sweet Baby Ray's honey barbecue sauce is used as a bookend, for that seriously personal touch. Zuckerberg describes how Facebook is shifting its focus away from its family of social media apps (Facebook, Instagram, WhatsApp) to the 'metaverse'. To that end, it has rebranded as 'Meta', complete with a wilting-infinity-symbol logo reminiscent of an M in Facebook-blue. The metaverse, a term for the virtual environment of the future, looks very specific in Zuckerberg's illustrative video, in which he keeps asking viewers to just "imagine" everything, while delivering a strangled vision of the possible future.
In Meta's vision of the metaverse, the home is a "homespace" where windows open onto whatever view users find "incredibly inspiring". And you can inhabit other spaces too – Zuckerberg's digital avatar meets his metaverse mates in a floating spaceship for a game of cards ("Who made this place?" "A creator I met in LA"). One of his friends is dressed like a robot but Zuckerberg opts for a less fancy-dress option, after he flips through outfits (in a way that reminds millennial me of Cher in Clueless choosing her school clothes) looking at a pair of black jeans and a black T-shirt, a skeleton costume, an astronaut suit, finally settling for virtually the same outfit Real Mark is wearing in the vid – black jeans and a light, long-sleeved navy jumper. The joke just exposes how lacking in imagination this presentation, or Zuckerberg's image of himself, is. When he uses the Messenger app on his smartwatch to connect to another friend she apologises for being "late" because she and a friend are checking out an artist "going around SoHo hiding AR pieces for people to find." 3D street art? That's cool exclaims Zuckerberg, and when she shares a link to the (abstract, snaking purple and yellow ball) piece they all agree it's stunning and describe how they love the way it moves.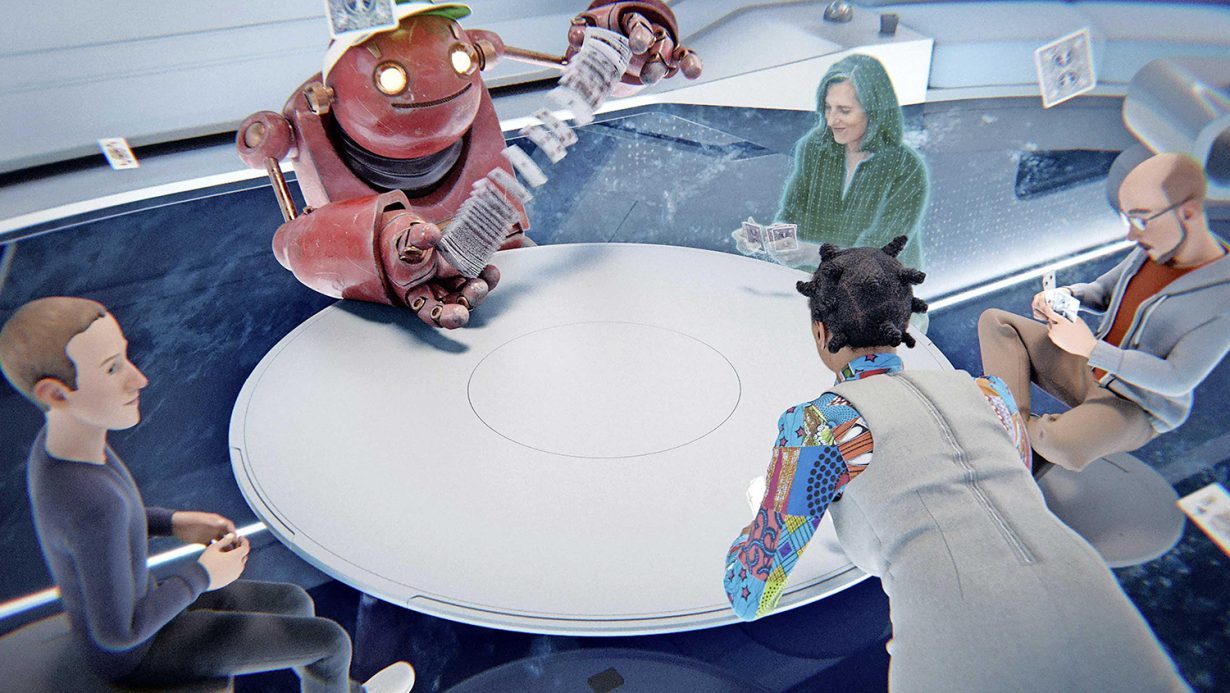 "Imagine" that as an experience of art. As part of its rebranding campaign, Meta released a short video captioned 'Enter a world of imagination with Meta and explore endless possibilities in 3D. 🚀 🎨.' A young woman walks through a museum and stops by a Henri Rousseau painting, Fight between a Tiger and a Buffalo (1909) (with a Hilma af Klint cameo behind her) only to get sucked into the painting and see it turn into something closer to Where the Wild Things Are: an animated tiger asserts "This is the dimension of imagination", while toucans and flamingos bob away to the beat. Meta's vision of art is so conceptually uninteresting, that of course a day out at the museum is presented in this hollow way: devoid of ideas, just a bunch of moving colours and animated characters.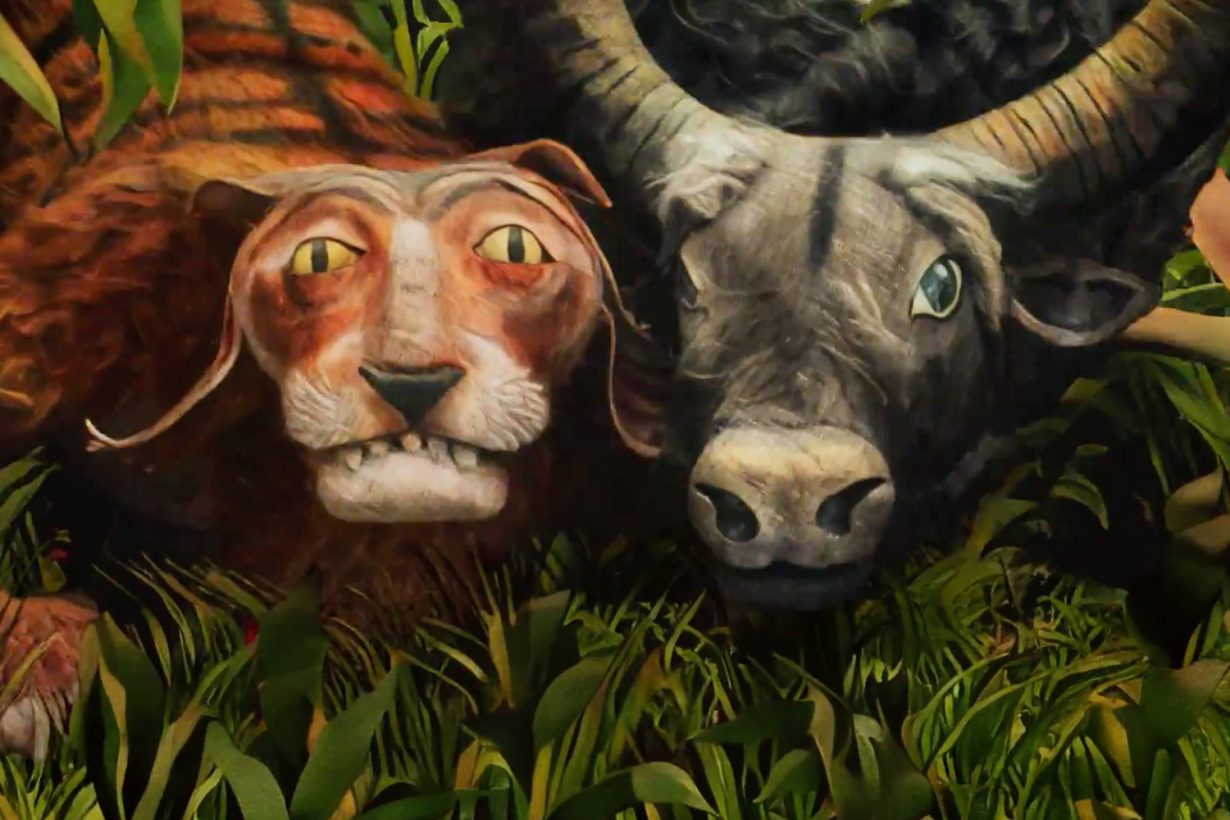 Meta's imagination is so limited, so dull – the faux-café in the offices where Zuckerberg ends his presentation, the kinda-Scandi furniture in his house, the clothes, the image of the future – that when (of course) he caveats that it all may "sound like science fiction", it's too clear how it doesn't. In science fiction, there are genderless humanoids moving across planets mingling with other species. All Zuck is offering is a "homespace" that you can fill with "digital goods" and a virtual environment where "you'll feel like you're right there together" with other people. Personally, I would really want more from the future than to play ping-pong or pick-up basketball with "people on the other side of the world" or "even against an AI" – those feel like naïve early-internet promises that disregard how they have been manufactured by a platform that has promoted racism, political turmoil, and misinformation with disastrous effects felt around the world.
"Imagine" Zuckerberg keeps saying, describing this new emerging terra incognita space. A week after Facebook employee Frances Haugen leaked documents proving how the company placed profits before any attempt to curtail hate speech and misinformation on the platform, Zuckerberg explains how we will all "need to work together from the beginning to bring the best possible version of this future to life." There's a very obvious gap between Zuckerberg's empty invitation to collaborate on a positive, egalitarian, shared vision of the future and the reality of Facebook's corporate activities. But it's OK because his future may never arrive: In the beginning of the keynote is a small text that I had to screenshot in order to read in full. It begins: 'The following presentation includes forward-looking statements about our future business plans and expectations. Actual results may differ materially from those expressed or implied in our forward-looking statements.'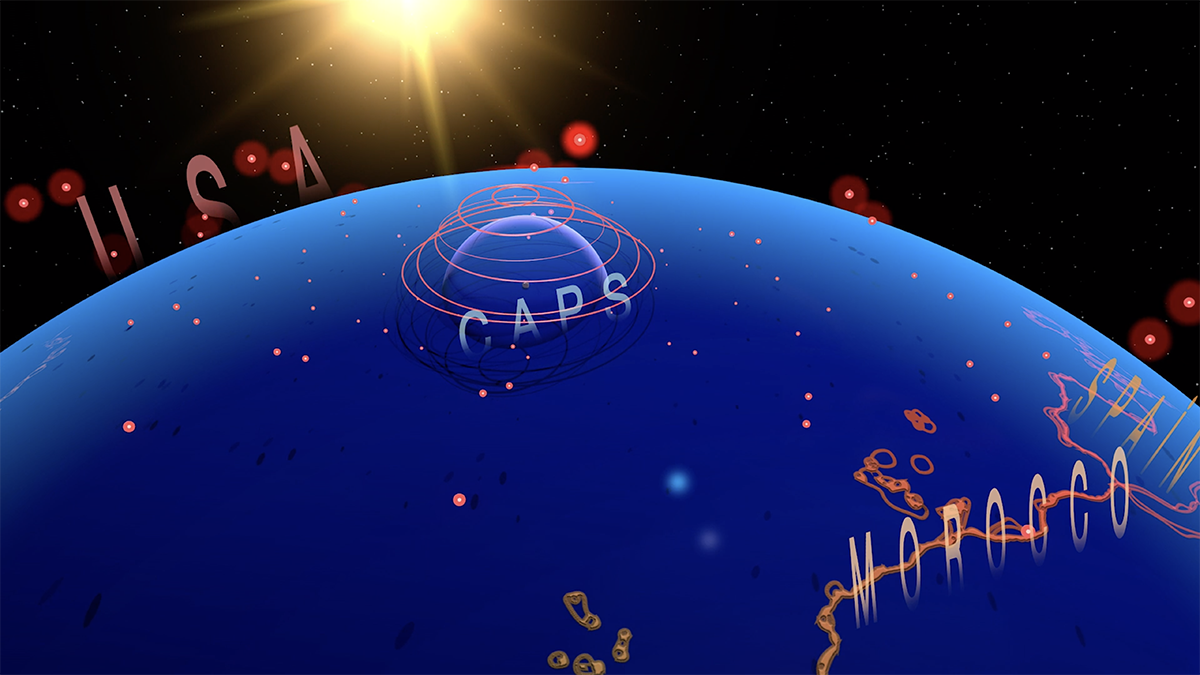 Watching Zuckerberg, I wasn't imagining much. Instead, I thought about artists' visions of the future, and how they offer a politicised version of a science-fiction-inspired future that is allowed to be darker than beige. When Zuckerberg was playing digital poker with his friends in a spaceship, I thought about another, much more intense nonspace I've seen in a video, in artist Meriem Bennani's Party on the CAPS (2018). The CAPS is a futuristic penal colony space, an island refugee camp for illegal immigrants caught mid-teleportation. Zuckerberg wants a future where he can start over. While he does that from the comfort of his homespace, artworks like Bennani's film continue to remind us that there is a politics to imagination, that we can and should imagine another world.