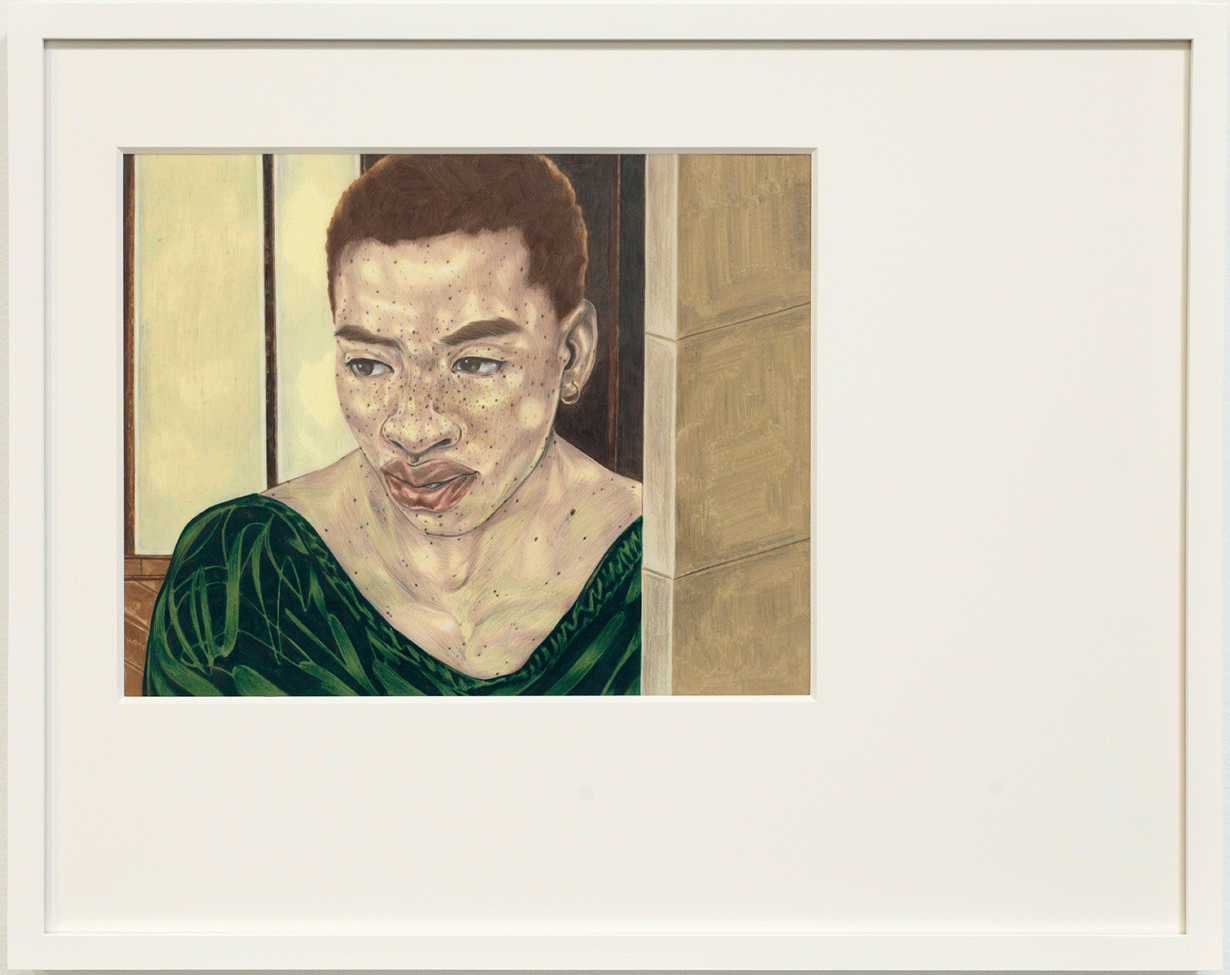 The thing I will remember most about this spring's lockdown in Brooklyn is the constant interweaving of sirens. I wondered about their lives, all those people being carried away in ambulances to become statistics, and whether they would ever return. In Toyin Ojih Odutola's new exhibition of drawings, skin ripples sinuously, like all those sirens curving through the air, but instead of a panicky cacophony, they suggest quiet, interested interiority. Layers of mark-making accumulate, creating remarkable depth. Titled Tell Me A Story, I Don't Care If It's True, it features works that were largely created this year during lockdown. It was initially on view on Jack Shainman's website this summer before opening at one of the gallery's Chelsea locations in the autumn. Yet viewing the show online doesn't begin to convey the way the drawings shift with the light. In person, they make you want to move around in front of them, tilting your head to capture the movement, as you might with a lenticular print.
As with previous bodies of work, the show features closely cropped portraits of Black people. The subjects have a nonchalant, even dreamy air that decentres the viewer's gaze. They don't refuse to perform so much as find the very idea a bit boring. Even when directly facing the viewer, they appear to look past you into the middle distance. Here, the portraits are framed together with little vignettes of text in the artist's neat hand, both mounted in apertures cut in a considerable expanse of white mat. Both writing and drawing suggest inset windows on a computer screen, or perhaps the faces and text areas that now describe a typical working day.
Ojih Odutola's works often revolve around a narrative, as in her breakout solo exhibition at the Whitney Museum in 2017, which was based on a fictionalised tale of two aristocratic Nigerian families. Here the texts range from single lines to a couple of paragraphs and switch between first- and third-person reminiscences, but manage to world-build in just a few deft strokes. They unspool the stories – and lies – that we tell ourselves, and that are poignant and prosaic in turn: a seventy-year-old woman reflecting on her art collection ('a biography of a blessed life'), a woman viewing the dead body of someone who terrorised her when alive, so many relationships lost.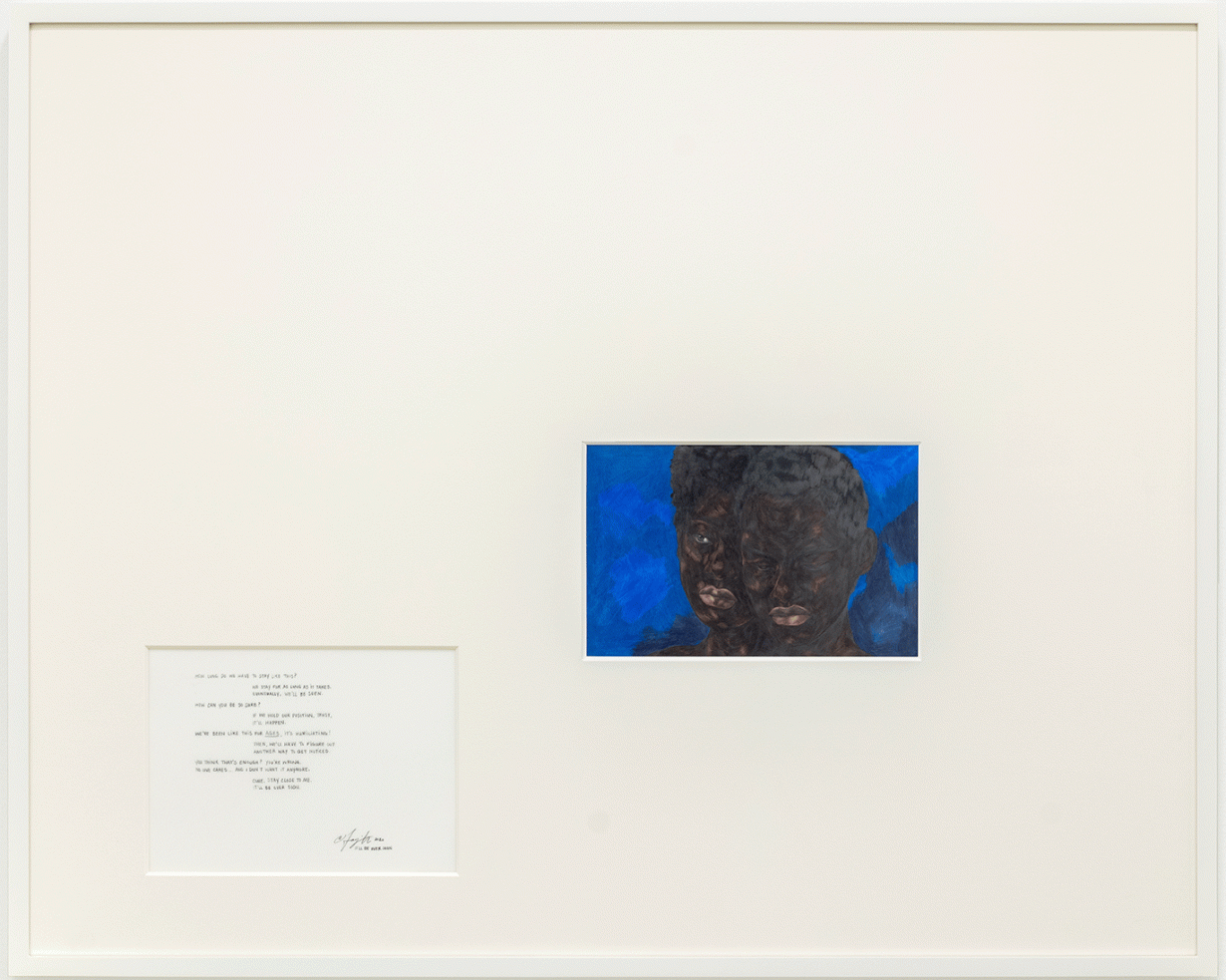 Spending time with this show feels like eavesdropping in a café or urban park-bench, so intimate is it in its anonymity. It offers a curious voyeuristic pleasure that is sonic instead of scopic: not looking but listening. Sometimes the texts relate conversations like an angry phone call in For Evidence (all works 2020). In Chosen, meanwhile, Ojih Odutola imagines an exchange between a pair looking into a shop window emblazoned with 'SALE'. One person touching up their lip gloss turns into a conversation about getting chosen and self-love. 'Don't worry if we had the option, we wouldn't choose ourselves,' says the person on the right. 'Well… I'd choose you,' the other replies.
Throughout, there's an awareness of being for sale (a very American story), of being seen and not seen, and of honouring ancestors. In It'll be over soon, a pair honed in rare colour against a cobalt background grumble about their lack of visibility, while in Homeroom a bespectacled woman tries to get through the day and 'avoid any notice of her person by anyone', the text explains. 'There is a disheartening supposition that our elders were somehow uninvolved with mainstream channels of visibility and their own agency,' Always Been offers alongside a pensive woman in a pearl necklace. In Nourishment a man considers an object accompanied by the memory of a trip to the 'Artifacts of Africa' wing of a museum, and his mother tells him that this stolen art is his inheritance and he should have pride in it. When he wants to escape the discomfiting lesson by getting food, she tells him she is amazed he still needs nourishment after time in the room. I imagine the same conversation happening in this gallery – except here the art isn't looted colonial spoils. And I imagine the same conversation one day happening in museums around the world, filled with repatriated objects; a story I long to tell myself even if it doesn't come true.
Toyin Ojih Odutola: Tell Me A Story, I Don't Care If It's True, Jack Shainman Gallery, West 24th Street, New York, 10 September – 7 November