The Republic of Uzbekistan's first national participation in the Venice Art Biennale invites visitors to question the origin myths of technology through a contemporary lens
Technology is often a hallmark of progress, an arbiter of change that we can use to trace the development of society and its abilities. So while technology can function as a state of forward- thinking or working, we can also use it in reverse – to unlock the histories of our practices and production, to see time in tangible ways. Dixit Algorizmi – The Garden of Knowledge marks the first participation of the Republic of Uzbekistan at the 59th International Art Exhibition – Venice Biennale, on show at Quarta Tesa (Arsenale) through 27 November, 2022.
Curated and designed by the architectural and research studio Space Caviar (Joseph Grima, Camilo Oliveira, Sofia Pia Belenky, Francesco Lupia) and Sheida Ghomashchi, the Art and Culture Development Foundation (ACDF) presents a reflection on the seminal work of Muhammad ibn Mūsā al-Khwārizmī. Today, the extent of his accomplishments are largely unknown. That which we do know: a scientist and polymath born and raised in the city of Khiva (in present-day Uzbekistan), Al-Khwārizmī's treatise On the Calculation with Hindu Numerals (825 CE) was in fact responsible for the introduction of Hindu-Arabic numerals to Europe.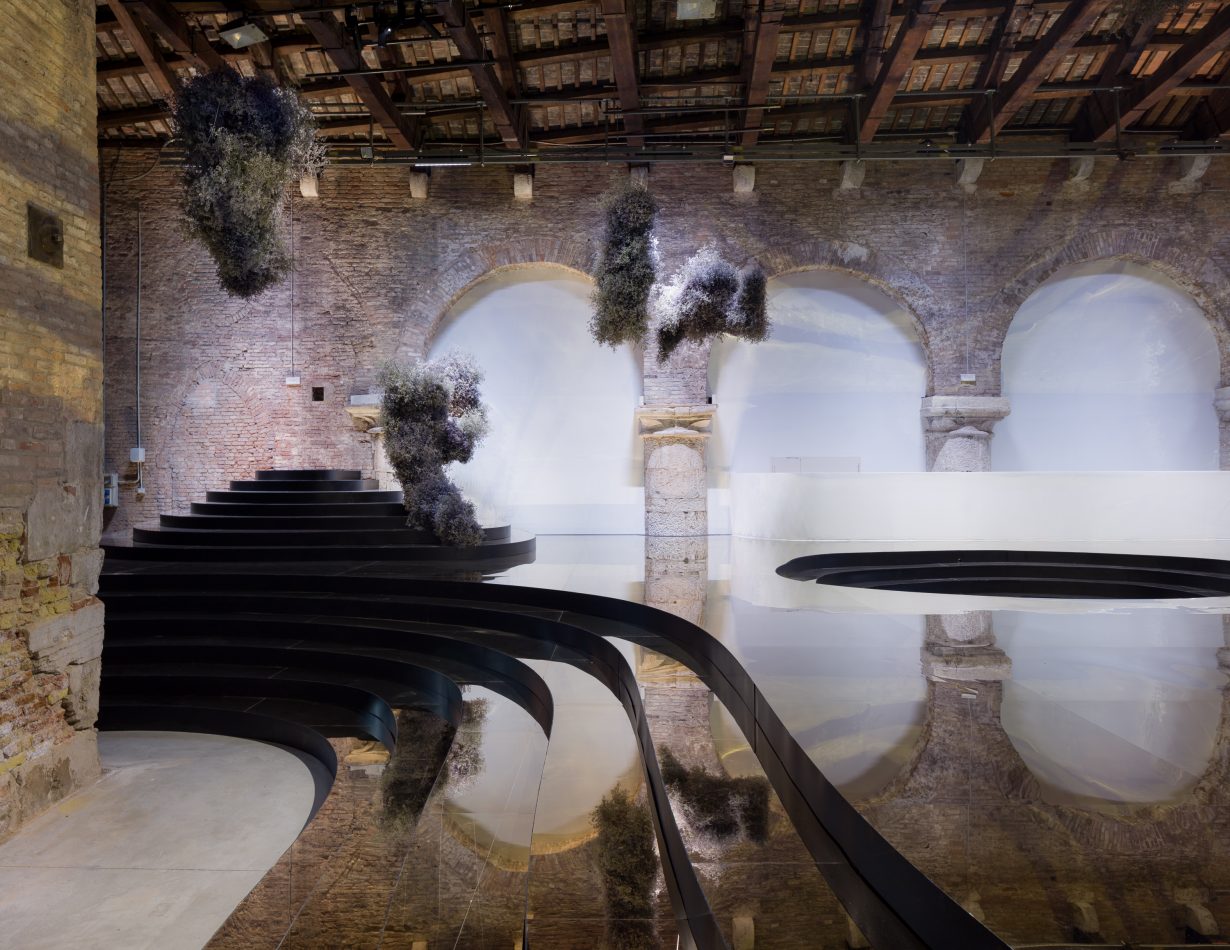 Dixit Algorizmi – The Garden of Knowledge, then, sets out to question the origin myths and narratives surrounding modern technologies, using the lens of contemporary artistic practices to explore their forgotten roots and trace these legends back to their generation in distant places, times and cultures. It was, after all, the Latin transliteration of al-Khwārizmī's name to Algorizmi that gave us the modern word 'algorithm'.
Al-Khwārizmī's most significant research took place in the atmospheric setting of Baghdad's House of Wisdom, a place of gathering and exchange widely assumed to have been centered around formal gardens planned in the Islamic tradition. During his time at the House of Wisdom, al-Khwārizmī was instrumental in countless activities involving a multidisciplinary group of scientists and intellectuals – and so the design of the Uzbekistan Pavilion references this revered setting in its spatial arrangement: the Islamic tradition of the garden as a place of rich academic and cultural exchange is reinterpreted – for the present day – as a technologically augmented space of research, reflection and experimentation.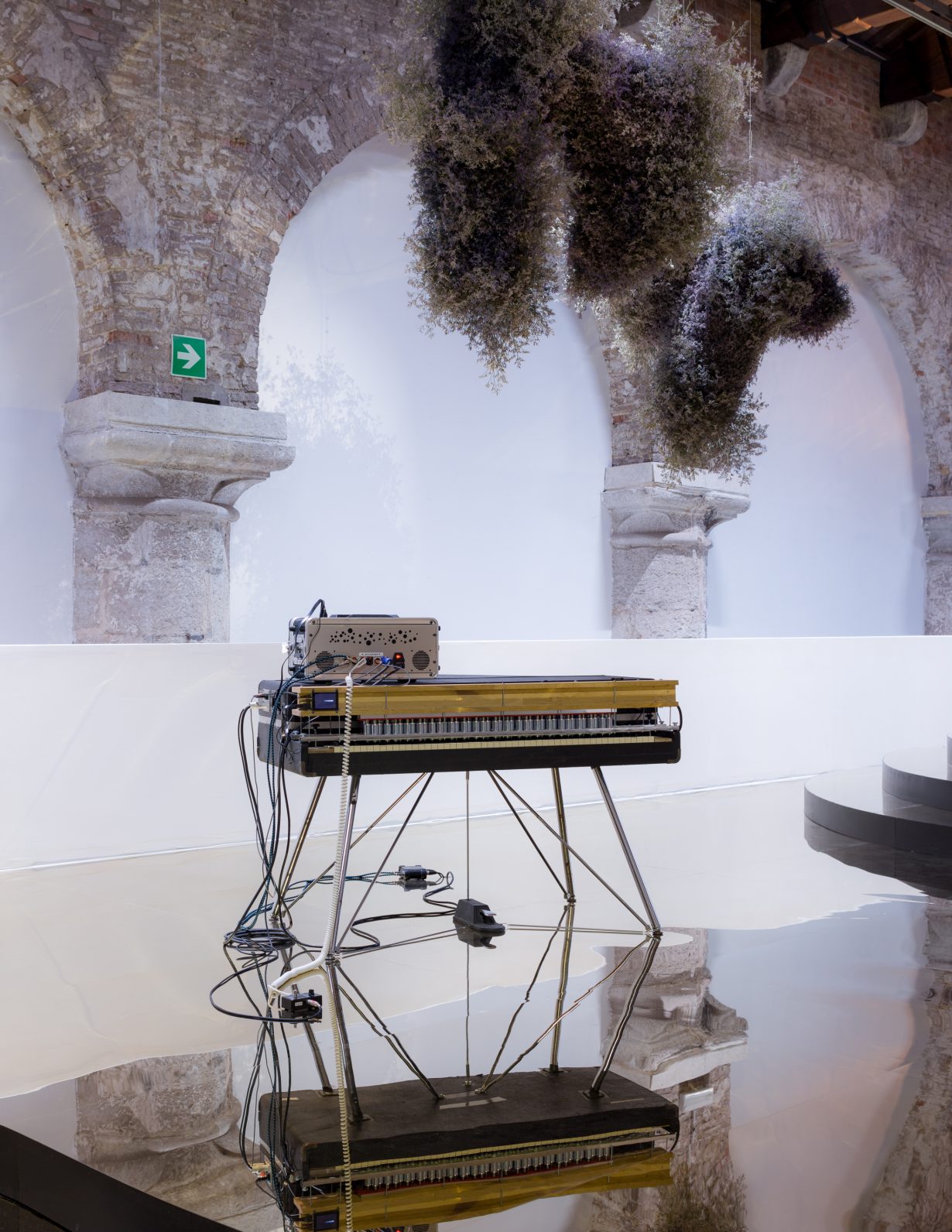 Take Velocity0, a sound installation by Uzbek musician Abror Zufarov and Paris- and Tokyo-based artist and composer Charli Tapp (running in parallel with the public program), which sees 88 electromagnets hit the keybed of a beat-down touring Yamaha CP80 Grand Piano, driven by a series of computerized processes. A program of international composers are invited to experiment with Velocity0's algorithm through a dematerialized platform called The Program. In doing so, each participant's input will output a unique generative score, ephemerally played until the next update, feeding a non-linear organic soundscape narrative – and together serve as an endless algorithmic concert.
The gatherings and exchanges within the Garden of Knowledge will be structured in a public program scheduled for the duration of the Biennale – the extent of which can be seen below.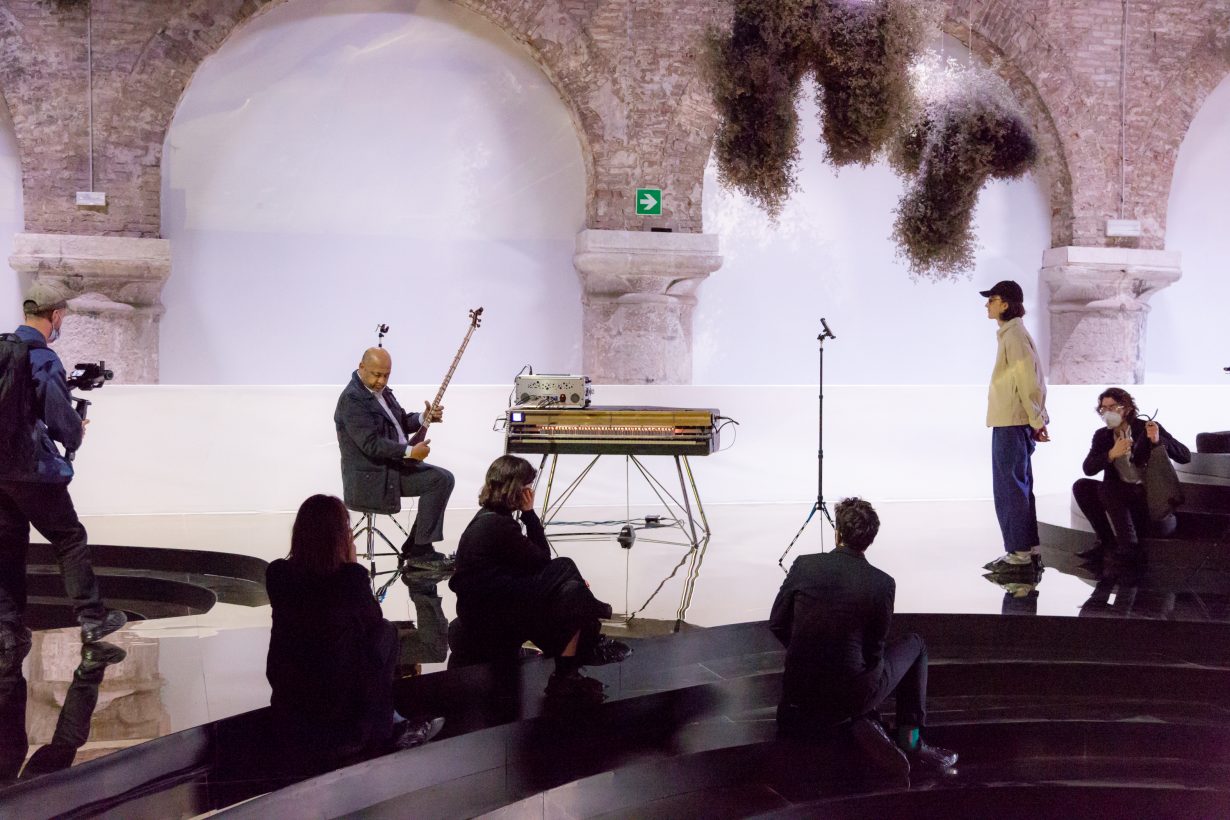 24 September, 2022 
Location: Pavilion of Uzbekistan 
Chapter Five. Cosmic intelligences – Part I: on philosophies and technologies of knowledge 
In a recent paper titled "The Autodidactic Universe", a group of physicists working with Microsoft presented a theory that argues that the universe is a self-learning computer perpetuating through a series of laws that change over time, and that our perception of the universe is shaped by the machines we build. This discussion will investigate how the history of technology can unlock epistemological possibilities for philosophers, and how philosophical thinking is reflected in the work of scientists today. It will be moderated by Joseph Grima, the curator from Space Caviar studio. The list of speakers will be announced at a later date. 
---
22 October, 2022 
Location: Pavilion of Uzbekistan 
Digital art making as a representational process 
The development of digital art and the online art space are tightly interlinked with the technological innovations of their times. This panel discussion will explore how the sudden growth of online art spaces transforms the representation of identity and body in the networked space of appearance. The Pavilion of Uzbekistan has invited Giga Design Studio and Studio Folder to discuss the topic. 
---
12 November, 2022
Location: Pavilion of Uzbekistan
The Infinite Garden
A site-specific performance produced by Antonio Irre in collaboration with Aulò Teatro. Inspired by Italo Calvino's Palomar, Goethe's Metamorphosis of Plants and from the Theory of Complex Adaptive Systems. The show is designed as an imaginative guided tour at the
Garden of Mr. Palomar, where the spectator is being guided on a
walk, developed in three stops.
---
22 November, 2022 
Location: Pavilion of Uzbekistan 
Finissage: Dixit Algorizmi – The Garden of Knowledge 
The Garden of Knowledge will be filled with the sounds of practitioners and performers using voice, linguistics, and storytelling to share knowledge and form communities. Performers to be confirmed. 
For more information on the Uzbekistan National Pavilion, visit the website or follow on Instagram.