Artists Ruth Beale and Amy Feneck – who run the Alternative School of Economics – on the importance of recognising care
It is difficult to define a 'job' that has no single description, salary or terms of employment, as Charlotte Warne Thomas's recent report on Artists as Workers for the thinktank Autonomy, identifies. While artists often resist definition, the lack of clarity leads to messy philosophical, ethical and practical implications for how artists are remunerated for the work they undertake. Warne Thomas's report quotes Sarah Jaffe's book Work Won't Love You Back (2021), which argues that the neoliberal worker is required not only to labour in exchange for a wage, but also to love their job and discover personal fulfilment within it – and so too artists are defined by their practice and their status in the artworld. But Jaffe also compares the type of work that artists do to the more hidden labour done in the home, and child-raising in particular, 'which is often done by mothers in the name of love, and remains almost exclusively unpaid'. For many artists who are parents, their days are filled with two types of work that are undervalued and under-acknowledged.
As The Alternative School of Economics, we use artist practice and self-education to study economics in collaboration with others. In the early days of COVID-19 lockdowns, we were working on a podcast about feminist economics called True Currency. It began as a way of exploring our own sense of alienation as mothers, while foregrounding the experiences of those at the brunt of policies like zero hour contracts and the 'hostile environment'. It became all the more urgent as the pandemic highlighted and extremified harsh social inequalities, as well as a crisis of care. People were applauding keyworkers while the UK Home Office excluded the same low-paid 'essential workers' from work visas. There were increasing burdens on parents and family members during lockdowns, ourselves included, with our children off school and nursery, but equally for unpaid carers filling in for the support usually required for disabilities, dementia, neurodiversity or mental health. The mantra to 'protect the economy' fundamentally did not recognise care as a key part of that economy.
Feminist economics offers a different view on this crisis, and the economics of both everyday life and being an artist. In a series of workshops we ran at a local children's centre (before the lockdowns), we spoke to parents about the role of women and mothers in the economy. We used feminist economist JK Gibson-Graham's analogy of the iceberg – an idea that artist Kathrin Bohm has represented visually – where the 'official' economy is above the waterline – wages, corporations, taxation – and everything below is outside of it. This emphasises how the economy is actually made up of a plurality of economies – most of which keep the 'official' economy running: care, gifts and favours, volunteering, cash in hand, and the things we do for friends and family. It includes 'reproductive labour', a term used by writer and activist Silvia Federici, and others, which describes work that is neither productive or unproductive, but instead cares or sustains. The housework, shopping for food, raising children: the work that is repetitive, but which seems to erase itself, like the washing basket that is always full, or the meals that need making every day. The iceberg also illustrates interconnectedness – a way of thinking about economics that foregrounds relationships, not the market and big finance.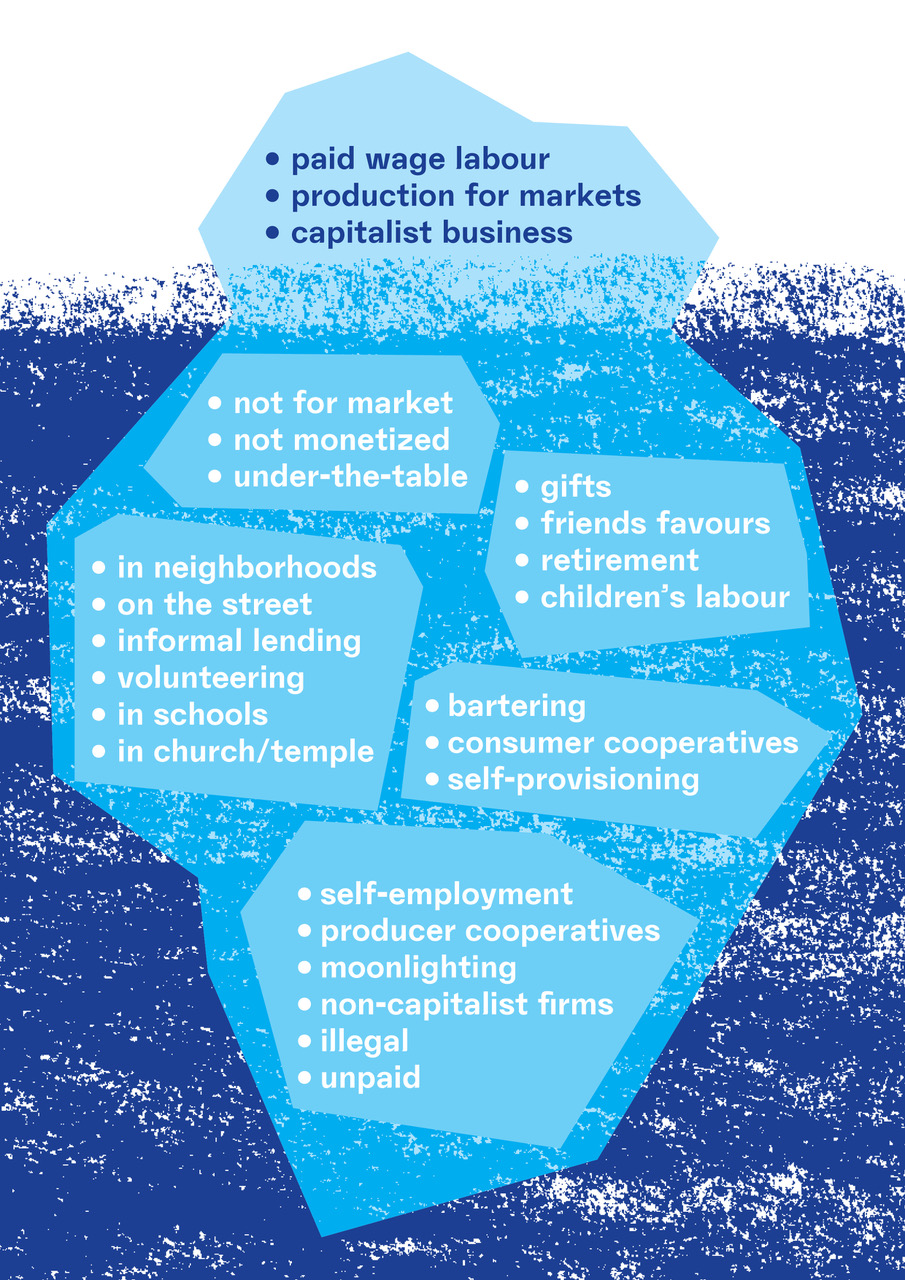 One episode of True Currency intertwines interviews with Claire, a nurse and a mother, and Lisa Baraitser, an academic whose psychosocial theory focuses on temporal, ethical and affective dimensions of care. Baraitser's work draws on both her experience working in mental health settings supporting women who experienced violence, abuse and poverty, her experience as a mother, and that of artists whose work covered care and 'maintenance' work. She references Mierle Laderman Ukeles, who, for her 1979 performance piece Touch Sanitation, shook hands with every sanitation worker in New York City. Ukeles' project made visible that which was previously erased: the work that capitalism not only fails to acknowledge, but also relies on. In the episode, both Claire and Lisa spoke about how time is experienced differently through care, repetition and interruption. The conversation also explored how the gender binary frames the experience of women carers, but is difficult to escape from, locking them into certain roles. The feeling of being outside of capitalism, whilst still serving it.
Reimagining is part of the feminist economic approach: certain kinds of labour need to be recognised, but we also need to reimagine – and change – the systems that define them, and learn from the insights we gain when we feel ourselves outside of capitalism. The iceberg is one example, as is Kate Rowarth's Doughnut Economics (2017): she visualises resources as a balance between over- and under-consumption, human need and planetary need; she rejects ideas of 'economic man' with a household of income through wage labour and expenditure through consumption.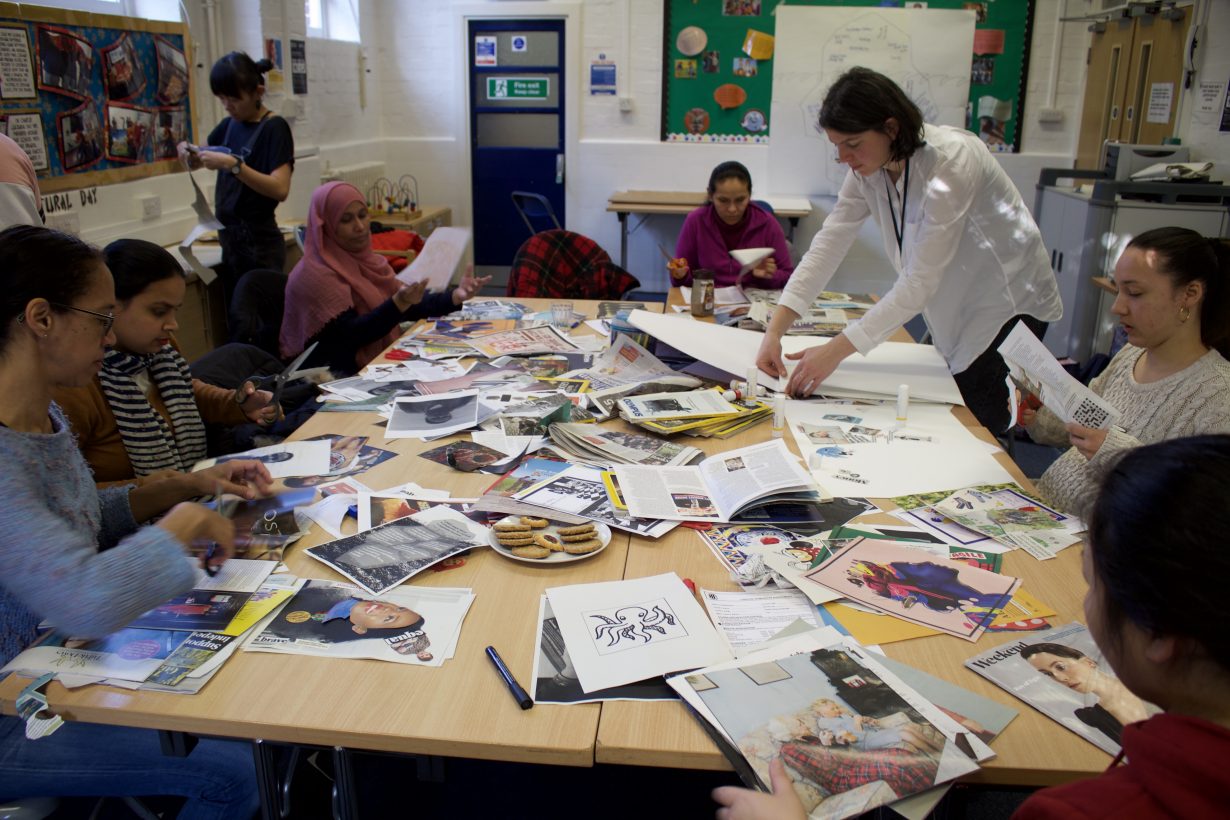 Economic relationships in the art world need revisualisation. Often mirroring the iceberg analogy, especially in relation to the flow of money, the luxury commodity market of art is at the very tip of the iceberg, and is built on the unpaid and underpaid labour of many supporting it. It is a top-down infrastructure from which few art workers benefit, high finance capitalism at its most extreme. What might care and interconnectedness teach us? What could an art economy based on human relationships, environmental and ecological concerns look like? There have been several relevant solutions in recent years, including Kathrin Böhm and Kuba Schreder's Icebergian Economies of Contemporary Art, which uses the principle of the iceberg to critique art's ecosystems. Some very practical examples include How Not to Exclude Artist Parents, which offers guidance to reduce the exclusion which stagnates many women artists' careers; Mother House Studios in South London claims to be the first workspace in the world to offer integrated studios and childcare; CASCO in the Netherlands has adopted a non-hierarchical, commons structure which attempts to value the reproductive labour that supports the day-to day running of their organisation; We Industria's Artist Leaks has highlighted the ways in which marginalised people are called upon to perform certain kinds of labour and are subsequently exploited. But since CASCO adopted a feminist way of working, it has struggled to secure funding from previous major supporters. Purposefully refusing to use words like 'succeed' or 'achieve', CASCO have become a square peg in an old-fashioned patriarchal hole. Change will be slow: it requires a greater reimagining which recognises the social value of artists not as a quantity, but as part of our cultural ecosystem.
Ruth Beale & Amy Feneck work together as The Alternative School of Economics