Ahead of the opening of The Loss of the Human Face? at Villepin Gallery, ArtReview speaks to the gallery's founder and director to find out more about the new exhibition featuring modern and contemporary masters, and why he wants to create a gallery dedicated to art before commerce
ArtReview: How was the idea for The Loss of the Human Face born?
Arthur de Villepin: We always need art to connect with people and the world we live in. And with the ongoing pandemic, the way we look at the human face in particular has changed. When I think of classic portraiture – Da Vinci, Velázquez & Rembrandt – and contemporary artists today who seek to capture the challenges we collectively face, the works have always acted as a mirror of the world. So we wanted to find ways to rediscover and reconsider the role of portraiture in art, how they reflect the true faces of humanity, and serve as a portal for introspection into our ever-changing identities. 
AR: Do you remember the first time you saw a Francis Bacon painting?
AV: I first saw Study after Velázquez's Portrait of Pope Innocent X (1953) when Tate Britain had a Francis Bacon exhibition in 2008. At first glance it was unsettling: I immediately felt the tension and struggle inside the painting. And of course with Bacon's paintings, their sense of emotional weight is inescapable. But I've noticed in my own life that when you go through tough moments, you realize that the best way to deal with these challenges is actually to stick with it, to embrace it. The way his brush strokes ascend through the dark and heavy air right up to the frame embodies a certain resilience or conflict – and that gives me hope when I look at it, because where there is still energy, there is life. Drawing from the artist's own pain and struggles, Bacon finds a way to make you feel incredibly vulnerable almost immediately – and in that way can create an instant and visceral connection with the viewer, no matter who they are or where they are from.
AR: In addressing the human face, what strikes you about how contemporary artists like Zeng Fanzhi and Yukimasa Ida have approached the challenge?
AV: Zeng and Ida each approach portraiture from their own distinctly different social realities and personal backgrounds, but there is also a wider truth within their works. Fanzhi lived in 1990s communist China and witnessed the evolution that regime brought about – and the subsequent anxieties he observed in the cities. His use of the mask draws us into the tension between the eyes, but keeps us simultaneously at a distance. His mask series as a whole, in fact, not only reveals the significant social and economic transformations of that period, but also speaks to the universality of everyday masquerade, where sometimes contradictory identities are constantly reconstructed and re-presented to society. Ida's portraits, built around specific moments of upheaval in his life, draw viewers closer into his personal experience and philosophy to create a rare intimacy with the viewer. Both their contemporary portraits have a sense of immediacy, while also embodying truths that are universal and timeless. Portraits throughout history have always held up a mirror to the world at the time, and their works illustrate that.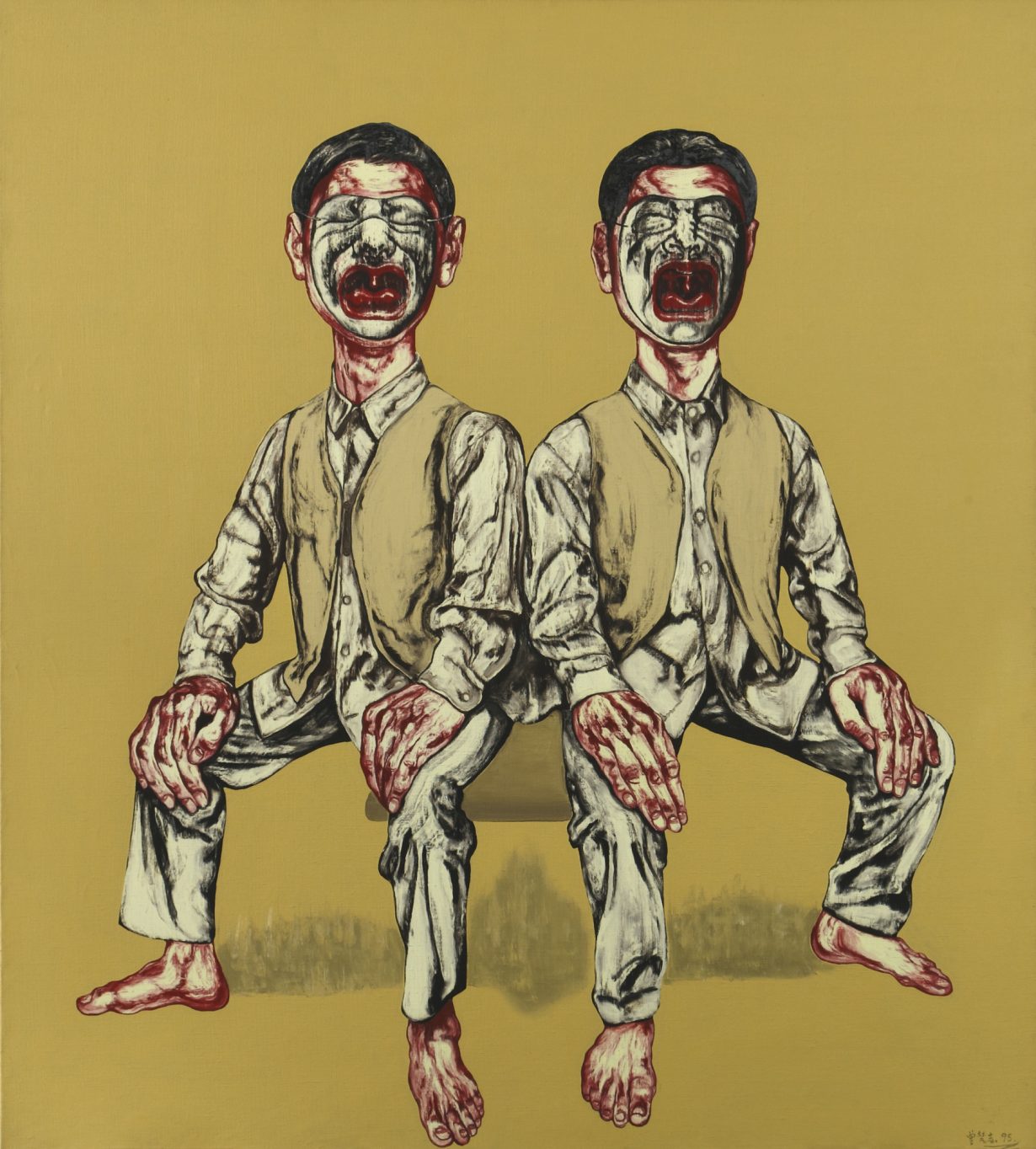 AR: You describe the gallery as built 'by collectors, for collectors'. Can you tell us more about this community around Villepin?
AV: Having grown up in a family where both my mother and sister are artists, and my father is a collector, the centrality of the artist has always remained at the core of the gallery's mission and programme. Since childhood, my own introduction to art was through spending time in the artist's studio, observing and hearing from artists such as Zao Wou Ki, Anselm Kiefer and Miquel Barcelo in person. 
At Villepin, each exhibition is the product of months of intensive curatorial research among our team and in collaboration with institutions and museums around the world to present thoughtful presentations that offer opportunities for visitors and collectors to develop a deep relationship with the artists and artworks on view. For the forthcoming exhibition The Loss of Human Face?, we have a team of eight researchers working every week to help further our understanding, and we have invited Edwin Becker (Head of Exhibitions at the Van Gogh Museum) and Didier Ottinger (Deputy Director of Centre Pompidou), to contribute two essays on artists featured in the show. ​​We host events and salons, where collectors can learn the history and context of the works from experts, and discuss the work in a more intimate setting. Artmaking was the environment I was born into so it's in our DNA – and sharing that experience with collectors to develop their own relationships with art is the primary goal at Villepin, much more than any commercial or financial objective.
AR: And what does Hong Kong mean to you?
AV: I arrived in Hong Kong when I was 22 and instantly fell in love with the city. I was born in the US and raised in India, so I was really drawn to the city's diverse international community. My love for the city and its brilliant placement with access to different art markets from China and the Asia Pacific to the rest of the world made it a perfect fit. Hong Kong has such a rich ecosystem for the public to access art, whether through auction houses, commercial galleries, the growing number of high quality museums and art spaces that have opened in recent years, and a growing awareness of local artistic talent. We are really proud to play a role in this cultural landscape, which continues to be a vibrant and supportive environment for the arts.
AR: Villepin opened in March 2020. How have you found running a brand new gallery space through lockdowns and unpredictable times? Did it enable you to view your work or the space in different ways?
AV: We started Villepin at an undoubtedly challenging moment – there were protests throughout Hong Kong, and then COVID hit. At that moment, we had to reassess what we wanted from the gallery, what our goals were. That was when I knew we had to just focus on making something beautiful and meaningful. These circumstances forced us to slow down and reconsider what was most important. Although we were unable to travel easily – and continue to navigate restrictions in the city – it also allowed me to put all my energy into launching the gallery, which offered its own way of experiencing the world through art.
AR: You've talked previously about the 'strong social function' of art. How does this manifest in the gallery's programming, for instance?
AV: Art in our modern world is sometimes associated with its market or investment value. When we talk about a social function, we want the art to be the primary focus of the experience. At Villepin, we hope to use the gallery space to help collectors and visitors navigate the art market through exhibitions that encourage meaningful relationships to the artworks themselves. For me, the function of art is first and foremost to help you to live, to help you to understand and gain new perspectives, to appreciate life. This is what we emphasize as much as we can in every exhibition. Collectors have also had a massive positive influence on art. Just look at Peggy Guggenheim or Heinz Berggruen.
AR: What do you have planned for the future?
AV: I think the most exciting thing I would mention is that we have acquired Zao Wou-ki's studio and residency in Gaudigny, France. It's a stunning 15th century property which we are currently conserving and reviving as a living space for artists, collectors and the public to come together with special exhibitions, programs, residencies and more.
The Loss of the Human Face? is on view at Villepin Gallery through November 2022
53 Hollywood Road Central, Hong Kong Island, Hong Kong
Opening hours: Tuesday – Saturday | 11am – 7pm Sunday | 11am – 6pm