Dawn Kasper and I met nine years ago while I was living inside an installation. My band had created a 'temporary village' at Human Resources Los Angeles, a gallery Kasper was then corunning, and we were sleeping and performing music inside it daily. This was a hazy, exhausting time, and I remember few specifics of the encounter, except for Kasper's physical presence: all eyes – wide open and roving – with an ebullient, radiating energy that encouraged us to keep going.
Soon after, I saw her presence take its performative form in an apartment in Lower Manhattan. For half an hour, a small crowd watched as she frantically fumbled with a massive, unwieldy sheet of paper, attempting to pin it to the wall while she delivered an ecstatic stream of a lecture. It was enthralling.
Kasper works in myriad forms and disciplines, but intimacy and vulnerability are threaded into everything she does. Early performance works titled The Evil Series or Death Scenes (2001–07) involved her playing dead in various environments, captured in brutal photographs that still shock me when I look at them. She's perhaps best known for her ongoing Nomadic Studio Practice (2008–), in which she moved her entire studio contents to the 2012 Whitney Biennial and, five years later, to the 57th Venice Biennale, continuing to make her daily work (painting, drawing, etc) in full public view. As viewers shuffle through she chats with them, or uses loud music to make it clear she's not in a talking mood.
Sound has often been a key component in Kasper's work, and recent performances have grown increasingly musical. The physical materials of her installations are those of a concert: cables, guitars, chairs and old recording devices, which contain sonic documents of her life, friends and previous performances. During the last few years she's also begun creating sound sculptures: Cluster (2016) is a collection of cymbals activated by motors and triggered by motion sensors as viewers wander through the space.
As usually happens with music, Kasper often collaborates, both with visual artists (such as painter Lucy Dodd) and musicians (such as harpist Zeena Parkins), and in 2012 I was lucky enough to work with her at an exhibition she curated in Manhattan. This past May, at Portikus, a contemporary exhibition space attached to Frankfurt's Städelschule, she staged an entire series of sound performances, each with a different collaborator and all within the exhibition.
A few months after this show, Kasper came over to my home in New York, which was the first time we'd seen each other in six years. In that period she had made her way from Los Angeles to Manhattan to the quiet town of Kingston in upstate New York, where she now lives. Her hair had grown long and thick, with a few electric streaks of silver that gave the depth of age to her physicality. We took a moment to acknowledge the passing of time, and then we picked up the conversation where we had left it.
Belly moments
RS Your recent show at Portikus is based on a myth. Can you recount it?
DK The title of the exhibition was The Wolf and The Head on Fire. It's from a fable of Aesop's called 'The Wolf and the Kid': a young billy goat runs away from the herd and meets a wolf. The kid stalls the wolf, asks the wolf to play him a dinner song on the flute.
RS A dinner song?
DK A common song that you play before you eat, apparently. And as he plays this song, the herd hears the song being played, and they come to scare away the wolf and save the kid. The story is about distraction. The wolf and the kid both needed to stay their course. And I thought of that as a warning, because all these tales and myths are warnings of some kind. My therapist, who is kind of like a witchy mom, once told me that I have a wolf inside of me, so I'd been thinking about that while I was preparing for the Portikus show. I was very overwhelmed with work and teaching, and for several months I felt like I was stuck in the belly of a whale.
RS Like Pinocchio.
DK Joseph Campbell talks about how different religions are using the same stories over and over. Grimm's fairytales, or Aesop's, for example.
RS Everyone's life has a 'belly' moment.
DK Exactly. I was having a hard time balancing my life and wanted to create an environment of sound in this work to help locate my path again. I'm fascinated with how sound and the repetition of sound can reactivate your synapses, how it can reprogramme you, though I'm not suggesting that we are all programmed.
RS Have you had that experience of being reactivated?
DK Yes. Yes.
RS What happened?
DK Through the power of voice and singing. It's like laughing yoga, how you just go somewhere and laugh. It's a release. But singing is my practice. By singing certain songs, they call in a certain level of awareness.
RS Like dinner songs.

DK Yes! The Aesop's fable for me is about rising above distraction, because right now I actually feel like I'm getting a second chance at life.
RS How so?
DK Well, I'm not trying to play the victim, but we all suffer, to some extent, and we have the power to lean into that suffering. But I don't think society has space to talk about this, especially around something like mental health. So for me sound as repetition is very cleansing, a way to get into that kind of suffering.
RS Mantra.
DK Perfect example. These are literally waves in the air that we feel. The giant truck that goes by, we may not see it, but we still take it on, physically. Or when someone yells at you, it seeps into your consciousness beyond the words they are saying. Or maybe you're just hanging out with friends, having tea, but there's this whole other level of sensing going on. And in a way this second chance at life has been due to that awareness of sound. I feel like I'm awake. And I asked for it. I asked to let go of the traumatic experiences that weren't serving me anymore. And I figured out that "I'm not trying to suggest that I'm manipulating people, but you can activate a certain awareness in the brain by repeating certain sounds, like footsteps" it's okay. And it's not a big deal to keep moving. Art can address that kind of threshold of the senses.
RS There's a reason sound is central to so many spiritual traditions. It's a form of sonic communication that is not our mundane verbal language.
DK Prayer, chanting, ringing bells to call the angels.
RS And you work with all those: you just showed a bell sculpture at Portikus, right?
DK Yeah, I hung about 40 to 50 bells from the ceiling so that people could interact with them. I wanted the work to be more personal in this way. I had contact microphones and speakers on the bells, which makes everything sound like guitars.
RS I like your idea of sound clusters. Sound is so messy, which is why exhibiting it can be tricky. It leaks into the next room. It's not tidy and contained like a painting.
DK Sound is not received well in museums. Sound affects us all too much. I always notice this being in a city, where sound is all around us. It's the same in galleries. But honestly I'm having a difficult awareness with art and contemporary art and fine art, and how it's perceived. How it changes the perception of sound, specifically in this entertainment way.
RS Because that's reducing it?
DK Because art has an ability to heal, to offer a platform for people to learn deeply and become aware on a community level. There's no right or wrong. Contemporary art has an ability to transcend commodification and consumer culture, but it's still stuck in that place in the 1980s. I still value Warhol and Koons, who paved the way for this kind of thinking, but, for example, in an art fair, the sound just becomes entertainment, which diffuses the sincerity. That's just what happens. Music and art become entertainment and icons that get pushed to the front.
RS The stage.

DK I'm thinking of Patti Smith and the New York Dolls. Or how the Velvet Underground activated Warhol's paintings.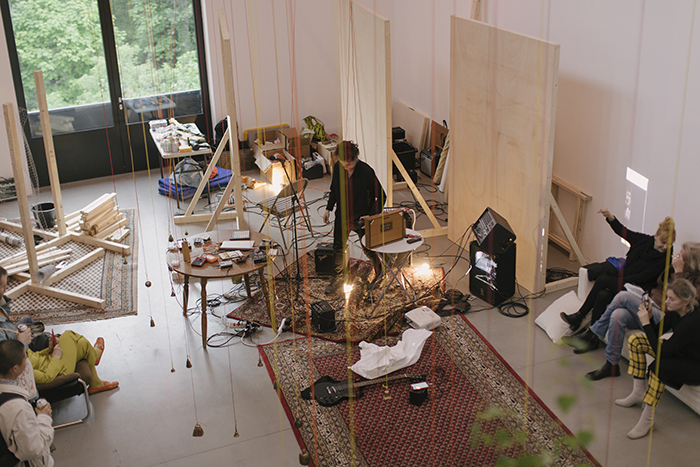 Screamo bands
RSYou were in punk band when you were younger, right?
DK I grew up near Washington, dc, in the suburbs of Northern Virginia. I'd go to see Fugazi, my friends and I would skip high school and go see them on the Mall. That's how you got your political information as a kid. You didn't watch Reagan on the tv. That was my voice. I wrote angsty poetry and sang in screamo bands. (At the time, emo was different.) I became obsessed with Sonic Youth and Kim Gordon, and tried to play bass. It was a lot of fun. But I always thought of art and sound as very different, even though there's this whole tradition of art bands, like Ariel Pink, who just sang and used boom- boxes, NewVillager, Lightning Bolt, Gang Gang Dance and Charlemagne Palestine.
RS Did you work on sound in grad school?
DK Yeah, because I wrote. It was a kind of concrete poetry. And my early videowork was a kind of visual music. Like Fantasia. Or Jennifer Steinkamp, who made interactive videos of plants. I thought of it as a soundtrack. That's how it started. It came from Brecht and John Cage. But a lot of my performance in the beginning was about regurgitating my questions onto the audience, whereas now I'm trying to take responsibility for my questions. I want to be forthright about how I'm searching.
RS You studied with Paul McCarthy, who has a sound component to his work that isn't often discussed.
DK We're so caught up with vision in art. We can't take on sound. We can't touch. You get too close to art and an alarm starts to beep at you. I had a friend experience McCarthy's WS (2013) at the Park Avenue Armory in New York and they told me that first they had a visual experience, but there was so much going on, so they closed their eyes and had a totally different experience. It was like Disneyland. You hear something different than what you see. There's a kind of consciousness that can be reached with such overwhelming stimulation. We can't consciously take it on.
Mike Kelley also worked with sound a lot. I saw his show at the Pompidou a few years ago, and the whole first section was sound sculptures. And Mike and Paul were in Extended Organ; Paul plays various sounds and noises. It's kind of industrial noise. He'll play a chainsaw or a grinder on a cymbal or he runs recordings through amps.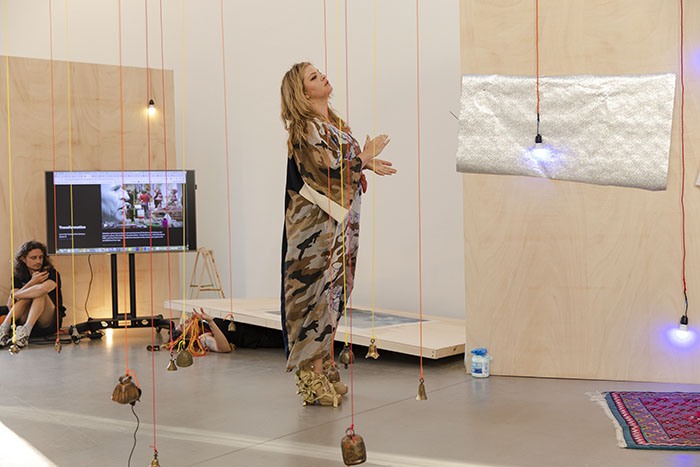 Deep listening
RS Your sound work uses a lot of your recordings. Where do those come from?
DK I tend to, wherever I go, wherever I perform, make a lot of recordings. So, for example, at the Venice Biennale I installed an artist studio and I went every day and made sounds. And people came into the room and they enter into the recordings. Sound is just something you can work with and it's not that expensive and it's everywhere. And it's casual. You can have someone over to the house and make some recordings and see what happens.
RS Smartphones makes recording so egalitarian. Do you use that much?
DK Yeah. GarageBand is amazing and I do use an Ableton mini. But I haven't used phones in an exhibition yet because I value the clunky equipment and tapes that deteriorate. I have a collection of various tape recorders that allow me to slow down and speed up recordings. I like VHS tapes and deck-to-deck editing. I want to show the timeline of technology. I like how it's faulty. I want to reuse sounds over and over. When I was young, I worked with Jason Rhoades, who would reuse his materials in installations, kind of repurposing. And I always think about Hitchcock, who would make cameos in his films. It's this usage of repetition as a material. That repetition is why I'm interested in performance. Bottom line. Having that thread. Showing the passage of time is a form of storytelling. Performatively speaking, you can also utilise sound to structure an environment.
I'm not trying to suggest that I'm manipulating people, but in this way you can activate a certain awareness in the brain by repeating certain sounds, like footsteps. We all know shopping centres and restaurants use sound in this way. Starbucks will play their Christmas cd and it's available at the counter, but meanwhile there's a certain time signature or tempo that encourages people to get in and out at a certain time. I've heard that bodegas in the city play a certain tone that only teenagers can hear. It annoys them, so they go away. Sound can be used like this, and so can the absence of sound.
RS You're always travelling and amassing sounds, and your work has for a long time been about nomadism, but now you have a nice, quiet home in upstate New York.
DK I love travelling in cities, but I have to have a bubble around me for protection, to protect the sensitive bits from all the stress and anxiety and sounds. But I like quiet. When I was driving here, I sat in quiet so that I could hear my thoughts. Living upstate is very helpful. I have a community and have a singing group up there. I play a lot of music. I'm renting a house and want to do some listening sessions. Pauline Oliveros used to live up there and had her Deep Listening Institute up there. I'm not far from Woodstock, either. There's a history up there. I've been also literally unpacking all my sounds, my cassettes, and sorting through them. But I actually came there searching for healing.
A lot of people come there to heal – Kingston is a magical healing hub. It's eagles and hawks and farms and birds and falcons and water. Joseph Campbell talks about how we are trying to return to paradise, and upstate New York is, for me, about as close to paradise as it gets.
From the December 2019 issue of ArtReview