Boom! That's how Ornamental Hysteria, Ashley Bickerton's current exhibition at Damien Hirst's Newport Street Gallery, opens – with a box sporting an ominous red LED number-counter bolted to the wall. It's the kind of thing you can imagine the late Roger Moore briefly interrupting a moment of passion to rush and defuse during his 1970s/early-80s James Bond heyday. Look closer at Composition After William Blake (1989) and you find that the LED records the current estimated value of the work – $182736.52 when I was in front of it – rather than the time until detonation. Although there might well be a correlation between value and destruction when it comes to the intellectual perception of booms of the art-market type. The work is certainly dressed up as a commodity: 'Bickerton' is written across the front of the sculpture in the kind of font that might be used by a skateboard manufacturer or hair-metal band from its time of creation; handling instructions are affixed in English, Spanish and Japanese; and there's also a round logo for 'Culturelux: the best in sensory and intellectual experiences'. Even writing about Composition After William Blake makes you feel like you're entering into some sort of dreadful complicity with the numbers on the screen. The work is weird (what has it got to do with Blake, for starters?), direct, knowing, funny, brash and a little bit icky. Which, come to think of it, is a pretty accurate summing-up of Bickerton's work in general.
Having had a seemingly footloose upbringing (born in Barbados, then growing up in Ghana, Guyana, England, Hawaii and the Balearic Islands, and then going to art school in California), Bickerton, a surfer and an island-life junkie, moved to New York in 1982 (initially as an assistant to Jack Goldstein), where he become a highly marketable figure, often associated with the Neo-Geo movement (although in the artist's opinion, misleadingly) during the art-market boom of that decade. He showed alongside Jeff Koons in a four-person exhibition at Sonnabend Gallery in 1986. "Things moved so quickly in that early period that some things dated really fast," he recalls. That doesn't seem to be the case with the older works at Newport Street, however. Except when Bickerton (always a bit of a contrarian) makes it so.
There's a sense in which you want to read something meaningful into these works, but at the same time are made to feel foolish for doing so. Even, perhaps, for desiring to do so 
Tormented Self-Portrait: Susie at Arles (25 Years) (2014) features a box-like steel and aluminium construction similar to the one used in Composition After William Blake. Bickerton describes the structure as 'part obsolete mechanism, part vessel and part missing part'. The self-portrait features a collection of logos (CNN, Google, Amazon, Oral B, Samsung, FedEx, Gillette, etc) applied to its surface. And it's an update of an earlier work from the New York years, Tormented Self-portrait: Susie at Arles (1987–8), in which the logos include Body Glove, Renault, the old Samsung logo, TV Guide, Fruit of the Loom and Marlboro. The brand had replaced the brushstroke, a person was what they consumed and an artwork was the same as a product (Susie being Bickerton's brand for this series of works). At first glance both works (the earlier version is in MoMA's collection) feel facile, empty and a little repulsive: self-portraits without the self. Like a scene from Bret Easton Ellis's American Psycho (1991). But, like the book, at the same time they have a brutal honesty. Somehow they're compelling indicators of their times. 
In 1993, Bickerton left New York and ended up on the island of Bali. And, if the later self-portrait is to be believed, developed an interest in male hygiene/grooming products and the Internet. One might speculate about the effects of age and of a displaced (in artworld terms, 'peripheral') geography. But that might be putting too much faith in product (which, according to Bickerton's early works, the artworld does). There's a sense in which you want to read something meaningful into these works, but at the same time are made to feel foolish for doing so. Even, perhaps, for desiring to do so. In any case, the revisitations of his own past aside, when Bickerton relocated, his work changed form. Radically.
Red Scooter (2009) is an overpainted photograph on canvas, featuring the artist, grinning stupidly, blue-skinned and bald (he's neither) in a Picasso-esque red-striped, long-sleeved T-shirt, with two palm tree-like structures sitting like horns atop his head, riding the titular scooter, an indigenous drum and aluminium cooking pot strapped to its front. A young girl with multicoloured skin and a floral headdress sits to his front and another clasps his waist from behind, while a similarly articulated woman lounges to the scooter's rear with rope-bags of coconuts and some exotic knick-knackery strapped to the back. They're a happy family. They're riding across a beach and look like they've just finished up at some rave or mela. The whole thing sits in a pockmarked frame evocative of driftwood, studded with stones and vaguely aboriginal dots, and cornerpieces that look like relief carvings from a Hindu temple. The whole thing is crazily colourful, excessively ornate, overly fecund and ridiculously exotic. A Western beach-bum's wet dream, or in Bickerton's words, 'a tropicalia of b-grade movies'. And it's part of a series of works (among them the even more ornate Smiling Woman, 2009), often featuring exotic women or the 'blue man' persona, that Bickerton has made in recent years. True to Bickerton's contradictory self, the works manage to be a celebration of island life, a critique of Western perspectives of island life (sex and drugs) and a recognition of the artist's alien presence in the midst of that life. You get the feeling that if Bickerton fled product-driven New York, it was only to find a different sense of alienation on Bali. And, self-confessedly haunted by the spirit of Gauguin's Tahitian adventures (there's a sense in these works of fear, almost, about what art can do to a place like Bali, in much the same way as earlier there was a sense of fear about what money and commerce could do to art in New York), he has rendered that literally on canvas.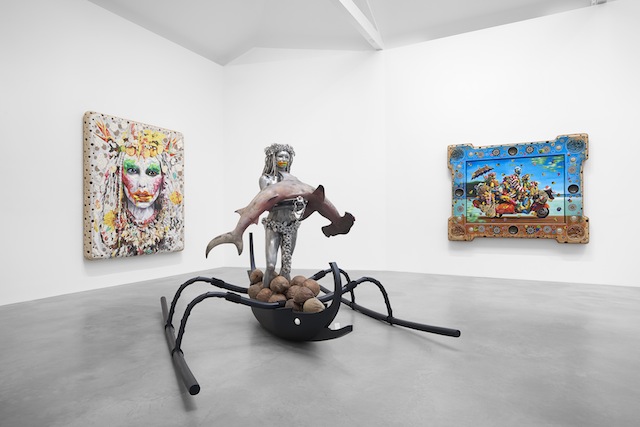 Ashley Bickerton, Ornamental Hysteria, 2017 (installation views). Photos: Prudence Cuming Associates. © Victor Mara Ltd 
These works are ultimately enigmatic, difficult to read. Perhaps that's a reflection of a certain individual impotence when it comes to dealing with issues such as humankind's impact on the environment.
And in sculpture. Standing next to Red Scooter in the Newport Street show is a lifesize sculpture of a silver woman, dreadlocked and garlanded, but mainly naked, cradling a dead hammerhead shark while standing in a black outrigger canoe filled with coconuts. The title of the work – Canoe, Shark, Woman (2016) – is a succinct summary of what visitors might expect of a trip to somewhere like Bali. The sculpture offers a similar exotic thrill coupled with a tragic, plaintive air. Sculptures such as Orange Shark (2008) find the hammer-head suspended in midair, dressed in the fishy equivalent of a dogcoat, and dripping coconuts and other manmade detritus – the whole thing vaguely totemic, but also connected to the artists' ongoing concerns about man's impact on the environment, and particularly the seas. And yet these works are ultimately enigmatic, difficult to read. Perhaps that's a reflection of a certain individual impotence when it comes to dealing with issues such as humankind's impact on the environment. Or its exploitation of what it thinks of as exotic or marginal places. Maybe too, given Bickerton's earlier works, there's a fear that art and its markets end up trivialising or suppressing any attempt to make such a commentary in an effective way, by supplanting those values with a commercial value. Rending commentary product. Bickerton is an anomaly: the outsider artist with all the insider jokes. Unless he's the insider artist with all the outsider jokes. Often it's hard to tell. Probably because Bickerton has been both. And ultimately the truth is somewhere in between – his slipperiness certainly makes him one of a kind. 
Ashley Bickerton: Ornamental Hysteria is on show at Newport Street Gallery, London, through 20 August 
From the Summer 2017 issue of ArtReview