Curated by Christian Viveros-Fauné, Portland biennial Converge 45 asks what art as global citizenship may be
The Lloyd Center shopping mall, across the Willamette River from downtown Portland, has seen better days. Even before the pandemic, businesses were struggling, but now it seems that more than half the shopfronts are shuttered. Its central atrium, however, still encloses a public ice rink, and it was into this perfect white ellipse that artist Amanda Ross-Ho glided, just a little unsteadily, on a recent Friday morning. Ross-Ho was performing as part of this year's edition of Converge 45, the Portland biennial that has operated, irregularly, since 2016, and which is not to be confused with the Portland Biennial, which has run since 1949 but which focuses exclusively on Oregon artists. Converge 45 takes its name from the 45th parallel north, a circle of latitude around the Earth to symbolise the biennial's global reach. (Oddly, however, the parallel does not quite run through Portland itself.)
Conceived in order to draw the city's art spaces into collegial and productive conversation, Converge 45 seems more of a civic endeavour than a curatorial one. This year's edition is guest-curated by New York-based writer and curator Christian Viveros-Fauné, who outfitted it with its rather baggy title, borrowing from his own 2018 book, Social Forms: A Short History of Political Art. The varied works across Social Forms: Art as Global Citizenship allow for disparate interpretations of what political art might entail, and scant consensus over how to assess their relative merit.
Ross-Ho's project, for instance, could be construed as political, but lands most convincingly as a blend of autobiography, cultural history and material investigation. Her performance was part of an exhibition of related sculptural installations and wall works at the commercial gallery ILY2; its press release discloses that Ross-Ho was a competitive figure skater as a teenager. Anecdotally, I gleaned she had only once put skate to ice in the three decades since. Also anecdotal was the story I heard about how the disgraced ice skater Tonya Harding would practise at the Lloyd Center during the 1990s, with passing shoppers stopping to boo and jeer.
For her performance Untitled Figure (THE CENTER OF IT ALL) (2023), Ross-Ho scratched two wide circles in the ice with a telescopic compass (a 'scribe', in skating terminology), then attempted to trace the circles, on one skate then the other. This imperfect – and, once or twice, heart-stoppingly wobbly – action was given extra pathos by Ross-Ho's skeleton-printed bodysuit, an oversize version of which, titled SKIN AND BONES (2023), hangs at ILY2, alongside artfully composed relics from the world of skating: a gold scribe tucked inside leg-warmers; a majorette's outfit; a stack of plastic top hats. Observations about ambition and discipline (artistic or otherwise) faded behind the rawness of this middle-aged woman reckoning, in public, with the vestiges of her girlhood. When Ross-Ho finished tracing the circles – which, together, resembled the sign for infinity, and which echoed stacks of cut fabric disks at ILY2 – she took laps around the rink, a victor's grin on her face, and it felt like she had conquered death itself.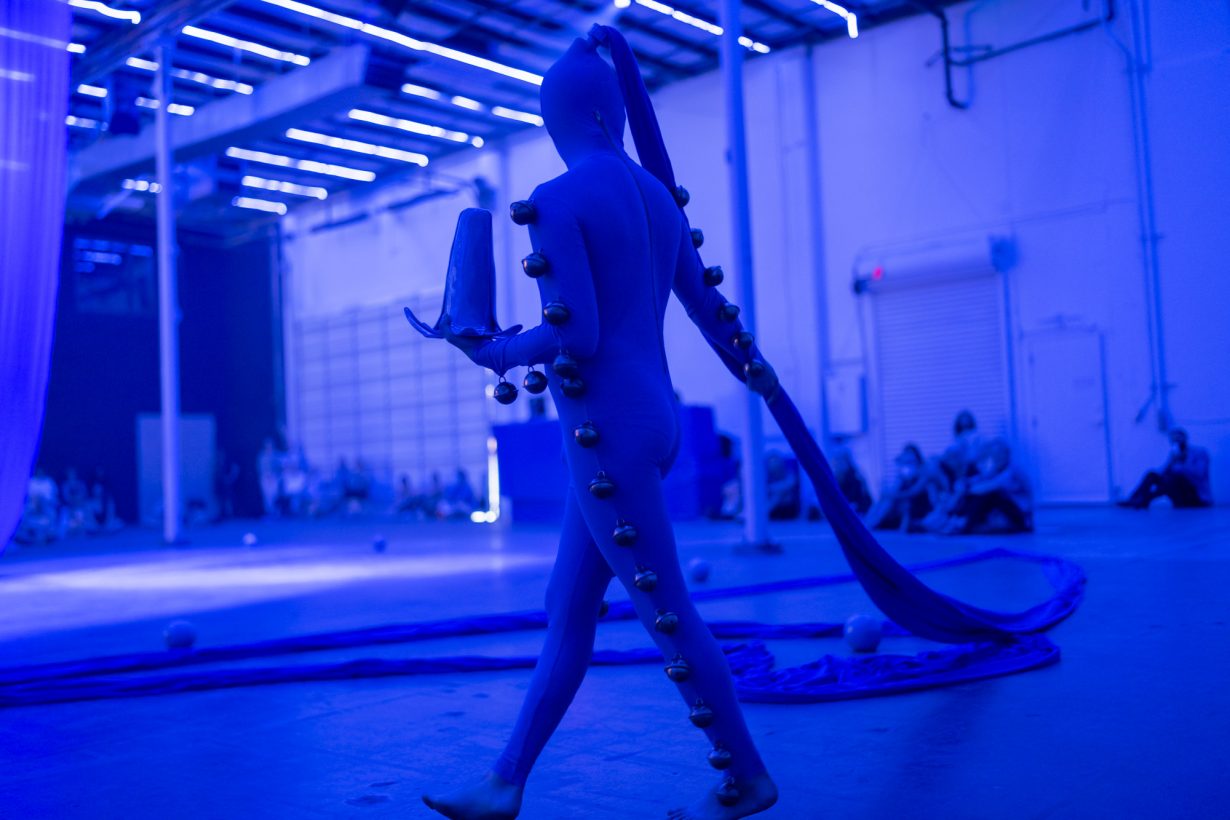 The success of the presentations in Converge 45 ascends in inverse proportion to the number of artists involved. The biggest exhibitions, such as the group show Assembly, featuring 13 artists divided over three venues, are a muddle. Most rewarding, almost without exception, are the solo exhibitions. Some, like Ross-Ho's, shake loose from any useful designation as political art at all (although isn't the personal always political?). At the Cooley Gallery at Reed College, a selection of refulgent abstract paintings by Jesse Murry, painted before his death of AIDS in 1993, is movingly curated by his friend Lisa Yuskavage and the writer Jarret Earnest.
At the Pacific Northwest College of Art, Rodrigo Valenzuela presents a tight series of black-and-white photographs, Garabatos, of white clay or plaster sculptures derived from gestures the artist had seen in films and photographs of 1970s and 80s punks in Latin America. Valenzuela, born in Chile in 1982, notes that these subcultures emerged in response to the United States' cooperation with military regimes to quash socialism in the region; the uncanny atmospherics of the pictures are in no way reliant on this information.
South of the city, Richard Mosse's stirring film Broken Spectre (2018–22) is installed at the Hoffman Gallery at Lewis & Clark College. The multichannel installation, with thunderous soundtrack by composer Ben Frost, is an epic testament to the destruction of the Amazon. Lest viewers feel guilty about the sensorial pleasures of the film, near the exit a QR code enables them to send Paypal donations directly to an Indigenous Yanomami tribe.
It's a well-meaning gesture I feel deeply conflicted about. As with Viveros-Fauné's biennial at large, Broken Spectre points to the political heft of aesthetics, but also the futility – not to mention self-satisfied tokenism – of much individual action. Symbolic representation alone can seem disingenuous, like the painting in Assembly by Irish artist Brian Maguire of a soup kitchen, apparently done from a photograph. (How to provide for Portland's chronically unhoused seems as insurmountable as the global climate crisis.) By contrast, Mosse's QR code might be seen as heroic.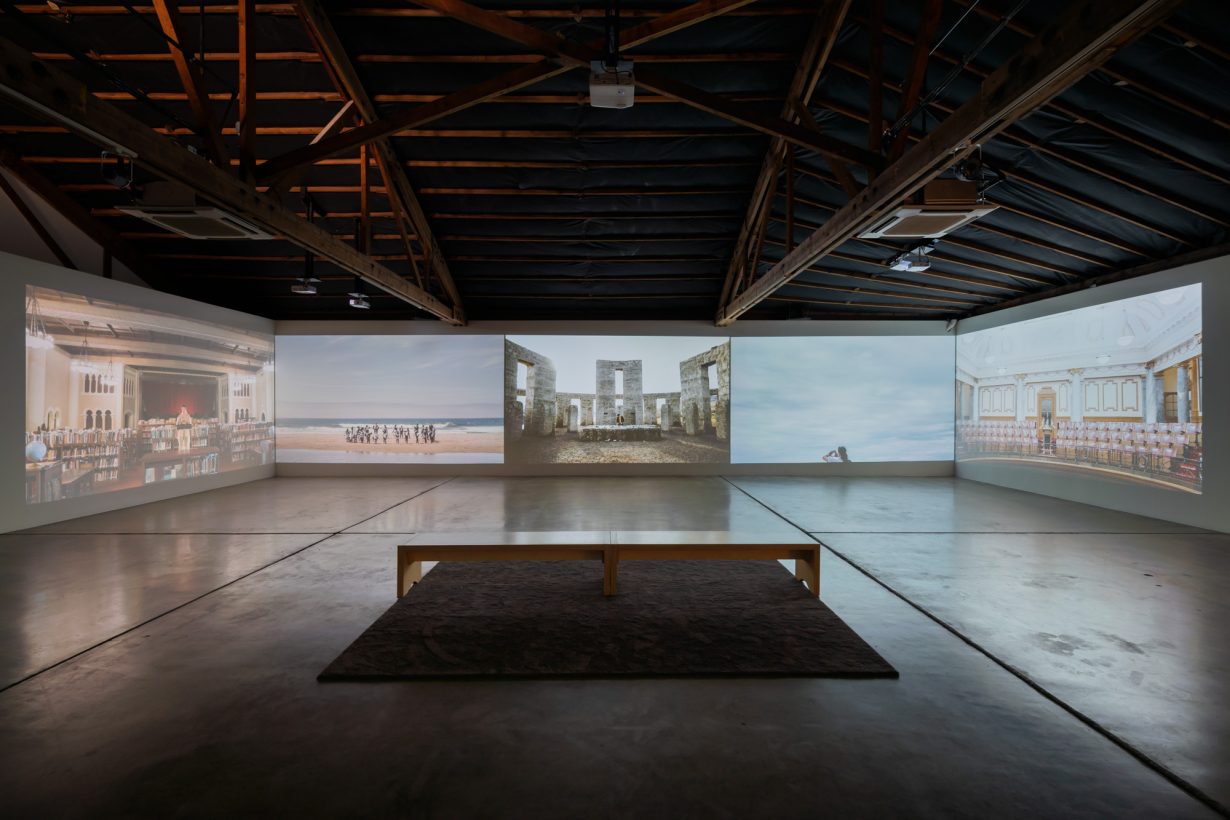 The New Zealand artist Sam Hamilton (who also goes by Sam Tam Ham) presented at Oregon Contemporary multimedia works related to their project Te Moana Meridian (2020), in which they propose the relocation of the prime meridian from Greenwich, London, across the globe to the South Pacific. It's a poignant piece of symbolism, upending the enduring hegemony of the former British Empire, but Hamilton is entirely sincere, and is lobbying the United Nations General Assembly to this end.
At the Center for Native Arts and Cultures, the Seneca-enrolled artist Marie Watt presents a large neon billboard, Chords to Other Chords (Relative) (2023), which illuminates in glorious red the words 'TURTLE ISLAND AND' – a reference to an indigenous name for North America. I understand the work is meant for a public setting, which would endow it with more power to confuse and disrupt; inside this Native-run institution, it seems to reiterate what people already know.
Like Ross-Ho's performance in the mall, the best work in Converge 45 feels uninsulated from the world outside. At SE Cooper Contemporary, a tiny gallery run by Converge 45's artistic director, Derek Franklin, in his garden, I lay silently and listened to a quiet sound work by Malcolm Peacock, emanating from a speaker inside a pillow. As chickens clucked and birds chirruped outside, Peacock delivered a winding narrative – recorded while running – about Black men travelling on foot across America, and apparently falling in love. The piece is intimate and raw, modest and generous, personal and – yes – political. And it asks its listener for nothing in return.
Converge 45, various venues, Portland, through 15 December