Featuring Kim Beom, Wang Tuo and Sancintya Mohini Simpson; interviews with Wang Bing, Cai Guo-Qiang and Sung Neung Kyung; essays on Thailand's holy bronze men and reformulated identity politics; and much more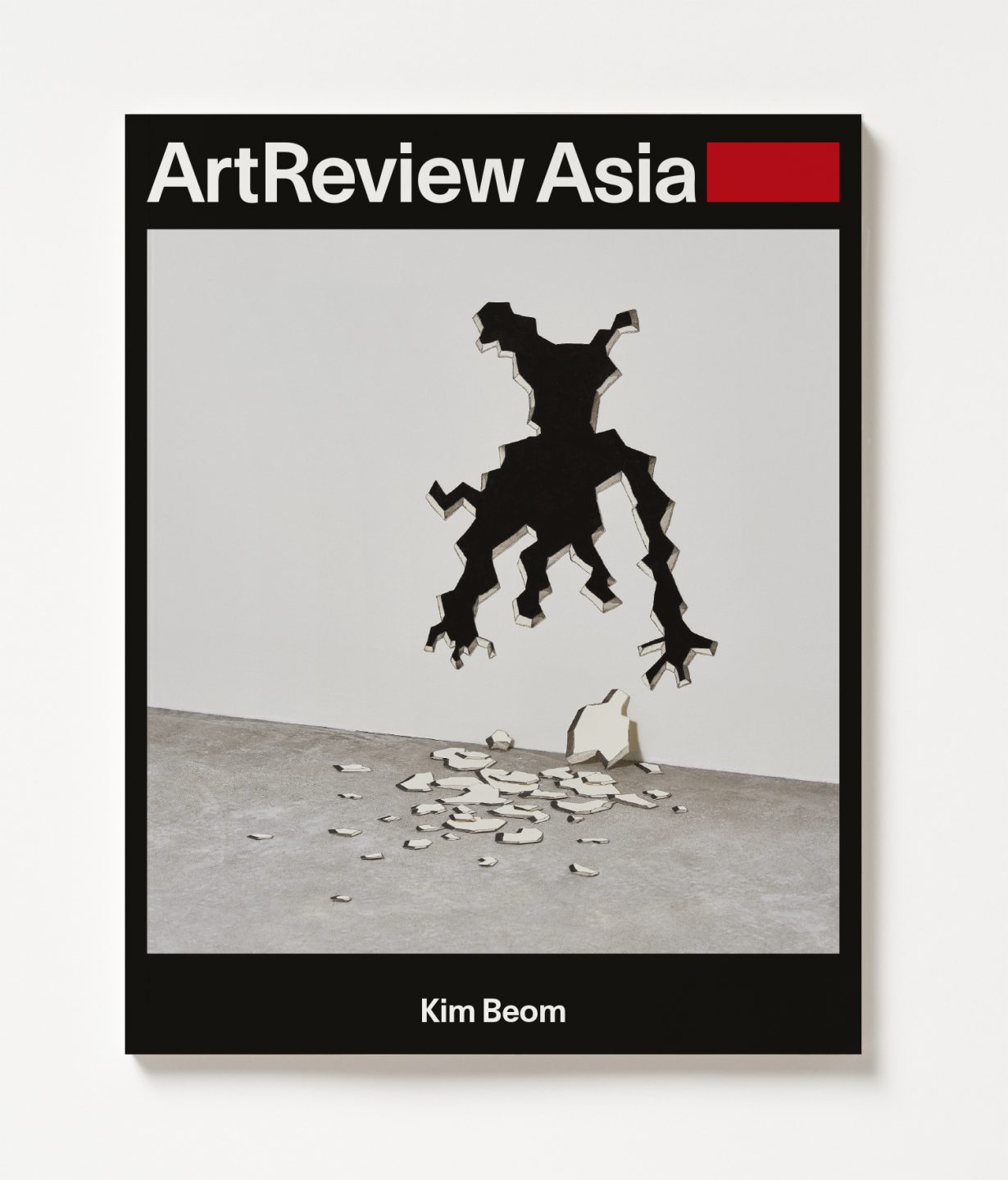 ArtReview Asia's Autumn issue takes a look at the external power structures that shape art, as well as those within art practice itself, and the various ways in which artists try to unravel those hierarchies.
'Sancintya Mohini Simpson is a first-generation Australian. She's an artist. And a poet. And mixed race (Anglo-Indian). And, on her mother's side, a descendant of Indian indentured labourers sent to work on the sugar plantations of Natal, part of present-day South Africa,' writes Mark Rappolt. Based in Brisbane (or Meanjin as the artist calls it to honour its traditional name), Simpson works across a variety of media including painting, performance and video. For her latest exhibition at the Perth Institute of Contemporary Arts, the artist presents a series of work that starts with her own family's experience of displacement and looks more broadly at apartheid and the stories that have underwritten that history via memories, materials and places. Part of Simpson's practice is about reclaiming the Rajput and Mughal painting techniques that were slowly Europeanised during the eighteenth and nineteenth centuries by British colonialists; another part of her practice is about the role language plays in forming one's identity. 'For although the history of migrant labour is one that is told in a multitude of languages,' writes Rappolt, 'those languages are one of the first things of which labourers arriving in a distant land are stripped.'
Wang Tuo – who works within the realms of filmmaking, performance, painting and drawing – is interested in exploring what it means to be in power and feeling powerless via his most recent film The Second Interrogation (2023). The film weaves together Wang's interests in Chinese modern history, cultural archives (and how these are manipulated by regimes to fit their national narratives), fiction and mythology, resulting in what academic Yongwoo Lee describes as a speculative-fiction narrative that encompasses theories of 'Pan-shamanism', spiritual mediums, hidden histories, deep trauma and time travel.
Meanwhile, Sung Neung Kyung, who joined the artist group Space and Time in 1973 (their main pursuit was in conceptual and dematerialised practices), spent the beginning of his career undermining the power structures imposed by a dictator-led government via performance, photography and collage. Of his 1976 photographic series Contraction and Expansion, which shows the artist in various poses including arms raised, eyes widened, crouching down, as though responding to orders given by an external authority, Sung explains the context of its making to Coburn: "At the time, power was like an omnipotent god. Power existed above everything else. This is to say that other opinions simply could not exist. We could not even think about the possibility of two-sided communication like the kind we have today. There was only a onesided circuit."
Kim Beom, on the other hand, prefers a more playful approach to subverting the power dynamics inherent in making art. 'A piquant scepticism and a zest for invention (frequently camouflaged as nonchalance) define his idiosyncratic practice,' writes Andrew Russeth for this issue's cover feature. 'Across various mediums, in diverse tones, his artworks prod viewers to consider what they are willing to believe, and what they are willing to accept – aesthetically and politically.' Take Denial (2008), for example: the canvaswork presents a kind of challenge to its viewers, plainly stating in black letters, 'THIS IS NEITHER A CANVAS NOR A PAINTING' and 'THERE IS NO SUCH THING HERE'. It's deadpan, humorous effect is similar to works like the untitled 1994 wall-mounted canvas to which he affixed cotton swatches and used a black marker to draw arrows and lay down some rules: 'STARE THIS PART CAREFULLY', 'DON'T LOOK AT THIS PART', 'TOUCH THIS PART'. 'This is a plainspoken art,' Russeth writes, and an art that is aware of the cruelties of the world: where lies are told, where people are repressed and where a ship might be taught that there is no sea.'
---
Also in this issue
Adeline Chia takes a sonic deep-dive into the latest album by Indonesian musician Kasimyn, who's electronic trance tracks are haunted by the imagery of Dutch colonisation, death, desire, ecstasy and 'Javafuturism'. Cai Guo-Qiang is interviewed on the occasion of his retrospective at National Art Center, Tokyo (coorganised by Saint Laurent); the exhibition explores the constructive and destructive potential of explosions as well as the artist's broader concerns with the nature of the universe in both its observable and unseen forms. Deepa Bhasthi questions what culture really is in an age of new nationalisms and reformulated identity politics; Martin Herbert considers the plight of the middle-aged artist; Max Crosbie-Jones examines the West's penchant for hoarding the artefacts of other cultures – with a suggestion that New York's Met museum send Thailand's holy bronxe men home; and filmmaker Wang Bing is interviewed about his creative process on the advent of his newest film Man in Black (2023), an intimate portrait of composer and conductor Wang Xilin, who was imprisoned during China's Cultural Revolution.
---
Plus
Reviews from around the world including Daido Moriyama at C/O, Berlin; Back to the Future at MMCA, Seoul; China's Hidden Century at London's British Museum; Memory Palace in Ruins at Taiwan Contemporary Culture Club; Evaporating Suns at Kulturstiftung Basel H. Geiger; and much more.