Featuring Lawrence Lek, Guanyu Xu, ruangrupa, Masaaki Yuasa, and Mahasweta Devi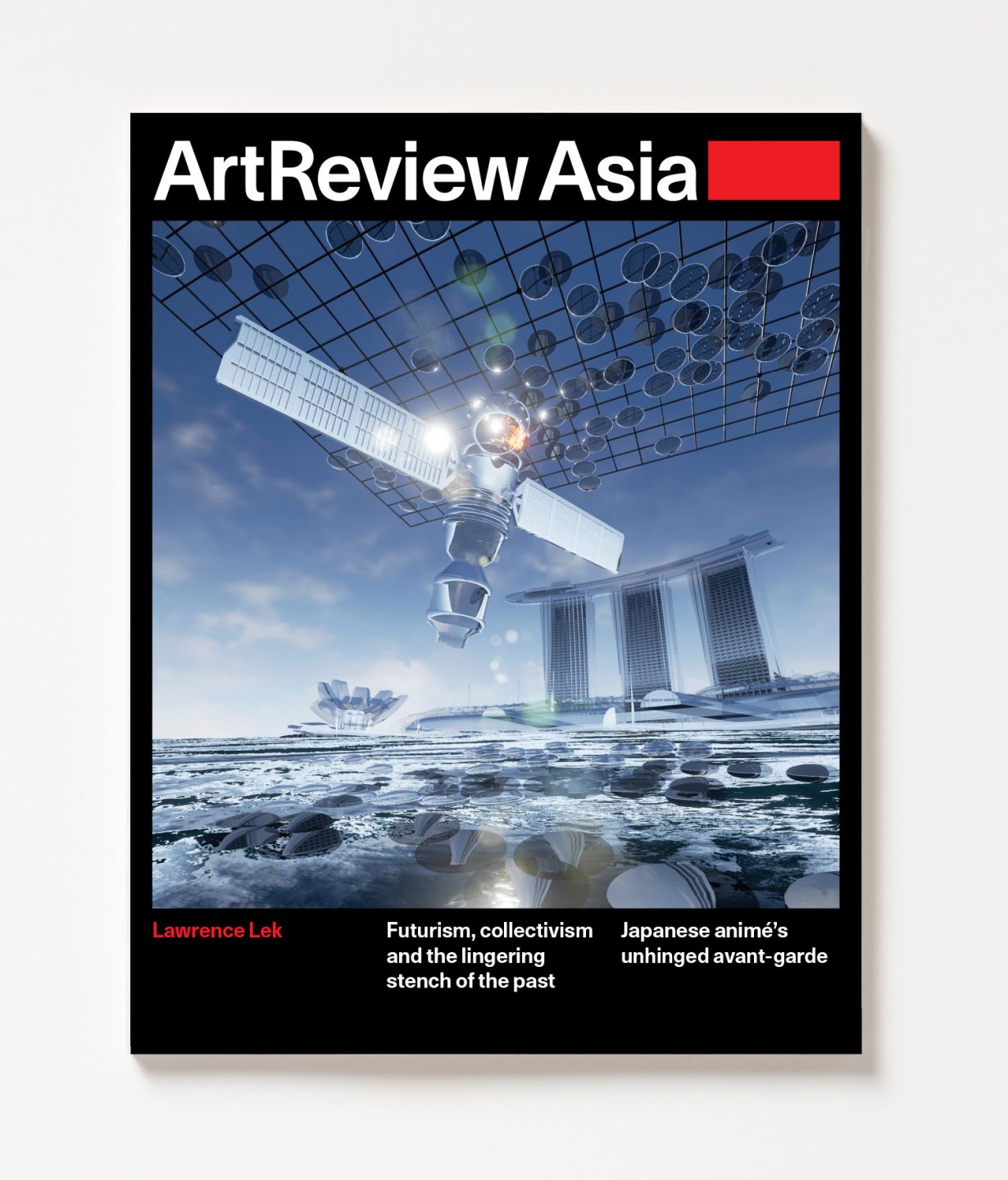 The Summer issue's cover features the work of Lawrence Lek, who uses videogame aesthetics and principles to engage with an ongoing world-building practice that puts utopian ideas of freedom and the desire for individual agency at the forefront – via characters who also happen to be Artificial Intelligence programs. Black Cloud (2021), in which the titular character is undergoing a crisis of purpose and identity, introduces questions surrounding what it means to be 'alive': 'It's the relatability of such existential problems that elicits sympathy for Lek's AI character,' writes Fi Churchman, 'which in turn gives rise to questions about what consciousness is and whether humans would really be able to empathise with artificial entities if these were capable of sentience.'
'I have always said that real history is made by ordinary people,' the Indian writer, journalist and activist Mahasweta Devi once asserted. It's to the legacy of her political and social activism that Mark Rappolt turns in his assessment of how histories are written and who gets to tell them – specifically in relation to the partition of India and the creation of Pakistan in 1947. Rappolt also looks to the author Arundhati Roy (for whom art is a means by which one might 'lay siege' to oppressive forces, despite those forces' attempts to erase other cultures) and the theorist Gayatri Spivak, who has drawn attention to how 'the inequities of the caste system had existed in her native India long before any of the class systems imported by colonial powers'.
Also in this issue
The spirit of conscious collectivity at the heart of this year's Documenta, curated by ruangrupa, is rooted in a long artistic lineage in Indonesia. Elly Kent delves into the history of the country's collective practices, looking at how some of its creative and intellectual circles grew from the archipelago's rich and diverse agrarian-subsistence cultures.
Claire Cao dives into the psychedelic and gleefully unhinged films of Japanese director Masaaki Yuasa, which have long transcended both social conventions and the limits of animation. 'Yuasa's eclectic taste is reflected in his unusual, freeform approach to animation,' writes Cao. 'His penchant for fragments that speak both to the subconscious and to the sublime can be traced to the breadth of transnational influences that the director evokes.'
Plus
Chinese artist and photographer Guanyu Xu presents an artist project based on four series of works, collaged together in his signature style across the magazine's pages; Deepa Bhasthi looks at how the Indian state is channelling the female form to promote a frighteningly narrow vision of national identity while continuing to repress women's rights. Not to mention the usual mix of book and exhibition reviews, including Documenta 15 and the 12th Berlin Biennale; previews of shows to keep an eye out for opening this summer across Asia and beyond; and books, including Jessica Au's Cold Enough for Snow; a first translation of award-winning Veeraporn Nitiprapha's second novel, Memories of the Memories of the Black Rose Cat; and Mieko Kawakami's All the Lovers in the Night.