Featuring Buck Ellison and Wendy Red Star; essays on revolution in Algeria, oceanic imaginaries and Madonna's NFTs; reviews from Berlin, Brussels and Bogotá; and much more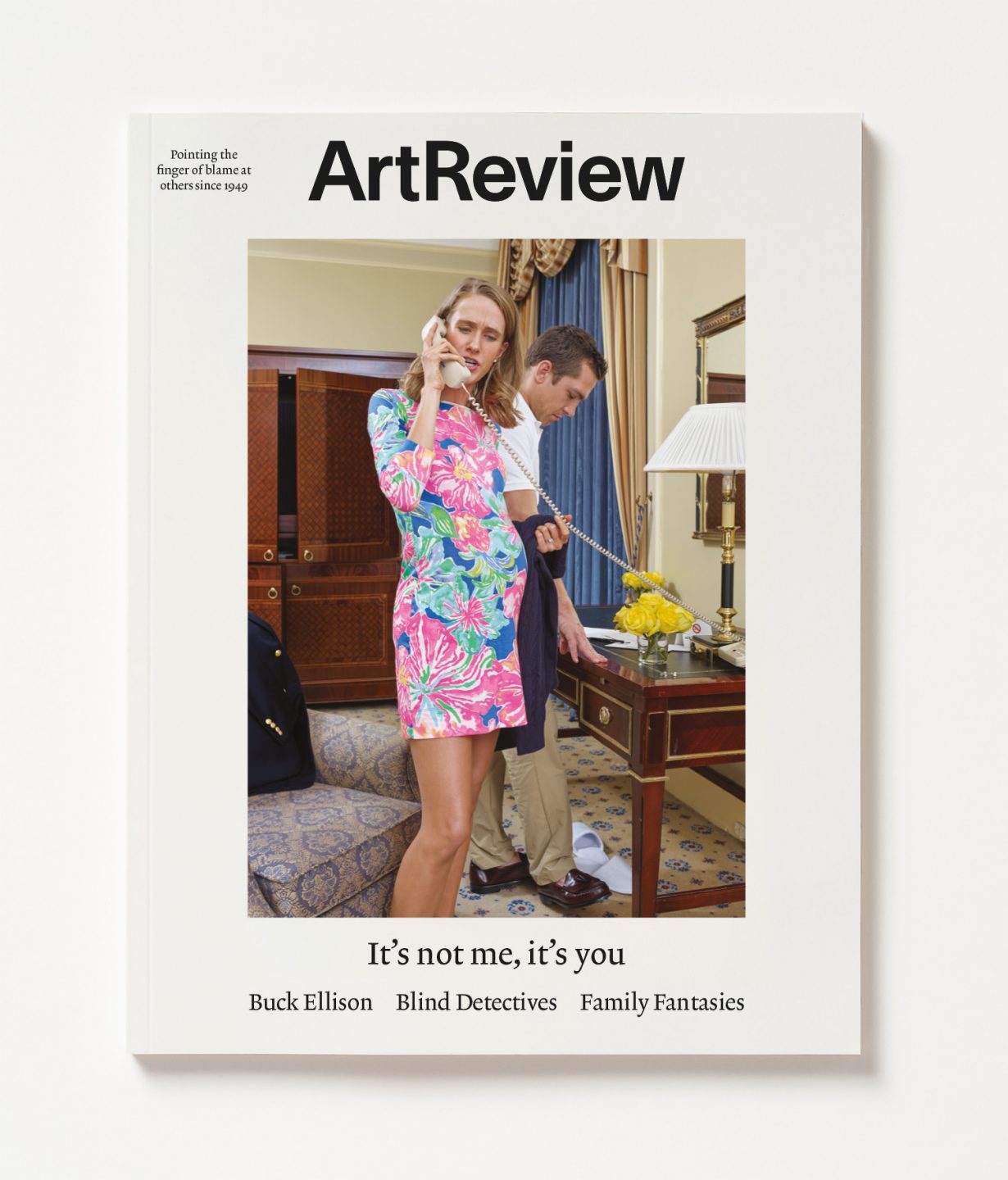 ArtReview Summer's cover features a woman in a bright floral dress speaking into a phone, appearing concerned, perhaps addressing something urgent. Does it change the image to know that it depicts a younger version of Betsy DeVos, the conservative billionaire who served as Trump's education secretary? Or that the image itself is a staged work by Buck Ellison? Jonathan Griffin profiles the artist's photographic works depicting fictional portraits of America's elusive elite, and how his photographs show us the 'smiling face of America's steadfastly enduring structural inequality'. Ellison wonders whether a 'camera allows us to desire, or be curious, or feel empathy towards a figure like this'.
The healing of past and ongoing trauma can sometimes begin via the celebration and reclamation of oppressed cultures. A project from Apsáalooke artist Wendy Red Star sets out a procession of decorated cars set against richly patterned textile backgrounds, depicting floats that parade as part of the Crow Fair in Montana in August each year. "People outside of the culture who want to see the 'authentic' native person are really wowed by the sight of native people on horses," she tells Fi Churchman about the project. "But for me, growing up, I would get such a kick out of seeing these cars that are fully adapted into floats, dressed up with pride and which represented each of our families."
Also in this issue
French-Algerian artist Katia Kameli works to undo the narratives staged by the Algerian government by foregrounding key figures who have been excluded from historical records. In the artist's three-part video The Algerian Novel, which delves into the recent decades of Algerian history, Louise Darblay finds a 'bittersweet flavour of failed revolutions, disillusionment and unrealised futures', a documentary-style collage concerned with the '(de)construction of collective memory'.
Meanwhile, a more intimate type of empathy threads its way back through the work of American painter Richard Bosman. 'Slipping into someone else's shoes might constitute a kind of relief, or it might be another form of conflict', Brad Phillips writes. In the loose figuration of Bosman's paintings, from the dark humour of his Blind Detective character to his more recent painting of imagined scenes from artist's studios, Phillips finds his work as a documentation of sorts that lets us imagine the life of the artist: stumbling around 'in a world of confusion, searching for meaning and safety.'
Plus
Erik Morse examines the hybrid worldview of oceanic thinking and 'water-based imaginaries', tracing how a Romantic obsession with the sea is returning in the present, floating through the work of artists like Superflex and Julien Creuzet. J.J. Charlesworth takes a look at the paradox of digital culture's obsession with corporality, from Avatar to Beeple's latest NFT (an idealised CGI Madonna birthing cyber-centipedes, of course). Ross Simonini talks with British artist Bonnie Camplin, who sets out her structure of sacred reality. Not to mention the usual mix of book and exhibition reviews from around the world, including Grace Ndiritu, Carrie Mae Weems, Wanda Pimantel and Berlin Gallery Weekend.