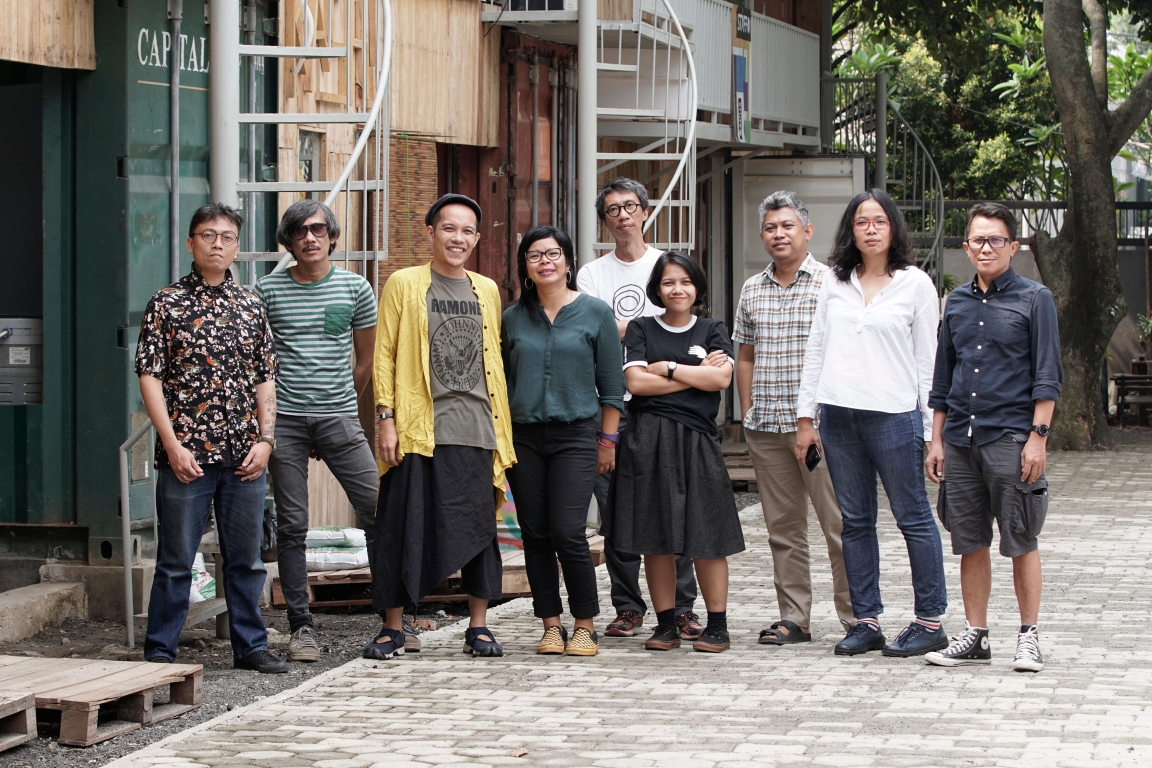 Ruangrupa, the under-fire curators of Documenta 15, have gained support from a group of leading artworld insiders, including the committee that originally selected them to lead the quinquennial festival.
The Indonesian collective have been forced to apologise for a work included in the festival which contains an antisemitic caricature. Amongst the imagery in People's Justice, a large-scale 2002 banner by the fellow Indonesian artists Taring Padi, are illustrations of a soldier with a pig's face wearing a scarf with a Star of David, and a helmet inscribed with 'Mossad'. German art magazine Monopol also identified a 'caricature of a Jew with sidelocks, a cigar, and SS symbols on his hat'.
Amar Kanwar, Charles Esche, Elvira Dyangani Ose, Frances Morris, Gabi Ngcobo, Jochen Volz, Philippe Pirotte and Ute Meta Bauer write in an open letter that, while they want to 'draw a line between criticism of the Israeli state and antisemitism, images that reference Nazi caricatures cannot be allowed and we understand the hurt they have caused'.
The selection committee continued: 'We stand fully behind our selection of ruangrupa to curate this year's edition of the historic exhibition in Kassel. We have followed the process of its development at a distance. The exhibition and events we encountered during the preview and opening days surpassed any of our expectations. As a whole, we found the presentations generous, thought-provoking, joyful and welcoming. They offer a picture of a world made of many worlds, without hierarchy or universalism.'
As well as intense scrutiny of the curators, there have also been calls for the resignation of Sabine Schormann, the general director of Documenta (as well as Museum Fridericianum in Kassel) and Claudia Roth, the German culture minister.
After Documenta faced earlier accusations of antisemitism surrounding statements in support of Palestine, and criticism of the Israeli government by various contributors to the exhibition, Roth requested an advisory committee to be set up to monitor the situation. Süddeutsche Zeitung reports that among those suggested to make up the bard were Raphael Gross, director of the Deutsches Historisches Museum; Meron Mendel, head of the Anne Frank educational institution; and Edna Harel-Fisher, a researcher at the Israel Democracy Institute and former adviser to the Israeli government on freedom of expression issues. Such calls were resisted by the mayor of Kassel, Christian Geselle, who sits on the Documenta board.
Even more unequivocal in their backing is L'Internationale, a collaboration research body that represents seven museums, including MG+MSUM, Ljubljana; Museo Reina Sofía, Madrid; MACBA, Barcelona; M HKA, Antwerp; SALT, Istanbul & Ankara; Van Abbemuseum, Eindhoven; MSN, Warsaw; NCAD, Dublin; and HDK-Valand, Gothenburg. They have released a second letter written 'in full support of the artists, lumbung partners and the artistic direction of Documenta 15'.
Without condemning the work of Taring Padi, they described the 'treatment of artists and curators' as 'saddening and shocking'. 'The aggressive press response in Germany is creating a fearful atmosphere,' they continued, 'while the exhibition itself is a joyful proposition for unity. Ruangrupa have apologized for the mistakes which have been made. The ongoing attempts to humiliate artists and curators goes beyond any justified criticism.'
'Documenta 15 brings together the work of 1500 artists, many of them working together over decades. We call for a return of respect, empathy and hospitality towards all their extraordinary efforts, an acceptance of the apology and a concerted effort to allow the German and international public to discover Documenta 15 for themselves.'