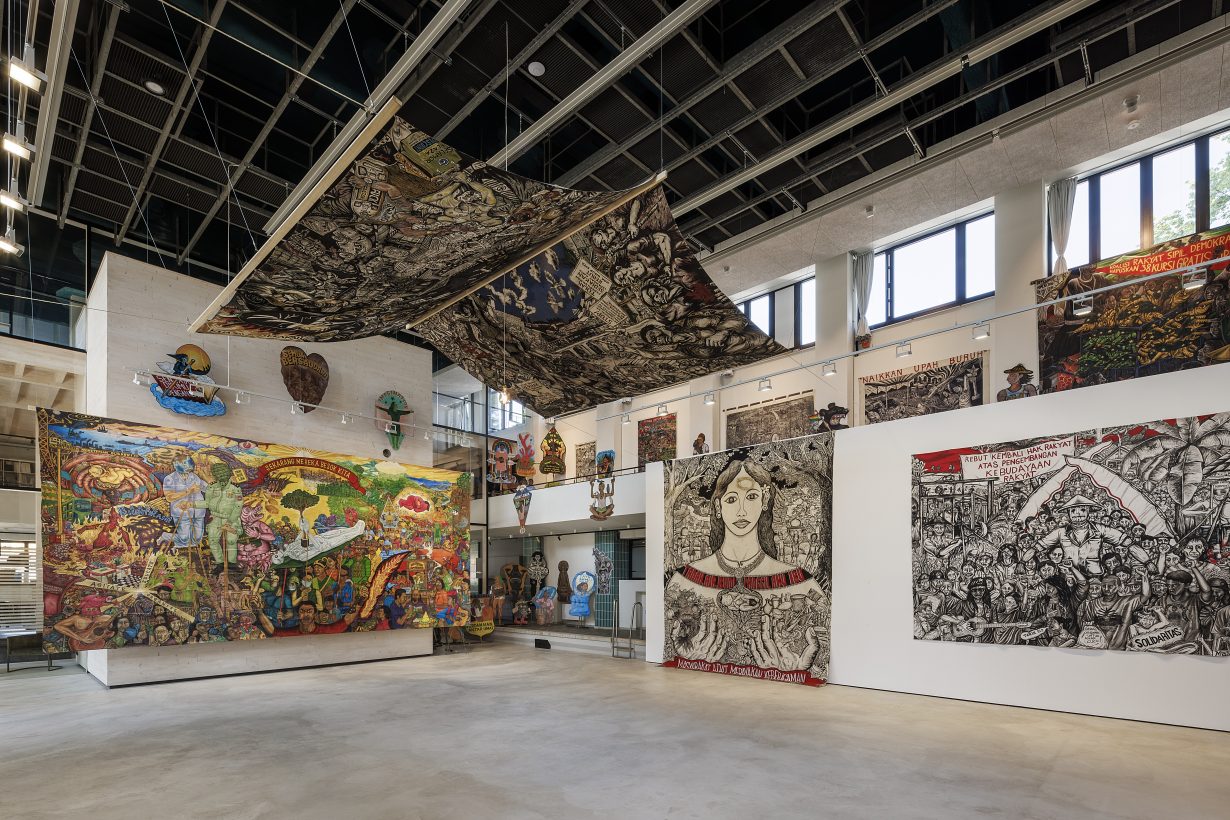 Ruangrupa, the curators of Documenta 15, have apologised for including in their show a work containing an antisemitic caricature. Amongst the imagery in People's Justice, a large-scale 2002 banner by the fellow Indonesian artists Taring Padi, are illustrations of a soldier with a pig's face wearing a scarf with a Star of David, and a helmet inscribed with 'Mossad'. German art magazine Monopol also identified a 'caricature of a Jew with sidelocks, a cigar, and SS symbols on his hat'.
The work was first covered up, then removed completely – just days after the opening of the festival – after further outcry.
'We collectively failed to spot the figure in the work, which is a character that evokes classical stereotypes of antisemitism', Ruangrupa said in a statement. 'We acknowledge that this was our error. In consultation with Taring Padi we are in support of the decision to take down the work in relation to their principles and values: to work in close contact with citizens in respect of differences, including every ethnic group and religion.'
In January the curators were accused by the German group Alliance Against Anti-Semitism Kassel of featuring 'anti-Israeli activists' in their programming. In response, the festival organised a series of public conversations titled We need to talk!, which sought to discuss 'the role of art and artistic freedom in the face of rising antisemitism, racism, and Islamophobia'.
While two of the three online events were primarily concerned with antisemitism, with speakers including Forensic Architecture's Eyal Weizman and artist Hito Steyerl, the president of the Central Council of Jews in Germany, Josef Schuster, said that the third event in the series, billed as a discussion of 'anti-Muslim and anti-Palestinian racism', demonstrated 'a clear tendency towards anti-Semitism', after which Documenta cancelled the event. Earlier in June, Documenta's curatorial offices were broken into and 'defaced with what can only be interpreted as a death threat'.
In their latest statement, Ruangroupa continued, 'We apologize for the disappointment, shame, frustration, betrayal, and shock this stereotype has caused the viewers and the whole team who has worked hard alongside us to make documenta fifteen a reality. Also the pain and fear in those who looked at the figure, be it in person at documenta fifteen or reproduced by various media outlets covering this story. We acknowledge the feelings also in people working for the media and at documenta who in the past six months have defended us from unfounded accusations and smears.'
'This imagery, as we now fully understand, connects seamlessly to the most horrific episode of German history in which Jewish people were targeted and murdered on an unprecedented scale. It comes as a shock not only, but specifically to the Jewish community in Kassel and in all of Germany which we consider as our allies and which still live under the trauma of the past and the continued presence of discrimination, prejudice and marginalization. It also is a shock to our friends, neighbors, and colleagues for whom the struggle against all forms of oppression and racism is an existential element of their political, social, and artistic vision.'
'We take this opportunity to educate ourselves further about the atrocious history and present of antisemitism and are shocked that this figure made it into the work in question.'
The wider subject of the collectively-made banner is the violence and legacy of the New Order era in Indonesian history.