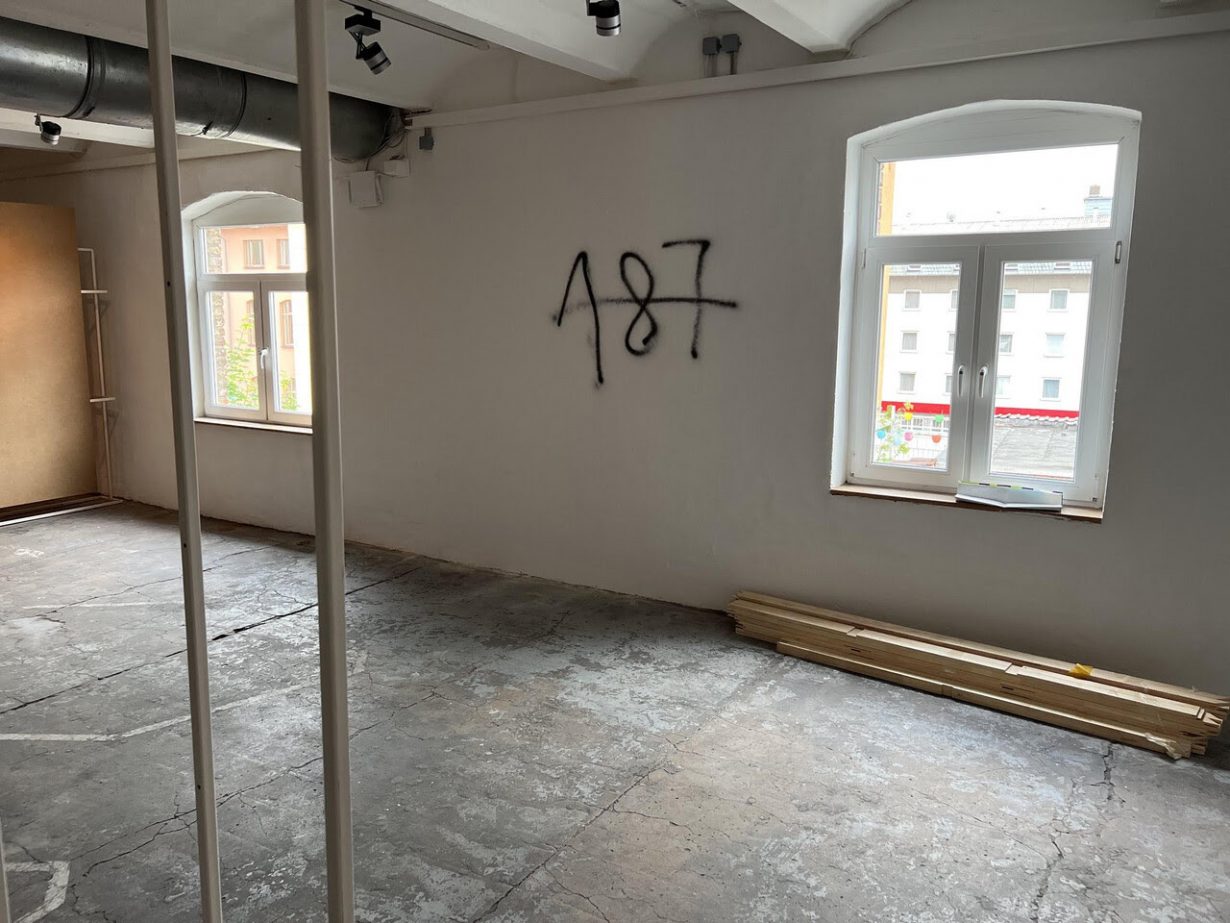 Racist graffiti has been sprayed on the inside of Documenta's curatorial offices in Kassel, Germany. On 28 May the workspace, which has also been serving as accommodation for Ruangrupa, the Indonesian collective directing the forthcoming edition, was broken into and 'defaced with what can only be interpreted as a death threat', the organisation said in a statement. The damage included '187' sprayed on the wall in black paint, slang for murder derived from the California Penal Code.
This marks another escalation of the situation surrounding Documenta 15, as tension has been mounting since the beginning of the year. In January, the Jakarta-based group were accused by the German group Alliance Against Anti-Semitism Kassel of featuring 'anti-Israeli activists' in their programming. In response the festival organised a series of public conversations titled We need to talk!, which sought to discuss 'the role of art and artistic freedom in the face of rising antisemitism, racism, and Islamophobia'.
While two of the three online events were primarily concerned with antisemitism (speakers included Forensic Architecture's Eyal Weizman and artist Hito Steyerl), the president of the Central Council of Jews in Germany, Josef Schuster, said that the third event in the series, the subject of which was billed as 'anti-Muslim and anti-Palestinian racism' and was scheduled to take place 28 May, demonstrated 'a clear tendency towards anti-Semitism'. The series of talks were subsequently cancelled, the organisation explaining that the 'accusations and insinuations made against the discussion forum and documenta' rendered productive discussion 'impossible'. Instead, Ruangrupa would 'let [the exhibition] speak for itself.'
The Alliance Against Anti-Semitism later released a blog post which included screenshots from various open letters and social media posts made by the curators and Documenta 15 artists seeking to 'prove' their support for Palestine, and in some instances the BDS movement. The blog singles out Palestinian artists in particular. A recent editorial in Der Zeit, asked 'Does the forthcoming Documenta promote anti-Semitic tendencies in Art?'. Supporters of Documenta say that antisemitism claims are used to stifle legitimate criticism of the Israeli government.
In response to the physical attacks, the artists and members of documenta fifteen affirm: 'We are united against the racist attacks that started this sequence of events. And we stand firmly against all forms of discrimination, including racist, xenophobic, antisemitic, sexist, transphobic, anti-Muslim, anti-Palestinian, anti-Roma, ableist, casteist, classist, and ageist actions and attacks.' Ruangrupa have consistently stated that 'no anti-Semitic statements were made at any time during documenta fifteen'.