Twenty-five of the artists participating in the Bangkok Art Biennale have written a public letter condemning escalating police violence against protests in Bangkok over the past week. Signatories including Ai Wei Wei, Anish Kapoor and Dinh Q. Lê write: 'Scenes of overt police force, including the use of water cannons, being deployed against peaceful protesters have weighed heavily upon us as we prepare for the full opening of the biennale later this month.'
'We therefore unequivocally condemn and call for the immediate stop to the use of violence against the protesters and express our support for their struggle for democracy.'
Defying state of emergency rules thousands, have taken to the Thai capital's streets calling for reform of the country's monarchy and the resignation of prime minister Prayut Chan-o-cha. The Thai king is protected by draconian lèse-majesté laws, banning any criticism, though his decision to sit-out the COVID-19 pandemic at a luxury hotel in the Bavarian Alps brought the unrest to a head.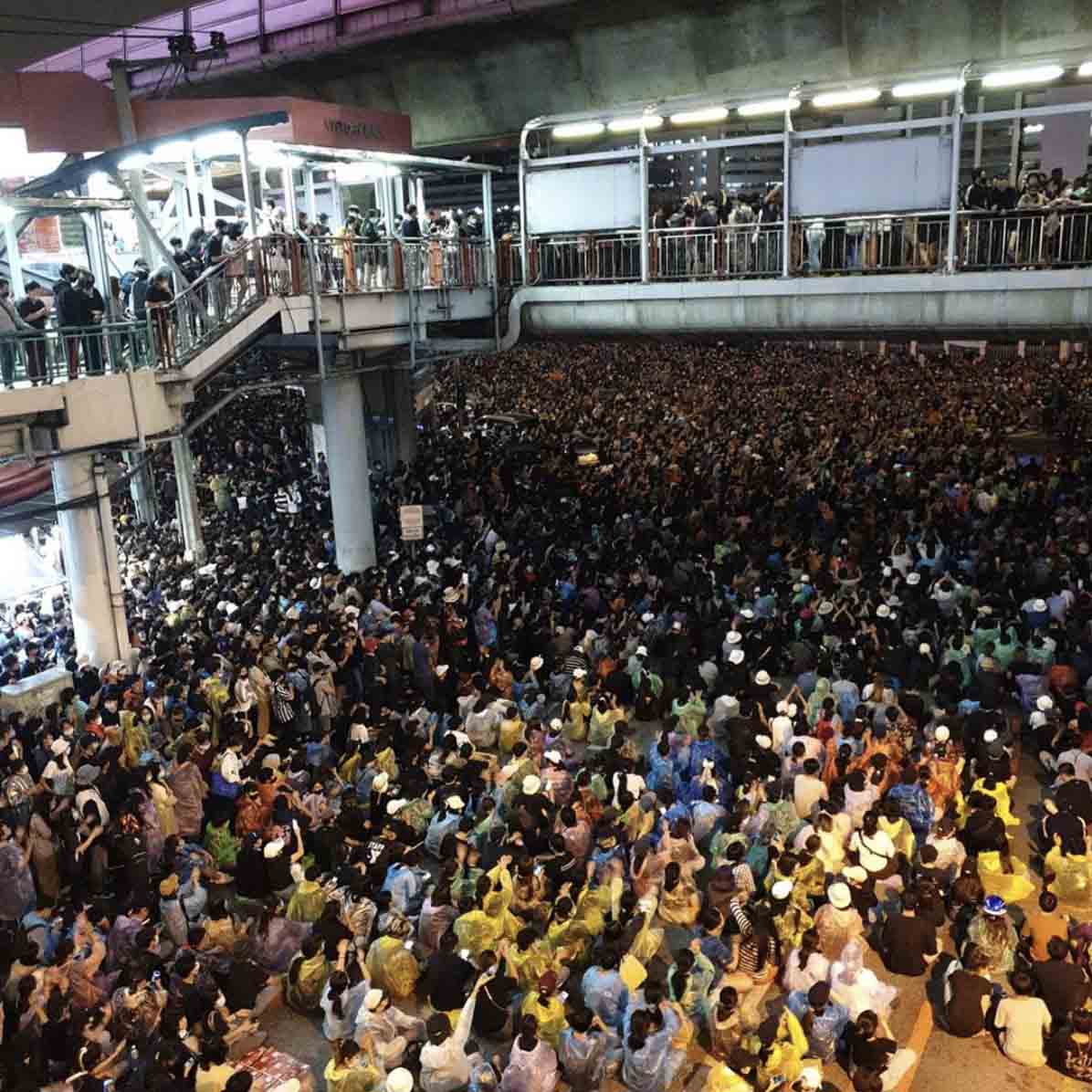 Police have used water cannons with dyed water to disperse the crowds and 80 people have been arrested. Television and media have also been subject to censorship.
The biennial, which opens next week, is curated by Apinan Poshyananda with the title Escape Routes.
Many of the protests are occurring near the main exhibition venue, the Bangkok Art and Culture Centre. In September, artists and activists occupied the state institution, one of the almost daily flash mobs that have occurred throughout the city. Artist Mit Jai Inn told The Art Newspaper at the time, 'For the past five to seven years, the [established] artists have mostly aligned with the military and monarchy because of the [perception] of the resistance – the poor, the red shirts – so they align with the yellow conservatives and the military.'
'In Thailand, the art scene is run by elite old men, nearly all conservative', he added. 'Before I was a lonely minority, but now all of the young artists have turned radical.'
The artists' letter, signed by Ai, Kapoor, Lê, together with Thai and international artists including Bussaraporn Thongchai, Chantana Tiprachart, Choy Ka Fai, Dane Mitchell, Haeven Lee, Ho Rui An, I-na Phuyuthanon, Irwan Ahmett, John Akomfrah, Julia Fullerton-Batten, Khvay Samnang, Linda Havenstein, Nipan Oranniwesna, Prateep Suthatongthai, Reena Saini Kallat, Ruangsak Anuwatwimon, Rungruang Sittirerk, Sarah Naqvi, Thanet Awsinsiri, Tita Salina, Yuken Teruya and Zhou Xiaohu, is reproduced in full below.
'As participating artists of the Bangkok Art Biennale 2020, we are deeply concerned about the events that have unravelled in Bangkok over the past days in response to the ongoing protests calling for democratic change. Scenes of overt police force, including the use of water cannons, being deployed against peaceful protesters have weighed heavily upon us as we prepare for the full opening of the biennale later this month. The arrests of key protest leaders and several activists are also a cause for concern. That many of these events have taken place in the Pathumwan intersection where the Bangkok Art and Culture Centre (BACC), a key venue of the Biennale, is located makes this response all the more urgent and necessary. The theme of this year's Biennale is Escape Routes, which according to the Biennale, explores how art can help us understand and search for ways out of the many predicaments that we are living through in the world today. We believe that any attempt at imagining the possible futures that lie ahead of us must begin by confronting our present realities.
'This means that as artists we must not only maintain art as a space for reflection and debate on the issues of the day but also be able to speak directly to the situations that have literally arrived at our doorstep. We therefore unequivocally condemn and call for the immediate stop to the use of violence against the protesters and express our support for their struggle for democracy. We also affirm the space of art as an essential constituent of the democratic public sphere which, in times of social upheaval, must also seek to provide refuge for those escaping violence. We further urge the Biennale and the BACC to join us in taking a stand against such violence and affirming the right to peaceful protest. As artists, we thrive in a society that supports our ability to speak out and speak to the times in which we live. Such a society is one that meets calls for progressive change not with a crackdown but a commitment to building understanding, dialogue and collectivity.'