An online discussion moderated by ArtReview Editor-in-Chief Mark Rappolt – join us on 28 January, 5pm GMT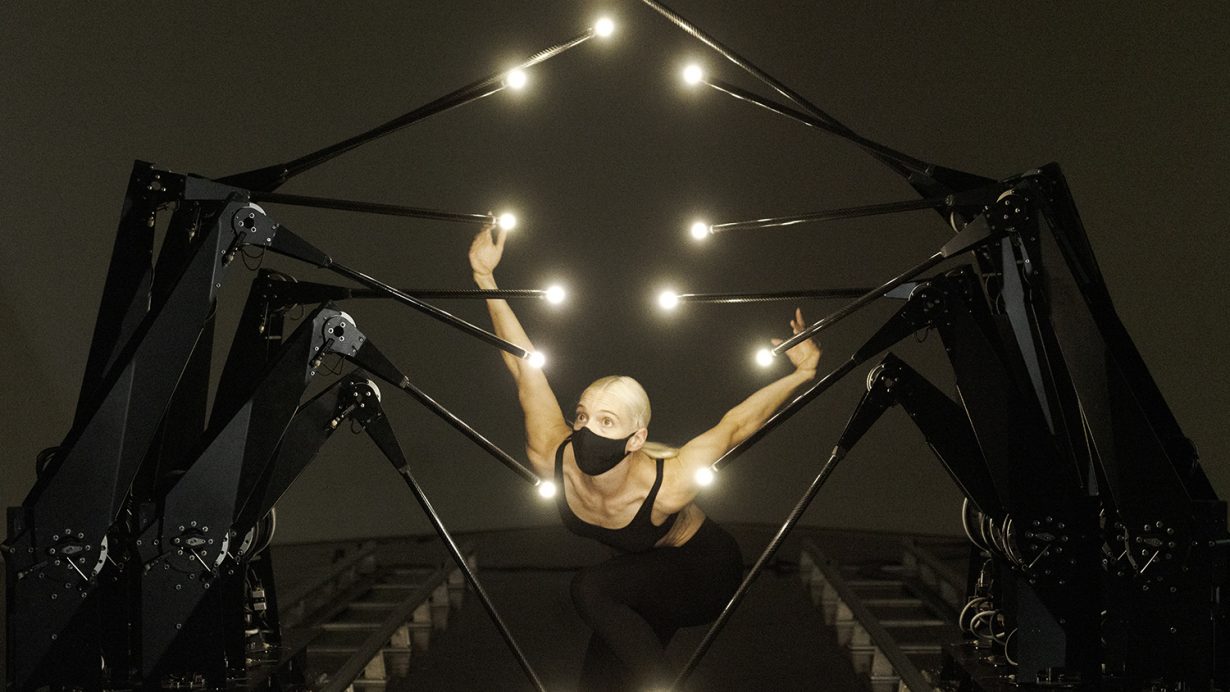 To coincide with the digital premiere of their new collaborative artwork, experimental art studio Random International – founded by Hannes Koch and Florian Ortkrass – and award-winning choreographer and director Wayne McGregor will discuss the ways in which automation and artificial intelligence are affecting society, the relationship between humans and technology as well as the roles of empathy, the desire to connect and the experience of the human body within the world today. Speaking to humankind's immediate past, present and future simultaneously, No One is an Island, produced in partnership with Superblue and BMW i, premiered online in three chapters with the last one coming up in February and a live performance scheduled for later this year.
Conceived as a 'Gesamtkunstwerk', the work melds sculptural, performance and musical elements. The sculpture at the heart of No One is an Island tests the minimal information needed for an animated body to be regarded as human, shifting from robotic form to living being.
The sculpture extends to and interacts with a live performance by the dancers of Studio Wayne McGregor that draws inspiration from Picasso's light drawings; the dancers' movements paint electric lines of light. A specially written score by Chihei Hatakeyama soundtracks the piece's exploration of the human and the machine.
Attend online
Click here to register receive the Zoom meeting link
About Random International
Art Group RANDOM INTERNATIONAL run a collaborative studio for experimental practice within contemporary art. Founded in 2005 by Hannes Koch and Florian Ortkrass, today they work with larger teams of diverse and complementary talent out of studios in London and Berlin.
Their work Rain Room is in the collection of Jackalope Art Collection Melbourne, and the Los Angeles County Museum of Art having been exhibited under the museum's historic Art and Technology initiative. The artwork has also been shown at the Museum of Contemporary Art Busan (2019), YUZ Museum in Shanghai (2015), the Museum of Modern Art, New York (2013), and London's Barbican (2012). An edition of Rain Room has become the first permanently installed artwork at the Sharjah Art Foundation (UAE). 
About Studio Wayne McGregor
Studio Wayne McGregor is the creative engine for choreographer and director Wayne McGregor, now in its twenty-fifth year. It encompasses his ensemble of world-class dancers, Company Wayne McGregor; a portfolio of international commissions and artistic collaborations across genres including dance, visual arts, VR, film, theatre and opera; a highly specialised programme of creative learning for individuals and communities; artist development initiatives; and collaborative research projects across the interface of the arts with science, technology and academic research.

Wayne McGregor CBE is a multi-award winning choreographer and director. He is Artistic Director of Studio Wayne McGregor, Resident Choreographer at The Royal Ballet, and is commissioned for international ballet companies, film (The Legend of Tarzan, Fantastic Beasts and Where To Find Them), music videos (Radiohead, Thom Yorke, The Chemical Brothers), fashion shows (Gareth Pugh at London Fashion Week 2017), campaigns (everyBODY for Selfridges) and TV (Brit Awards). McGregor is Professor of Choreography at Trinity Laban Conservatoire of Music and Dance, has an Honorary Doctor of Science from Plymouth University, an Honorary Doctor of Letters from University of Leeds, and is part of the Circle of Cultural Fellows at King's College London. In 2017 he was awarded an Honorary Fellowship of the British Science Association. In 2011 McGregor was awarded a CBE for Services to Dance.