Ukrainian chefs were on the cusp of launching a revival of their national cuisine; now they are cooking for their country's survival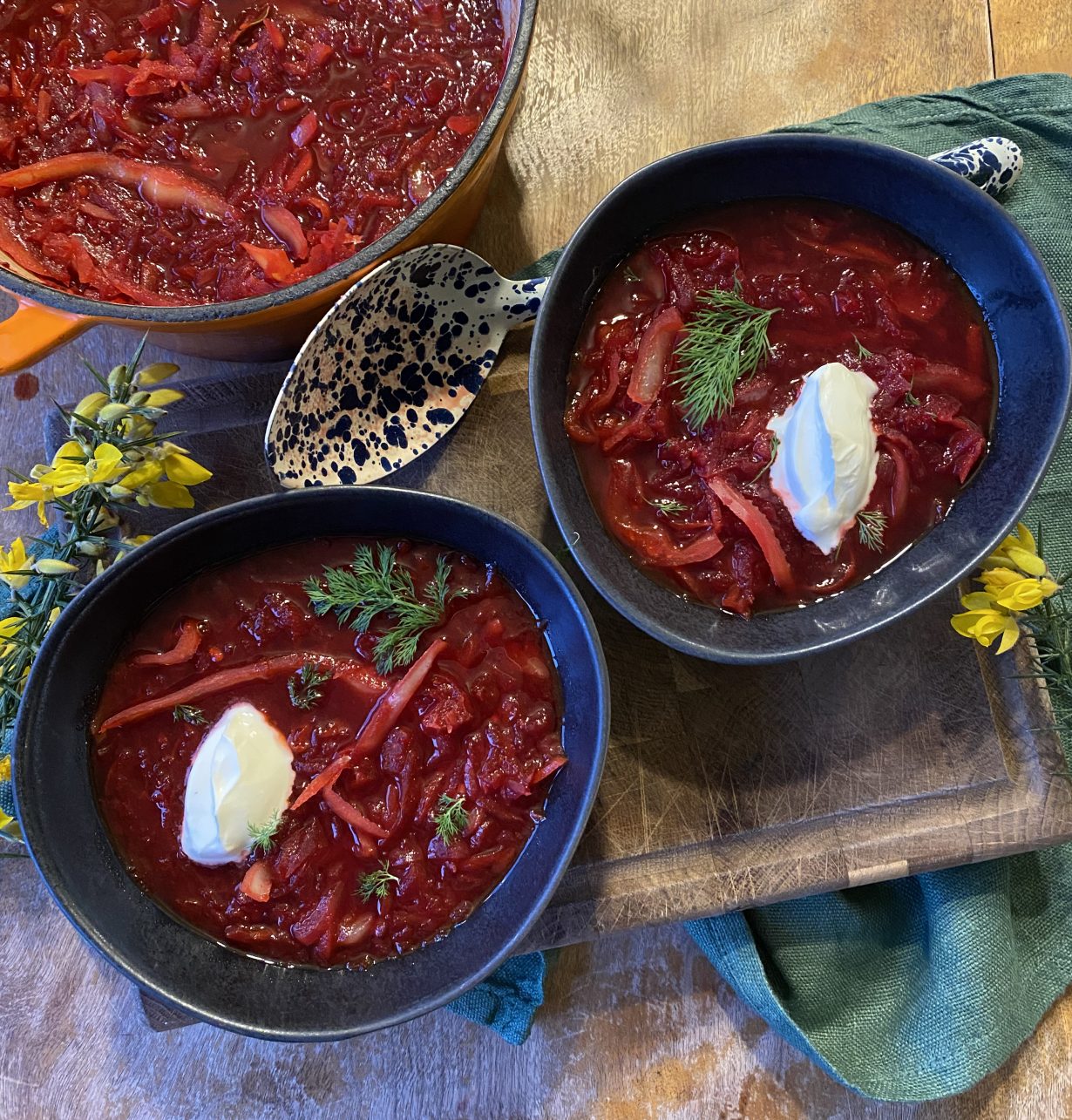 An update on Russia's invasion of Ukraine has just blinked into my newsfeed: 'Russia bombs Mariupol art school sheltering 400 people'. It's only the latest atrocity to be inflicted on the south-eastern port city, which looks likely to have been reduced to rubble by the time you read this. Back on 24 February, at the beginning of the siege and before a series of escalating massacres, Russian troops cut off water, electricity and heating supplies, and blocked incoming transports of food and medical aid. Not long after that, Mariupol mayor Vadym Boychenko was on the radio describing how trapped citizens were grateful, at least, for the snow, because it provided water to drink. The impending starvation of Mariupol's residents grimly recalls the Soviet Union's Holodomor ('death by hunger'), a man-made famine that killed between seven and ten million ethnically-Ukrainian people in the region between 1932 and 1933. Now, people in Mariupol are drinking from puddles.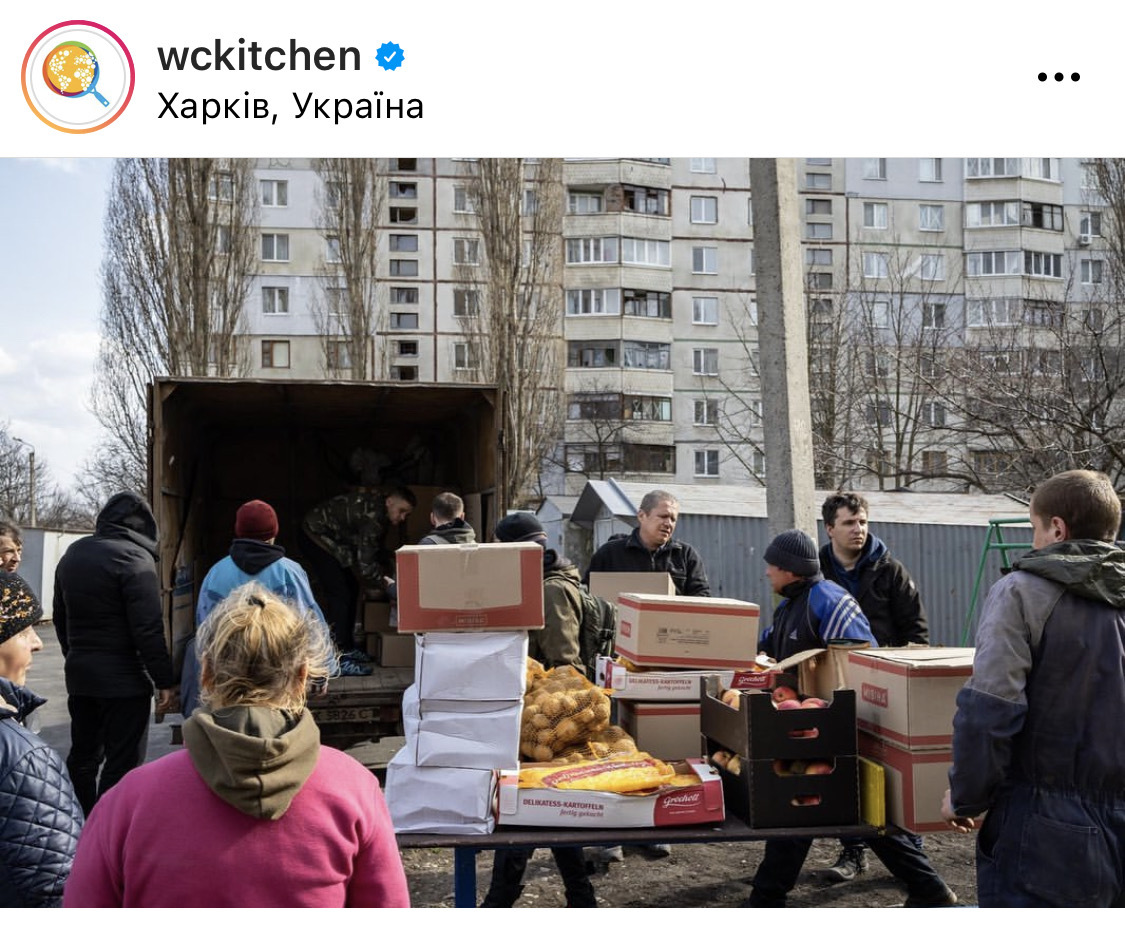 The day after the invasion began, food NGOs and initiatives like World
Central Kitchen (WCK, founded by Spanish chef José Andrés) set up emergency food stations across Ukraine and in neighbouring countries where refugees continue to travel. Local chefs and restaurants in 12 cities including Lviv, Kyiv, Kharkiv, Odessa and Mykolayiv have been able to partner with WCK, which is supplying those chefs with fresh ingredients to feed citizens who have remained in their cities, as well as the Ukrainian military. A month ago, chefs like Ievgen Klopotenko, Kharkiv-native Igor Mezentsev, Kyiv-based Eleonora Baranova and Volodymyr Yaroslavskyy were on the cusp of launching a 'revival of ethnic Ukrainian cuisine'; now they are cooking for their country's survival. Elsewhere, chefs including UK-based Ukrainian Olia Hercules and Russian Alissa Timoshkina are organising fundraisers to gather financial support for UNICEF, using social media and #cookforukraine to encourage others to join in.
For the past few weeks I've been thinking about a passage from Susan Sontag's 'Regarding the Pain of Others' (2003) in which she describes war experienced as 'living room sights and sounds'. She's talking about the way in which stories, photos and footage of human crises and war have come to permeate our everyday lives – images of bombed blocks of flats flickering onto our TV screens, for example – which we absorb from the safety of our own homes. As much as she urges the audience not to turn away, but rather to consider looking continuously and directly at the tragedy as a form of empathy or witnessing, she also warns that 'watching up close… is still just watching'.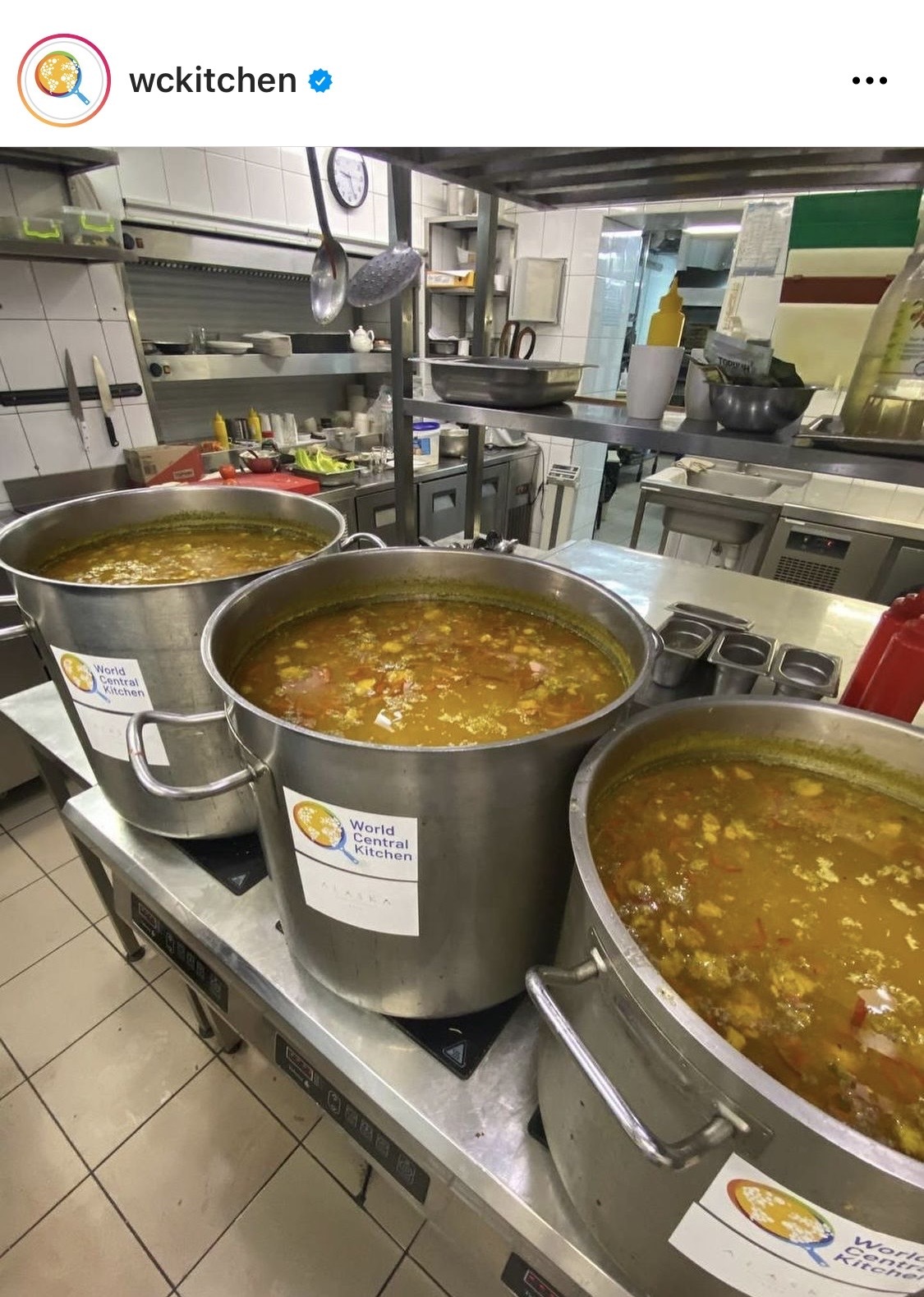 News footage broadcast by the BBC, not long after Ukraine was invaded, showed a woman spoon-feeding a toddler soup. She could have been his mother, his aunt, his older sister. She was holding a brown paper bowl of steaming liquid, not looking at – or noticing – the camera trained on her, her focus entirely on getting the little boy to eat. He was fidgeting a little, but silently gulping down mouthfuls of thin red broth. Both were wearing puffer jackets, because it is cold outside at the voluntary food station in Lviv where they had stopped for nourishment before moving on (perhaps they will stay in the far west of Ukraine; perhaps they will seek shelter in a neighbouring country: their future, like that of so many others, is unsure). A volunteer ladling out bowls of hot soup tells the reporter, "It's borscht, it gives us strength".
Borscht is typically recognised as an earthy, soured, bright-red soup stuffed full of beetroot, carrots, onions, potato, cabbage, a little meat, and served with a dollop of sour cream. Its countless variations are noted in Hercules's 2020 cookbook, Summer Kitchens: Recipes and Reminiscences from Every Corner of Ukraine – from green (sorrel-based) and white (rye-based) broths to meat and vegetarian versions, to the inclusion of different acidic ingredients such as sour cherries, fermented tomatoes and apples, or unripe apricots and plums. Borscht, made across Ukraine, its Eastern European neighbours and Russia, speaks as much to the diversity of cultures among the Slavic countries as it does to the similarities in their culinary traditions. Though it's difficult to disentangle that latter from the homogenisation that such cultures underwent within the Soviet Union: tasked with pulling together a national Soviet cuisine, Stalin's commissar of the food industry, Anastas Mikoyan, produced The Book of Tasty and Healthy Food (1939), which swallowed Ukraine's borscht, along with other nations' and cultures' dishes, including Georgia's beef-soup kharcho and the Ashkenazi Jewish honey-drenched pastry teiglach.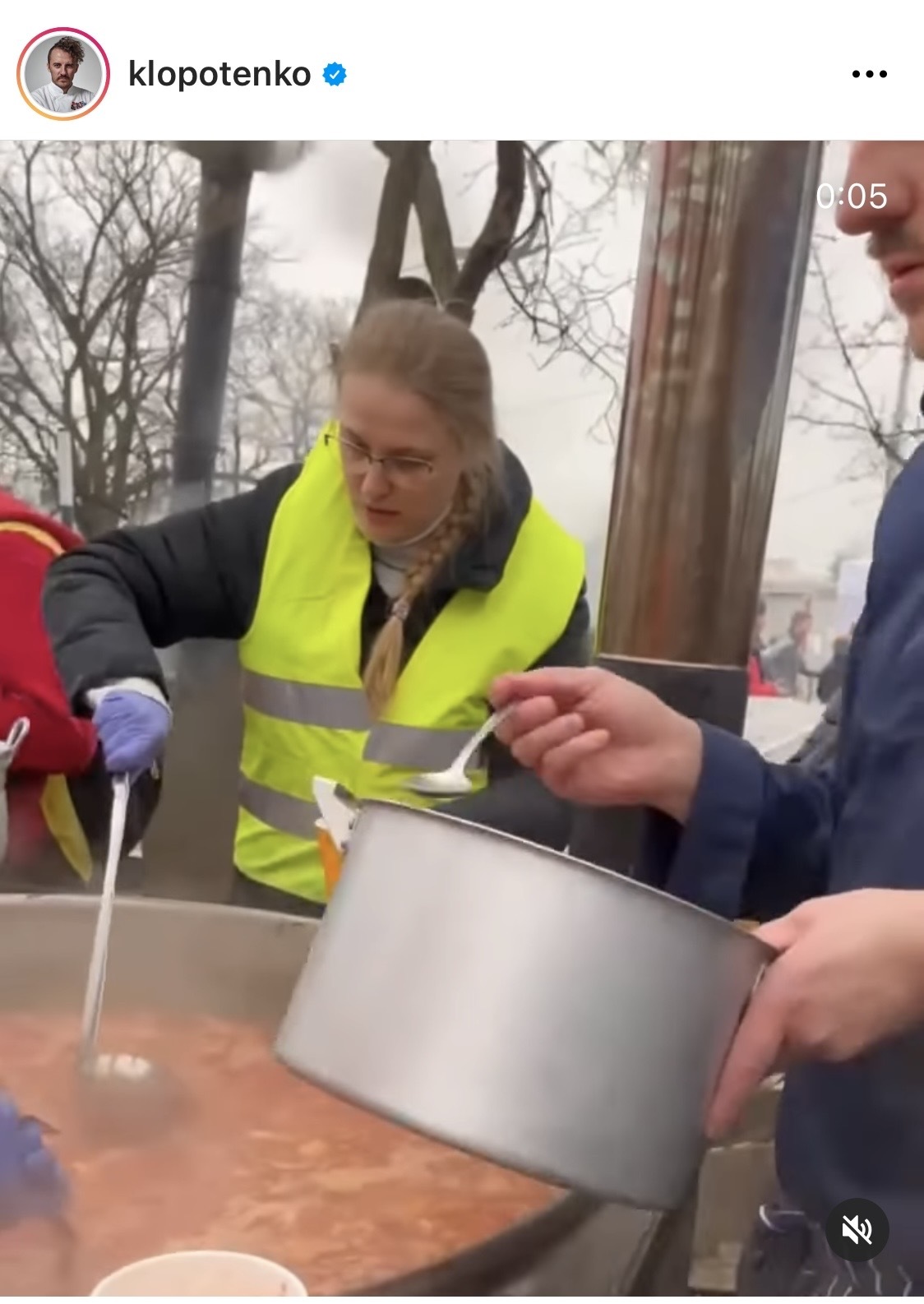 UNESCO is currently deciding whether or not borscht will be included as one of Ukraine's items of Intangible Cultural Heritage. The application was made in 2021 and spearheaded by Klopotenko, who along with a team of researchers (including historians, folklorists, ethnographers and philologists) has been championing his country's claim to the soup. (That assertion is largely based on historical accounts predating the Russian Empire, where original recipes called for borscht's eponymous ingredient, pickled borshchivnyk, or hogweed, and was first mentioned in the diary of the Dominican monk and merchant Martin Gruneweg in 1584 – the signature beetroot wasn't introduced until about 200 years later.) While Klopotenko risks brushing aside other countries' affinities with the soup, his effort is singularly focused on resisting Russia's attempts to claim borscht as their national dish.
In mid-March Klopotenko posted a video showing himself and other chefs at a WCK tent in Lviv, stirring a massive vat of borscht. The thing that struck me about this and other images of volunteers preparing food for people was that in making this gesture, they somehow weren't strangers to one another anymore; they were connected through the simple transfer of sustenance from one hand to the other. It's hard to imagine what will become of Mariupol's people – whether more citizens will be able to evacuate, and if they do, what condition they'll be in. Watching up close is still just watching – until it makes you act.
Donations to World Central Kitchen can be made here. #cookforukraine is fundraising for UNICEF.