Dan Mitchell on how mining the work of J.G. Ballard for the Brent Biennial became all too relevant during lockdown
Dan Mitchell is a co-founder of the Artist Self-Publishers' Fair and
the publisher of Hard Mag – the 'stronger than reason' specialist magazine. His work is generated on computers and takes the form of an assemblage of culled images (from the web, magazines, posters, film and photography) and is rendered on paper in the forms of posters,
magazines, drawings and prints as well as sculpture.
ArtReview What have you made for the Brent Biennial?
Dan Mitchell It's a 43-metre-long vinyl print with a quote from J.G. Ballard's Kingdom Come (2006) attached to the facade of Wembley Public Library which is housed in the Brent Civic Centre. Inside the letters are images, most of them stock photography that mirrors the other vinyl – adverts and commercial branding – that litter the surrounding buildings. I think Wembley Park probably has more vinyl skinned onto the public facing surfaces than anywhere else I've ever seen in the UK, which of course, for me as an artist with my interest in making reality look artificial, provides the perfect context. When I visited the site, I was thinking about what this place means, and it immediately became clear that it chimed perfectly with Ballard's themes in Kingdom Come: consumerism, football, tribalism, that people want something to happen that is out of their control.
That Wembley Park is a massive collaboration between the public and private sector is also very obvious, plus the whole place is set up for regular invasions of tens of thousands of people going to the stadium. It makes for a kind of blanket-managed culture. At first this might seem unappealing, but the decision to mirror back the imagery – of people chatting, drinking coffee, working on laptops – skinned onto the unoccupied widows of recently-completed stores, bars and restaurants made for a compelling vision. Working within the restraints of what is acceptable to the council and private interests, as well as the public, proved an interesting discipline.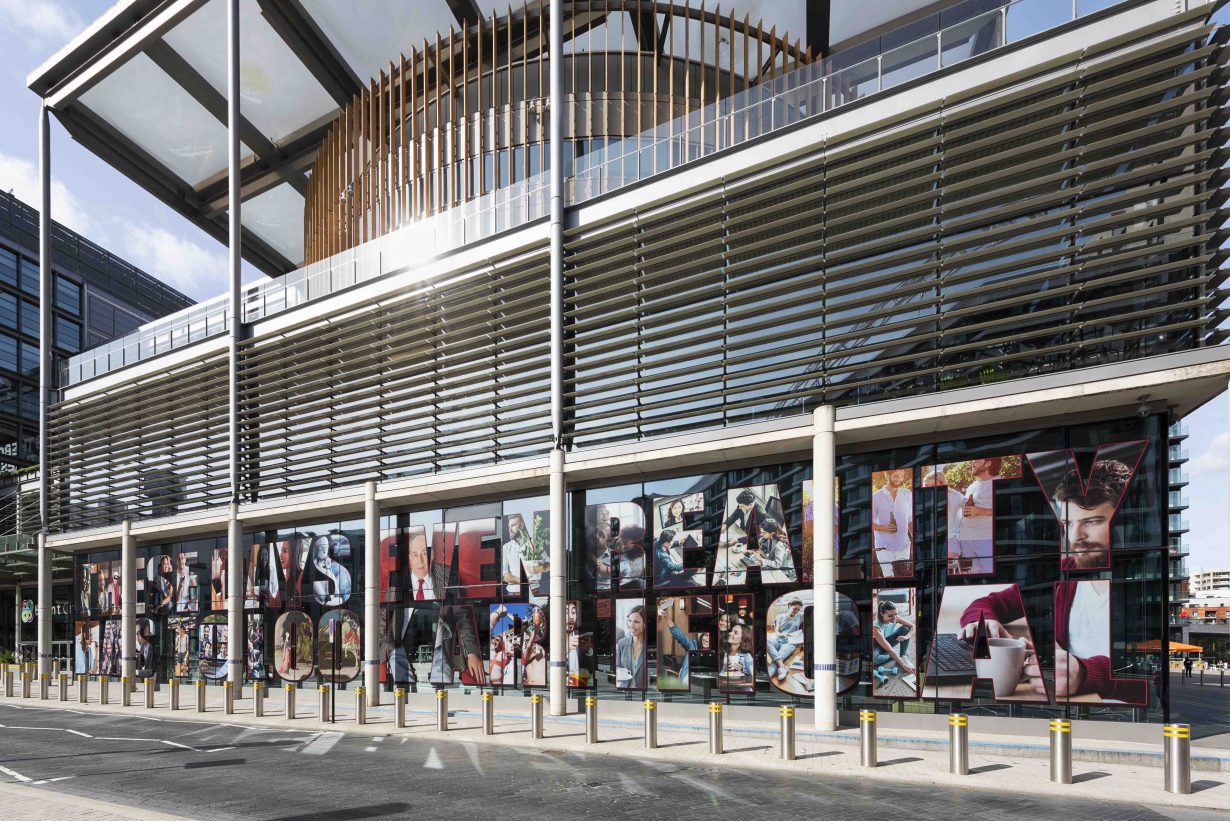 AR How important is the context of the borough and library to the work?
DM I worked in Wembley Park for Brent Council in the early 1990s as a housing fraud investigator so I've witnessed how the area has completely transformed from a post-Thatcherite neglected battleground, as it was, to the new vision it has of itself as a cultural neighbourhood for north west London. Trudging around Brent back then was a scary prospect. Often working the night shift, and having to be escorted by the police, some properties I visited were in a very bad way – the onslaught of Tory policies from 1979 onwards meant that left-wing metropolitan boroughs, like Brent, really got it in the neck, and to this day have struggled to recover. I myself went on to have a very dark few years of my own as my then drug habit totally overwhelmed me. So coming up to date and seeing the positives for myself and Wembley, albeit through the strange lens that I see the world through, which has certainly been coloured by the infusion of Ballard's work into my thinking, means that the library made absolute sense to me as the substrate for my work.
The programme was already being delivered in what was a challenging time, and then when COVID-19 happened, it seemed the whole thing would be impossible to produce, but the organisers have done an amazing job of working through intense difficulties to keep the show on the road. The spirit of Brent – genuine and hopeful – shines through even in the darkest times.
AR Ballard would probably have had something to say about the strange times we find ourselves in.
DM When won't Ballard be relevant? Kingdom Come, published in 2006, his last work of fiction, doesn't concern itself with the effects of the internet. He was more obsessed with consumerism at that point, and the internet still had some way to go in terms of its penetration. The iPhone wasn't launched until 2007 and Facebook only opened up to anyone in September 2006. So consumerism stands in as the great psychopathological influence that preoccupies, bores and separates people. I was originally going to use a different quote: 'Consumerism rules, but people are bored. They're out on the edge, waiting for something big and strange to come along.  They want to be frightened. They want to know fear. And maybe they want to go a little mad.'
As COVID-19 took hold however it was obvious this wasn't going to work, or rather it might be too direct. COVID-19, especially in the first few weeks of lockdown, turned the London I knew so well into a strange place, empty of people. A different set of rules became applicable, one's own fantasies sharpened into a clearer projection onto the newly emerging backdrop of a deserted cityscape. This experience chimes so well with the isolation that the characters in Ballard's works are preoccupied with – shopping becomes their sole identity, or as the filmmaker Adam Curtis put it, 'these days shopping is your job' – and the sense of the society that we experience is actually a mass detention camp or that we actually live in an enormous novel and have to regard everything around us as fictional. That we are living inside a movie has definitely become a trope for many. I'm not sure one could describe Ballard as a director of this in any useful way, but he certainly acts as a strange reviewer for events that haven't happened yet.
DM You've long been involved in self-publishing and zines. How did you come to be interested in that culture?
At the end of the 1990s I was looking for something that went beyond the practise of making one-off works in the context of galleries, and into the 2000s, as art fairs came to dominate the artworld, the context of the art market and selling art as luxury good became all-encompassing. I wanted something that was cheap as far as the end user was concerned, something that could help generate ideas of a practice that had more to do with a cult following than the super stardom I had witnessed with the advent of the YBAs and the big-shot Germans. I had always been attracted to the more industrial end of print, rather than the artist's etching or even the 'cool' silkscreen side of things. Digital print has become very viable and meant that short runs of 100 issues could be made for not much money. I joined up with Publish and Be Damned in 2004 for their first fair, and kept attending throughout its 10-year life. When it folded, Sara MacKillop and I organised a replacement, the Artist Self-Publishers' (ASP) Fair, which is now in its sixth year (this year it's moved online, taking place 26-27 September).
The main site, IRL, of self-published culture takes place at the self-organised fairs like ASP, or DIY Space for London and Strange Perfume. The sense of community that one feels is very real. The swaps and trades may be temporary, but the amount of work that goes into these events and the publications, and the fact that the public gets to meet with the artists, is what makes it so different from the big art fairs or even book fairs where the audience doesn't have as participatory a role.
I like how a magazine can contain stuff: people, work, thoughts, images, words and ideas. There's a Situationist's joke about magazines being where they keep their bullets, which sheds light on an almost mythic quality that self-publishing has: it's vulnerable, usually very cheap and acts at once for the poignant and self-enclosed, but also takes massive swipes at its enemies. At the same time self-publishing is about 'drift'. My magazine, Hard Mag, is at once serious and not serious, it can go wherever it likes, plot a course and then abandon it and drift again.