The artist discusses his latest NFT project, his relationship with Shanghai's Rockbund Art Museum, and making art in lockdown
In July 2021, artist Cai Guo-Qiang made his first foray into the crypto-space with Transient Eternity – 101 Ignitions of Gunpowder Paintings, commissioned by Rockbund Art Museum in Shanghai for their 10th anniversary charity auction. The unique piece sold for USD$2.5 million in a 48-hour auction on TR Lab's online platform, setting the record for the highest NFT sale from a non-crypto-native artist.
Following the success of his record-setting debut NFT drop, Cai Guo-Qiang is releasing a second NFT in an online sale hosted by TR Lab. The sale, which begins on 3 September at 9am ET, consists of 99 editions of Exploding the Self. Each edition is priced at USD$999 – the proceeds from the sale will go to Rockbund Art Museum in support of the museum's education programmes. 
A continuation of Cai's first NFT Transient Eternity, Exploding the Self is the genesis moment of a recent self-portrait by Cai. The artist's silhouette appears in fierce firelight, as if in a fleeting moment of liberation, he is experiencing the pleasure of approaching his true self.
For the creation of the painting, gunpowder was arranged between two canvases that were laid face-to-face on the ground. Once ignited, two images emerged – one canvas was true to reality, the other a bewildering abstraction. The artist's masked selfie is a frank contemplation of the complexity and vulnerability he experienced during the pandemic.
ArtReview For Rockbund Art Museum's 10th anniversary, you presented your first NFT project Transient Eternity – 101 Ignitions of Gunpowder Paintings – a digital extension of your recent project Individual's Journey Through Western Art History in which you toured several institutions including the Uffizi Galleries, the Prado and the Guggenheim, engaging with the chapters of Western art history embodied by them. Why have you chosen, now, to extend this project into the digital space?
Cai Guo-Qiang These ignition moments from the pieces I created during my recent Individual's Journey Through Western Art History always existed as a crucial part of the gunpowder paintings. NFT technology has enabled them to be owned and collected, hence the 'transient eternity.' The project poses questions of what defines an artist's work and what is an art project. It reflects on the questions surrounding the transience and eternity of the digital age embodied by NFTs, and the core concept of how value is stored. In the isolation of the pandemic, the project aims to reflect on the weight of transient existence in the eternal river of time.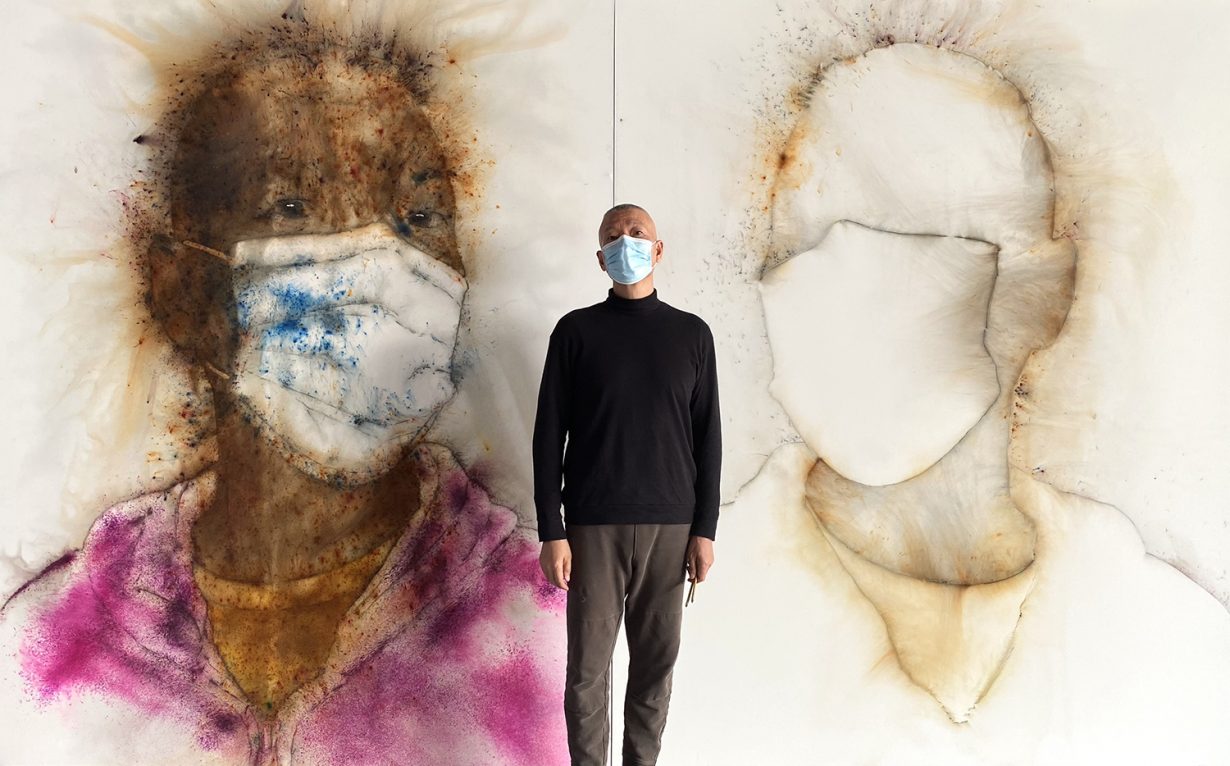 AR You describe the NFT project as 'the existence of the explosion moment itself': can you tell us a bit more about what the NFT format captures from your gunpowder paintings that other digital forms, whether still or moving images, cannot? And what's the exact process that happens between your in-real-life work, and how it appears as an NFT?
CGQ As I often remind people, Transient Eternity is the existence of the explosion moment itself – not the videos or photographs with which the ignition is to be preserved in the traditional sense or the physical gunpowder painting that was born from the ignition… Digital forms such as videos or photographs remain more on the level of 'permanence,' while the 'moments' captured through the NFT, exist more on the level of 'eternity.'
I wrote about the difference between the two: 'Even when something is eternal, you can't own it forever. Eternity and permanence are different in Chinese. Eternity transcends the existence of time, whereas permanence remains in the realm of time. So when we have dialogues with and associate with eternity through art, we don't attempt to tackle it from the point of view of permanence. Rather, we use something instantaneous to grasp it. It feels like the myth of eternity – you can only taste it in the fleeting moment of chaos.'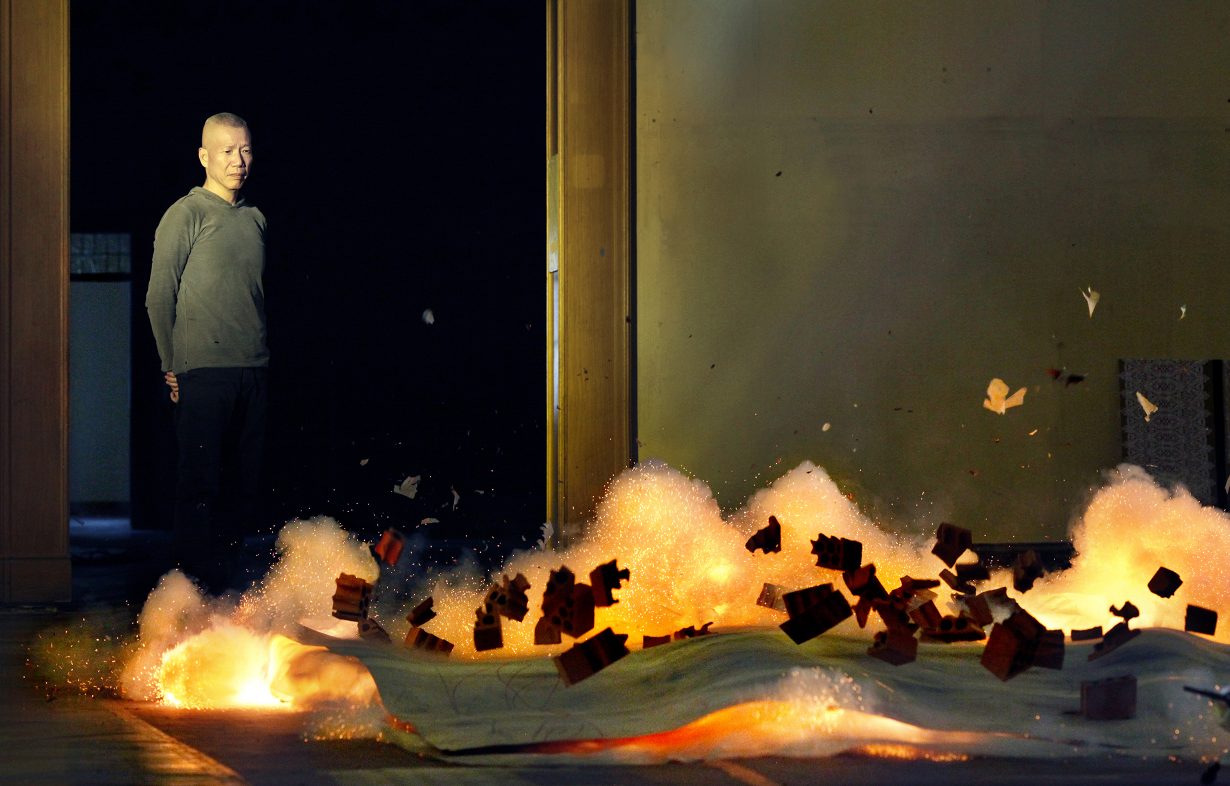 AR Is the format of the NFT something you want to employ more in your practice, and where do you imagine taking it? Or in other words, is there creative potential in it or do you see it as just another platform for your work? In terms of the latter, what kinds of people are you interested in reaching through it? Do you think they will read your work differently?
CGQ It was kind of strange that when I was still trying to grasp the concept of NFTs, many people had already thought of me, saying that it should work well with my art… I've only just begun exploring it. One of my core artistic pursuits is to present the unseen world through what can be seen, and it seems the virtual nature of the NFT can drive that pursuit, especially with such subjects as the cosmos. It makes me wonder whether I could convey a certain energy release and artistic expression of the unseen world through the NFT.
I already have a number of ideas for NFTs. Overall I want my NFT projects to be more daring and adventurous than what has been achieved so far – is it possible to create an art project with a more forward-looking vision, and with more compelling forms and concepts, by leveraging the core values unique to NFT technology?
AR What's not often been discussed within the NFT boom are the different platforms facilitating transactions between artists and buyers – you're working with TR Lab, a new platform for NFT art, for this project, for instance: what's that been like?
CGQ They are young and driven, full of character. They built the platform from scratch, from front-end to back-end. I hope that they will keep going with such spirit and initiative, cultivating more collectors of the next generation, and helping more artists to experiment, especially the young ones.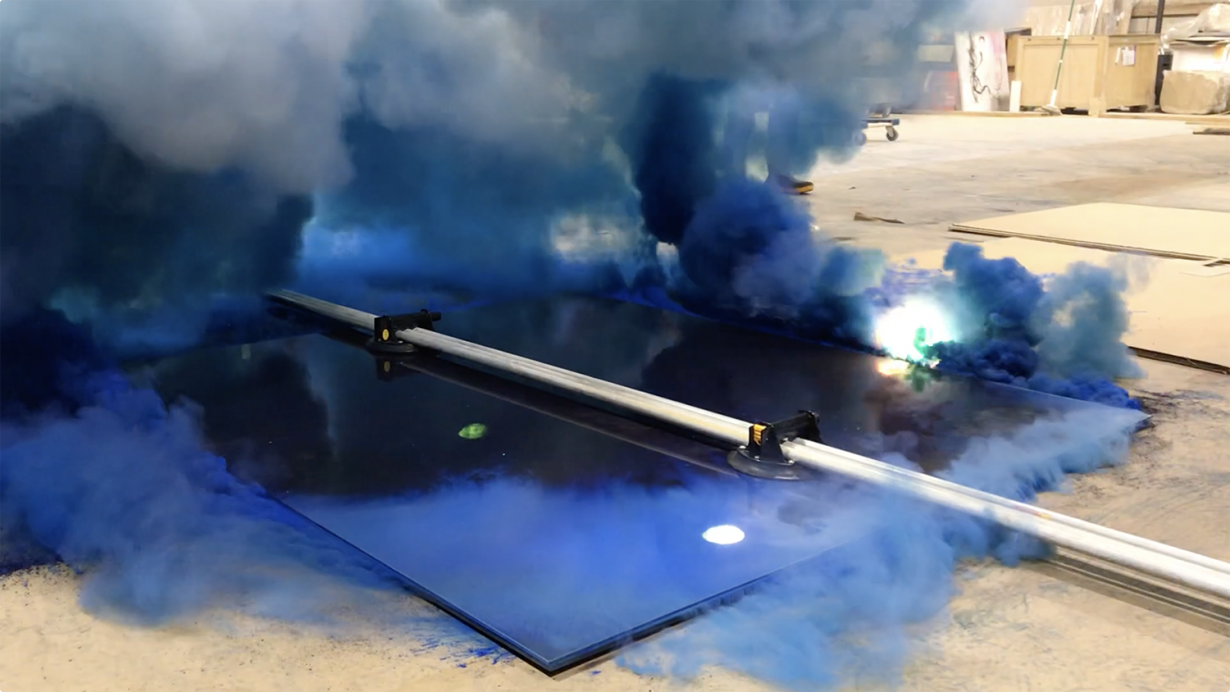 AR Looking back at the project from which the NFT is derived, you've been interested in placing your work in dialogue with non-Chinese art histories over the past few years – what have you learned from that process? Have these engagements changed how you approach making art?
CGQ For me, dialoguing with the various chapters of Western art history was ultimately to explore the difficulties of contemporary painting. On a micro level, the traditional painting techniques, such as that of the metal point drawings I saw at the Uffizi's Prints and Drawings department inspired me to develop a new series of painting techniques and to explore new painting subjects. On a macro level, I often describe myself as a seed from my hometown. In order to blossom in different cultures, I have to believe that I am special yet universal – natural, unaffected, free. I regard art history, both Eastern and Western, as part of my 'genes'; I don't centralize the West or the East, in pursuit of a free and natural state of mind. Perhaps as art historian Reiko Tomii comments, 'In my view, this regard is vital to creating a new art not just for the present but for the future, and for the whole of humanity – and perhaps even for extraterrestrials.'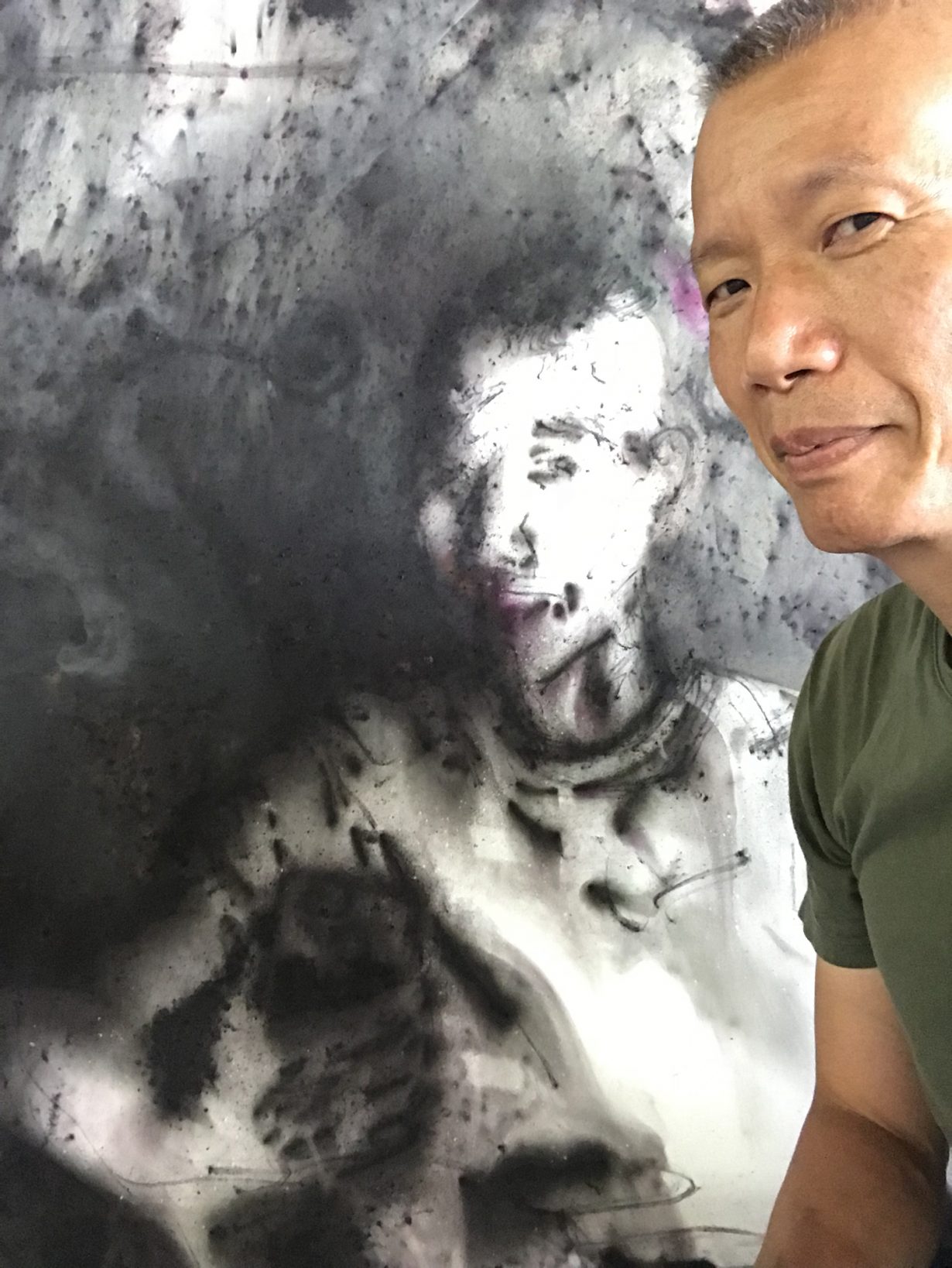 AR Much of your work has become synonymous with moments of spectacular pyrotechnic painting. The notion that art should entertain or provide a spectacle is sometimes controversial, some artists embrace that notion, others work against it; what do you think is the value in engaging audiences in spectacular ways? Do you ever feel that each new work has to be more spectacular than the next? I guess over the years that audiences have built up expectations of how your work will perform and engage, that perhaps wasn't so present in the 80s or 90s. Is this a pressure for you?
CGQ Of course I don't believe that the more spectacular an artwork the better. My signature works include both the 500-metre-high Sky Ladder and the little mushroom cloud I released by hand at the Nevada Test Site. I carry my father's matchbox drawings with me all the time to remind myself that to be able to express the boundless world within a limited space is the charm of art.
AR Let's talk about your relationship with Rockbund Art Museum, which goes back across its decade-long existence, including curating its inaugural exhibition in 2010. What has the institution meant to you over this period? What is it about the museum that has so excited and interested you?
CGQ In 2010, I was invited by Rockbund Art Museum to create its inaugural exhibition. I curated Peasant da Vincis in the context of the World Expo Shanghai theme 'Better City, Better Life.' I created the slogans 'Never learned how to land,' 'What's important isn't whether you can fly,' and 'Peasants – making a better city, a better life,' presenting more than 40 handmade inventions that I collected and commissioned after visiting peasant inventors over six years. The exhibition discusses peasants' contribution to modernization and the city, as well as the free creativity of individual peasants, showing the hope of a nation striving for a fair and democratic society. With its 'grassroots-style' theme, it confronted the social issues of the times, also contemplating the potentialities of contemporary museums. To me, all of these demonstrated a special significance and courage.
Over the past ten years, I see that RAM has retained its original direction and characteristics, continuously supporting young artists with an adventurous and experimental spirit by holding their exhibitions and establishing the Hugo Boss Asia Art award, among other efforts. Now, they have just launched their digital platform RAM+. While the museum does not have a huge physical space, their extension into the virtual space, including the pioneering exploration of NFTs, is an exciting experiment.
Now on the occasion of RAM's 10th anniversary, they invited me to collaborate again, hoping to create a new impetus for the next decade. I integrated the 'high-tech' nature of the NFT with the moment of birth of my gunpowder paintings to create this art project, continuing the same thread of discussion on the boundary of art.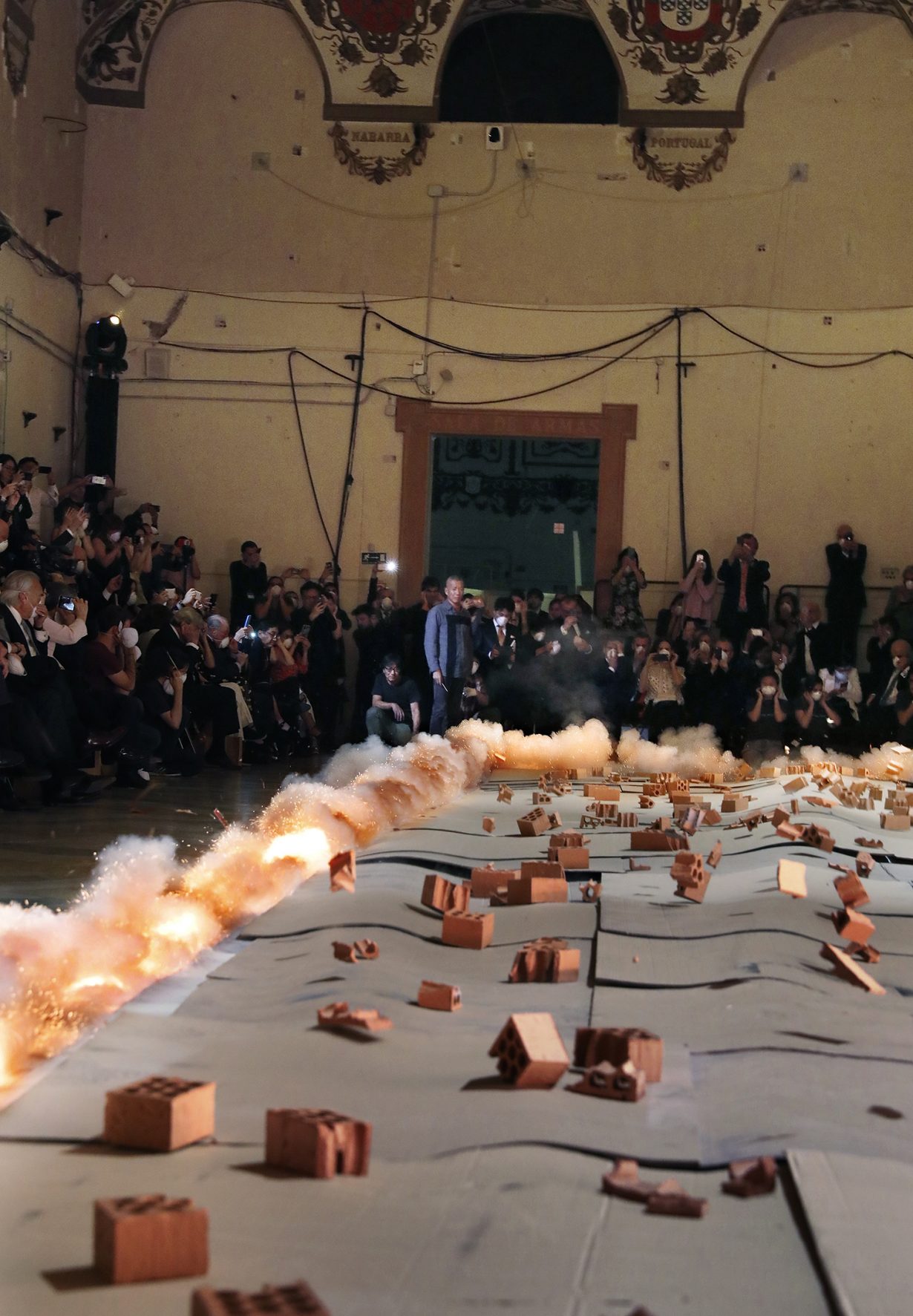 AR You mention that the museum is also launching its brand-new digital platform RAM+ – 'an extension from the museum's physical space into the digital world' – and a move that by its own admission has been accelerated within the context of the past year. So I was curious about whether the pandemic has changed your practice as an artist, or created new interests for you? Did working under lockdown push you towards new ways of artmaking?
CGQ I had originally planned to undertake my 'Journey into the Medieval World' during this time, where I would go to places like Ethiopia and Cyprus that still preserve the austere monastic traditions of the Middle Ages. My idea was to seek out that great expression of earthly desire, the self-imposed spiritual and lifestyle exile in human history. Little did I know that the isolation, pestilence, and religious asceticism of the Middle Ages would end up finding us instead.
Thus, my Medieval journey turned into my countryside quarantine, which gave me the chance to detach from my usual busyness and from the world of art events. I dug out ten or so sketchbooks from the 1980s and 90s, when I lived in Japan, and used that time to re-immerse myself in my path of development. It was almost like going back to my own personal 'Middle Ages,' as though I had become someone sheltering from the plagues that swept across Europe centuries ago. The works I made during quarantine were not as purely aesthetic as those made for my exhibition Flora Commedia at the Uffizi; they are darker and more obscure, bearing the mark of these times. I created many works. Aside from the paintings for my 'Medieval Journey,' featuring the stained glass window from Notre-Dame in Paris and gargoyles on Gothic churches, I also made large-scale gunpowder drawings for several explosion events from the series Project for Extraterrestrials that I conceived around 1990. For example, with Humanity's Epitaph I wanted to create a coffin-shaped block of ice with seawater and send it off into space, where it would float around, waiting for extraterrestrials to intercept this piece of terrestrial DNA and learn about humanity's desire to find those we share the universe with… Looking back on these projects allows me to be connected with the problems we face now, as well as those of the Middle Ages.
AR I noticed that you've also been working with VR art over the past year – recently imagining a fireworks display to celebrate the completion of the Forbidden City six centuries ago… What's it like to engage and reimagine the ancient world – history – through the lens of new technology? How do you reconcile these two modes of looking backwards and looking forwards? Are they part of the same continuum or a productive contradiction?
CGQ I have just begun my dialogue with VR. New technology and its perspective can bring along new possibilities to present or interpret history and the old world. For example, since VR can manifest the surreal and unseen, it should be used in my art in a more distinctive language. What also concerns me is how to imbue this high-tech medium with warmth as well as an animalistic energy. That's why I was determined to make my VR film more in the style of Peasant da Vincis rather than invoking the kind of virtual, CG aesthetics typically used in Hollywood movies.
I'm trying to graft different artistic languages and mediums together, not fearing that the result may seem raw and contradictory; there is a special pursuit of concept underneath. This conceptual quality born from the collaging and conflicting of different languages is important to me as an artist.
For a complete description of the works Transient Eternity – 101 Ignitions of Gunpowder Paintings and Exploding the Self, find out more on trlab.com.
Exploding the Self
The NFT will be available to 99 buyers on a first-come, first-served basis starting on 3 September at 9am ET. Each buyer will be limited to one edition per account. Collectors are required to register with TR Lab ahead of time and all payments must be made in US dollar-pegged stablecoin USDC through cryptocurrency wallet MetaMask.