MAXXI's new art museum in L'Aquila, central Italy, promises to heal a devastated region – some remain sceptical it can offer any meaningful change
On 6 April 2009 an earthquake hit the central Italian region of Abruzzo, just outside the city of L'Aquila. It killed more than 300 people and left 65,000 homeless. Initially, the response was one of solidarity. Volunteers flocked to dig through the rubble and rescue those that were trapped beneath. As the months went by, the government – which was at the time headed up by Silvio Berlusconi – failed to sustain these efforts. While his administration moved quickly to provide 'temporary' housing for the residents, in the form of cheaply constructed condos, this was the end of its commitment.
From this moment on, despite the Prime Minister's claims that a more comprehensive reconstruction would be completed in a matter of months and the people affected should think of their situation as 'a camping holiday', Abruzzo's people were abandoned. The state proposed no comprehensive plan to redevelop L'Aquila's city centre once resettling was complete. Many live in barrack-like structures, isolated from services and public spaces, to this day. L'Aquila was once a beautiful city, known for its medieval churches, its cinemas and theatres. Sadly, due to political mismanagement as much as the disaster itself, it has now lost much of its cultural and economic autonomy.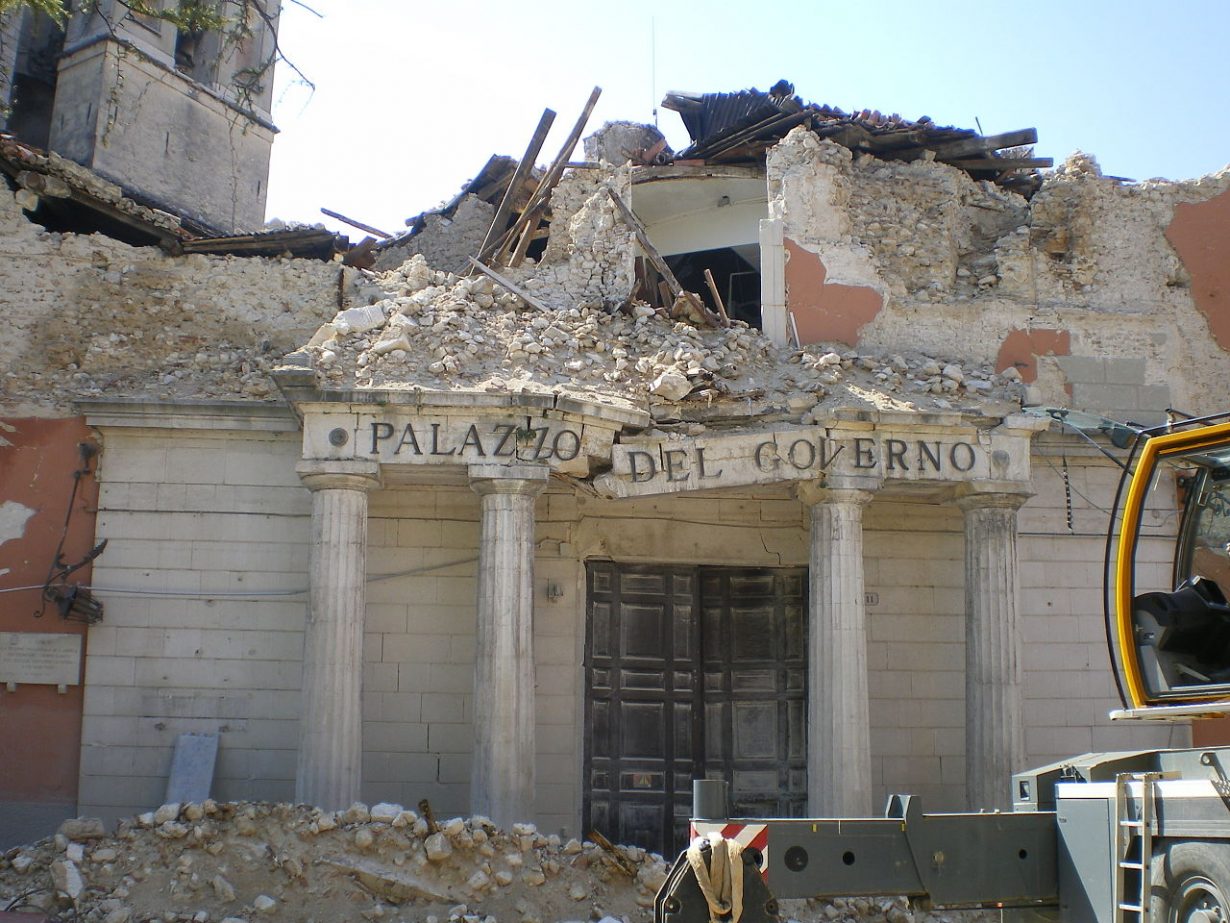 In recent years, since Berlusconi's fall from grace, several individuals linked to the co-ruling centre-left Partito Democratico (PD), have been seeking to repair the damage caused by his administration. Art occupies an important role in their vision. Back in 2015 Dario Franceschini, the party's Culture Minister, invited MAXXI, Italy's first and most important publicly-owned institution dedicated entirely to contemporary culture – with its Zaha Hadid-designed museum in Rome – to open a new outpost in L'Aquila. His hope was that by inviting a cultural franchise to the shattered city – to 'contribute to the process of rebirth' – the government might encourage new visitors to Abruzzo, to help reanimate the economy, while also providing a brand new arts space for the region's 1.3 million residents.
Franceschini and his team identified the Palazzo Ardinghelli, an eighteenth-century villa that was heavily damaged in the 2009 earthquake, to host the museum. Rather than just a straightforward renovation, their vision, as the project website puts it, is to establish a 'hub of contemporary creativity' in an iconic 'Baroque jewel.' Thanks to funding from the ministry for cultural heritage, and a sizeable donation from the Russian government, the restoration work has finally been completed. While the doors have to remain shut for the time being due to COVID-19 restrictions, which according to MAXXI's president Giovanna Melandri have already cost the institution at least €3 million, the PD's flagship cultural project is ready to open as soon as the government deems it safe.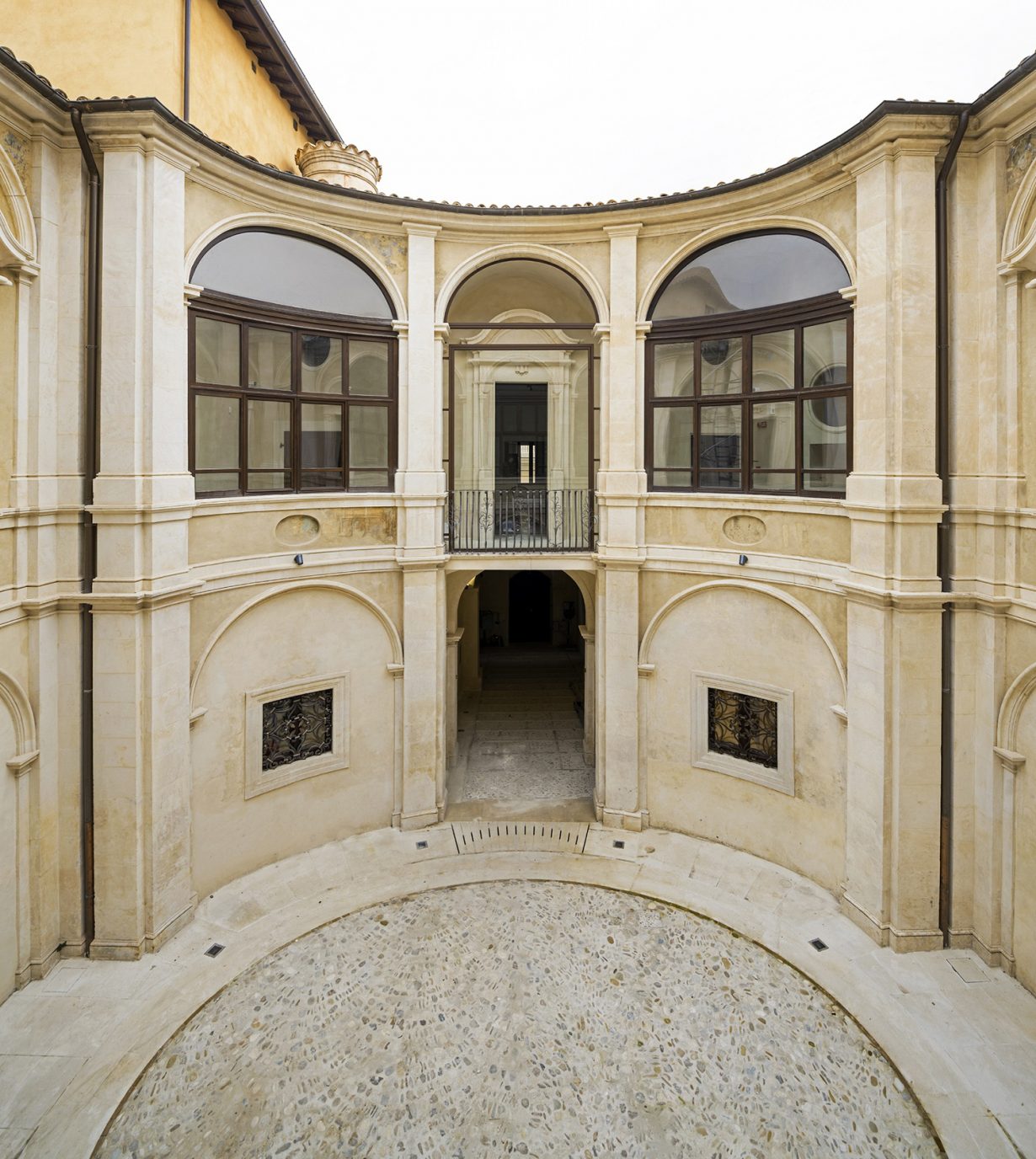 The premise that culture might play a role in helping L'Aquila address the long-term consequences of the earthquake is potentially valid. Franceschini's decision to entrust MAXXI with the curatorial duties (and by extension an annual grant of €2 million a year until 2024) has proved more controversial. Matteo Ricci, an activist, and collaborator with the grassroots mutual-aid association 3e32, which was established in 2009 to campaign for the rights of those who had lost their homes in the earthquake, is one of many local residents who have questioned the decision. "Before 2009 L'Aquila had a close-knit ecology of artistic and cultural spaces," he tells me, "most of them still exist, in some shape or form, yet they are all on the edge of collapse." He points to MUNDA, a museum of medieval and modern art, which was once hosted for more than half a century in the city's Spanish castle but which was forced to relocate to a nearby abattoir following damage caused by the earthquake. Only a fraction of the collection is currently on display.
Then there is MUSPAC, a museum for avant-garde and experimental work, which has been active since the 1980s, and which is still struggling to repair pieces from its permanent collection. "The government has this idea that Abruzzo can be a kind of new Tuscany," Ricci says. "They've been investing in infrastructure to support ski resorts in the mountains. MAXXI is a part of that attempt to diversify. Yet the fact they are suddenly giving this huge institution funds, while these historic institutions are struggling to get by feels unfair. There's no guarantee this kind of big investment will succeed either. A lot of people are afraid MAXXI will go the same way as other similar projects. There will be a lot of noise to begin with but they'll fail to capitalise on it."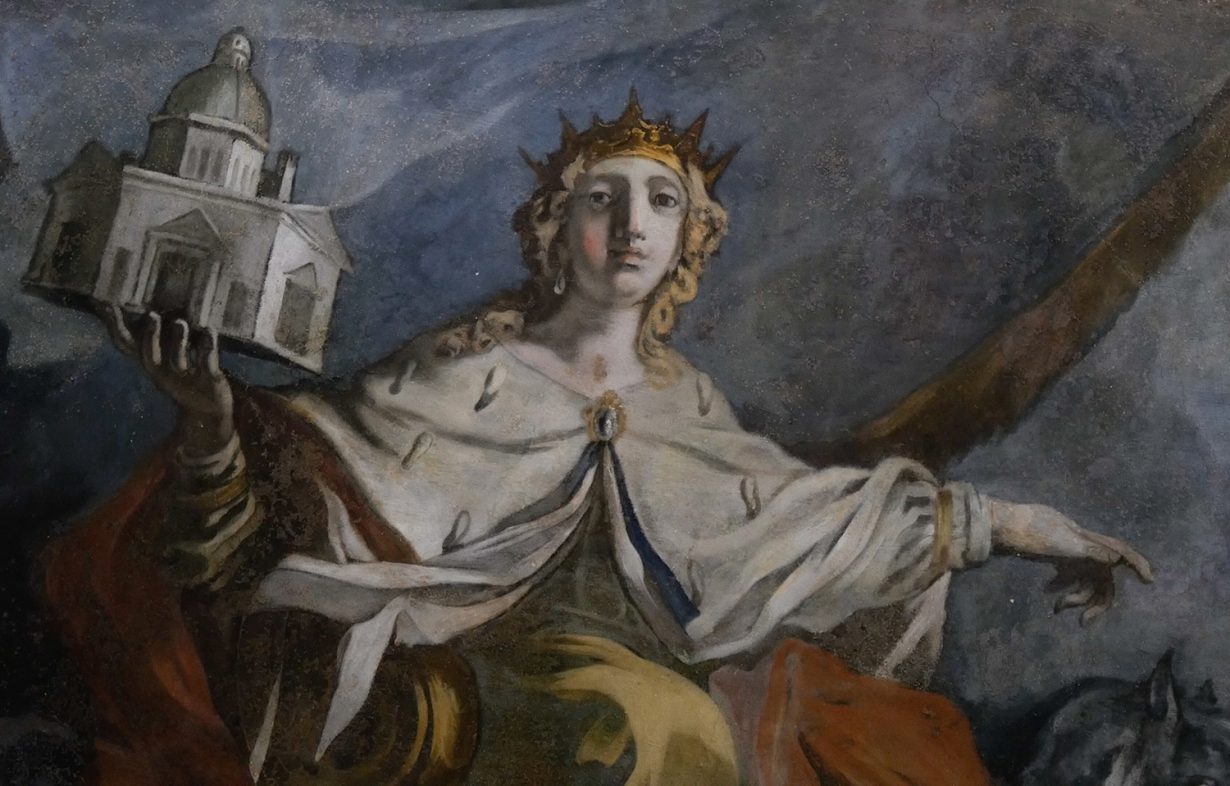 Such fears are hardly unfounded. After a decade of construction, during which only one of the five initially planned buildings were actually completed, MAXXI's central hub in Rome has welcomed just over three-million visitors, far fewer than was projected at the design stage. Critics have also pointed to the fact that despite being supported by more than 200 partnerships with private institutions, the museum's management has elected to spend vast sums of the core budget on temporary exhibitions by big-name artists rather than investing in its permanent collection or supporting younger, local practitioners. Yet there's a deeper problem. Leaving aside the question of whether or not the new MAXXI proves profitable, if its function is simply a utilitarian one – that of getting tourists through the door – it is unlikely to provide much value as an art space. A gallery must be about more than just brand capitalisation. To be successful, and sustainable, this space will require intelligent directorship, a connection to context, and a local public.
Early signs suggest that the curatorial team are well attuned to the challenges and opportunities of working in L'Aquila. When it does open, the inaugural exhibition will foreground the work of several artists with links to the territory, including locally-born Ettore Spalletti, whose monochrome installations are emblematic of Abruzzo's contribution to Italian postmodernism, and Paolo Pellegrin, a photojournalist who won awards for his insightful and unsentimental coverage of the 2009 earthquake.
More importantly, the management has taken steps to open the new space to communities outside of the artworld. For the duration of 2021, entrance to the museum will be free for all residents of Abruzzo, while as part of the inauguration activities, the citizens of Onna, a village which was entirely destroyed in 2009, will present a project, co-produced with the artist Stefano Cerio, about the challenges of rebuilding. For now, these are relatively small gestures, but they do demonstrate at least some awareness of the need to make these people protagonists, and not simply passive consumers, in a cultural space that has pledged to improve their lives.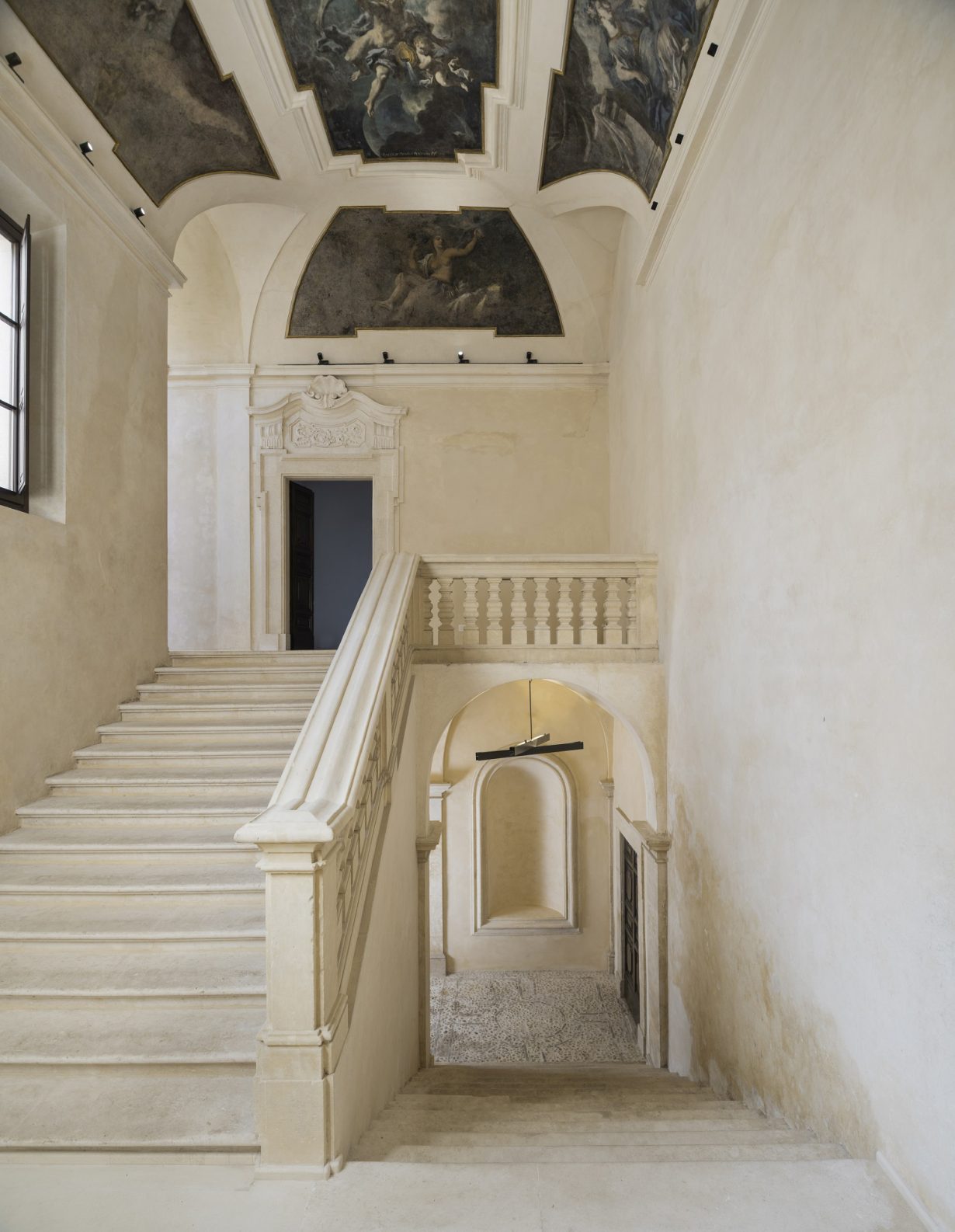 When Dario Franceschini first invited MAXXI to curate in L'Aquila he was hoping to exploit a well-known brand to attract new visitors to a struggling region. Arguably, though, the real importance of this museum lies less in its capacity to get tourists through the door than its potential as a civic and educational space. When I talked to the team at Palazzo Ardinghelli, they confirmed that plans are in place to share the museum with other local instructions, from art schools like the accademia di belle arte as well as the music conservatory, the Conservatorio Alfredo Casella and GSSI, a university specialising in mathematics and computer sciences. These kinds of collaborations will be fundamental in the months and years ahead.
If MAXXI L'Aquila becomes an after-thought for the institution in Rome, with no context-specific initiatives, activists like Ricci may prove vindicated in their cynicism. Yet there's clearly scope for something more ambitious and meaningful here. As Francesco Tenaglia, the Abruzzo-born critic, curator, and educator, put it to me: "if they can provide studio spaces and affordable residencies, if they can put on shows which are not just niche but which are genuinely thought of for the people, and which could serve a didactical purpose, I think this museum could make a real difference."