What the animal heads of Schiaparelli's Paris show tell us about the fashion world's foggy thinking
Elsa Schiaparelli loved to shock. When she released a perfume in 1937, she named the fragrance 'shocking': the voluptuous bottle was modelled on Mae West's silhouette. It was a word that held some crucial essence of intention for the Italian fashion designer, simultaneously naughty and knowing. Soon, she was applying it to everything. Schiap's signature shade? 'Shocking pink'. The title of her 1954 autobiography? Shocking Life.
Now, Schiaparelli is best remembered for her extraordinary surrealist designs, many of them created in collaboration with – or inspired by – artists including Salvador Dalí and Méret Oppenheim. This was a woman who turned high heels into hats, and adorned her dresses with lobsters, trompe l'oeil flayed animal skins, and creepy, padded silk crêpe skeletons. In Schiaparelli, one could grow gold talons and hairy ankles, or arrive at the party in the company of a giant, jewelled fly. For every fine-tuned, wearable design, there was another that relished the absurd and disruptive. Her clothes didn't just rely on the jolt of visual surprise – or visceral unease – to provoke. Earlier in her career she'd caused consternation with the introduction of a divided skirt that gave women greater freedom of movement (when tennis champion Lilí Álvarez wore a pair of Schiap's culottes at Wimbledon in 1931, the Daily Mail said women in trousers should be 'soundly beaten').
Maison Schiaparelli's current creative director Daniel Roseberry has taken the legacy of his predecessor – who died in 1973 – as a clear blueprint. Sticking closely to Schiap's house codes, he has dutifully resurrected key surrealist motifs including astrological symbols, birds and beasts, household objects, and far too many body parts. So far, these experiments have received more awe than shock, praised for their fantastical appearance and elevated sense of play – especially at a time where the fashion world is parched for big, conceptual design. But this week's haute couture show in Paris was the first to properly rile its audience, aided by some highly realistic lion and snow leopard heads, and Naomi Campbell with a wolf snarling on one shoulder.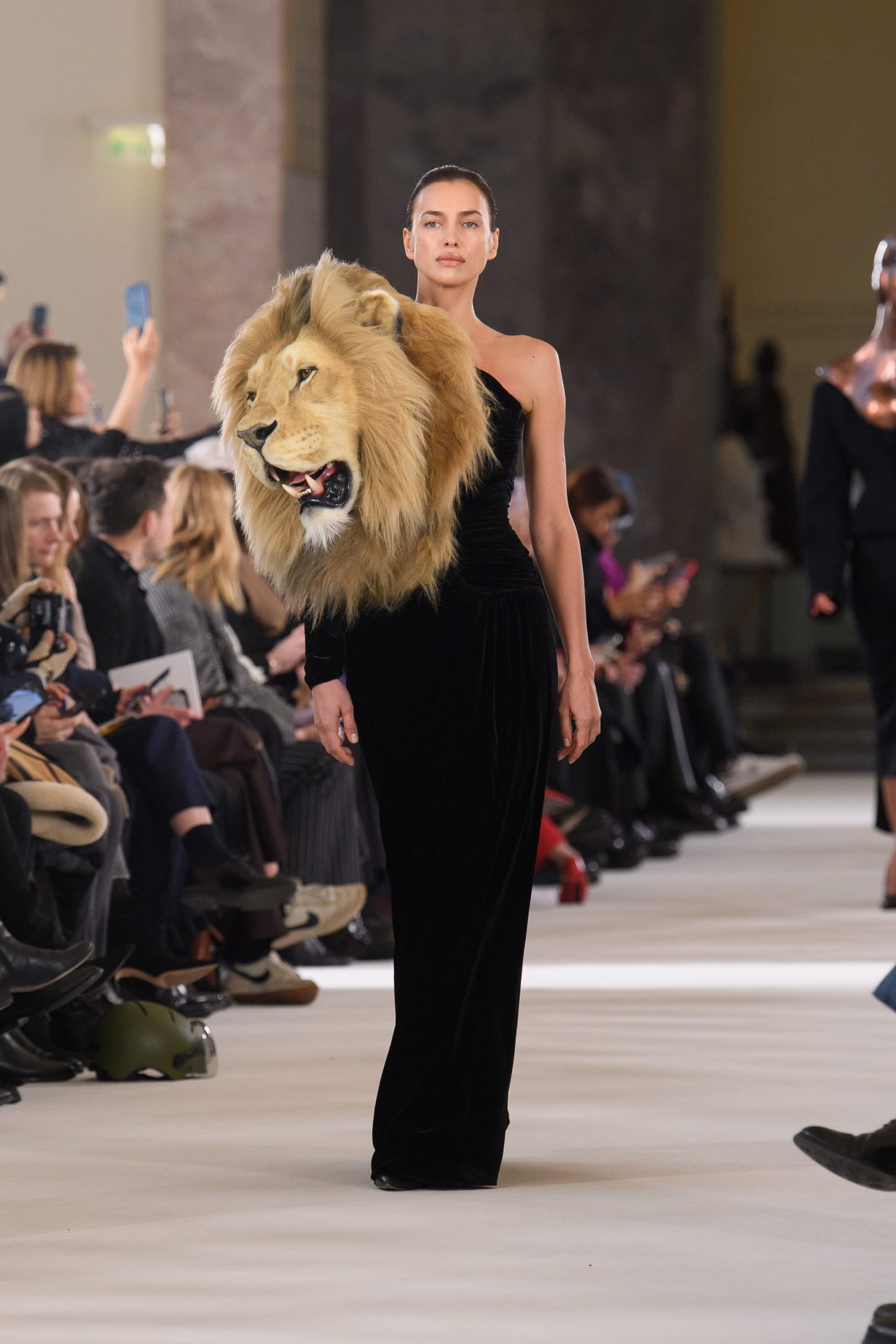 Inspired by Dante's Inferno and designed to mimic the kind of pelts and taxidermy trophies gracing the homes of the rich and bloodthirsty, these handpainted heads were made from foam, resin, wool and silk faux fur. Their appearance was met with an immediate mix of thrill and revulsion. Animal lovers denounced the designs for glorifying trophy hunting, while, in an unexpected twist, PETA came out in support of Roseberry. Article upon article weighed in on the moral dimensions of what were essentially artisanal stage props, while the wider implications of fashion 'stunts' devised to attract attention on social media were debated at length. Where outrage failed to seed, suspicion grew. Could there be something suspect in the very idea of creating a moment of spectacle intended to shock? Was it a cheap trick unworthy of this rarefied world of high craft?
Intentional or not, by the industry's past standards this has been a tame controversy. Less lion's roar, more mild cat scratch. It's hardly in the same league as Andrew Groves sending models down a giant cocaine runway during 1998's London fashion week, wearing dresses made from razor blades (a response, in part, to then US president Bill Clinton's criticisms of the fashion world's 'heroin chic') or Alexander McQueen's gruesomely dark Spring/Summer 2001 show, in which his models – their heads bandaged – roamed a padded cell of a psychiatric hospital. It's hard to think of a show staged in recent years that could fulfil historian Caroline Evans's assessment of 1990s high fashion in Fashion at the Edge (2003) as a space probing 'the borders of beauty and horror, where sex and death intersected with commerce' – and even harder to imagine a designer getting away with something that genuinely unsettled without causing serious upset.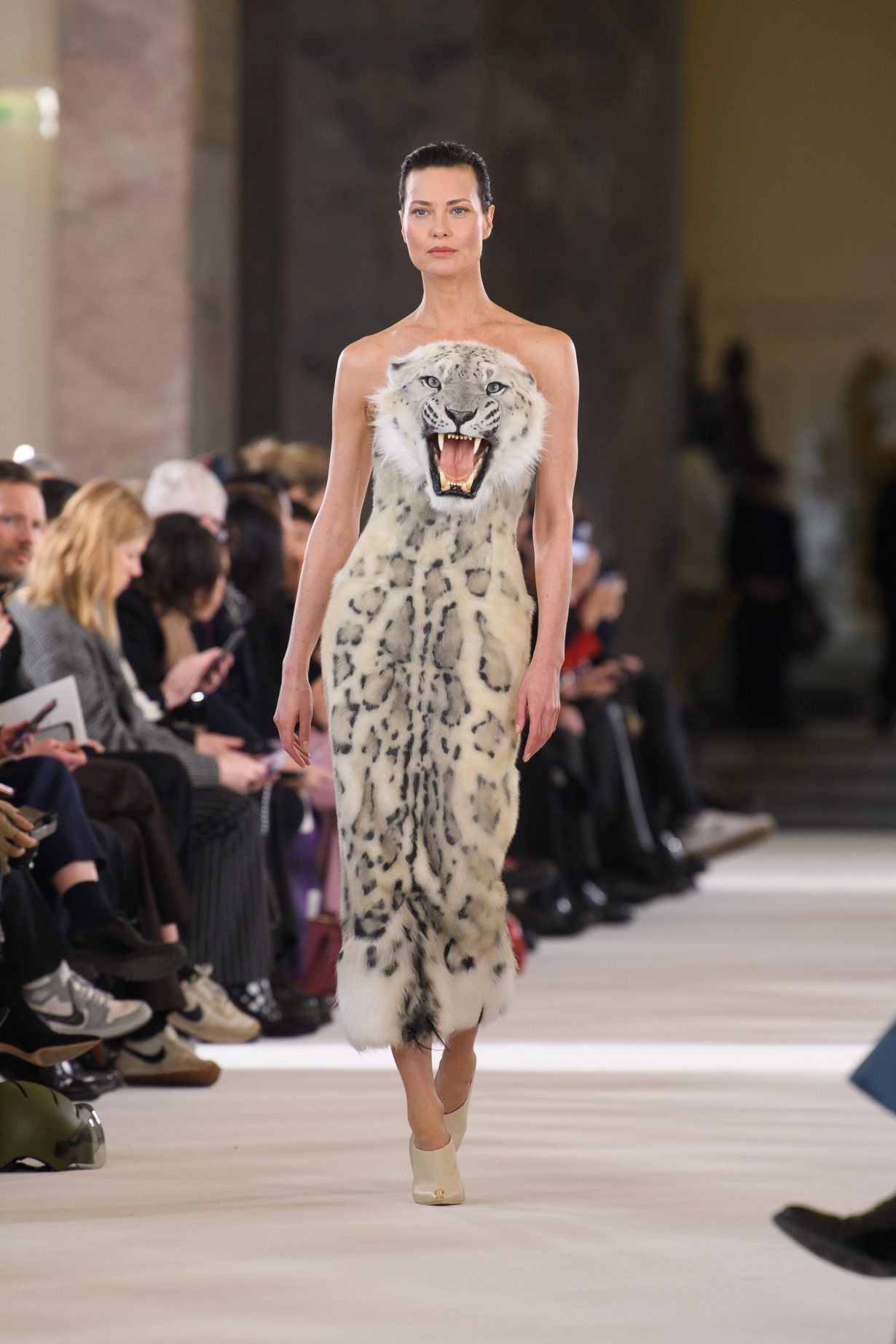 One could argue that lesser provocations cause a greater stir now because of social media. There is some truth to this, given that every look a brand releases can immediately be dissected on TikTok or Instagram. With a direct line between brands and consumers (not just of clothes, but imagery), opinions – and outrage – hit that much faster. But there's something deeper at play too. This also feels like a time of anxiety over what fashion is, and therefore what rules we should be judging it by. Is it an art? A specialised craft? A form of free-floating inspiration, meant to conjure fantasy and enchantment? A place for taking an era's temperature – its tastes and snobberies, its mainstream values – and distilling or subverting it into fabric form? An industry that produces clothes many wear and absorb into their lives, whether high-end pieces or fast-fashion simulacrums? A place of hard-nosed commerce, where profit ultimately takes precedence over creativity?
Now, when fashion causes consternation, it reflects this fogginess. One could take Schiaparelli's animal heads as the perfect surrealist flourish, blurring the line between authentic and fake; a great example of artisanal creation; a comment on the shift in attitudes to real fur; a glamourisation of a brutal industry; a weird garment no-one would actually want to wear; or a hollow spectacle intended to do nothing but generate headlines and clicks and sales. Is this shock, or just confusion?
In her autobiography, Elsa Schiaparelli wrote of her own anxieties about the blurring between these various lines. 'A dress cannot just hang like a painting on a wall, or like a book remain intact […] A dress has no life unless it is worn, and as soon as this happens another personality takes over from you and animates it, or tries to, glorifies it or destroys it, or makes it into a song of beauty. More often it becomes an indifferent object, or even a pitiful caricature of what you wanted it to be – a dream, an expression.' Fashion has often claimed the rarefied air of high art. But commercial considerations and physical realities are never far behind. It is its own, unique beast. Perhaps we need to get better at seeing it for what it is.