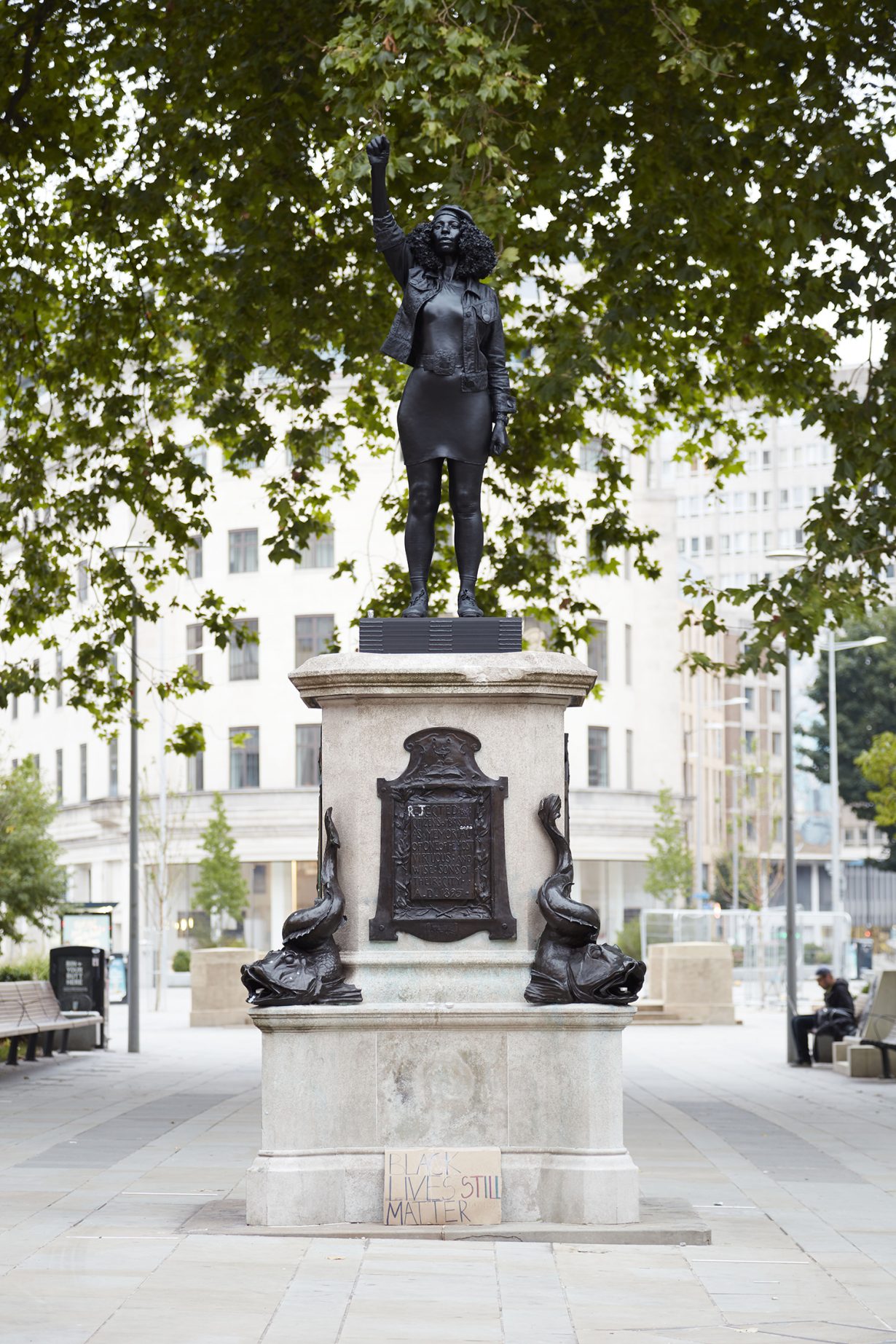 A statue of Black Lives Matter protestor Jen Reid replaced that of slave trader Edward Colston in Bristol, UK. Covertly installed in the early hours of Wednesday morning by a team of 10 people, the statue, created by artist Marc Quinn, depicts Reid with her fist raised in the air – a gesture that was first photographed at the toppling of Colston's statue when she stood on the plinth last month.
Colston's statue was dumped into the city harbour by Bristolians on 7 June 2020 – it has since been retrieved and is undergoing a restoration that will preserve the graffiti and an old bike tire it acquired from the water before it is displayed in a museum alongside Black Lives Matter placards.
Interviewed by the BBC, Reid said the statue plays an important role to 'keep the journey towards racial justice and equality moving'. Quinn explained: 'I saw pictures of Jen on the plinth and she spontaneously made this gesture and I thought this is amazing. She's made an extraordinary artwork just by doing that and it needs to be crystalised into an object and put back on to the plinth.'
The statue, titled A Surge of Power (Jen Reid) (2020), is unauthorised by Bristol Council. The city's mayor Marvin Rees, who previously described the removal of Colston as 'a piece of historical poetry', said that the fate of the monument needed to be decided through a democratic process, as grassroots campaigners in Bristol have argued for decades. Rees said: 'the future of the plinth and what is installed on it must be decided by the people of Bristol' pointing out that the current statue 'was the work and decision of a London-based artist'.
Elsewhere, the response to the statue has been mixed. Booker-winning novelist Bernardine Evaristo tweeted her support, writing: 'Wonderful! Sadly, some people will find this image of black empowerment offensive/outrageous/threatening'. But the artist Larry Achiampong described Quinn's statue as 'a sad joke' on social media: 'who is being given the opportunity? […] Why not support young black artists to make something?'
Speaking to The Guardian, Quinn assured that his team of installers 'carried out the same surveys and health and safety checks it would have gone through on a more conventional work', adding that although the sculpture is ultimately temporary, it would be 'extremely difficult to move'.
When The Guardian asked Reid about whether it was an issue that a white artist created the sculpture, she said 'It's not even a question. If we have allies, it doesn't matter what colour they are. He has done something to represent BLM, and to keep the conversation going'. Reid has also said that while a sculpture of herself signifying the BLM movement was 'massive', 'it would be just as big if it was someone else representing the same thing. This is going to continue the conversation. I can't see it coming down in a hurry.'
The toppling of Colston has seen increased pressure from the public, as well as the BLM movement, to remove memorials to colonialists in Britain – most notably of Cecil Rhodes. On 17 June Oxford University's Oriel College voted to take down its statue of Rhodes, but Rhodes Must Fall campaigners remained cautious about celebrating the decision. The statue has yet to be removed. On 13 July, a bust of Rhodes at a memorial on Table Mountain was beheaded.
[UPDATE 16 July 2020 – Marc Quinn's sculpture of Jen Reid has been removed by Bristol City Council. A spokesperson for the council said that it had been taken to a museum for the artist to collect. 'This is not about taking down a statue of Jen, who is a very impressive woman,' mayor Marvin Rees said. 'This is about taking down a statue of a London-based artist who came and put it up without permission.']