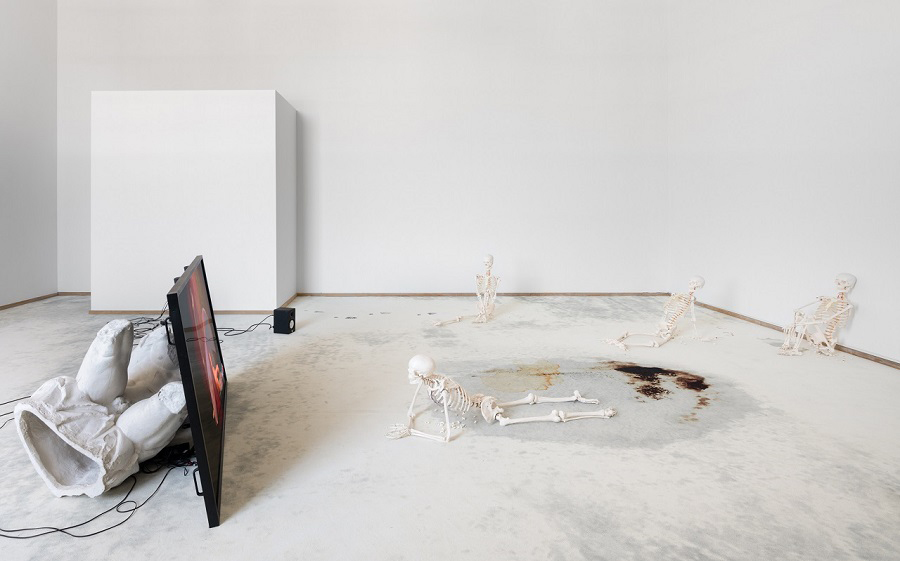 Gallerygoing in person around Copenhagen in midsummer was not only a much needed psychic respite post-coronavirus-lockdown but also a profound confirmation of how essential art – even prepandemic art – is to picturing and processing our current crises-ridden realities and bringing them to bear, both intimately and communally.
Located at Refshaleøen, a former industrial island in the city's harbour, Copenhagen Contemporary is a relatively recent but welcome initiative in the city's expanding art scene. Using its unique location – a decommissioned ship-welding hall – as a base to commission large site-specific installations since 2016, the institution presents contemporary art of all dimensions and media. Delayed in opening, the planned exhibition In Focus: Statements was quickly reimagined in response to the uncertainties of COVID-19 and in light of the global antiracist protests in the wake of George Floyd's murder in America. The show, already a response to #MeToo, the rise of authoritarianism and other crises, was expanded with a number of outdoor public installations added to the indoor component (in which the curators utilised nontraditional locations such as stairwells and service spaces in addition to the galleries).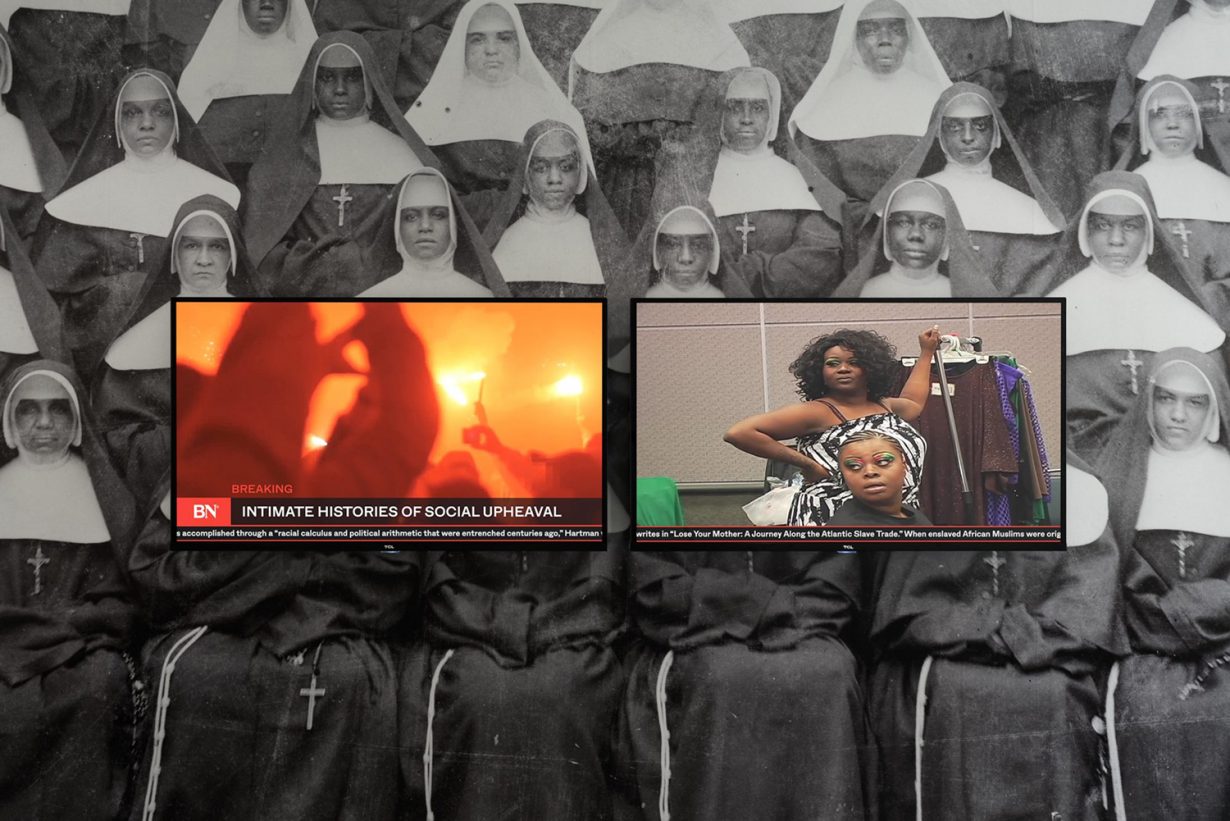 Specifically, In Focus: Statements is a potent reexamination of older, current and commissioned text-based work in a variety of media, increasingly relevant in the wake of shifting digital communication platforms that have transmuted written forms in the sociopolitical context, from slogans to hashtags and memes. Including artists such as Zoe Leonard, Jenny Holzer, David Shrigley and Sam Durant, the exhibition emphasises the raw power of language through unexpected display contexts. On a ragged hill behind the institution, for example, Marilyn Minter's Resist Flag (2017), the command written in a spraypaintlike font, flies on nine preexisting flagpoles above Less Power Less (2020), a text-sculpture spelled out in used automobile tires during a performance by Hesselholdt & Mejlvang in which the female artist duo's constructed 'goddess' attire got increasingly dirty. Nearby, we encounter Dread Scott's A Man Was Lynched by Police Yesterday (2015), in which the artist updated an NAACP flag that marked lynching of Black people in the US between 1920 and 1938, adding the critical words 'by police'.
In Kae Tempest's moving performance of 'Hold Your Own', made during lockdown amidst the everyday surroundings of the poet's studio, the vulnerability and intimacy of the spoken word-style delivery is concentrated in messy details like wayward strands of unbrushed fabric clinging to their sweater. Tempest's words echo from a monitor installed in a decaying bunker, located a brisk walk away from the institution on the edge of the Refshaleøen island, during which one passes a previously unrealised version of John Giorno's bittersweet Rainbow Paintings (2015–17) that float sharp existential slogans (such as 'Life Is a Killer') over blissed-out colour gradients. Back inside the institution, Kahlil Joseph's BLKNWS (2018) reclaims 'TV news' from a Black perspective, taking back narrative control in a simultaneously political and entertaining montage, and Tony Cokes's video The Morrissey Problem (2019) employs bare text on monochrome grounds for a pitch-perfect assessment of the singer's slide from misfit hero to out-of-touch blowhard. What ties these works together, it appears, is their demonstration of how text can be activated in a sociopolitical context and, in civic space, in a direct address to the public.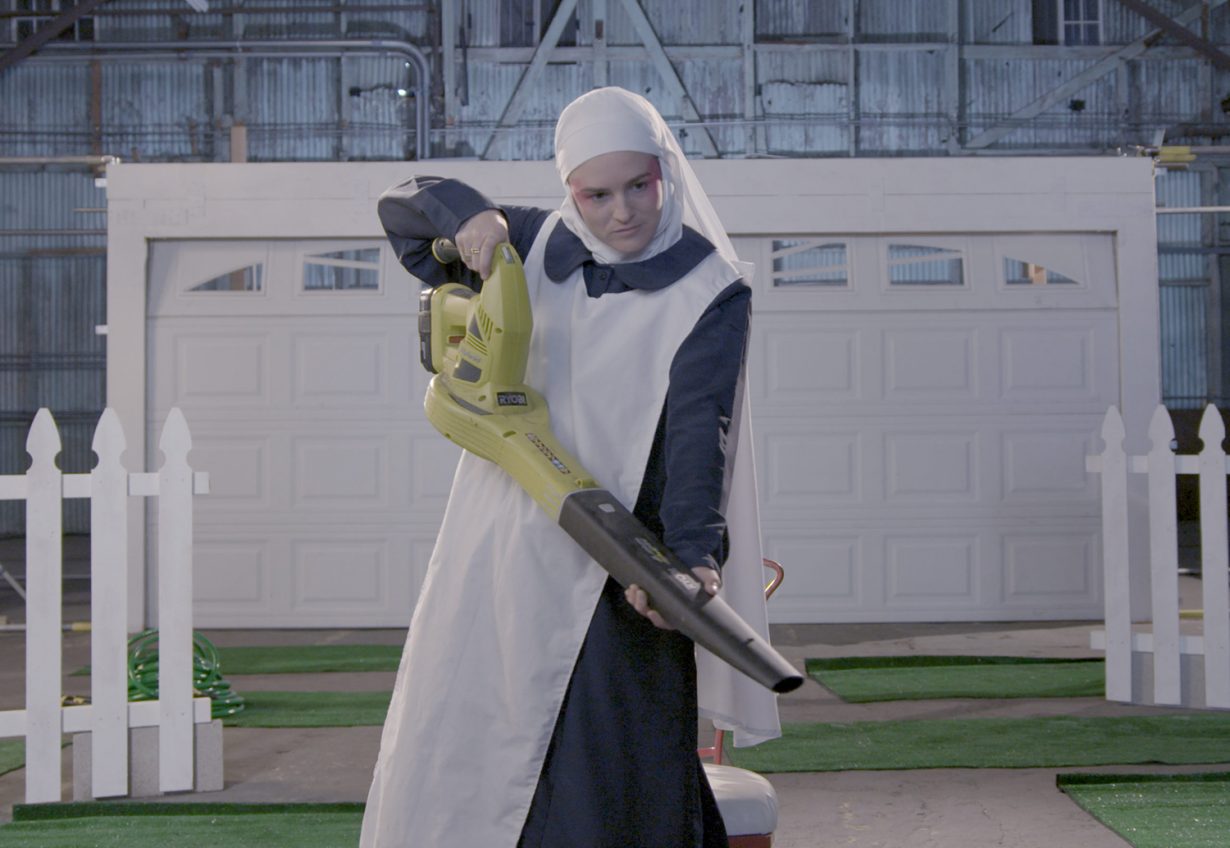 In the centre of the city, at Kunsthal Charlottenborg, the exhibition DIS presents: What Do People Do All Day? takes place over six rooms, each outfitted as a familiar environment such as a kitchen or living room that extends the videowork on display into three dimensions, effectively employing the screen as a sculptural element. Known for their internet-based 'archeology of contemporary life' that feeds on advertising, fashion and lifestyle tropes, the NYC collaborative DIS selected videos from their streaming platform dis.art in sympathy with their current preoccupations, which centre on the nature of work, value and power amidst our technocapitalist present. Numerous videos are shown in the introductory room on screens incorporated into a wall-based entertainment unit featuring an electric fireplace and minibar, emphasising DIS's 'edutainment' sensibility. In their General Intellects with McKenzie Wark (Paul B. Preciado) (2017), Wark's disembodied head describes Preciado's theory of the body as a mode of production itself, while DIS and Hannah Black's video What's in the Box? with Hannah Black featuring Zahira Kelly & Precious Okoyomon (2018) presents a refreshingly irreverent interview in which Black female activist Zahira Kelly speaks to racial accountability online while countering notions of prescriptive privileged 'radicals'.
Throughout the exhibition, a woven carpet by DIS featuring a range of faux bodily stains, grease and tire tracks allows the visitor to comfortably recline and absorb the lengthy videos at their discretion while concentrating the tensions between the simulated and the corporal, not to mention horror and leisure. The title of the exhibition, What Do People Do All Day?, comes from Simon Dybbroe Møller's eponymous video series (after Richard Scarry's children's book of the same name) that explores contemporary notions of 'dead labour' in the context of the gig economy and the cinematic conception of sex and intimacy as freedom. In a reflexive gesture, lounging skeletons watch Møller's video on a flat panel display as if screen time has immobilised their absent atrophied flesh, which in turn aligns with corresponding carpet stains.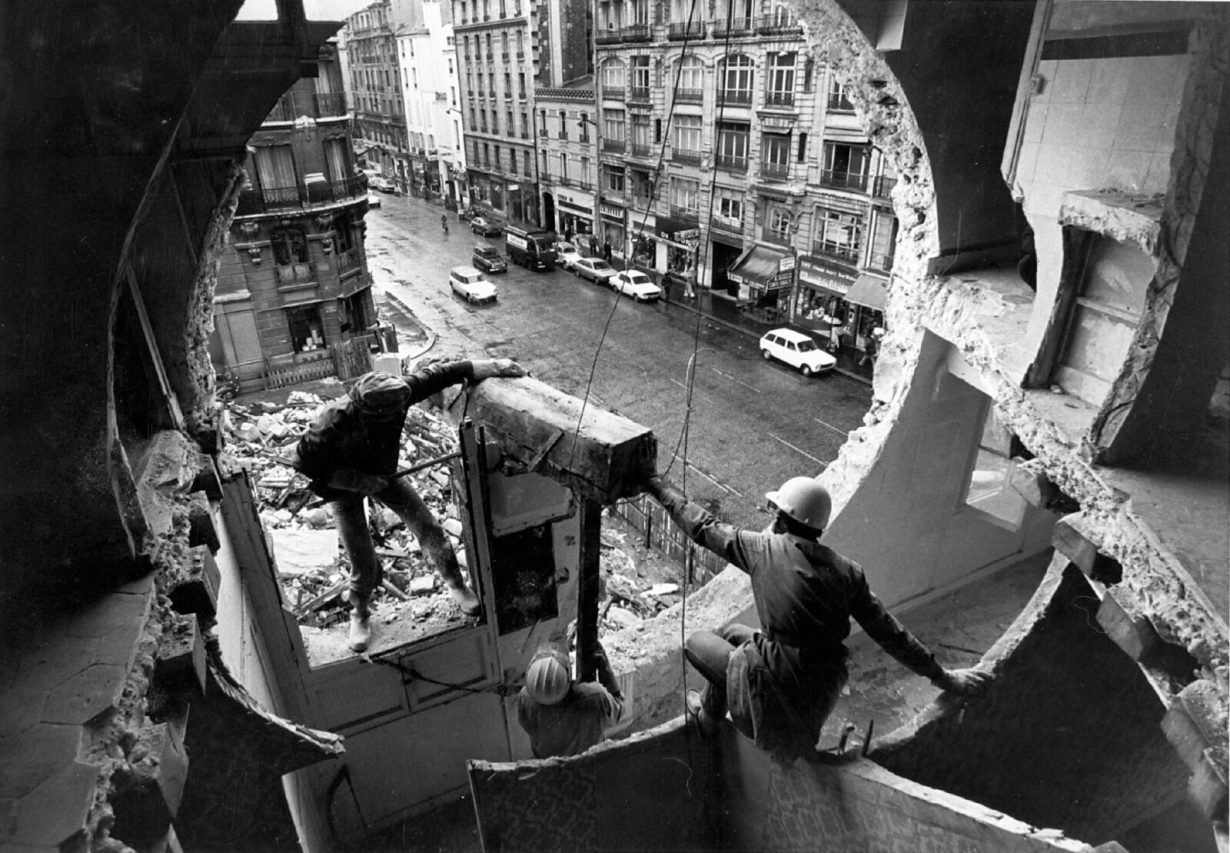 KØS Museum of Art in Public Spaces [sic] is located in a renovated industrial hall just south of Copenhagen in the town of Køge. Unravel the Unfound examines the work of Gordon Matta-Clark from a social and political perspective, including an extensive range of photographic documentation, books, notebooks and artefacts. An exceptionally articulate portrait of the American artist's later work, the exhibition opens with a room devoted to film and photographs documenting the artist's living artwork Food (1971–74), a community restaurant established with numerous collaborators that doubled as relational art work avant la lettre. Characterised by Matta-Clark's removal of the wall between the kitchen and dining spaces (a section of architecture later exhibited), the restaurant's communal programme and crossing of traditional conceptual and architectural boundaries also prefigured the architectural-scale cuts that defined his later work.
While Matta-Clark became known for dramatic photos of surgically altered buildings, the films presented here, such as Conical Intersect (1975), Day's End (1975) and Office Baroque (1977), document his process, illuminating the artist's heartfelt focus on a political, antiobject and temporal practice. The artist's politics were clear: evident in exhibited archival documents from 1971 relating to work made that year using found materials such as Jacks, a shelter made from
an old car body; Fire Child, a wall made out of garbage; and Pig Roast, which invited local people, some of them homeless, to eat together. Together with other documentation of projects, such as the antiauthoritarian Window Blow-Out (1976), which dealt with NYC gentrification, and Resource Center and Environmental Youth Program (1977), a community-based workshop focused on skills and materials for young participants to build for themselves, Matta-Clark's often-overlooked dedication to social spatial practice is here made powerfully clear.