From Bony Ramirez's voluptuous, muscly figures to Curtis Talwst Santiago's jewelry box dioramas – stirrings in the city's artworld
Late in May, as New York City morgues reached capacity and bodies were relegated to refrigerated trucks parked outside hospitals, a corpse flower began to bloom for the first time. Located in the Barnard College campus greenhouse, its brief flowering – just 24–36 hours, once every decade or so – was broadcast on the institution's YouTube channel. It felt a little on the nose, but what does a plant know? I tried watching the livestream, but I had had enough of staring at things, at screens of video art, of virtual anything.
Given all that, as galleries themselves started cautiously opening up over the last few weeks, you'd think I would have been hyped. But even as the worst is decidedly over in NYC – albeit just beginning in other states – the tide of police brutality continues unabated. The country is aflame with ongoing protests, unemployment remains rampant and a catastrophic eviction crisis looms when courts reopen this month. Going out to see art felt a long way down the list of priorities. There wasn't even all that much open: some spaces will remain closed until the art season's traditional post-summer-vacation reopening in early September. Some are moving to cheaper neighbourhoods, or joining the new locus forming in TriBeCa. Some have closed permanently or, in the case of Gavin Brown, are 'merging' with Chelsea stalwarts like Gladstone to form new mega-galleries. Nevertheless, at the end of July I dutifully called and emailed and made appointments (offered at 10- or 30-minute intervals), and hopped on the train for the first time since March.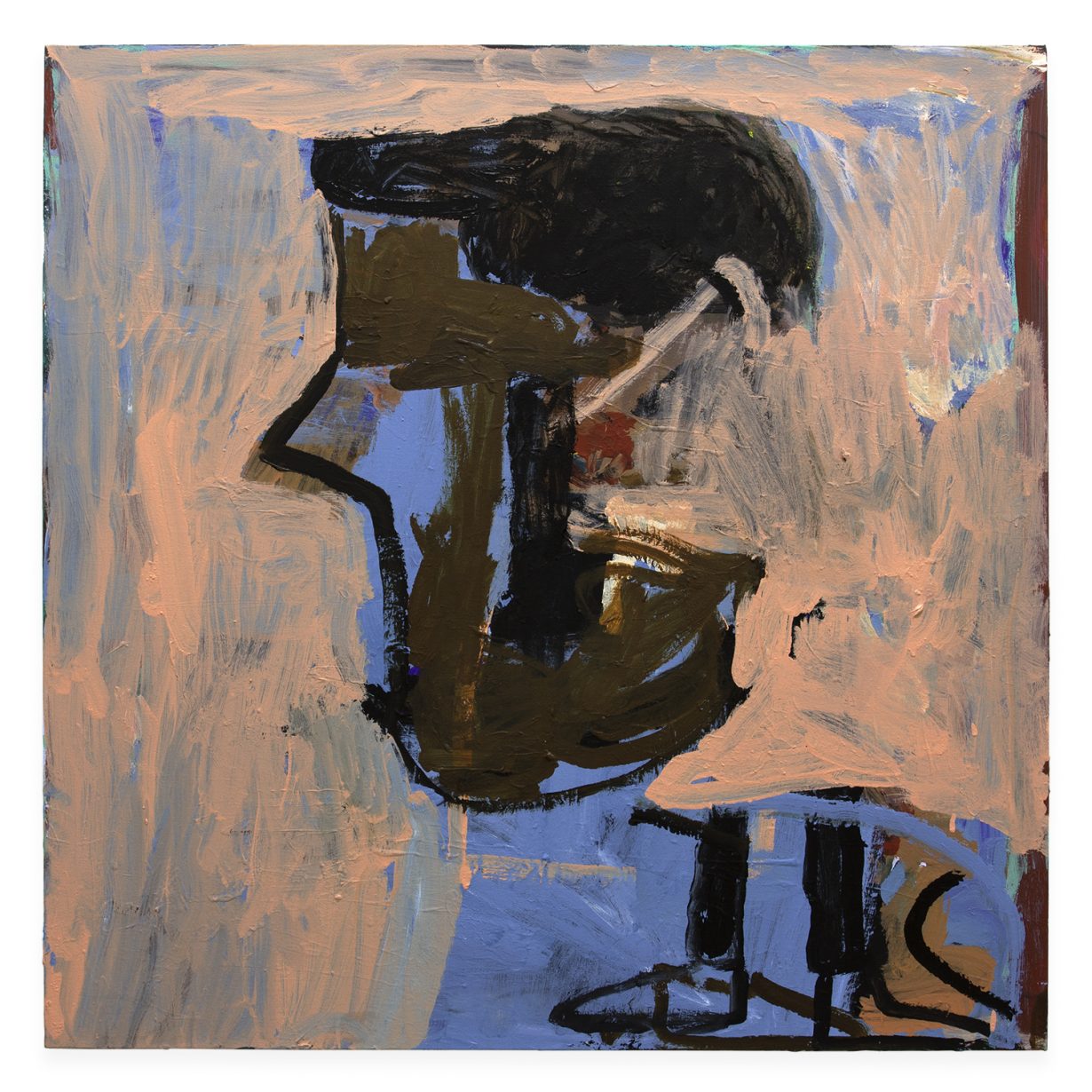 There's a particular way I like to see art in Chinatown and the Lower East Side. Get off the F train at East Broadway and hit up Reena Spaulings. Wind my way first eastwards then westwards, making hairpin turns to cover each street between Norfolk and the Bowery, Canal and Houston, stopping for bubble tea (almond, 75 percent sugar – liquid marzipan), snacks and later drinks, sometimes meeting others. Seeing absolutely everything that's currently on. I never studied art history, see: for years I didn't trust my own conclusions, and compensated by seeing everything, at least Downtown and in Chelsea. Today, although I'm more sure of my convictions, the routine stands.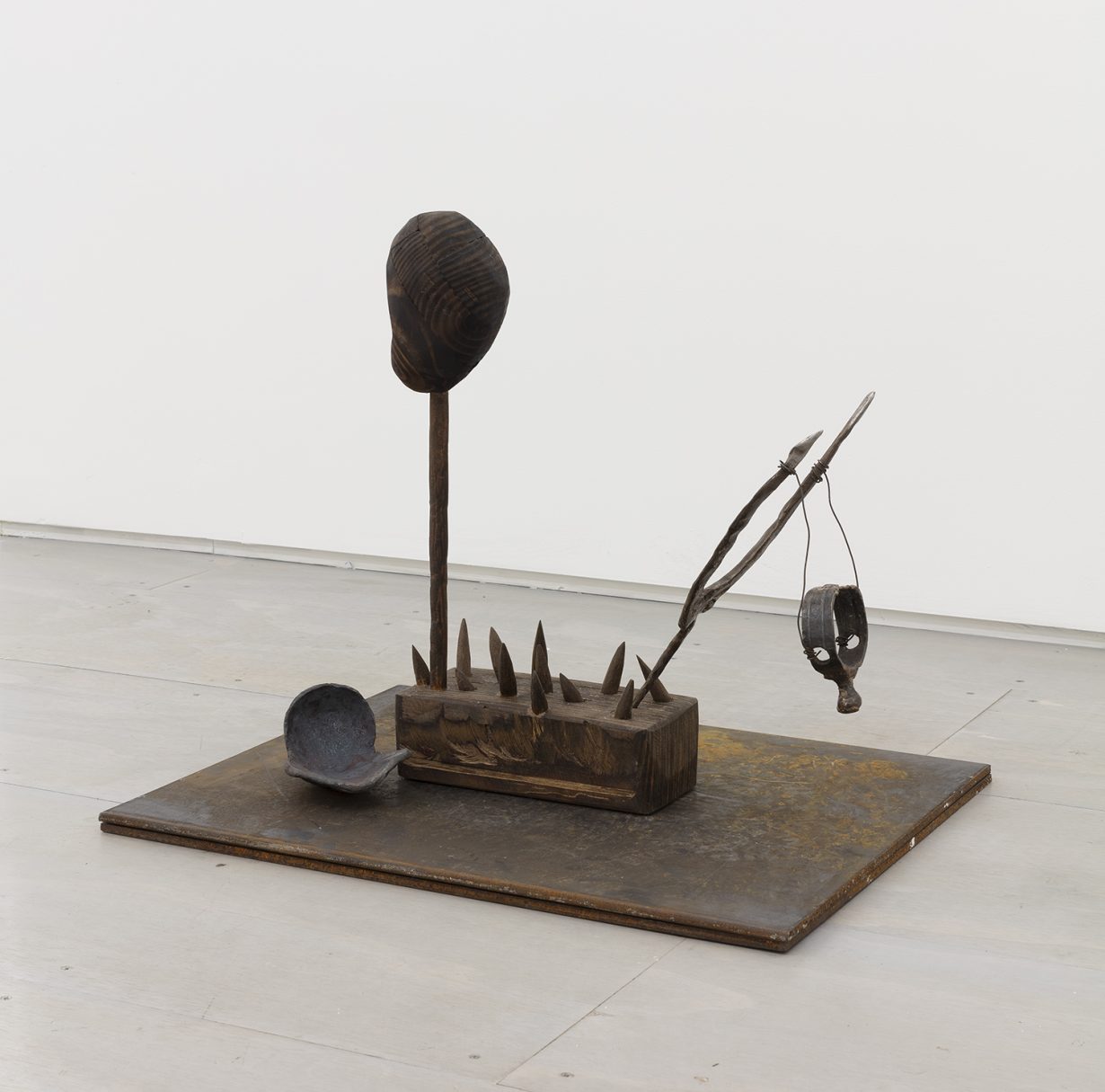 The first surprise was the subway. It came on time, it was spotlessly clean and everyone was wearing masks and observing social-distancing practices: a fleeting vision of what it might be like to live in a functioning city and not a failed state. The second was realising that the safety-first, 'by appointment only' routines at the galleries were mostly empty theatre. At one appointment, I arrived to find the gallery locked and the phone ringing unanswered. Others that didn't require appointments were randomly closed despite their stated hours. Only two places asked me for my details, presumably to allow for contact tracing down the line. Not every gallerist or visitor was wearing a mask, though most of the time I was the only visitor. In the end, apart from the occasional bottle of hand sanitiser perched by the gallery guestbook, not much was different.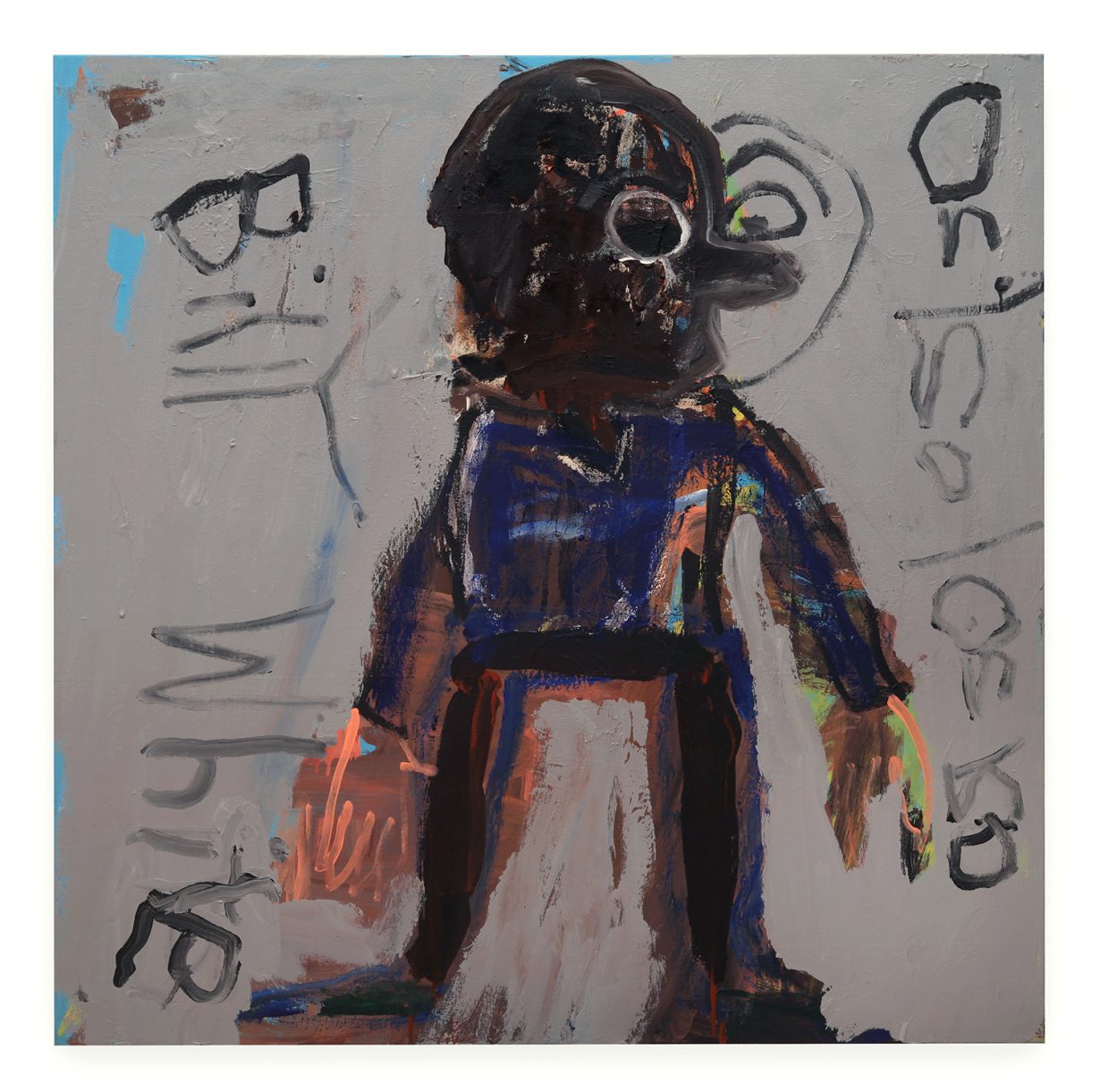 The biggest surprise, however, was how few of the shows I saw responded to the current moment. At most, there were awkward links to the ongoing Movement for Black Lives, as in Billy White's solo at Shrine, which was postponed as a result of COVID-19, but now, according to the gallery, 'has taken on more poignant meanings and a sense of urgency in light of the recent calls to action'. Why this might be the case is unclear, but the loose paintings of celebrities depicted mostly in profile – Elvis, Eddie Murphy, Joe DiMaggio, Fred Flintstone with a bloodied mouth – and small melty ceramics are exceedingly charming nonetheless. The paintings in particular have a layered quality that suggests an accumulation of multiple characters painted over each other, like a time-lapsed face or a 1990s music video. A number of untitled works feature a uniformed man in blue, which, along with a small ceramic police car, seems to hint at the complicated figure of the Black cop.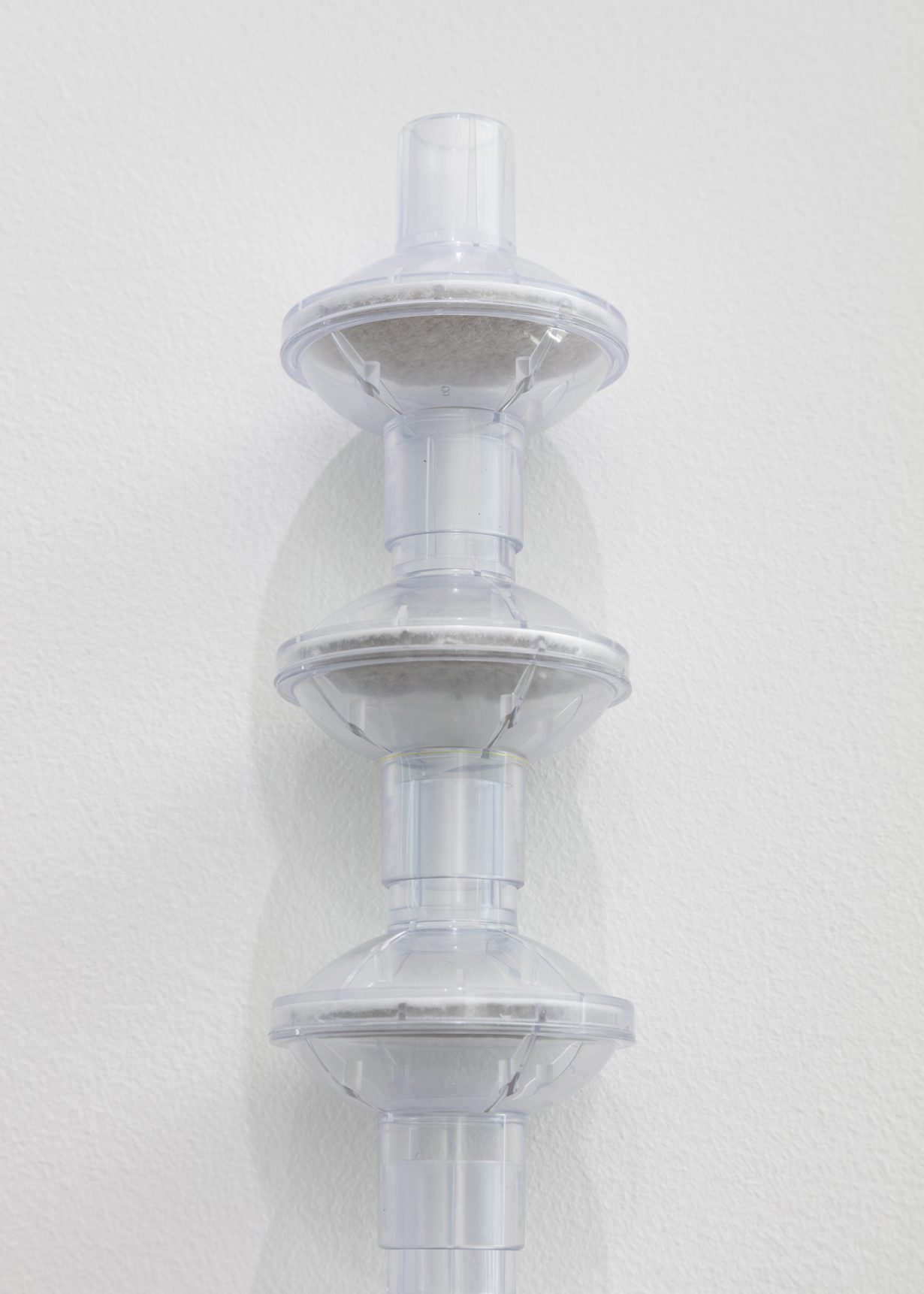 At Essex Street, Park McArthur directly addressed the twinned crises of breathing with a spare, sterile show that included a sculpture made from her ventilator's filters – needed for reasons unrelated to the current pandemic – which hangs near the open gallery doors. The bulk of the show features a framed printout, blue ink on white paper, installed by the gallery elevator and on the mezzanine floor below. It depicts the markings on a device known as an incentive spirometer, which provides users with a volumetric measurement of their breath and encourages deep breathing. The text is rendered backwards, the way it might look if we were somehow inside the spirometer; the effect is to turn the gallery into a kind of breathing apparatus. Here too is McArthur's characteristic emphasis on access: the exhibition also exists online, with robust, descriptive alt text captions, and as a described audio and video guide.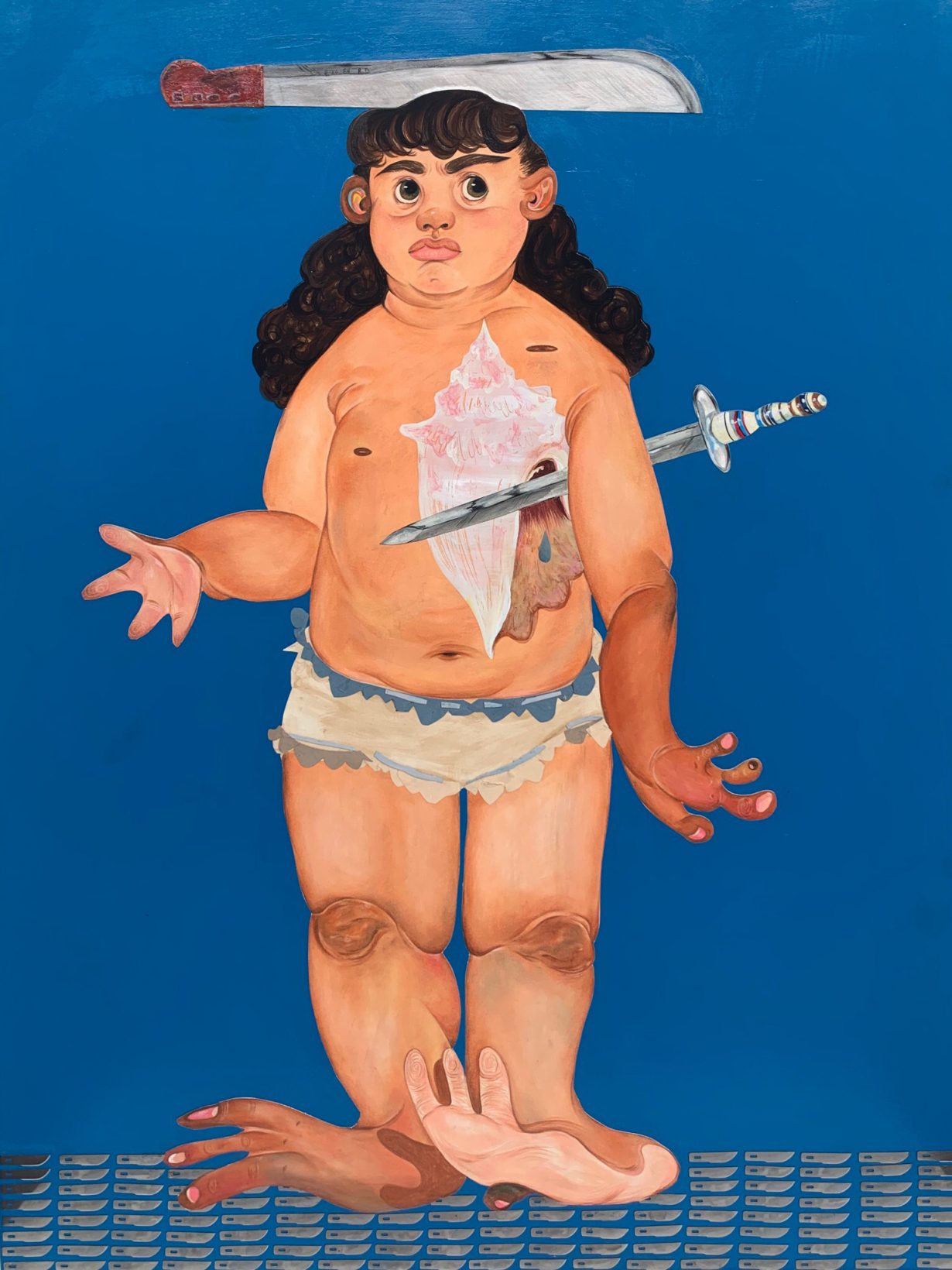 Elsewhere I found myself especially drawn to paintings that were subtly appliquéd, perhaps relishing the fact that they would read so differently in jpeg form. In a group show at Thierry Goldberg, Bony Ramirez's colourful paintings featured voluptuous, muscly figures in littoral or tropical settings, carrying swords, seashells and swans. Their curving hands and feet are especially memorable, suggesting a cross between webbed, amphibious creatures and Roald Dahl's witches. But this is no Caribbean idyll: some figures are being stabbed in the head, in the manner of Peter of Verona, or in a hand. In the compelling El Mar Que Extraño / I Miss The Ocean (2020), the figure walks on a bed of hobby blades stuck onto the canvas. Biblical themes also pervaded Emmanuel Louisnord Desir's intriguing, sinewy wood-and-metal installations – and first-ever solo – at 47 Canal. For their fresh visual vocabulary and inventive use of materials, both are definitely young artists to watch, reminding me of that forgotten pleasure of discovery upon encountering a new-to-me artist. Is it just the thrill of novelty? I'm reminded why I love seeing art and being surprised by art despite everything else going on in the artworld, from the dirty money that funds it to the revelations of systemic racial discrimination and abuse, as documented by new Instagram accounts like @cancelartgalleries. That as nakedly calculating as galleries' sudden interest in showing very young POC and especially Black artists is, audiences can only benefit.
In a two-person show at Rachel Uffner, Arghavan Khosravi's muted paintings on canvas and fabric feature a photorealistic female subject, doubled or tripled as if captured with a stereoscopic camera. Sometimes the cloth is left unpainted – a busy paisley stands in for yoga pants, for example, and in one work, threads and the tassels of a printed cotton tapestry add textural interest. But it is the marvellously weird solo upstairs, of work by Curtis Talwst Santiago, that really excites: glass noses – the kind that were once lopped off Ancient Egyptian statues to make them appear less African, apparently; paintings with incandescently red-faced knights; a tiny diorama in a box; and an enormous suit of arms made out of beadwork.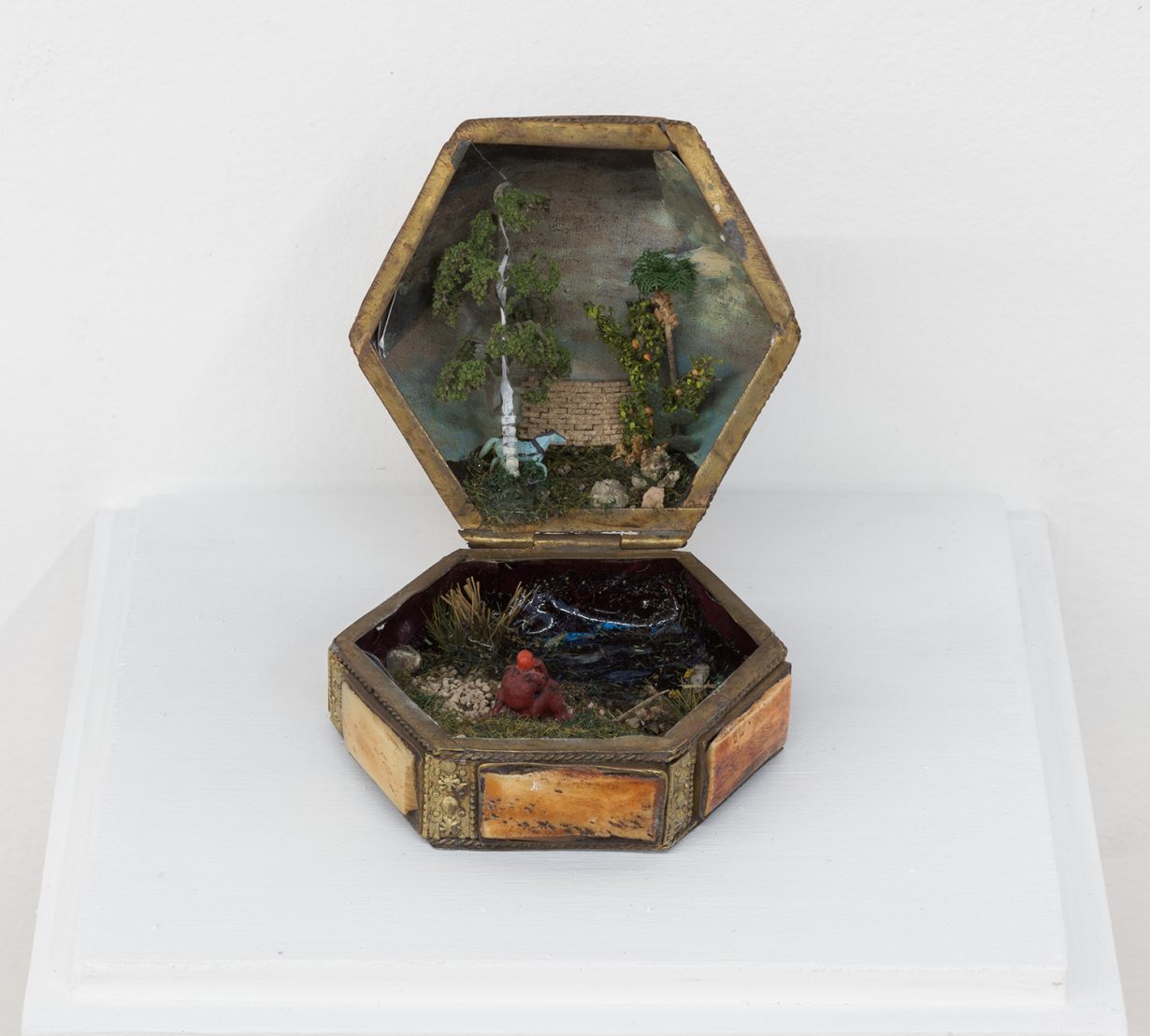 There were other shows in other galleries, but these mostly featured the usual end-of-term summer dross, or still had their prepandemic shows up. I thought about returning to the restaging of John Boskovich's claustrophobic, fetishistic Psycho Salon at David Lewis, which both fascinated and repulsed me when I saw it in March. I sat in a park with bubble tea instead.