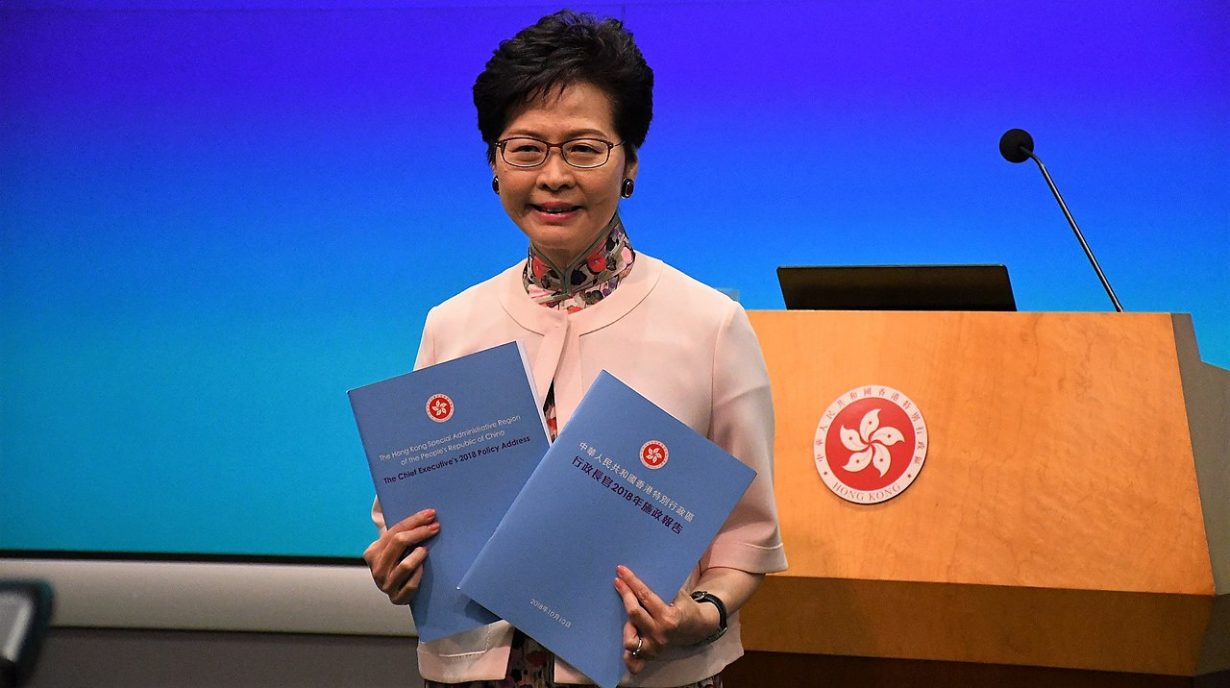 Carrie Lam, Hong Kong's Chief Executive, has said authorities are on 'full alert' against museum exhibitions that might 'undermine national security'.
The Beijing-approved politician's comments come just a few days after the director of Hong Kong's M+ Museum, Suhanya Raffel, gave a press tour of the newly opened institution, during which Raffel claimed there would be 'no problem' with including works by political activist and artist Ai Weiwei in forthcoming exhibitions or showing art referencing the 1989 Tiananmen Square crackdown on pro-democracy students.
Lam was responding to a question from the New People's Party lawmaker Eunice Yung at a Legislative Council (LegCo), session. Yung accused forthcoming exhibitions at the M+ Museum, located in West Kowloon Cultural District, of violating the National Security Law and 'spreading hatred' against China.
'We've been to many museums, but most of the displayed pieces are to show the beauty of arts. But then, we have spent so much time and effort to build the West Kowloon Cultural District. How come there will be displays of art pieces that are suspected to have breached the national security law and also are an insult to the country?'
A report from Radio Television Hong Kong, which translated the session for international viewers, also noted that Yung had asked Lam whether a vetting department at M+ would be established 'to make sure they are in line with national security and the Basic Law.'

'Would the art pieces to be displayed there breach the so-called red line? With the National Security Law in place, we have to safeguard national security,' said Lam, continuing, 'But, of course, here we're talking about an arts and culture centre. We have to respect the freedom of artistic expression. I'm sure staff are able to tell what is freedom of artistic expression and whether certain pieces are really meant to incite hatred or to destroy relations between two places and undermine national security.' But, she added, 'We will be on full alert in watching such matters.'
Currently under scrutiny is the collection of 1,450 works donated by collector Uli Sigg – 26 of which are by Ai Weiwei – which will be shown across 12 of the 33 galleries in the space. During the M+ Museum press tour, Raffel, who had, on taking up the position of director in 2017, 'vowed to see off political interference', said 'like any global museum, it is our role to present art in a relevant and appropriate manner and stimulate debate, knowledge and pleasure. A city can only be a welcoming arts hub if it offers an open environment for artists and for different views.'
When asked whether this recent announcement from Lam would have an impact on M+ Museum's plans to go ahead with the exhibitions, a spokesperson for the institution said: 'As a public museum operating in Hong Kong, we will comply with the laws of Hong Kong whilst maintaining the highest level of professional integrity.'
In the weeks prior to this LegCo announcement, Hong Kong Baptist University cancelled its exhibition of World Press Photo winners citing 'safety and security' fears; yesterday, the commercial screening of Inside the Red Brick Wall, an award-winning film by a group of anonymous Hong Kong filmmakers that documents the events inside Hong Kong's Polytechnic University, where thousands of pro-democracy protesters were under siege by armed riot police for two weeks in November 2019, was cancelled after days of criticism from Wen Wei Po, a pro-Beijing newspaper that accused the film of spreading hatred and inciting resistance.