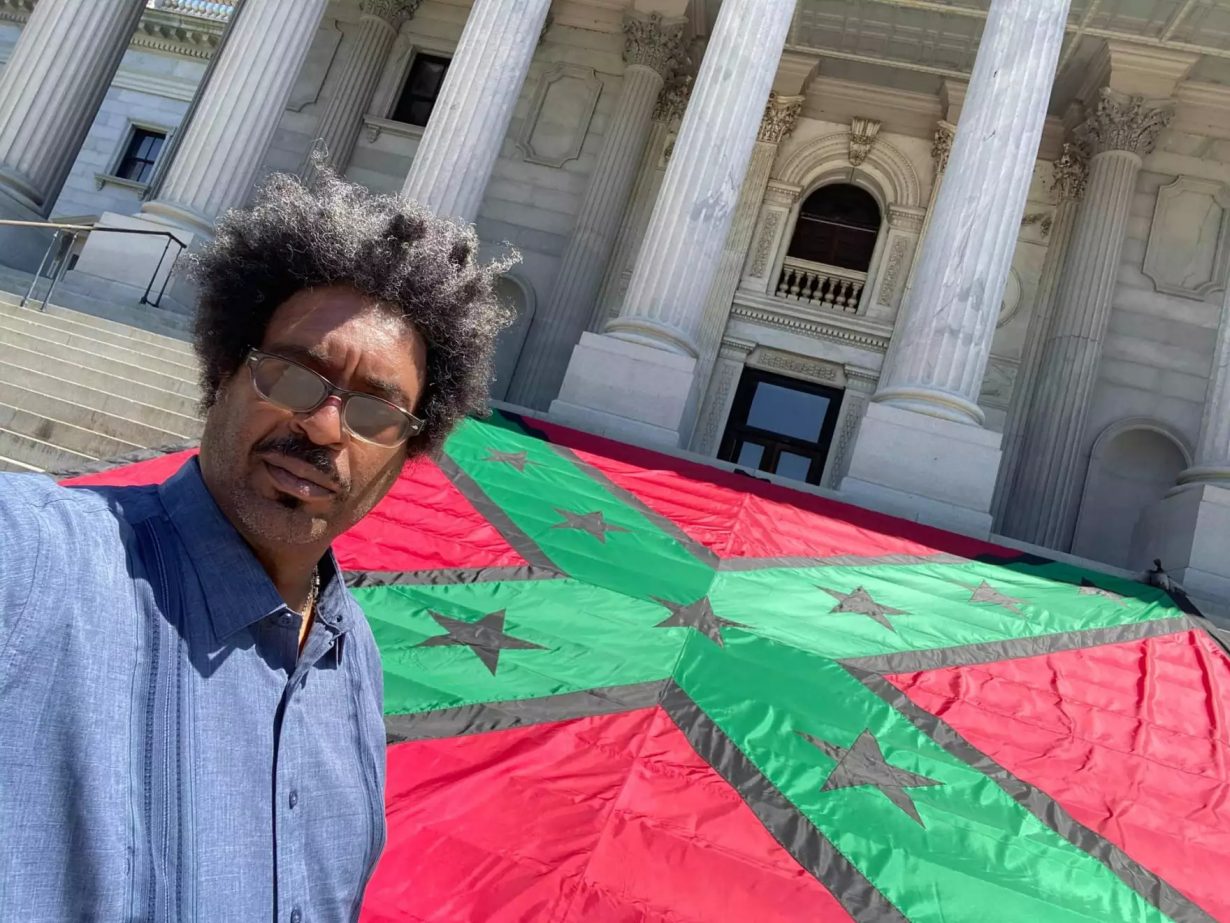 John Sims, whose artwork confronted the present and historic racism in America, has died aged 54.
Based in Sarasota, Florida, Sims most prominent project was Recoloration Proclamation, a series reimagining the Confederate flag in the black, red and green of Black liberation, as well as remixing the geometric forms of the original banner into various abstract compositions. The project dated back to the late 90s, when Sims took part in a series of protests against the flag of the American Confederacy flying above South Carolina's state capital.
The wall hangings were exhibited at shows in New York City, Detroit, San Francisco, as well as forming the backdrop to an annual Memorial Day event organised by Sims in which he burned and buried the original Confederate symbol. Formally, the work also appealed to Sims' love of maths, teaching for many years on the visual mathematics curriculum at the Ringling College of Art and Design.
'Flags are very powerful symbols, as markers for direct and indirect collections of shared values, histories, and futures,' Sims told Hyperallergic in 2017. 'We see flags as a rally call, a brand, a focus point and reminder. Nations, military, schools, and even retails stores use flags. And so, there can be the perfect candidate to further intimidation and fear. And the Confederate flag, along with burning crosses, have come to instill fear in folks, especially African Americans.'
In 2001 he handed out a doctored version of the flag as a bumper sticker during a KKK rally.
Sims hit the news in 2021 when police conducted a 2am raid on a property in which he was staying as artist in residence – at 701 Center for Contemporary Art in Columbia, South Carolina. He was detained for eight minutes while the officers questioned whether the artist was an intruder. Photographs and descriptions of the incident later formed the project A Near Death Residency: Reflections of a Black Artist/Space (2021).
The flag-burning event wasn't the only annual performance the artist engaged in: each Valentine's Day he hosted SquareRoot of Love, an event featuring readings of love stories, poems and letters.