The Shanghai-based artist conjures physical presence through a screen
From 24 March to 14 April 2021, ArtReview is screening three of Lu Yang's moving-image works: Delusional Mandala (2015), Delusional Crime and Punishment (2016) and their most recently realised piece Delusional World (2020). Watch now in Art Lovers Movie Club.


Shanghai-based Lu Yang is not a performance artist. Lu Yang is not a video artist, a videogame artist, a digital artist. If you take them at their word, Lu Yang is not an artist at all. But the culminating attention from 'global' institutions over the last five years suggests most people think otherwise. Their inclusion in exhibitions at the Venice Biennale, the Centre Pompidou in Paris, Société in Berlin, M Woods in Beijing and the Tampa Museum of Art, among many, many others, suggests that museums and galleries have more than caught on to the appeal of the jarring moving images depicting Lu's likeness dying onscreen: impaled on trees, severed by weightlifting machines or eaten by crocodiles. And it's equally obvious that Lu's use of manga and anime influences to destabilise notions of gender, sexuality, nationality and the connection between the spiritual and the biological have unchecked relevance in today's artistic landscape. The relationship with mukokuseki – or statelessness – often found in the genres translates seamlessly to the digital through anonymous customisable avatars, as is true for other forms of identity politics, but the parallels between what the Japanese aesthetic symbolises and a much larger conversation about how 'the West' fetishises the arts in Asia does not go unnoticed either. On top of that, this creator has become an important figure in the historiography of contemporary Chinese art, classed by Asia Art Archive as one of the notable graduates from the China Academy of Art in Hangzhou, and heralded for years by art critic Barbara Pollack as the face of 'brand new art from China'. Lu's work is also the focus of an entire upcoming special-edition journal on ArtHist.net. The accolades, scholarly attention, media coverage and prestigious awards – including the 2019 BMW Art Journey in partnership with Art Basel – would suggest that Lu Yang is, in fact, an artist.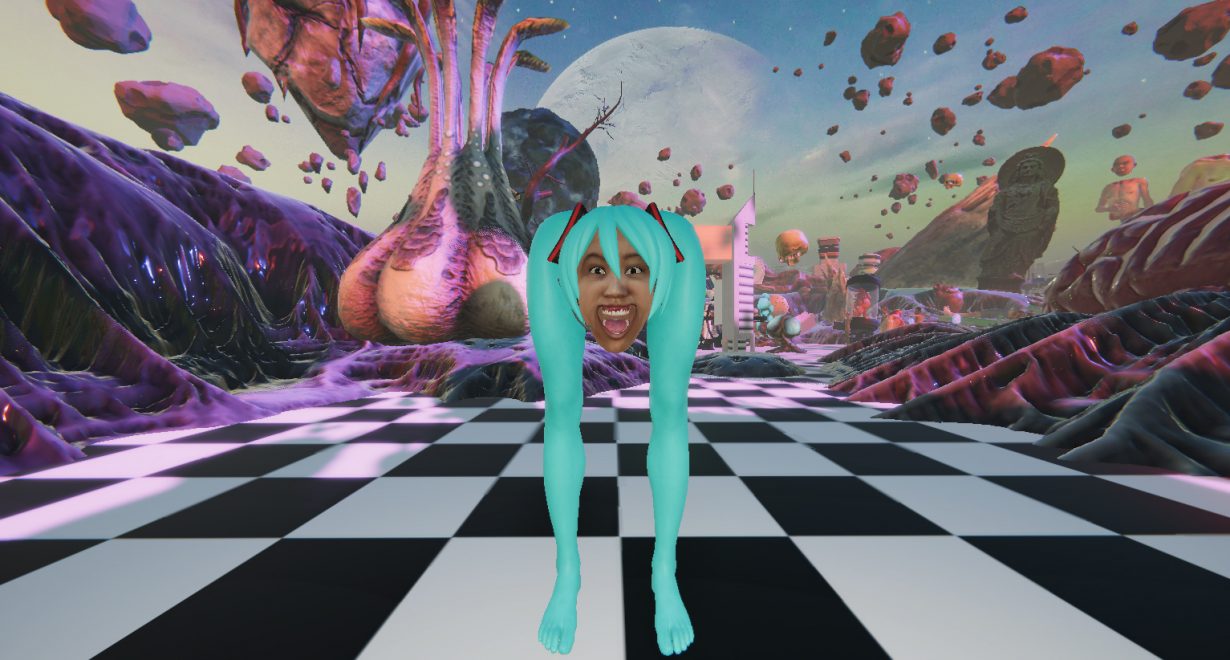 Lu's most recently realised work, Delusional World (2020), is coming round to their way of seeing things. An extension of previous multimedia moving-image works – Delusional Mandala (2015) and Delusional Crime and Punishment (2016) – Delusional World was originally intended to be a large outdoor motion-capture performance at Federation Square in Melbourne in February 2020. But falling in the early days of COVID-19, when little to nothing was known about the fast-spreading virus, the project shut down before it got going. Fast-forward to November and in partnership with the Australian Centre for the Moving Image (ACMI), curator Mathew Spisbah, Chronus Art Centre (CAC) in Shanghai, Meta Objects in Hong Kong and a host of Australian cultural organisations, dozens of creatives and technicians came together to bring its new form as a livestreamed event to fruition.
The live-motion capture performance was held in a room at CAC, with Lu behind the computer, dancer Qin Ran on the floor, a large LED screen behind him and an audience in front, captured by two dynamic webcams producing the stream that culminated in a 39-minute video now hosted on the ACMI website. It's nothing short of a production, Qin fitted with a Noitom motion-tracking suit that maps his movements onto alternating 3D avatars sporting Lu's facial likeness. The score, by longtime collaborator GameFace, is intense and demanding, the heavy trap music eerily interspersed with clips of Nancy Sinatra crooning Bang Bang. In front of occasionally candy-coloured, hellish backdrops designed by the artist Extreme John, the avatar dances. It stumbles, recovers and rediscovers its body over and over again in controlled, fluid movements, punctuated by shoulder popping and robotic gestures, as other genderless humanoid forms undulate, twitch and then die around it: when everything around you is burning, just keep dancing.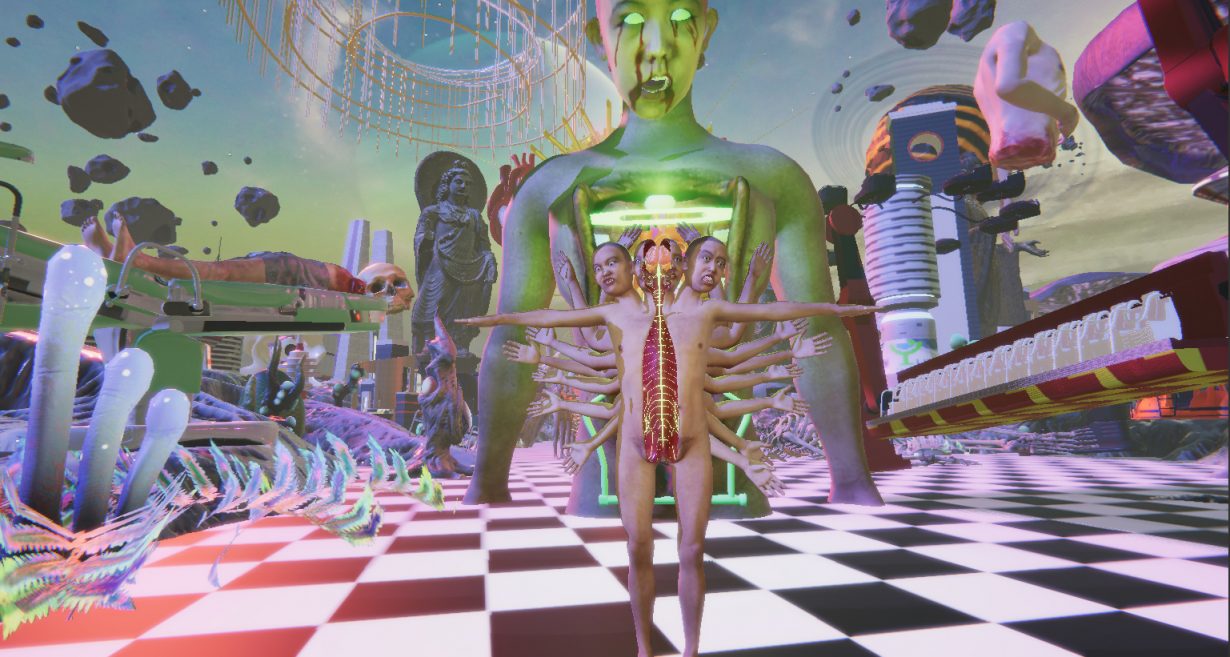 Delusional World is rich in its imagery, from checkerboard floors, carnival rides and floating wheelchairs to plantlike objects made of mutated biological materials. The central avatar controlled by Qin Ran alternates between having clear gendered features and complete androgyny, going from a 20-armed figure to one without a torso and sporting pigtails for legs, to another with an exposed ribcage and no internal organs. And that's just to describe a few. Whatever it has, whatever it lacks, it continues to move in conjuring gestures, a part of, but unchanged by, its fluctuating environment and form. The avatar's statelessness and its unstable environment are separate from the physical body controlling it, in an unsettling expression of an increasingly familiar corporeal dualism. I relate to the avatar, fractured, in flux, forced to continue on when the world is falling apart around me, and I envy the real body taking up so much space, the body that dances so freely on the floor of CAC in Shanghai.
But I do not envy the audience present for the performance. In its making, the documentary product (the video of the performance) is a separate object made for an audience living an involuntary reality. Lu is a user, an inhabitant of the internet by choice. As a result of the pandemic, Lu has seen the rest of the world forced into a mode of existence that was for Lu a decision, knowing that for many of us, it isn't. "It's completely different to make the choice to live online, and to be forced to live online," they say. It's in this context, with this removal of physical agency, that the production of Delusional World offers the rest of us an opportunity to make peace with our not-really-so-new reality.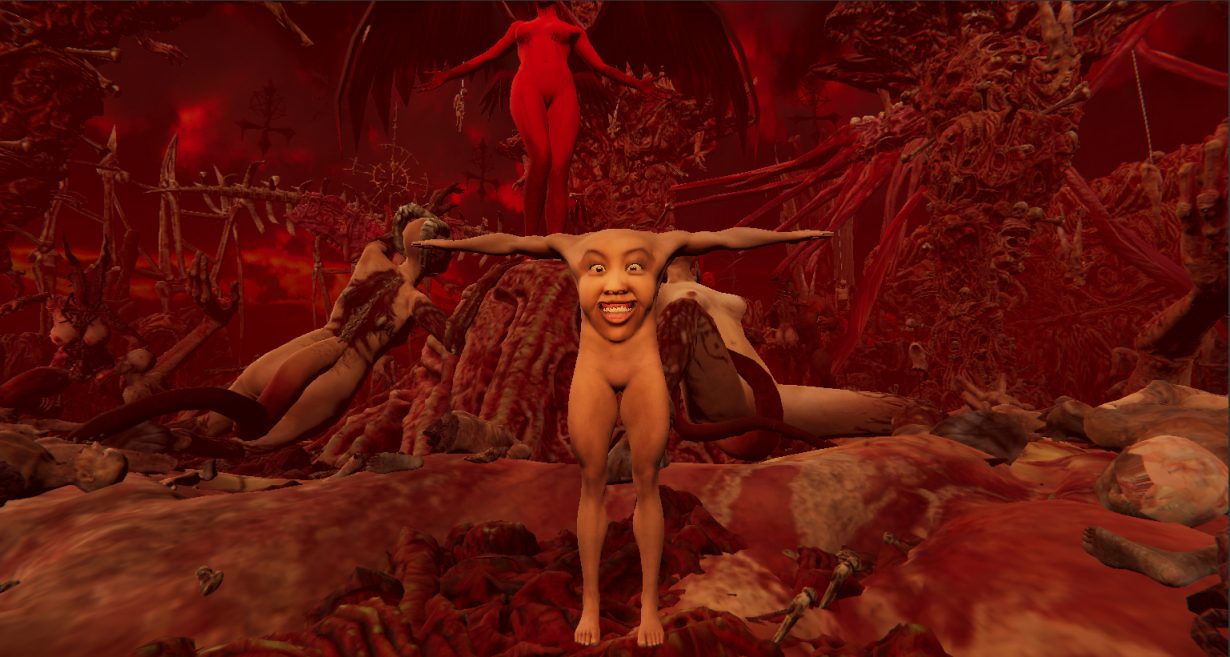 Forced to experience nearly everything through a screen, like the rest of us I've been worn down by the promise of online art exhibitions and livestreamed performances, mediated communication that was designed to be something it can't. Even digitally native programming – as important as it is – is generally only granted a fixed amount of my attention. What doesn't fall flat asks more than I'm able to give most days. But watching Qin Ran, the cuts from physical space to screen captures, being able to see how the work is made and experience its frenetic energy through unadulterated visual assault met me somewhere I didn't know I was. Its production, the transparency of the stream and the various tools used to bring it to an audience scattered across continents realise a need for something that we're missing, an understanding of the world and our bodies' relationship to technology that is made both for those present and for those absent – there is real dancing, there are real people, and they can't see what we do on the other side of our computer screens. They might have something we don't, but the same goes for us. They had to make a choice, and as much as the physical audience may have experienced something closer to the original blueprint for Delusional World, one can't help but feel that it wasn't made for them.
Delusional World offers a physiological experience akin to presence that's difficult to come by these days. The screen had my full, uninterrupted attention, something I've struggled to give for some time now. In some ways, Lu feels more like a dystopian chaplain or technological translator, ideas and functions that 'artists' can but don't always connote. Like so many other labels, discrete identifications don't encapsulate their totality, and can often get in the way of being able to see the nuance and reach of the work that comes with them. When asked if faith is a kind of performance, Lu responds, "I feel that faith is a kind of choice. You're choosing your own approach and philosophy to answer the myths of the universe… faith acts as our own personal bridge to truth and freedom, but as long as you can reach that place, you don't need those bridges." Despite vaccine rollouts and promises of a return to 'normalcy', 2021 thus far has not proved a stable bridge to a better future. Whether this split-audience model for making will hold for Lu's upcoming live-motion capture performance at the Garage Museum, Moscow, is unclear, and the same is true for their solo shows at Jane Lombard Gallery, New York, and the ARoS Aarhus Art Museum. But I'm happy to put my faith in Lu Yang and in work that meets us where we are, stuck inside, online, in our bodies and looking for glimpses of a distant, physical reality. For now I'm going to have to keep on dancing.
Words from Lu Yang translated by Stephanie Boote
Work by Lu Yang will be on view at Asia Society Triennial: Part 2, New York, through 27 June; solo exhibitions include DOKU – DIGITAL ALAYA, at Jane Lombard Gallery, New York, 23 April – 12 June, and Lu Yang at ARoS Aarhus Art Museum, 4 December – 24 April