In Breath Ghosts Blind at Pirelli HangarBicocca, Milan, all expectations of the artworld jester's usual hilarity, irreverence and provocation are betrayed
Cattelan's first show in Milan for over a decade consists of three new works – three capital letters and no comma; three acts in three spaces. Before I can set foot inside the show, however, one of the works, Blind (2021), a massive black tower (a little like the monolith in Stanley Kubrick's 1968 movie 2001: A Space Odyssey) stabbed through by a plane, so that nose, tail and wings emerge from each of its four sides, pops up on Instagram. A sort of mutant crucifix, the work's reference to September 11, at its impending 20th anniversary, is as inevitable as it is inescapable, and tinges any expectations I had of Cattelan's triumphant homecoming with a sense of sorrow and mourning.
And yet it seems like the right time to shake off the jester's mask that has so definitively represented the spirit of Cattelan for much of his career. Here, all expectations of hilarity, irreverence and provocation are betrayed from the get-go, and replaced by a greater sense of scenic intimacy and suspended mystery. The king seems to be naked; or maybe, once again, he is bullshitting us.
In the blackness of the first space a single spotlight focuses on Breath (2021), a pair of white Carrara marble statues – a human figure in a foetal position and a dog lying on its side in front of him, resembling a pair of clochards. Viewers don't know who they are and whether they represent the dead or the living; we can only make varied hypotheses. It's part of the game: the less Cattelan says about his elusive work, the more anecdotes, lies and tales proliferate. Which of course continues to increase the striking power of his artworks. On closer inspection, viewers might recognise Cattelan's own iconic face adorning what had previously seemed to be just another invisible member of society curled up like a stray; and in it, the artist's signature move of showing himself and immediately withdrawing.
To the viewer standing before the spotlit scene as if in prayer, absorbing an aura of instability and vulnerability that seems such a contrast to the stability and endurance of the white luminescent marble, Breath comes across as both a confession and a secret, breathing dialogue between permanence and its opposite.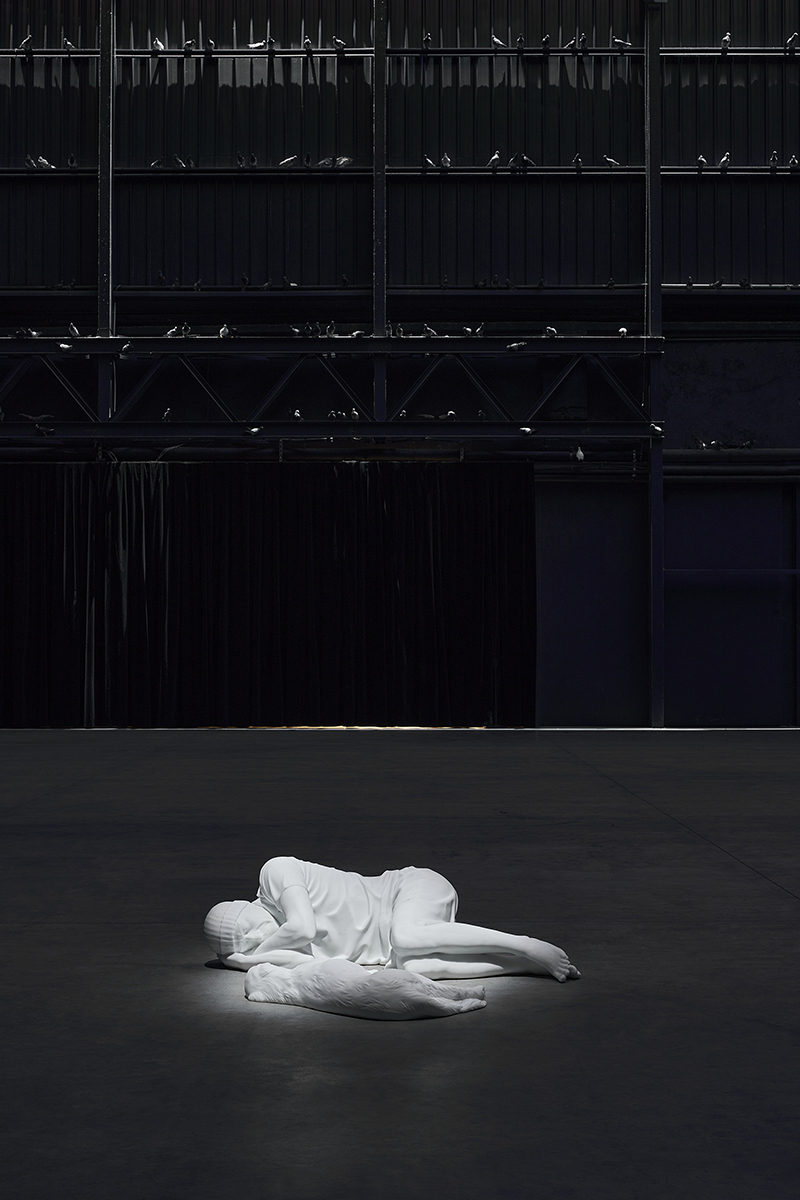 The construction of a dramaturgy through the use of light is a longstanding trope of artists confronted by HangarBicocca's cavernous spaces – in this Breath Ghosts Blind follows in the footsteps of Carsten Höller's Doubt (2016), Philippe Parreno's Hypothesis (2016) and Cerith Wyn Evans's …the Illuminating Gas (2020). Similarly, Cattelan's show produces images through dramatic staging in a manner that allows the exhibition to function not as a collection of discrete art objects but rather as a single space–time narrative.
Soon the dim light reveals Ghosts (2021), thousands of taxidermied pigeons perched on the beams between the pillars and walls of the huge 30m-high 'Navate' space. The new work is a reiteration of Turisti, an installation at the Venice Biennale in 1997 that appeared to mock the idiotic and relentless tourist flow through the city. There is no evident sarcastic reference this time; instead the atmosphere is gloomy, as one might find upon sneaking into a cemetery, experiencing a feeling of mourning mixed with fear – a childish fear that brings to mind the escape through the forest of spooky eyes in Disney's Snow White and the Seven Dwarfs (1937). As you walk through HangarBicocca, however, it's as if the space's own past – as a factory – comes back to haunt it: Cattelan's pigeons stare at us like ghosts, highlighting the structure of its industrial architecture.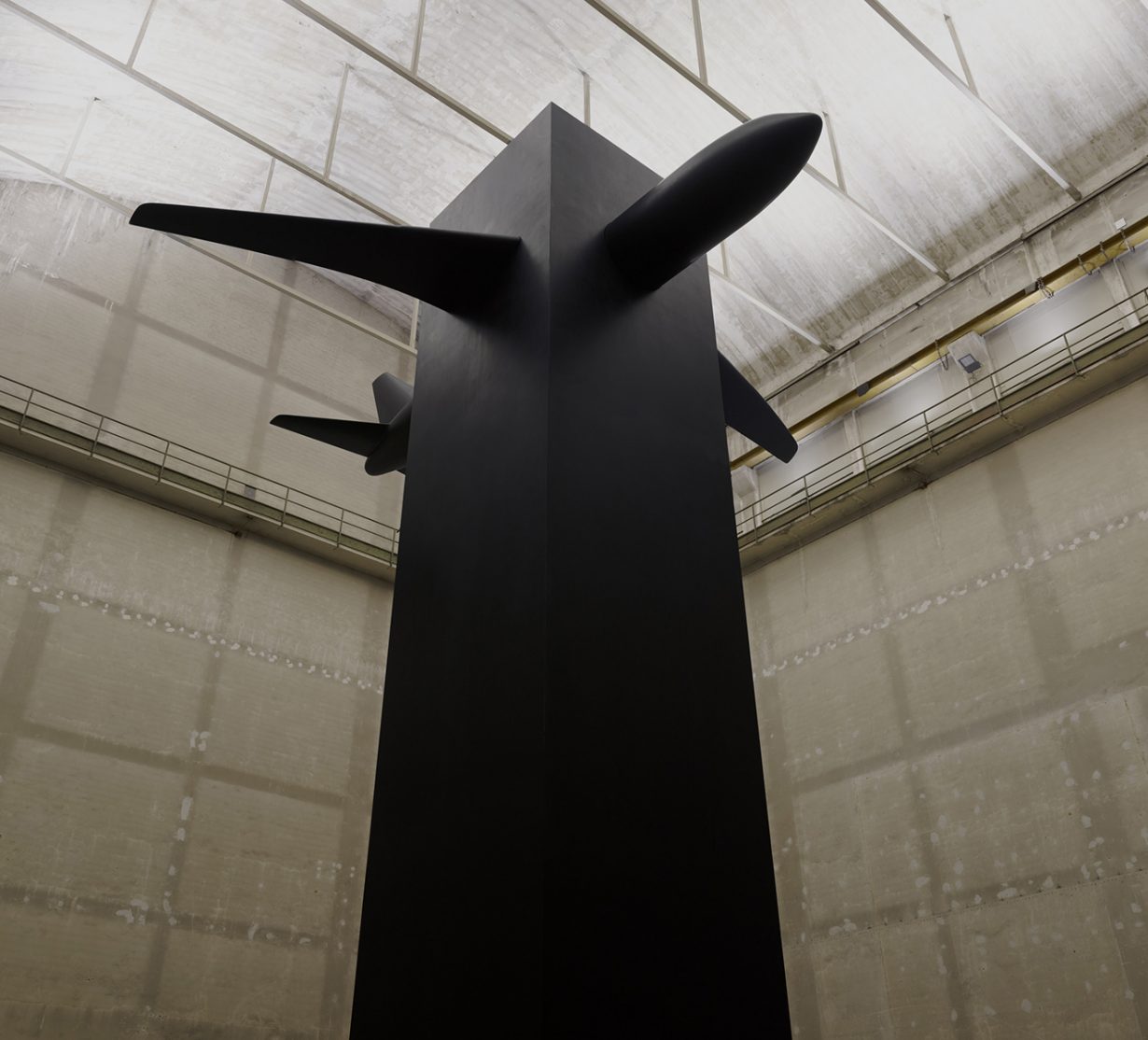 This great sense of emptiness and absence, raised by the phantasmic presence of the pigeons, finds its symmetrical inversion, more explicit – almost to the point of being didactic – in the final work in the show, Blind. The tower takes loss to another level, combining the pathos of the artist's Novecento (1997), a suspended taxidermied horse, and the monumentality of L.O.V.E. (2010), a ten-metre-high marble representation of the fascist hand salute in which all the fingers, bar the middle one, have been chopped off.
Staring at Blind, I cannot help but think about Anselm Kiefer's The Seven Heavenly Palaces (2004–15), a monumental work that is permanently installed on the other side of the gallery wall and that now houses a COVID-19 vaccine hub, a further reminder of how precarious our monumental gestures can be. Blind is rather smooth and compact, in the manner of a giant toy. The plane is fully integrated into the monolithic block, with no signs of leaks or sutures; the tower shows no evidence of the effects of the impact, indeed there is no sense of impact at all. The only shock of this collision is in our history and our memory, which have made tower and aeroplane one.
Yet despite all that, there is a sense in which Breath Ghosts Blind is an exhibition that makes the real world appear surreal, that escapes from words and takes refuge in images, like a fairytale designed to allow us to face fear.
Maurizio Cattelan: Breath Ghosts Blind at Pirelli HangarBicocca, Milan, 15 July – 20 February
From the September 2021 issue of ArtReview