In partnership with the Brent Biennial, ArtReview publishes the first of two reflections on the London exhibition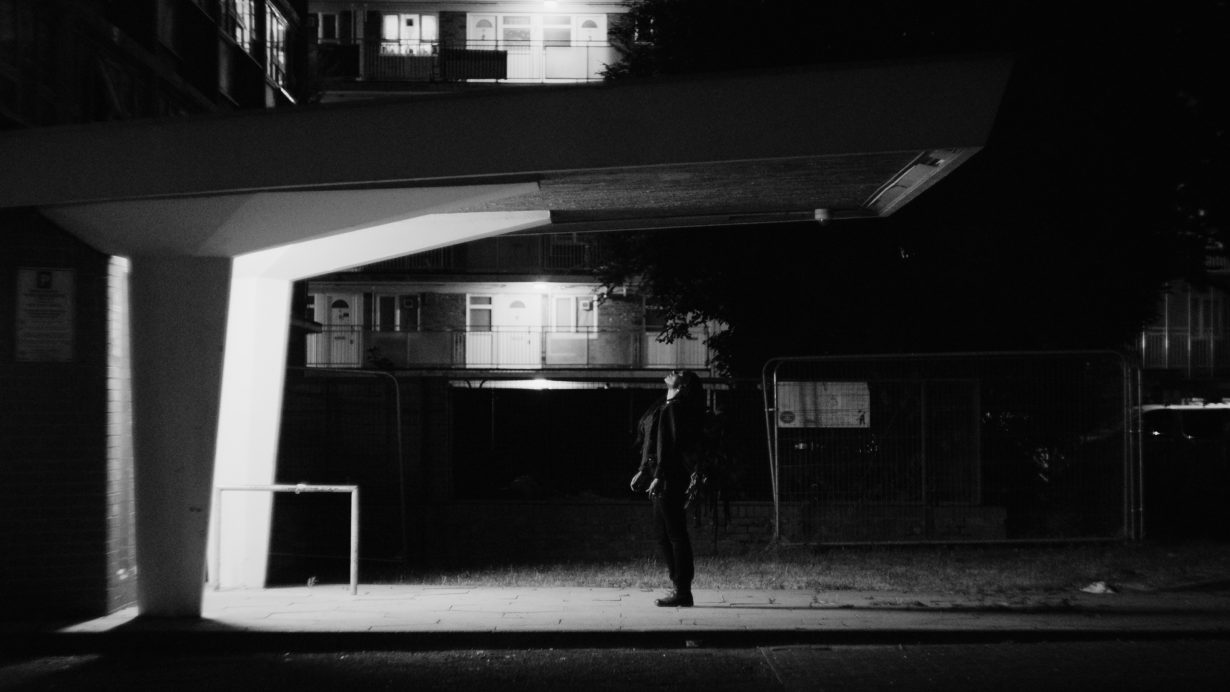 Toward the end of You Have Any Peace for Me? C.R.Y., (2022), a new film installation by Rebecca Bellantoni, the artist is seen kneeling in front of Carlton House on the South Kilburn Estate. The North London housing block has been the subject of a recent and contentious redevelopment project. Community-led plans to refit the existing 1960s buildings were refused by Brent Council in favour of a scheme that threatens to demolish 800 homes and Carlton Hall, the nearby community centre. Bellantoni poses – a statue of a pilgrim on the dark street – shrouded by an elegiac drone and a voiceover calmly saying: "It is solid. It is home". But what kind of home exists inside Bellantoni's work, indeed inside any work of art? What kind of home is already being made in spaces of cultural production, however marginal these spaces might seem from the perspective of the gallery, the art fair, the biennial?
Homemaking is the central concern of the second Brent Biennial. Titled In the House of my Love (a line from Ezra Green's 2018 'A Poem to the Nationalist Marcher (For the Queer People of Warsaw'), the biennial makes a commitment to the specific politics of making home both within the borough, and as it relates further afield. In the House of my Love is a response to the decade-long legacy of former British Home Secretary and Prime Minister Theresa May's aim to create 'a really hostile environment for illegal immigrants'. May's use of the word 'illegal' is sticky, and the policy latches onto other nationalist, xenophobic and racist agendas, functionally producing the experience of illegality in unwanted populations. This process runs parallel with attempts to marginalise queer (and particularly trans) people politically and socially, producing what American gender studies theorist Eric A. Stanley has called an 'atmosphere of violence' that extinguishes subjectivities, and even lives.
It is this aggressive and totalising political apparatus that the latest Brent Biennial, presenting twelve artists' projects in ten locations throughout the borough, grows out of, under and around. The idea of a 'home culture' is often used as a poisonous salve for troubled British statecraft. Inclusion in this circus is its own kind of violence for marginalised people, clearly marking the bounds of acceptability to an audience (always imagined as homogenous and unlike you) who has graciously let you through the door. In the House of my Love refuses to reproduce this logic by working from a position of unbelonging.
Bringing in locations of institutionalised marginalisation beyond the UK is one way the biennial considers this problem. Artist and choreographer Alex Baczynski-Jenkins' ongoing video diary You are a guest now (2019–) interweaves intimate moments in the lives of four friends living in Warsaw. The group is made up of queers, artists, at least one immigrant: all outsiders to a certain vision of Poland's national community (a fact made painfully obvious in the projectiles that meet them during a pride march). In the face of this hostility, they produce solidarity with each other: putting on coffee, chatting by the river, dolling themselves up, dancing. Art and creation are the at the centre. Not just drag performances and poetry readings, but the film itself; Baczynski-Jenkins's presence as documentarian giving them the chance to perform their world for him and the camera, and therefore also for each other.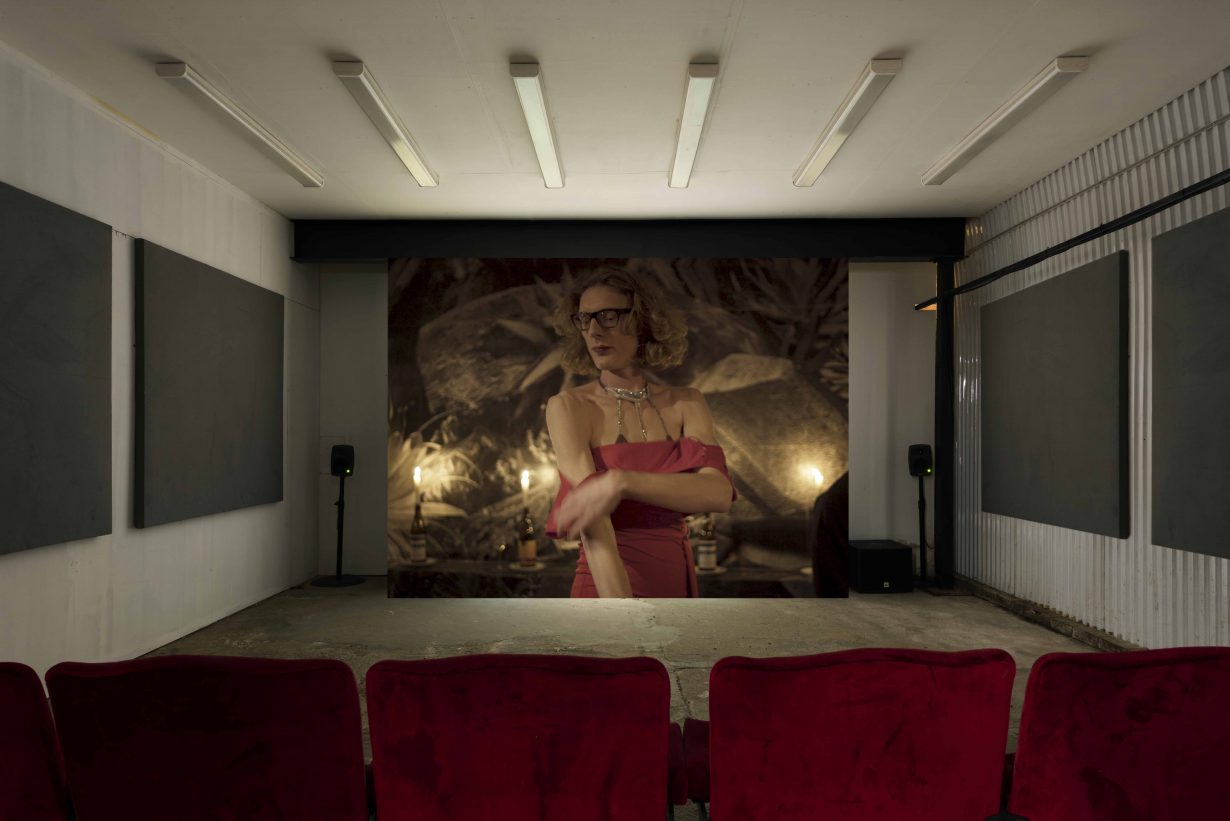 In one scene, two of the friends pretend to light up on their balcony. A whole world is made in the haze of invisible cigarette smoke; a leap of the imagination that we are also invited to take. You are a guest now is taken from the same poem that lends the biennial its title: it is the immediately preceding line. This statement is aimed at the 'nationalist marcher', who shouts from the window of this house, a house he has invited himself into, but is still welcomed.
On the balcony, we listen rather than speak. Perhaps official infrastructures can be made hospitable if their attention is forced. Ed Webb-Ingall's community-led commission Growing Up Brent was produced in close collaboration with Mosaic LGBT+ Young Persons' Trust. The work consists of an audio play reimagining the group's origins and a collaborative archive gathered by current members, both installed in The Library at Willesden Green. The archive, and recorded snippets of interviews in the play, were collected during monthly meetings between Webb-Ingall and Mosaic. The production of this material was guided by the members themselves in the style of community video workshops of the 1970s, which aimed to give 'ordinary people' the tools to produce their own cultural representations. While Mosaic was initially funded by Brent Council, it moved to the neighbouring borough in 2016 due to budget cuts and now exists as an independent charity. Thus, Growing Up Brent's work to codify its history is not a simple matter of playing for legitimacy, but rather forcing the acknowledgment of a group of young people who have been hidden by austerity and the long legacy of Section 28 (which forbid the 'promotion of homosexuality' by local authorities until 2000 in England and Wales), and who look to be further disenfranchised under the new government.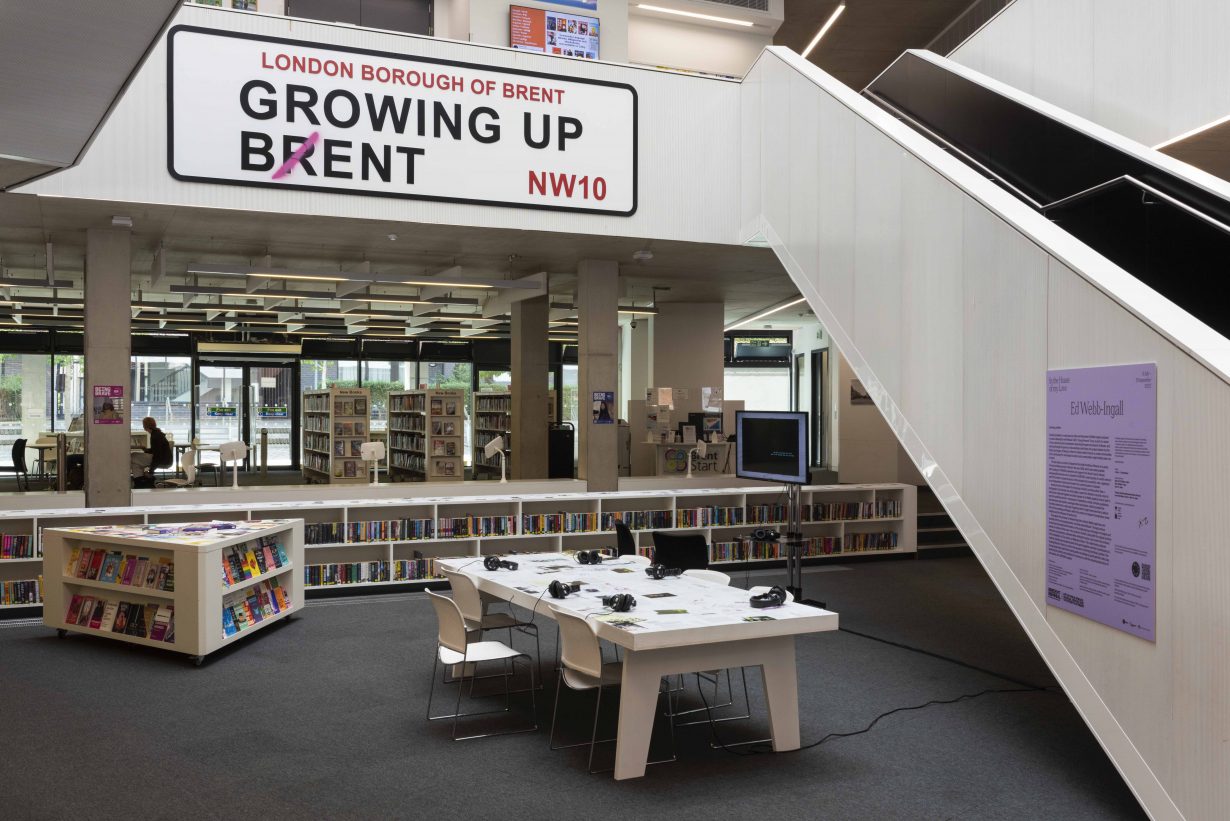 But the problem of reactions to marginalised art and lives remains. Earlier in You Have Any Peace for Me C.R.Y.,? Bellantoni is shown dancing in a small pedestrianised square. People walk by, a few glance but most ignore her, until a white couple with a dog and a tote bag enter the frame. The pair stops, staring straight at Bellantoni. The man looks round, searching for some explanation. He finds the camera from which we watch and gestures to his wife, and she too looks us dead in the eyes. The couple's body language is fraught: they lock arms across each other's backs, constantly touching – whether holding themselves back or for reassurance it isn't clear. Only once they have satisfied themselves that nothing untoward is happening do they continue on their way.
Centuries rush up in this almost involuntary moment – centuries of anti-blackness, anti-madness; of impulses to throw out, to curtail the 'improper'. A history which, despite itself, keeps Bellantoni dancing. She dances with this history, finding the ways it can hold her through movement, through joy, through practice. This is the work of In the House of my Love: giving the floor to artist and audience alike to navigate these hostile circumstances, and, even if we can't find a way to move forward, help us find a way to move.
Francis Whorrall-Campbell is an artist and writer based in Oxford
The second edition of the Brent Biennial, In the House of my Love, took place 8 July – 11 September