Bonington Gallery, Nottingham
Reactor, by its own often unreliable account, is an art collective made up of Susie Henderson, Niki Russell and "an undisclosed number" of secret members, most of whom, if they exist at all, deny any involvement, even when regularly spotted taking part in Reactor performances. This framing of Reactor's activities as those of a dubious quasi-cult has informed most of their projects to date; from the totalitarian-state-in-microcosm of Total GHAOS (2005) to the sinister, folkloric pub games and secretive back-room trials of The Green Man & Regular Fellows (2011).
Such projects depended on the immersion of audiences in parallel realities through acts designed to corral, control and disrupt physical space. So, in the pandemic aftermath, Here, The Gold Ones Meet is obliged to find a more distanced path to achieve its aims. The result is an elaborately mythologised fictional universe occupied by characters – Max Gold, Rat Scout, Ivan Poe, Quack – who exist, simultaneously, in a mundane reality built from cheap hoarded materials like polystyrene and expanding foam; in the digital realm of a functioning, downloadable videogame; and in the occult institution of The Cosmic Care Home, which might be situated outside normal reality, or may not exist anywhere but in those characters' own heads.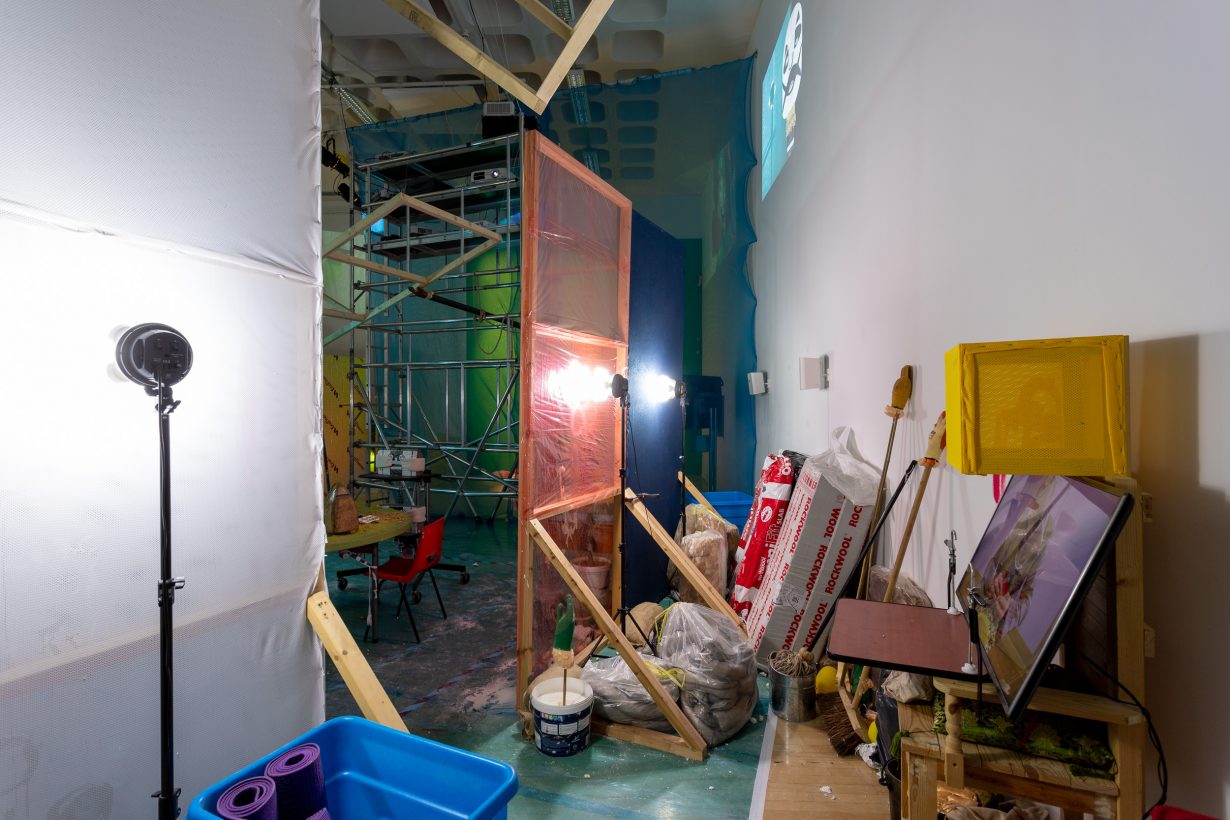 Once inside the gallery, inside this elaborate conceptual frame, we explore a series of apparently chaotic makeshift rooms while an orchestrated cacophony of video and sound footage shifts in and out of focus. Voices argue, shout and explain themselves. We hear conspiratorially whispered truths about plates of quails' eggs or watch QVC-style demonstrations of lethal-looking devices for peeling fruit. The stick-thin, masked figure of Max Gold appears to give a hyperbolic motivational speech on one screen while three unseen women laugh somewhere overhead, interfering with our ability to hear anything he says.
These constant overlaps and interruptions, blurring between video, recorded sound and physical space, encompass recurring images of Ivan Poe's robot-like face, the corporate leprechaun on the Lucky Charms cereal box and the stuffed gloves attached to broom handles and sticks everywhere we look. All might be significant, or coincidences and chance configurations among random elements. It largely depends at what level we choose to enter the proposed fiction. I've yet to hold a controller for the video game that explores much of the lore underlying Here The Gold Ones Meet, but the realisation in the gallery that I am acting as my own avatar in a half-real space, built by others for their own opaque purposes, doesn't need too much prompting from the real world to find a few points of relevance about where we find ourselves. Wayne Burrows
Reactor: Here, The Gold Ones Meet is at Bonington Gallery, Nottingham until 29 May. Open Mon – Fri 10am – 5pm; Sat, 11am – 3pm, free booking via Eventbrite
This article is part of Remark, a new platform for art writing in the East Midlands by ArtReview in collaboration with BACKLIT. Read more here and sign up for the Remark newsletter here