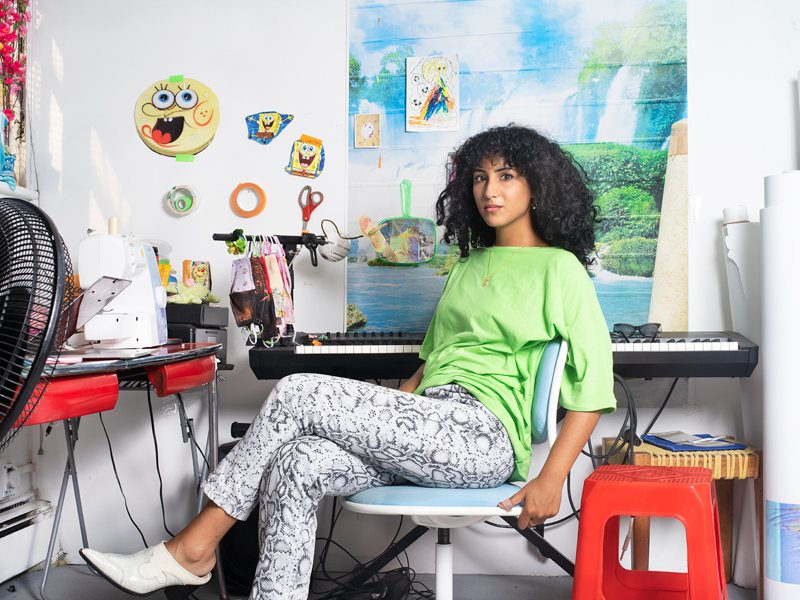 The artist's new monograph-cum-photobook is a critique of contemporary consumerist culture that revels in its aesthetic
Blankets covered in floral patterns burst across a floor on which are plates laden with oranges, a ripe papaya the colour of sunset, bananas, a pomegranate, seeds spilling out, chocolates and tinned fruit served in a frosted glass. If there was ever a book that ought to be judged by its cover, it would be Emirati photographer Farah Al Qasimi's Hello Future, which opens onto a kaleidoscopic wonderland of jelly cakes, perfume bottles, Gatorade, artificial flowers, shopping-mall atriums dazzling with lights and mirrors, birds, baroque-inspired furniture, paradise-themed wallpaper and more. Part photobook and part monograph, it's a critique of contemporary consumerist culture that revels in its aesthetic.
The photograph Lunch (2018) appears on the front of the book's dustjacket. But this is no ordinary dustjacket: every object pictured can be peeled off as a sticker and rearranged on the book's mirrorlike silver hardcover, like a personalised still life. 'There's something really comforting about not having to assign so much heaviness to a moment,' Al Qasimi says to fellow artist Meriem Bennani in a discussion published here that addresses such topics as Islamic calligraphy, comics, Arabic language, SpongeBob SquarePants, classical music and growing up between Emirati and US cultures, equating this experience with her style of photography that she describes as 'seasickness', a 'constant back-and-forth motion and cultural anxiety'.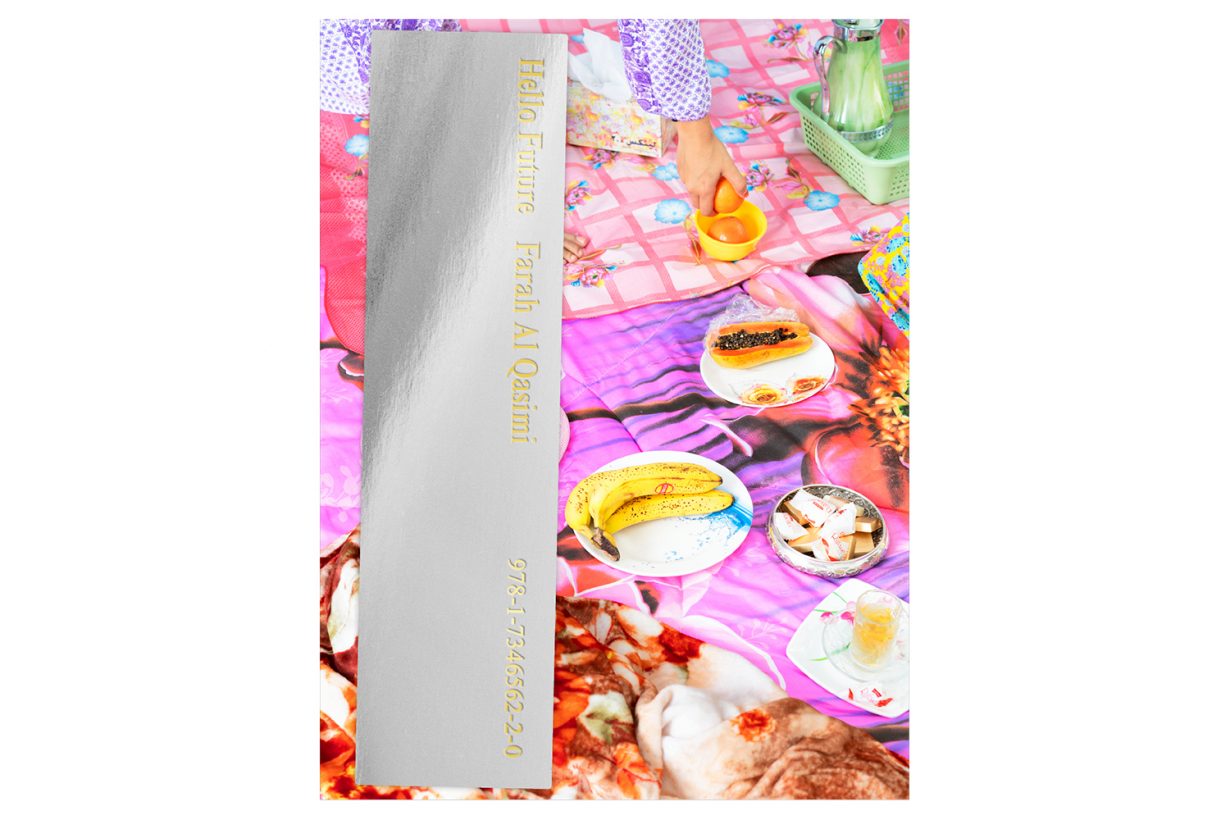 But not all is bubble-gum coloured in this wonderland; sobering moments occur in details in which figures are only partly visible (faces obscured by smoke from a hookah, a girl half-concealed by drapery), or in more quiet scenes (two men touch noses in greeting, hooded falcons perch in a clinic at Abu Dhabi Falcon Hospital, a foggy landscape from which emerges a border wall). Or in blue monotone images that punctuate the main section of photographs, beginning with a storefront bearing the titular 'Hello Future' and closing with a still from The Legend of Snow White (1994) that reads 'END'. These behave like hypnic jerks – each image date- and time-stamped – should you become too absorbed in the book. Images of mirrors bookend Hello Future on the inside flaps: one to suck you into the book's manic maximalism, and another to spit you out.  
Hello Future, by Farah Al Qasimi, is published by Capricious