Visitors to Sung Tieu's What is your |x|? enter a false room nested inside the bare gallery, where the floor is plushly carpeted, fluorescent lights blinding white. At either side, eight prison doors, bolted immovably onto interior walls, lead the eye in towards the room's gleaming centre. A great steel wheel mounted on the room's far face and, according to the exhibition notes, weighing over half a tonne, encloses a mirror laser-engraved with Tieu's astrological birth chart; a surrounding relief of interlocking gears mimics a vault's locking mechanism. Already, there's an overture of entrapment, but the experience is playful, not oppressive. Viewers glimpse themselves decussated by a map of Tieu's planetary aspects, appearing suddenly among the circumstances of her birth.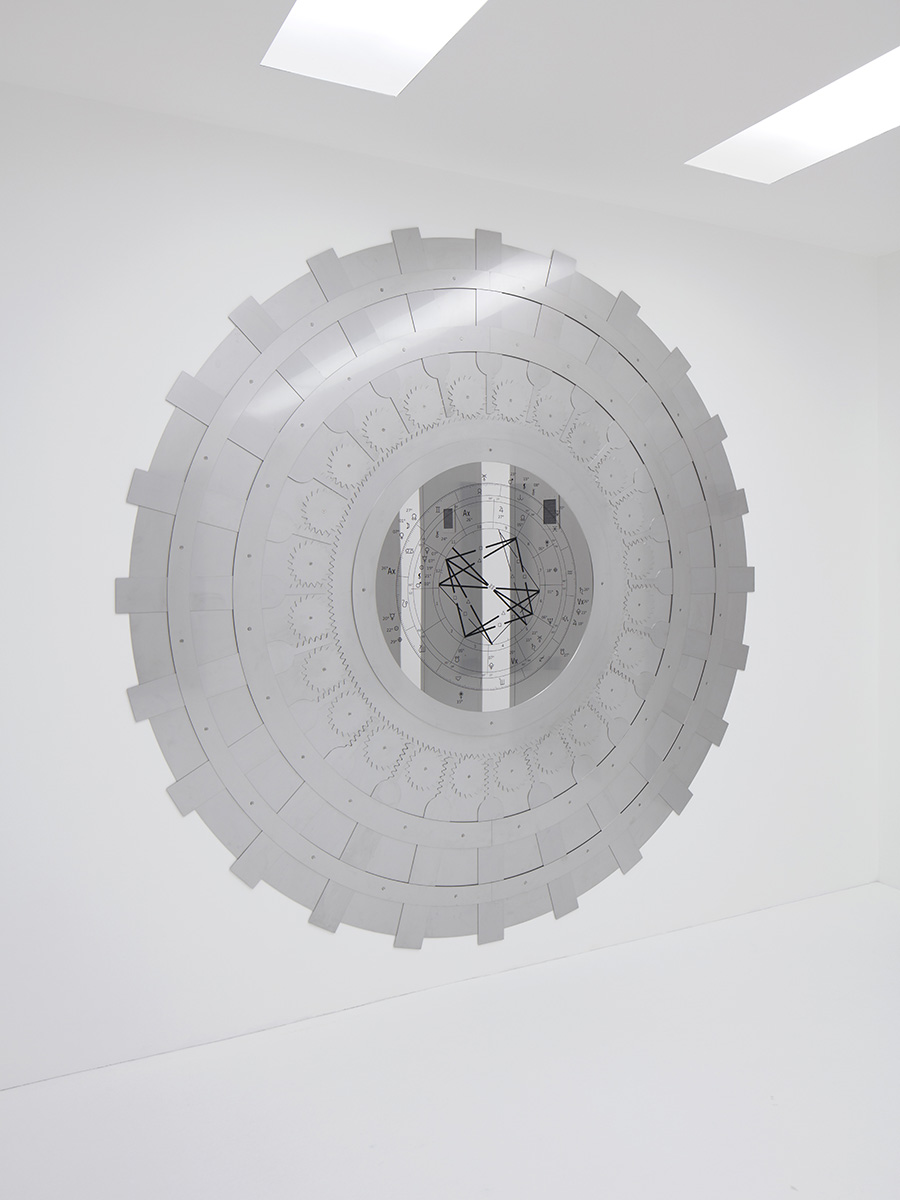 Tieu's past exhibitions saw her pepper carceral installations with family memorabilia, subtly asserting her authorship across tightly-focused geopolitical analysis. In What is your |x|? political allegory is dialled down so that the dual presence of artist and audience are free to intermingle. The title belies an interrogation of 'the self '; in mathematical translation, what is your 'absolute value'? The steel doors, facing one another, could be seen as a hall of clouded mirrors where infinity is yet foreclosed. Closer inspection reveals texts printed on the opaque glass of the doors' useless peepholes; written with the help of an astrologer in the directive second person, the short paragraphs offer archetypes – the Depressive, the Narcissistic – that beg for personal identification. 'Your motto is "only those who perform deserve love",' reads one. 'You are constantly bedevilled by self-doubt', reads another.
The doors feel linked to Tieu's past series Exposure to Havana Syndrome (2020), in which prison mirrors were laser-engraved with MRI scans of the artist's brain under the influence of a sonic weapon, allegedly deployed against US diplomats in Cuba. Materially twinned, both works offer a tension between comprehension and opacity. The scans render Tieu's brain in intricate detail, but are illegible to casual observers; the astrological forecasts are interpretable by all but their generality impedes deep understanding. What may seem like a departure from the affective qualities of state violence actually entrenches Tieu's pet themes: the felicitous construction of subjecthood, the workings of top-down systems that shape our fates. By taking as her subject the fashionable vagaries of self-reflection and self-deception, Tieu presents our desire for complete recognition – for the formation of an 'absolute self '– as the trap that it is.
Sung Tieu: What is your |x|? at Emalin, London 19 September – 7 November